Australian news network Channel 7 has apologised and removed a Facebook poll asking followers to vote on whether prominent TV presenter, activist and engineer Yassmin Abdel-Magied should leave the country or "face her critics."
Abdel-Magied faced a controversial backlash in early 2017 when she posted a "lest we forget" message on her Facebook that highlighted those who had died in "Manus, Nauru, Syria, and Palestine," on ANZAC Day, Australia's national day of remembrance.
Abdel-Magied quickly apologised for any offense she had caused and deleted the post, but it has remained a sticking point for conservative media in Australia who have continued to cover the writer's every move.
The poll was posted on Tuesday and invited 7 News Australia's 1.4 million followers to vote after Abdel-Magied announced she was leaving the country and heading to London.
"Do you support her decision to move to London or do you think she should stay and face her critics?" asked the now-deleted poll.
On Wednesday morning 7 News posted again on its Facebook, updating its followers on the results. "So far, 15 per cent of you have voted no and 85 per cent have voted yes," said the post.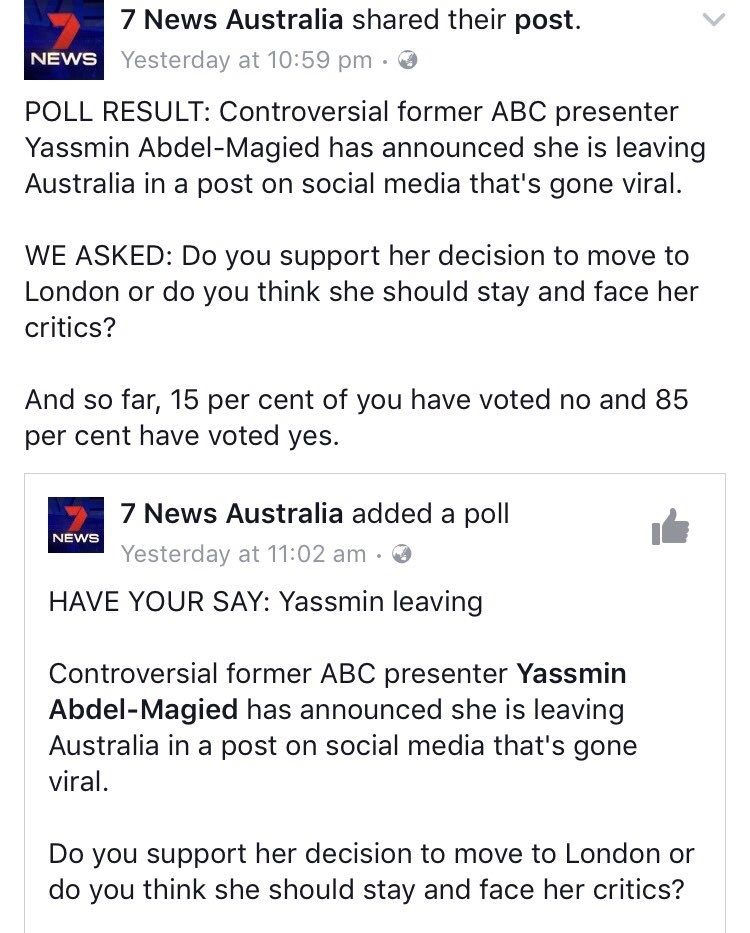 7 News' poll was lambasted on Twitter throughout Tuesday evening and into Wednesday morning before it was abruptly removed.
In a statement to BuzzFeed News, 7News said the poll was posted by the Yahoo7 online team, which looks after the 7News Australia Facebook page.
"It was posted to genuinely create discussion around a balanced article and it was never the intention to generate inappropriate commentary on social media," said the statement.
"We accept this was an error of judgement, the post has been removed and we unreservedly apologise to anyone offended."
Abdel-Magied had earlier told BuzzFeed News: "This is more a reflection of Channel 7's poor editorial decision-making than anything else. The outlet's profiling of me in this way invites prejudice and discrimination. It's pretty trashy click-bait.
"Channel 7 should apologise. The poll was a bad call - sensationalist and really, pretty ridiculous."