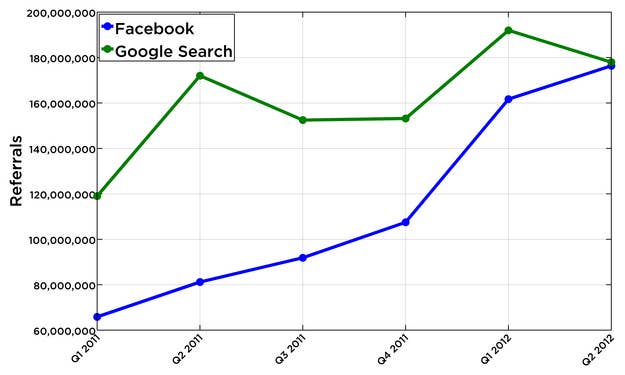 Facebook has risen over the last six months to challenge Google's place as the most important source of traffic to online publishers, according to data from BuzzFeed's broad sample of web referrals to about 200 publishing sites.
The data from BuzzFeed's first Social Intelligence Report is drawn from the BuzzFeed Network, a set of sites reaching 300 million users a month, offering striking evidence of a tectonic shift in the shape of the Internet.
Facebook's challenge to Google, which accelerated with changes to the news feed, is part of the broader rise of social platforms as dominant drivers of traffic to publishers in the first half of 2012. Search engines — who drove publishers toward complex Search Engine Optimization techniques for half a decade — show little growth.
The data gathered for the Social Intelligence Report comes from BuzzFeed's viral tracking system, which is deployed on partners' sites. BuzzFeed's partners are a broad mix of small and large news properties such as Time, The Daily Mail, Funny or Die, and TMZ, and the figures represent the sum traffic to their content as well as to BuzzFeed's.
The report's data does not capture all web traffic, but focuses specifically on newly-published content over seven days — the length of time it typically takes for a piece of content to go viral.
Search continues to be a key source of traffic to some older content.
The network also does not include content properties designed around search queries such as About.com or eHow.
The BuzzFeed report is available exclusively to its partners. Employees of BuzzFeed's partner sites can sign up for a copy of the report here.