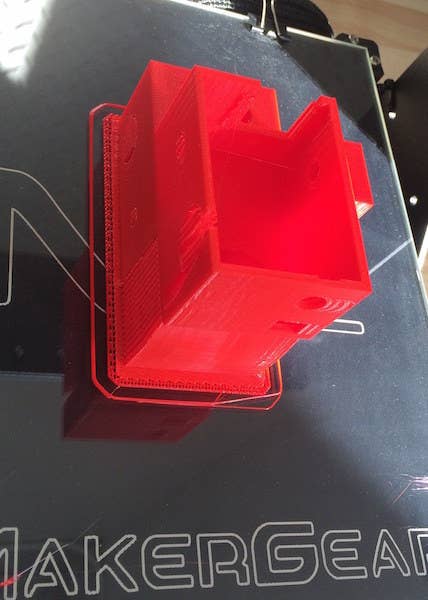 The red dual GoPro mount was fastened to two carbon fiber anti-vibration plates, separated by rubber dampers. The plates are designed to minimize vibration on a drone, but we were worried that pounding cups and table bumps would rattle the cameras, too. A thumbscrew to held a Zoom H2 mic to the lower carbon fiber plate.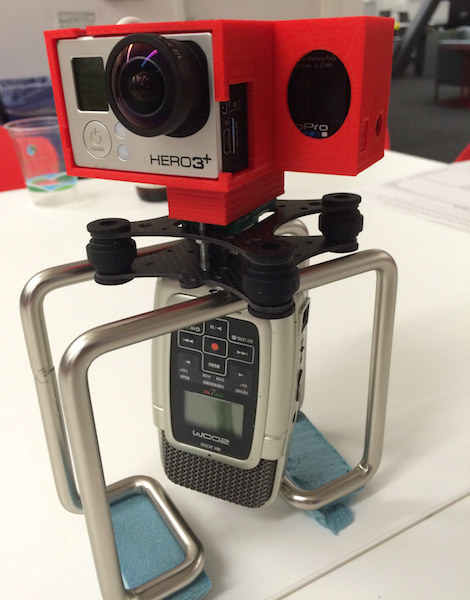 The camera and audio recorder system sat in a napkin holder, because that was what we had handy. The napkin holder was too short to hold the microphone off of the table, so we tucked some packing foam underneath for extra clearance.

We set the whole rig in the middle of our table, and added a directional Zoom H4n at one edge of the table. The centrally located H2 was recording with four internal microphones, allowing us to capture sound from all directions simultaneously. We
didn't to miss anyone's reactions!
Inspired by this arrangement Ben is developing on a free-standing mount for two GoPros and a Zoom H2 or Zoom H2n, no napkin holder required. It is definitely a work-in-progress but you're welcome to take a look at the plans -- they're up on Thingiverse.
Our goal with this video wasn't just to see how the office would react to "Tortilla Perfection," we also wanted to experiment with a stationary camera in a confined space, and more characters than viewers saw in the Valley Fire story.

Editing the footage, we realized that passing objects, like cups, around and across the table is fun to follow, and adds a dynamic feel to the experience of watching a video. Ainsley noticed her eyes followed the gaze of the folks around the table. If one person looked across the center of the table, over the camera, the viewer can rotate to see where that gaze ends. Giving the viewer the ability to look over their shoulder, to follow action on all sides, is part of what makes 360-degree video powerful.
As she was editing, Ainsley shared the video with a few people, to see how they responded. Advance viewers often reported that they liked to watch one person throughout the whole video. Viewers also said they felt genuinely excluded when the cast of Soylent drinkers doubled over in fits of collective laughter. Both reactions came as a surprise, and illuminate some of the challenges and possibilities in telling stories in 360-degree video.