There's not much more I love in this world than a wild conspiracy theory. Honestly, they're my favourite. So you can imagine how thirsty I was for a serving of piping hot tea when I saw the latest one doing the rounds on Twitter, especially when I realised it involved Kim Kardashian and Drake. Eye emojis at the ready folks.
So it all started when Twitter user Tyler Morrison casually dropped this bombshell on the timeline. It had almost 60,000 retweets so clearly I wasn't the only one who was shook.
The majority of the theory rests on lyrics from Drake's latest album, Scorpion. In fact, according to the theory, the Kiki who Drake sings about on "In My Feelings" is actually referencing Kim. After all, Kiki is one of Kim's nicknames.
The theory also drew attention to Drake's song "8 Out of 10" which apparently takes some subtle shots at Kanye. According to Genius, "your wifey" even follows the same vocal patterns as Kanye's song "Runaway", which just so happens to feature Drake's rival Pusha T.

Now before we go into the Kim theory properly, here's a little back story. APPARENTLY Drake went to Wyoming to meet up with Kanye. While there, he APPARENTLY played him the song "March 14", where Drake confirmed he has a son.
But – so it goes on – in what would be a betrayal of trust, Kanye allegedly then played that song to Pusha T, who used it to release a diss track aimed at Drake, revealing he had a son before Drake could do it himself. Yep, if true it's as messy as it sounds.
Kanye actually spoke about his apparent beef with Drake in a recent interview, where he basically said that Drake had been sending him purple devil emojis.
Anyway, the theory claims that Drake has been subtly revealing an affair with Kim as revenge. Talking of which, let's look into that a little more. So, on 20 July Kim posted this picture to Instagram with the caption: "I'm really shy..."
A week later, Drake also posted a picture to Instagram.
And what was the caption? You can probably guess.

So out of intrigue, I took a closer look at Kim and Drake's recent Instagrams. Three days ago, Kim posted a picture with friends Jonathan Cheban and Larsa Pippen. The irony? She captioned it with the name of a Drake song.

Now ladies, I advise you stretch for this next reach or else you might pull a muscle. Recently, Kim also posted this picture with the caption: "Thinking about you..."
And on the same day, Drake posted a picture with the caption "SMS". Now if I was a wild conspiracy theorist, I would suggest he saw the picture of Kim and was texting her a bunch of fire emojis. But I think we can agree that's not what was happening, right?
Oh, and the final reach – on the day that Kim posted a picture of her and Kanye together...
Drake posted a picture and captioned it "Forever yours". Take from that what you will.
But wait because there's more, and this is where things get ridiculously wild. According to the theory, Drake and Kimye live in the same neighbourhood. In a recent verse, Drake rapped: "I crept down the block, made a right."
Nothing seems that out of the ordinary...until you pull up Google maps and realise to APPARENTLY get from Drake's house to Kimye's, you walk down the block and make a goddamn right turn.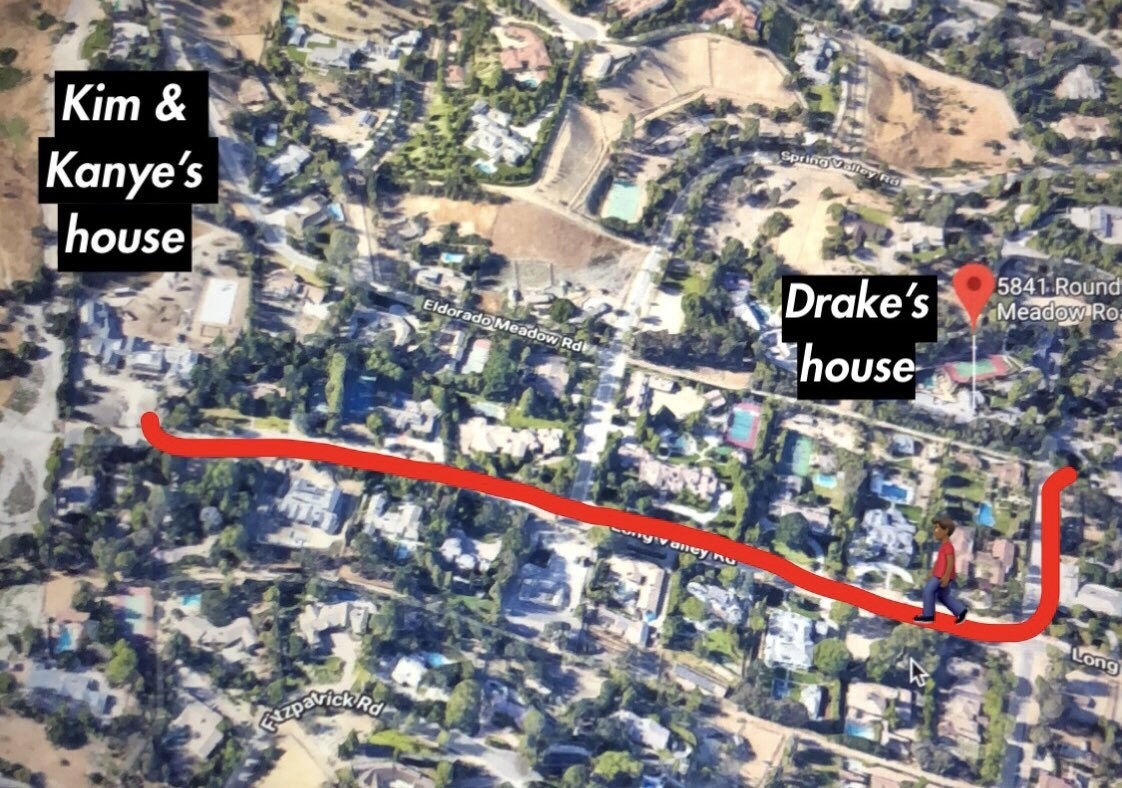 And on top of that, the song where Drake talks about walking down the block and taking a right? It's a Travis Scott song. Who is Travis Scott? Kylie Jenner's baby daddy and basically Kim's brother-in-law.
BUT WAIT BECAUSE THERE'S EVEN MORE. In a song from his latest album, Drake appears to be talking about someone who lives "right up the road".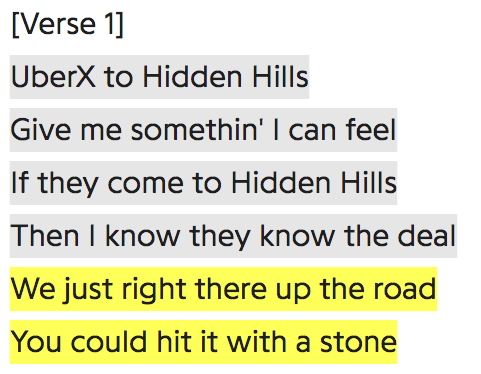 And then it looks like Drake fires another shot by appearing to reference "Run This Town", a song that featured Kanye. He also makes a dig about the person having to relocate, and it's pretty well known that Kanye relocated to Wyoming to take a break from the spotlight and work on his album.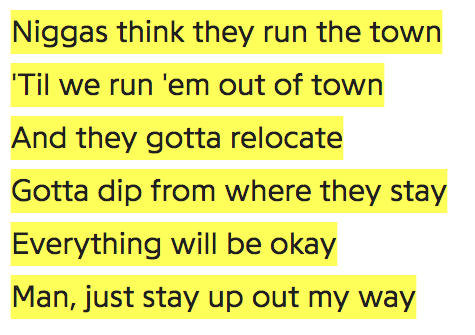 Oh, and all of this comes from a song called "Can't Take A Joke".
But as entertaining as this theory is, we should take it with a bucket of salt. For one, it's widely thought that the Kiki Drake refers to in "In My Feelings" is actually his ex girlfriend, Keshia Chanté, who apparently also goes by the nickname.
And although Drake might have an issue with Kanye, it probably has nothing to do with Kim. She's just out here living her best life.
Anyway, Kim's not exactly shy about clapping back or shutting down false rumours, so don't be surprised if she sees this theory and puts it on blast. But until then, we'll just have to wait and see.
Reps for Kim and Drake have been contacted for comment.
UPDATE
Kim has since denied any affair with Drake. Commenting on a picture posted by The Shade Room, she simply said: "Never happened. End of story."