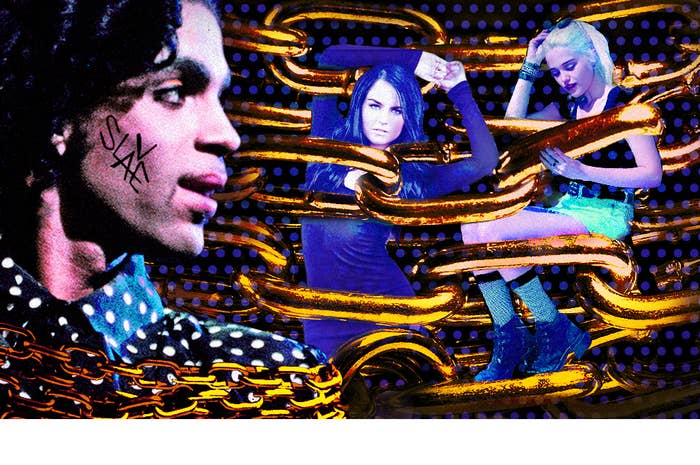 In 2004, 13-year-old Joanna Levesque became the youngest solo artist ever to have a number one single on the Billboard charts. Levesque, who recorded as JoJo, had been building to that moment since she was just a little girl, giving electrifying performances on shows like Kids Say the Darndest Things with Bill Cosby at the age of 6. When Levesque was 12, she signed a seven-album deal with Blackground Records, and later her debut album JoJo was certified platinum. Her 2006 follow-up, The High Road, pleased critics and included at least one bona fide hit, the breakup ballad "Too Little Too Late." She was quickly becoming a rising star in R&B.
And then she went silent.
It's been almost seven years since JoJo has put out an official release, though that doesn't mean she hasn't been trying. "I've recorded about three incarnations of this third album," JoJo tells BuzzFeed. "We've chosen the track listing, we've done multiple album photo shoots, chosen the cover, chosen the credits, everything." But every time her team tried to present the album to her label, Blackground Records, they never received a response.
"Blackground Records lost their distribution deal through Interscope, and if you can get the answer from them on why that happened, that would be a miracle," JoJo says, "because I am sure they would not engage you in that conversation." While JoJo says she has no problem with Interscope, she says she's lost all communication with Blackground.
JoJo's case is an extreme one. But whether it's a new artist waiting to release their debut, or a successful musician who's seemingly disappeared, many artists have found themselves fighting either to release their music or release themselves from their contracts. It happened to Lupe Fiasco. It happened to Sky Ferreira. It happened to Bow Wow, and Metallica, and Big Boi, and Amanda Palmer. The list goes on.
In most cases, even through politics, artists and labels can eventually reach a place where they mutually agree that it's not working out and it'd be better to part ways.
But what happens when they can't?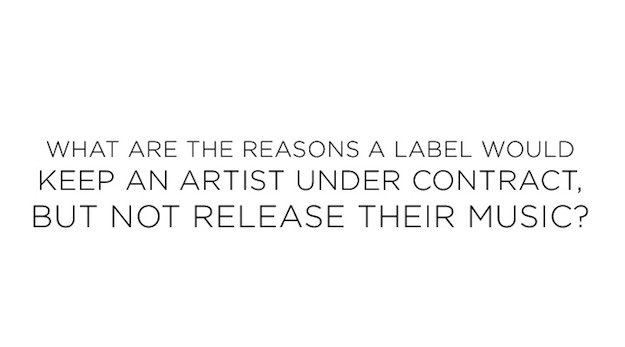 The label merges with or is acquired by another company.
"It is a little confusing because most of these companies, they get bought and sold several times," says Ben McLane, an entertainment lawyer whose past clients have included DMX, Keith Sweat, and LL Cool J. Repeated changes in ownership caused problems for Blackground Records, an independent label that was distributed by Interscope, a subsidiary of Universal. Blackground's CEO Barry Hankerson (uncle to the late Aaliyah, and responsible for launching her career) is known for making abrupt business decisions that leave his artists in a constant state of flux. "He'll have a hit, and then he'll have hard times with his label, and he'll sell it to some other distributor and then the artists just kind of float around," says McLane. "That's part of the problem — there are a lot of mergers and acquisitions that go on, and the artists get stuck in the middle of it. If you're not U2 or Justin Bieber, at the top of the food chain, a lot of times artists just get lost in the middle."
The music industry has changed rapidly in the digital age. Where there were once six major labels in 1998, now there are just three remaining: Sony, Warner Music Group, and Universal, which became the largest international record company after merging with EMI last year. The mergers have left many artists lost in limbo. "Sky Ferreira's label has gone through four or five label presidents since she's been signed, and a big merger," says McLane, who calls Ferreira's experience "the worst-case scenario."
"It's a complicated space," McLane says, "and I don't want to say just because one artist's experience is shitty, it doesn't mean that another artist couldn't sign with a major label and maybe get treated really well." McLane points out that Katy Perry was signed to Ferreira's label around the same time but has had a very different experience. "Maybe she just got lucky, or she just had a better team, or the right timing."
The artist's A&R rep or management leaves the label.
When a label goes through transition, losing the initial person who was pushing for you and had your back can be really confusing — and lonely.
"A lot of times, historically, how this would happen, an A&R guy would be like, 'Oh, I'm so excited about this new band! You guys are gonna be big!'" says Casey Rae, deputy director of the Future of Music Coalition, an advocacy group for musicians. "And we get you on the label, and everyone's all excited, and then all of a sudden that A&R person loses their job and you're just out in the wilderness, and maybe you're just a line item on some accountant's ledger sheet. And you can easily be X'ed out because, well, we have other priorities."
"Once you get signed, the question is politics within the record company; the person who's championing you — how much power do they have?" says Paul Fakler, a partner at law firm Arent Fox who practices media and entertainment law. And, just as important: "Are they still going to be there in six months?"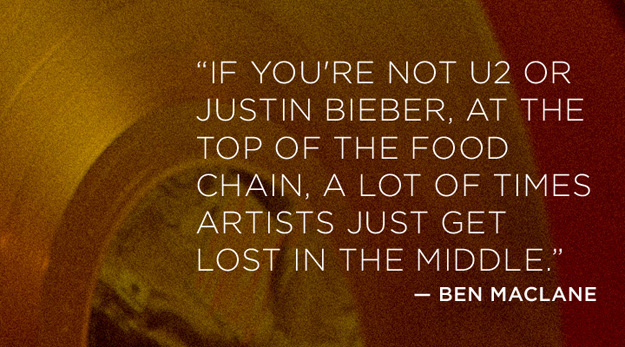 A bigger artist on a label's roster decides to put out music, shifting the label's priorities.
Often an artist or band that's been gaining momentum will have to sit on the backburner while a bigger artist takes up a label's attention and resources. "[A band will say], 'Yeah! It's go time! This is gonna be the one, our second album, they're really gonna throw some weight behind it this time,'" Rae says. "But then Elton John's like, 'I think I'm going to put out an album this year.' And suddenly [the label] wants to shift their focus there."
That's when an artist starts to enter limbo, trying to vie for their label's attention, a situation R&B singer Cassie knows all too well. "Sometimes I feel like people don't know what to do with certain artists," Cassie tells BuzzFeed. "But if something hits — you have a hit record and it hits on radio and all over the place … everybody jumps on the bandwagon. Otherwise you're fighting for your position."
Singer Sky Ferreira found herself continually stalled by her label focusing on other female acts. "They told me the nastiest things, like, "Sorry, there's already one girl coming out at the moment, we can't do two," Ferreira told The Phoenix last November.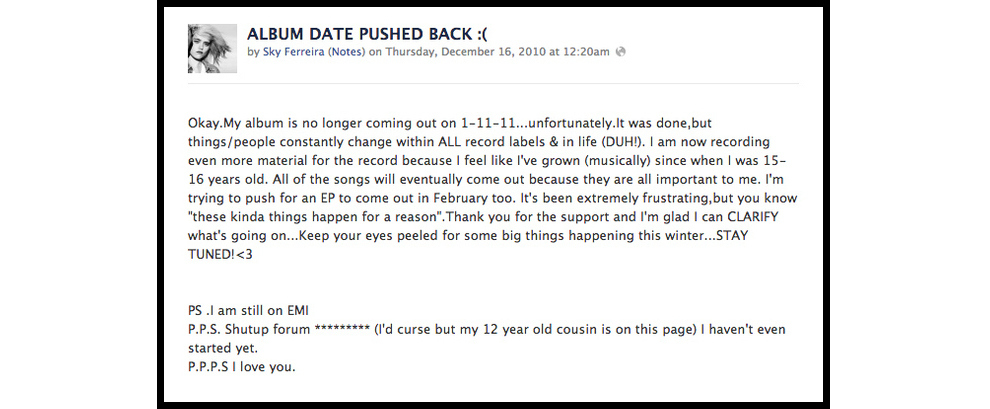 The label is still developing the artist and their music to be ready for radio.
Record labels often snatch up young talent with promise, eager to nurture them into future stars. But it's rare that an artist is an overnight sensation. "They want to make sure the package is perfect," McLane says. Signing an artist prematurely can be tricky because the artists themselves may still be figuring out who they are. And when a label signs someone based on their great demos, things often change once the artist starts collaborating with label professionals. "They try to put them in with some huge producer or some big cowriter who had a big hit, and it changes the sound," McLane says. Then when that doesn't work out, everyone's confused and the label has second thoughts, but they still know the artist is talented, so they want to keep trying. That's probably what happened with Sky Ferreira."
Ferreira, who signed with EMI in 2008 when she was just 15, has spoken of her difficult early relationship with the label. She struggled for years to put out an album that EMI would approve of. "I turned in five different albums and none of them made sense. It was just one thing after the other and getting shelved," she told The Phoenix. Ferreira stuck it out, however, with a new team, and more artistic control, to finally produce a successful EP last year.
Not only is it a matter of timing the artist's readiness for the market, it's also a matter of judging whether the market is ready for the artist's sound. Some artists are just ahead of their time. Lady Gaga was first signed to Def Jam (only to be dropped after three months) and later signed to Interscope, where she continued to develop her act for a couple years, the label bringing in Akon and producer RedOne as collaborators. "Music was going a very specific way in the pop world," says Imran Majid, vice president of A&R at Columbia Records. "She had dynamic songs, and maybe four years ago those songs would've just gone over people's heads."
And even though most of us now listen to music online, radio still plays a huge role in a label promoting an artist. If a single underperforms in the radio market, labels may put an artist back in the studio to create something more airplay-friendly. "Sometimes when a record isn't reacting all the way or the way you expected to," Majid says, "it just feels like the demand may be less, so you may want to go back and revamp stuff on the music side of things."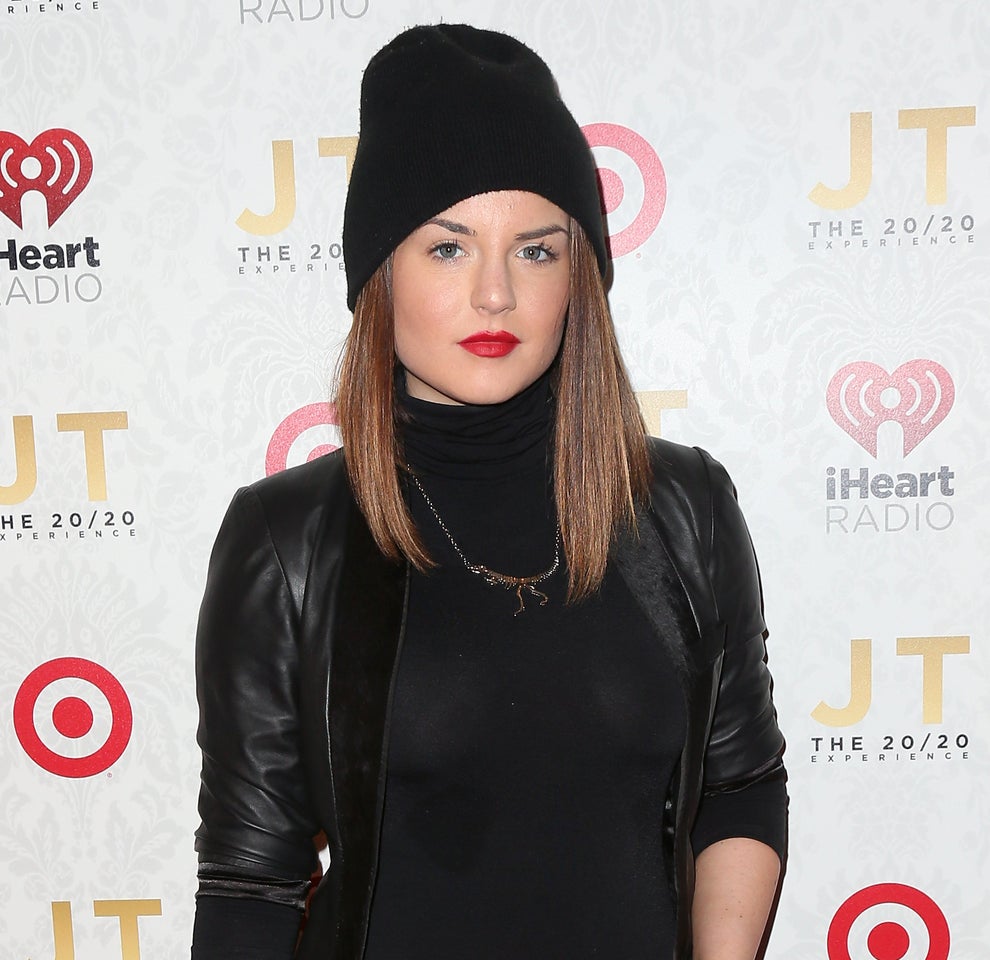 The label wants to create a demand for the artist.
In order to really sell an artist, there needs to be a demand. And what better way to do that than by making people wait a little bit? It's not unlike the film industry, where studios often push back release dates of movies with positive early reviews to create more hype.
"You look at such a great artist like A$AP Rocky, where that album would get pushed back and pushed back, but they were building something special, and they found the right song," Majid says. "He had a great [first] week, he's selling well, and he's doing great touring. I remember reading on the blogs, 'Oh, it got pushed back again, it got pushed back again,' but there's no wrong reason for it being pushed back. They were building an incredible demand for the product. Everything's just case-by-case."
And it's common now to first build up some interest in and excitement around the artist, before they release an actual album. "There [will be] this great base that's building … and we're like 'Look, if we wait a couple months, they have this festival set up, this record's going to be pushed out, that video — it's a massive marketing campaign that's going to help build a demand. "
The artist has been mismanaged.
"[JoJo's case is] one of those extreme situations where you have a guy like Barry Hankerson, who is one of those guys who would just go to war and say, 'No, I'm not doing it,'" says David Byrnes, a partner at Ziffren Brittenham, whose firm has represented clients like Michael Jackson, The Rolling Stones, and Fleetwood Mac.
Blackground's CEO Barry Hankerson is notorious in the record industry for being one of the more questionable label execs in the business. Hankerson was ordered by a court in 2011 to pay his former girlfriend (who was once signed to Blackground as an artist, according to JoJo's manager Gita Williams) over $3 million in damages for repeated instances "stalking, defamation and the intentional infliction of emotional distress," and reportedly blowing up her car.
Singer Toni Braxton sued Blackground in 2007 to end her relationship with the label and Hankerson. Timbaland, who was signed to the label as a performer, filed suit in 2009, claiming that Hankerson tried to blackball his producing career with different labels.
The Blackground company website is currently a Go Daddy domain page, and according to Williams, they've closed up shop, probably don't have any employees, and can't be contacted. (BuzzFeed was unable to reach anyone at Blackground for this piece.)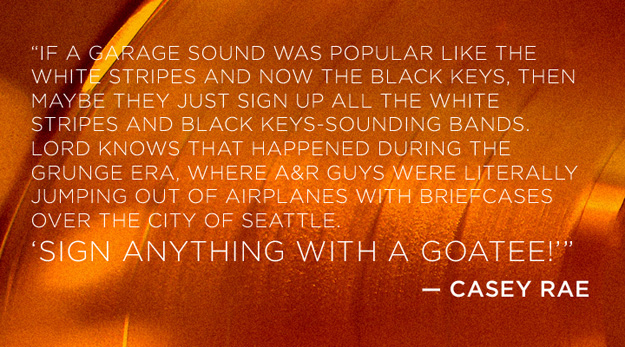 The label's focused on their competition.
An artist can also get held up because of competition between labels. If a certain kind of sound is suddenly in demand, labels might rush to sign similar artists — either to profit off them themselves, or to simply sit on them and claim them, Rae says. "Maybe it makes sense to sign you, get you under contract, and keep you off the streets, so nobody else has you. But they don't actually care if they do anything with you."
"If a garage sound was popular like The White Stripes and now The Black Keys, then maybe they just sign up all The White Stripes and Black Keys–sounding bands. Lord knows that happened during the grunge era, where A&R guys were literally jumping out of airplanes with briefcases over the city of Seattle. 'Sign anything with a goatee!'"
Whether or not it's a deliberate strategy by the label to hoard certain acts so other labels can't get to them, "at the end of the day, the result is the same," Rae says. "You get frustrated creators who aren't able to earn revenue from their creative expression, which is the whole reason they got into this game to begin with."

The obvious answer is that artists should walk away from their label and find a better contract somewhere else, but it's not always that easy. Bailing on a contract can be next to impossible because of two critical issues.
Problem #1: The artist owes the record label an album.
While some contracts are written to expire after a certain number of years, others require the artist to put out a given number of albums before they can move on to a new home. JoJo signed a seven-album deal with Blackground Records in 2004, but nowadays those kinds of deals aren't common, Majid says. Three or four albums are more standard, and labels may even offer deals for one-off albums or singles, if it seems like the artist has potential. "That sometimes works great for the artist," says Majid. "Whatever other recordings they do [on their own], they have ownership of, but at the same time [they] still get promoted for the record that's getting them some exposure."
Though record labels are learning to adapt and change with their audience, many artists are still stuck in binding deals from when they first signed.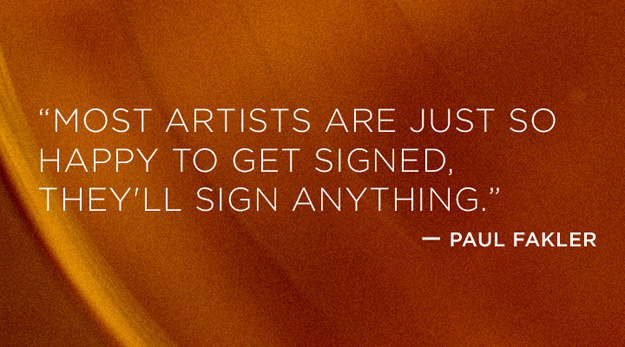 Problem #2: The artist has little leverage.
"The fact is, when any new artist signs their first record deal, they have absolutely no bargaining power," Fakler says. Unless you're an artist that's built up a following on your own and can gain leverage that way, it can be hard to negotiate a contract that will favor the artist, Fakler says, who calls the terms "pretty much akin to indentured servitutude."
"They're exclusive contracts, the record company has absolute authority with respect to the decision of whether to release the albums that are turned in or not," says Fakler. "Most artists are just so happy to get signed, they'll sign anything."
But most new artists can't afford the proper legal representation, and don't have access to anyone who can explain to them in clear terms what kind of deal they're getting. Many artists who sign contracts as minors, like JoJo, have their parents act as their managers, and the parents usually don't have much experience with the music industry.
"My mom read this book called All You Need to Know About the Music Business, and she thought that she had it down pat," JoJo tells BuzzFeed. "She raised me off of very little, and she cleaned houses for a living and sang as a church soloist in our church in Foxborough, Massachusetts, and she trusted [the system]."
When speaking out against his label in 2010, rapper Lupe Fiasco said that Atlantic Records made it clear that if he didn't sign a 360 deal, he wouldn't be promoted by the label:
"I was also told that because you didn't sign this 360 deal, we may or may not push your record. So when 'Shining Down' came out, and you didn't hear it on the radio station, that's because they never took it to a radio station."
A "360 deal" is the term for a modern major label contract that allows the label to take a percentage of an artist's earnings from all of their activities. That means touring grosses and merchandise sales, says McLane: "They're going to take a percentage of your Revlon commercial, they're going to take a percentage of your appearance on Fallon." This kind of deal is by far the most common arrangement that major labels offer. The way labels sell this idea to artists, says McLane, is by saying that the label will "invest in your career over the long term and assist you in artist development in ways that they wouldn't be able to if they didn't have these enhanced revenue streams available."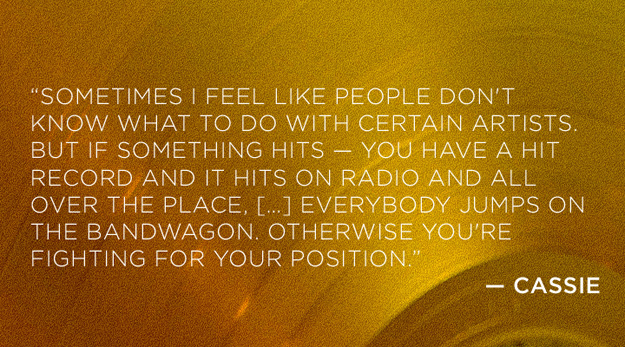 If an artist is facing one or both of those two problems, they can (and often do) try to remedy the situation by trying one or more of the following:
Try to part amicably.
Most labels want to be in mutually beneficial partnerships with artists. "If you're a record company, you don't really want someone who's unhappy and a headache; you want to devote your energy to things that are productive," says Byrnes. But, he adds, "[labels] don't want to let them go unless it's truly unworkable."
In 2010, after tension with their label over their marketability, the band OK Go asked to be released from their contract, and EMI let them go. "It's one of the rare moments in corporate history that I've experienced when someone just did something nice. They had the right to step on us, and they didn't," OK Go manager Jamie Kitman told the Wall Street Journal.
Make noise; first privately, then publicly.
"A lot of the time you just really have to bug the hell out of a label, just like bug them, bug them, bug them, and become a nuisance," McLane says. "And then they'll be like, 'Well, this is more trouble than it's worth. We're not making any money off this artist and their lawyer's harassing us, let's just release the artist.'"
If behind-the-scenes rabble-rousing isn't cutting it, artists will resort to public calls for help, like Bow Wow did in 2009, when he pleaded on Twitter to be released from his label contract:
"Yep! It's true! I want off Columbia. I'm asking to be released. NO they not dropping me I'm askn. Not happy there. Been like dis 4 5yrs."
Lupe Fiasco went public with his frustrations against his label, Atlantic Records, in 2010. He delivered speeches and interviews discussing the three-year process to release his third album, Lasers, which he claims was artistically controlled by Atlantic. His fans even organized a protest outside the label's offices in late 2010. "I am a hostage," Fiasco told the Chicago Sun-Times the following year. "I gave them what they wanted. If I didn't, at the end of the day the album wasn't coming out."
Prince also famously resorted to writing "Slave" on his face, during the 1995 Brit Awards, to try to drum up noise and be released from his contract with Warner Bros. And while he didn't have an issue with the label holding back his music, his bold act is an example of the creative lengths some artists go to break their contracts.
Take legal action.
Legal action is usually the last resort for most artists, because it's time-consuming and expensive. "It's an extreme example when you hear about someone suing," McLane says. And though these cases will mostly be settled out of court, "a lot of the time you do need someone to raise hell behind the scenes, like a lawyer or manager."
But there are some ways that artists can avoid the mess of filing a lawsuit, by building protective measures into their contract from the start. A "Key Man Clause" is one such precaution. If an artist feels like their champion has left the label, voluntarily or otherwise, they could exercise the clause in their contract. The "Key Man Clause" gives artists the right to leave if their manager or the person who signed them leaves the label. This is one of the most common reasons artists end up in limbo, so it helps to make sure you're free to leave if you feel like your champion is gone too.
Another option is to write an "out clause" into the contract. "Usually when you negotiate a record deal for an artist," McLane says, "you always put a clause in that if a label doesn't commercially release an album within a reasonable period of time, anywhere from a year to three years, depending on the situation, the artist is free to go. I rarely see a label not agree to that, because it's fair, as long as you give them adequate time to at least give it a shot."
If the artist signed their recording agreement in California, a law known as the "7-Year Contract Statute" can protect artists who have signed contracts with no end date. The law states that a contract for personal services rendered is void after seven years from the date of signing. In the '90s, Metallica famously invoked the statute to end its run with their label, Elektra.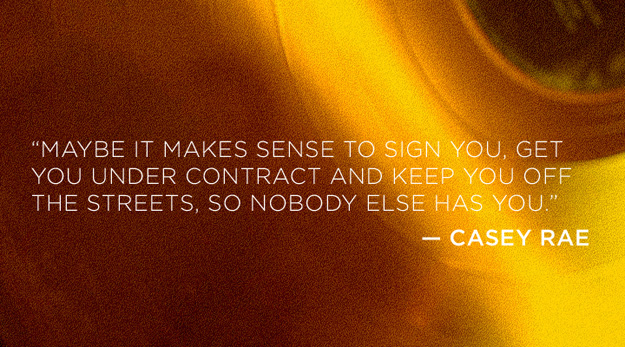 In 2009, JoJo filed a lawsuit against her label Da Family Entertainment/Blackground, after being forced into a state of limbo. "I didn't want to be in a legal spat with anyone," JoJo tells BuzzFeed. "I thought this would be the resolution I was looking for." She wrote about the experience on her MySpace blog the year she filed suit:
"My record company has been going through a major transition and unfortunately all of the artists on the label have been forced to sit on the sidelines and wait. I exhausted every option and exercised much patience before reaching my final decision to file a formal complaint with the court.
JoJo filed under breach of contract, because Blackground was unable to find distribution. But the lawsuit was eventually dropped, after the label resolved the issue by securing distribution with Interscope, JoJo says. "Instead of entering something really unpalatable, I was like, 'Let's give this a shot. I believe in Interscope and what they do.'"
However, Interscope dropped Blackground just three years later, and the label is now, yet again, without distribution.
In lieu of an official release, over the years JoJo's released one-off songs she's uploaded herself online, as well as two mixtapes. Last December, after years of waiting and trying to cooperate with her label, JoJo decided to go ahead and release her second mixtape of new music for her fans. Agápē was well-received by critics, and fans were overjoyed. But both JoJo and her fans hope she can find a way to put out an official album on her own terms, soon.
When asked what advice she'd give to new artists, and what she wishes she'd known when she first got into the business at age 12, JoJo says it all comes down to understanding what you're getting yourself into. "Make sure you have a solid lawyer that's well-versed in the entertainment industry," JoJo says. She advises new artists to make sure "that your lawyer is not affiliated with, I don't want to say this, but, 'the other side.' Make sure your lawyer is working for you."
And while it's easy to pass off the legal work to someone else, JoJo stresses the most important thing is that the artists themselves understand the contract. "Everybody's contract is different," she says. "I think that the power, with anything, lies in knowledge, in empowering yourself to know the intricacies of your situation, your contract, and how it pertains to your life. It's all about being as aware as possible and then exploring what your next move is."
"Don't feel bad about defending yourself, about asking for things," JoJo says. "The worst that can happen is you'll get turned down. Protect yourself not just for the short term, but the long run. Think about yourself as a career artist, and don't just ask, 'What am I going to do this year?'"