1.
The inevitable stormtrooper redesign for Episode VIII:
2.
Young Anakin's total lack of vision:
3.
Using simple math to prove Rey's heritage:
4.
Disney eradicating the entire Extended Universe:
5.
Rey's accidental criticism of the prequel trilogy:
6.
Ewok missionaries sharing the good new about C-3PO:
7.
Finn and Poe's beautiful bromance:
8.
The truth about Luke's most cherished possession: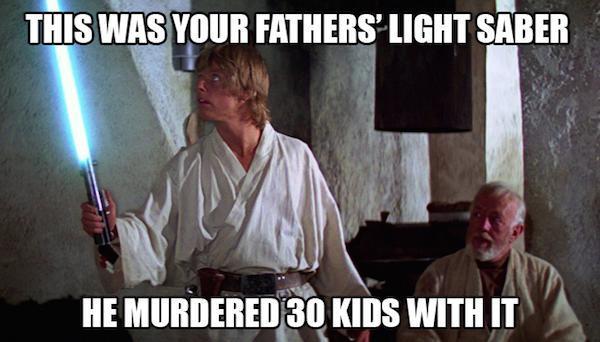 9.
Kylo Ren finally catching up with BB-8 on the publicity tour:
10.
Darth Vader selfies:
11.
Sharing Maz's gift for seeing the same eyes in different people:
12.
Obi-Wan big plans for the evening:
14.
The greatest pun in a galaxy far, far away or anywhere else for that matter:
15.
Luke's utter disregard for proper lightsaber safety:
16.
The Empire's embarrassing downfall:
18.
Ben Kenobi's nostalgia for his days on Mustafar:
19.
Dating tips from Queen Amidala:
20.
Episode VII: The Force Hits Snooze, Like, 10 Times: