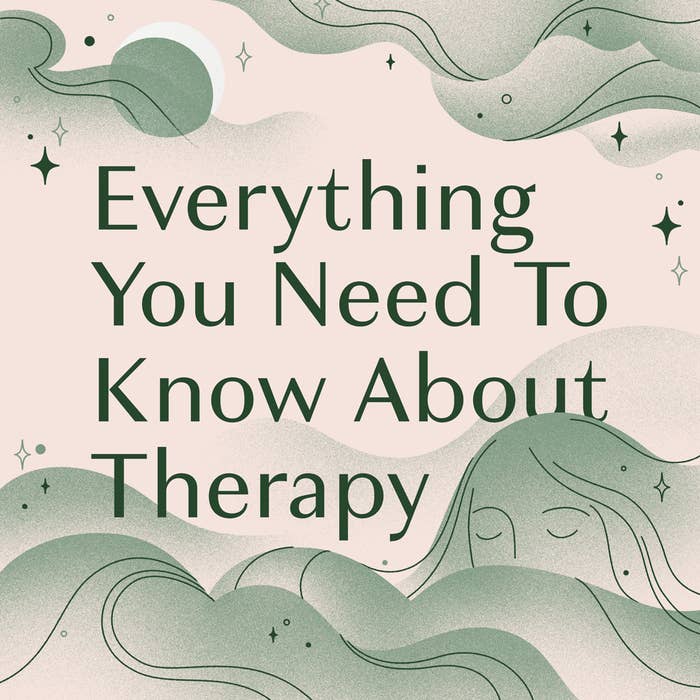 It pretty much goes without saying that we're big fans of therapy and think you should be, too. After all, a therapist is a person in your corner whose job it is to be an expert in supporting you, listening to you, and guiding you to look within yourself and reach your full potential. Which: amazing.
But just because we're fans of therapy doesn't mean we're fans of the whole process. You know, finding a therapist you actually like or dealing with insurance or actually...learning how to talk about your shit.
So, we put together this guide to answer your questions and hopefully help make this whole therapy thing easier from start to finish. As a heads up, all of the information in this post comes from interviews (both for this post and previously reported BuzzFeed posts) with licensed clinical psychologists Ryan Howes, Andrea Bonior, Loren Soeiro, Lynn Bufka, and Stephanie Smith; National Alliance on Mental Illness (NAMI) HelpLine manager Kate Mallow; and the Diagnostic and Statistical Manual of Mental Disorders (DSM–5), which is the classification and diagnostic tool of the American Psychiatric Association.
1.
How do I know if I need therapy?
Well, first, you shouldn't think about it as "needing" therapy. A better question is, "How do I know if I can benefit from therapy?" And honestly, the answer is you probably can no matter who you are. There's this common misconception that there is a barrier to entry for therapy: that you have to have a mental illness, that you have to reach a certain level of stress/anxiety/trauma/etc., that you have to have a very specific problem that needs fixing, etc. And while those are certainly great reasons to seek out therapy, they're not required. Most people can benefit from therapy, and therapy is helpful for a lot more than people realize.
Some great examples of reasons to go to therapy:
• You need a place to practice being more assertive, more social, more vulnerable, more something.
• You feel sad, anxious, burnt out, or lost.
• You're miserable at your job and need to learn how to cope — or how to move on.
• You want to be more self-aware or emotionally intelligent.
• You're ready to talk about something that happened in your past.
• You want to improve your relationships and be a better partner.
• You have a goal you want to achieve but need some help or motivation.
• You need feedback about how you come off to others.
• You want to learn relaxation or mindfulness techniques and other self-care exercises.
• You need help forgiving someone in your life.
• Or honestly, you just really need someone right now, even if you don't know why.
All good reasons. "There's no hard and fast rule," Soeiro tells BuzzFeed. "If you feel a kind of internal emotional pressure that won't go away, and you don't feel better after talking to your friends or practicing self-care in other ways (exercise, sleep, good nutrition), you might benefit from talking it out with a therapist."
2.
How do I find a therapist?
Finding a therapist is kind of like dating. Seriously. Meaning it could take multiple tries before finding ~the one~ and at times, the search might be frustrating. But ultimately, it will be worth it.
On a more practical note, though, there are two main avenues you can pursue to find a therapist:
Going directly through your insurance. Many insurance plans have helplines you can call or databases where you can search by location, method of therapy, and specialty.
Searching online. Our favorite place to search is the Psychology Today therapist finder because of its extensive filtering options. You can plug in your insurance, desired specialties, mental illness, and a ton of other things to find whatever you're looking for. ZocDoc is also a solid way to search, but it's not as customizable.
Obviously, referrals and word of mouth work too. Your general practitioner might have a recommendation, and it never hurts to ask friends if they like their therapists and wouldn't mind you checking them out, too.
3.
There are so many options, though! How do I pick the right therapist?
You have to think about what you want in a therapeutic relationship — and there might be some trial and error. That's okay! What you need will be unique to you, so think about what kind of person you'd be most comfortable with. Maybe you want a therapist who will challenge you and light a fire under your butt, or maybe you're more looking for a space just to talk and process things with an unbiased third party. Maybe you want a therapist who reminds you of your dad or a mentor figure, or maybe you need a therapist who feels more like a peer and a friend.
A lot of therapists put time into making sure their bios or websites reflect who they are as people and therapists. It might not be foolproof, but you can probably get a basic sense of whether they'll be a good match for you just based on how they choose to present themselves.
On top of finding a therapist you feel comfortable around, it's really helpful to find someone who is familiar with (or even specializes in) identities of yours or issues that are important to you. Some therapists will list that kind of stuff in their bios, but always feel free to ask prospective therapists whether they feel equipped to talk about issues that pertain to your ethnicity, race, religion, gender, sexuality, politics, family situation, career, etc.
If you want help narrowing down potential therapists before making an appointment, most will do a free phone consultation with you ahead of time, which can give you a feel for how conversation flows and an opportunity to ask questions. It's not required, but it could save you some time and money if you get a bad feeling from someone you were prepared to make an appointment with.
4.
What if I can't afford therapy or don't have insurance?
Money can be a big barrier when it comes to seeking therapy — but you DO have options. If you have insurance, give them a call to clear up about what's actually covered. They might be able to help you out. But if you don't have insurance or want to pursue other options for whatever reason, here are a few ways you can look for free or affordable therapy:
• The NAMI HelpLine can help you with anything under the mental health umbrella short of a crisis situation, so they'll be happy to field questions like "Where's the closest free support group near me?" or "How do I find low-cost treatment?" You can reach them at 1-800-950-NAMI (6264) or email them at info@nami.org.
• Dialing 211 will connect you with a resource and information helpline in your community that can refer you to things like support groups, homeless shelters, low-cost therapy, and other forms of support you might need.
• The Substance Abuse and Mental Health Services Administration (SAMHSA) treatment locator is a comprehensive national organization that will locate low-cost therapy options, support groups, and free mental health clinics. (Don't be thrown off by the name if you're not seeking treatment for substance abuse — it's great for that too, but it has resources for tons of mental health issues.)
• Look for a therapist who has a sliding scale, which means that they will work with you to set a price that works for you depending on your situation. You could get up to a 70 percent discount on treatment. The Psychology Today therapist finder we mentioned is a great resource to find providers who offer a sliding scale — just mark it on your search settings.
• See if your job has an Employee Assistance Program (EAP), which can provide you with short-term mental healthcare, referrals, and financial advice.
• Look into nearby graduate schools or teaching hospitals, which usually have clinics where people training to be psychologists, social workers, and family therapists see people at a reduced rate or even free in order to get on-the-job experience. And don't worry about not receiving quality care: trainees work under the supervision of a licensed practitioner and will be in-the-know about new and innovative treatment approaches.
• Consider group therapy or support groups, which can be cheaper or free.
• And lastly, hot tip! Most therapists take on a number of clients for free, so don't be afraid to ask if they have pro bono spots open. When you reach out to a therapist, you can say something like, "I'm curious if you have any pro bono slots open right now. I'm really motivated to do the work, I just don't have the money. Is that something you'd be open to?" It might take some trial and error to find someone whose answer is yes, so keep trying!

5.
What actually happens in therapy?
That depends on what kind of therapy it is. And there are loooots of types of therapy. Seriously, look how many there are. When it comes to picking one for yourself, there are certain approaches that are considered more effective for certain mental illnesses and struggles, but also, it can come down to personal preference.
Most likely, though, you're going to be seeking out some sort of psychotherapy, or "talk therapy," as opposed to, say, art therapy or animal therapy. Some of the most common kinds of talk therapy are:
Supportive therapy — You might not have heard of it referred to as such, but supportive therapy is the most common type of psychotherapy and is probably what you think of when you imagine what therapy is like. You know, where you go in and talk through your problems and feelings, and in return receive validation and reassurance, talk about alternative behaviors, and get a sounding board for problem-solving. Basically, any sort of therapy or counseling that offers empathy and education, and seeks to achieve, restore, or maintain your highest possible level of function is supportive therapy.
Cognitive-behavioral therapy (CBT) — CBT is focused more on problem-solving as opposed to talking things through. Your therapist will help you identify thinking and behavior patterns that aren't working for you and give you healthy alternatives and skills you can practice in the ~real world~.
Psychodynamic therapy — Not to be mistaken with psychoanalysis (which is much more intensive and somewhat closer to the stereotypical image you might have of someone lying on a couch talking to a Freud-like figure for hours). The general idea is to talk through your past experiences and feelings to improve self-awareness and change old patterns.
Dialectical behavioral therapy (DBT) — DBT is actually a specific type of CBT, focused on practical ways to regulate emotions and skills to help you take responsibility for unhealthy or disruptive behavior. It's typically used to help people with borderline personality disorder, chronic suicidal ideation, post-traumatic stress disorder, or eating disorders.
It's also worth mentioning that a lot of therapists use multiple or hybrid approaches — like integrating art therapy into CBT, or CBT exercises into supportive therapy. You can always ask a therapist to talk more about their approach.
6.
Wait, so what's the difference between therapy and counseling?
In practice they're pretty interchangeable, according to Howes. Generally speaking, if someone has a license in psychology, psychotherapy, or counseling, they've met the basic standards to practice in the field, and the approach of a therapist won't look much different from the approach of a counselor.
Degree differences aside, people generally seek counseling for common problems of life, like communication problems in a relationship, loneliness, or career guidance. Therapy, on the other hand, is typically understood to be for deeper issues like trauma or abuse or one of many diagnosable mental disorders.
But tbh, call it whatever you want. "I have some clients who prefer to call our work counseling and others say therapy, and I don't dispute any of them," says Howes. "We're doing the same work, they're welcome to call it whatever they want."
7.
So how much stock should I put in potential therapists' degrees? Does it really make a difference?
When looking for potential therapists, you'll probably run into some with doctoral degrees (like a PhD or PsyD) and others with master's degrees (such as in counseling, social work, or marriage and family therapy). It can be kind of confusing, and you might assume that the more advanced a degree, the better quality therapy you'll get. But tbh, it doesn't make as much of a difference as you might think.
"In general, a PhD or PsyD psychologist spends about twice as much time studying theories of personality and psychotherapy, and has twice as much guidance and supervision applying their theories during their training than their master's level counterparts," Howes tells BuzzFeed. "The additional training may result in a better therapy experience for you, but not necessarily."
Take this story from Howes, for example: "I knew a client who saw a seasoned psychologist and a social worker in training. The psychologist wrote a half dozen books and had 40 years of experience, and the social worker was in their first year of training. The trainee was easier to talk to, though, and seemed eager to understand and work to try to find solutions to the problems, while the experienced psychologist seemed aloof and burned out."
But at the end of the day, you could be seeing the most qualified therapist in the world, but if you guys don't click, therapy's not going to be as effective as if you were seeing someone with less experience who you feel comfortable opening up to.
8.
Okay, okay, I get it, a strong match is most important, so how — and when — do I know if a therapist is a good fit for me?
A good rule of thumb is to give it more than one session unless you get an actively bad feeling from a therapist and know it's not going to work out. The first couple of sessions can be awkward and are not usually reflective of how therapy will actually go (more on that later), so give yourself a few sessions to warm up.
Past that, it's kind of a gut feeling. Do you feel heard, understood, and respected? Can you see yourself opening up to them and sharing the deep and difficult things in your life? Is there anything about them that makes you feel like your guard is up when you're with them?
Also, be sure that you're not conflating disliking your therapist with disliking the things they're saying. "The experience of therapy itself isn't always going to be fun or enjoyable," Bufka tells BuzzFeed. "But in the context of that, you should feel safe, accepted, and heard, and at times challenged."

9.
OKAY! I made an appointment. What should I do to prepare?
You'll want to get together all the necessary materials, like your insurance information (if applicable) and medical history. It's also helpful to reflect on your goals and think about your reasons for coming in.
Your goals for therapy can (and probably should!) change as time goes on, and they don't have to be super concrete, either. But it's a good idea to think about it beforehand. And if you're not sure, a good therapist will help you figure it out. Howes tends to ask his clients, "If you rub the magic lamp and have three wishes, what are they?" In therapy, you can run with what you ideally want your life to look like and scale back from there.
10.
What can I expect the first session?
The first session — usually called intake — is pretty guided. You can talk about as much or as little during the first session as you're comfortable with. But either way, you should expect to talk about your history. Think about things like your family and important relationships, academic and work history, your relationship with drugs and alcohol, and how your current situation developed. "Don't think that you have to give the full account of your life, though. You're going to miss things and that's OK," says Howes. "But come ready with the highlights."
11.
Does the therapist usually offer a prompt, or am I supposed to come in knowing what I want to talk about?
In general, it's you, not your therapist, who's in charge of how you spend your session. A good therapist isn't going to push you into talking about something, and will typically let you lead the conversation. So if you have something you want to talk about, you should certainly bring it up at the beginning of a session.
But that's not to say they won't help you if you're totally stumped. Some therapists (such as those who practice CBT) will want to review your therapy "homework," and others may bring up something you said in a previous session in order to explore it more deeply. Others might even give you a random prompt. Depends on the therapist, really!
12.
What do therapists write in their notes?!
Well, not all therapists take notes during session. But if they do, it's most likely that they're just jotting things down to help them remember what you said during session so they can write their case notes after or refer back to important details in the future. They can be anything from "feels distant from friends but anxiety prevents her from reaching out" to "really into using astrology to explain her problems with dating."

13.
Is what I say in therapy really confidential?
According to the American Psychological Association (APA), what you say in therapy really does stay between you and them, thanks to the Health Insurance Portability and Accountability Act (HIPAA), which dictates a national standard of privacy that protects patients' medical records and health information.
There are exceptions, though: a practitioner can share your information without your consent if they believe you pose a risk to yourself or others; if they're made aware of ongoing domestic violence, abuse or neglect of children, the elderly or people with disabilities; or if they receive a court order for it. When this would actually happen gets a little complicated, since laws vary state to state and each individual's situation is unique. But if you're concerned about the implications of confiding in your therapist about these issues, look up your state's particular mandatory reporting laws.
If your therapy is covered by insurance, your insurance company will receive information about your diagnosis and treatment, but they are also bound by the same HIPAA confidentiality rules.
(Btw, all of this is in reference to the rights of adults. Confidentiality laws for minors vary more state by state.)
14.
Is there a such thing as a bad therapist?
Well, you've probably gotten by now that there are definitely "bad for you" therapists who might very well be a great match for someone else. But there are red flags that a practitioner straight up isn't very good, usually because they're not upholding good professional boundaries.
A good therapist shouldn't:
• Talk too much about their own life
• Pass judgment on your lifestyle or habits
• Be confrontational, defensive, or argumentative
• Blur the therapist-patient relationship by becoming too friendly (like suggesting social activities or soliciting you for your professional skills)
• Touch you without your consent
Of course, these are just examples. If you're feeling uncomfortable or unsure that your treatment is effective, just bring it up. A good way to gauge the quality of the care you're getting is to be direct about any concerns you have and see how your therapist reacts, since good therapists are comfortable with honest confrontation. And if you don't feel comfortable bringing up your concerns? Another sign this person isn't the best fit.
15.
How long do I have to be in therapy?
It reeeeally depends. Unfortunately, as great as it'd be if your therapist could tell you that it'd take, say, 10 sessions to get the bottom of your abandonment issues, there's no magic formula you can plug your neuroses into to find out how many sessions you'll need. But there are benchmarks you can look out for that it might be time to move on.
If you went into therapy with a clear and specific goal in mind, you ideally end your therapy when you meet your objectives, says Howes. You wanted to reduce social anxiety and now you can attend social gatherings without freaking out. You couldn't fly and now you can. Etc. etc. etc.
On the other hand, if you're in therapy for less concrete reasons — like, to get to know yourself better or to become your best self or to improve your marriage — it's really going to be about your gut feeling. You can keep going as long as you feel like you're growing and learning. Which is something you can check in with your therapist about!
16.
How can I get the most out of therapy?
First of all, just going to therapy won't necessarily help — you have to participate. It's not like going to your primary care doctor for a sinus infection and leaving with antibiotics. It takes collaboration, not just passively sitting back and waiting for results. So, starting therapy with that mindset — prepared to do the work, both in and out of session — will go a long way.
Another helpful thing is to check in with your therapist about your progress. Do you still have the same goals you started therapy with? Are you spending your sessions slowly but intentionally working toward those goals? Do you guys need to shake things up somehow?
Speaking of, speaking up about the ways therapy isn't working for you is also an important part of the process. Like, maybe your therapist is dedicating too much session time to talking about your family and you don't feel like that's productive for you. Or maybe you want your therapist to push back against your bullshit more. A good therapist will listen to your concerns and correct course, within reason.
17.
Anything else I should know?
Basically, THERAPY CAN BE FANTASTIC AND TRANSFORMATIVE. The act of allowing yourself a space to focus on you and only you is one of the most compassionate things you can do for yourself. Yes, it's a professional relationship, but it can also be a weird, wonderful, intimate one, probably unlike any other connection you have.
And if you're still not convinced, research shows that therapy — as long as you put in the work and find someone you trust and can rely on — is effective for the majority of people. So why not give it a chance?
Good luck with your journey, friends. ✨