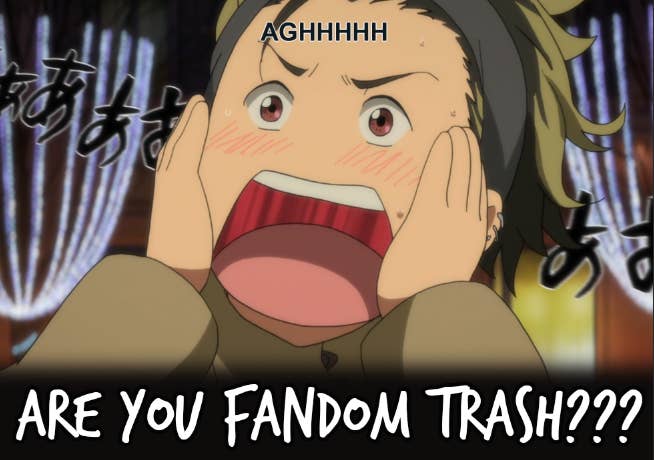 In regards to your current fandom, have you...

Changed your social media icon to your favorite character?

Changed your header to your OTP?

Basically turned your main social media accounts into fan accounts?

Followed swaths of people just because they're in the same fandom as you?

Searched the ends of the earth for every last scrap of canon content available?

Organized and categorized your favorite fics?

Posted fan fiction rec lists on your blog?

Bookmarked your favorite metas to share with your fandom friends?

Saved fan art to your phone or computer?

Commissioned someone to draw you fan art?

Set up alerts for fandom news?

Diligently followed series creators for more content?

Read every single interview from the creators, cast, etc.?

Sought out interviews translated into your language?

Translated content into other languages for other people?

Lain awake at night trying to solve plot holes with your head canons?

Put off socializing or leaving the house for any fandom-related reason?

Drained your bank account to buy merch?

Raided Hot Topic for fandom apparel?

Been gifted with merch for birthdays or holidays?

Even by obscure members of your family?

Met up with other members of your fandom through cons?

Made friends through your fandom?

Made your favorite characters in the Sims?

...And recreated favorite scenes?

Gotten more emotionally invested in your OTP than your IRL relationships?

Been caught smiling at your screen while browsing through pics of your OTP?

Bonded with someone by swapping headcanons?

Endured your phone autocorrecting everything fandom-related to caps?

Engaged in a shipping war?

Tried to convert your friends to the same fandom as you?

Taken every online quiz related to your fandom you can get your hands on?

Stocked up on excuses for when someone knocks on your door to ask why you're screaming?

Shed tears in public over your fandom?

Judged someone heavily for insulting your favorite character?

Talked at length about your adopted fictional children?

Sought out character studies to convince your friends to love your fictional children?

Put off sleeping to do any of the above?