Celebrity friendships come and go all the time, often very publicly. That certainly isn't the case for Taylor Swift and Selena Gomez, though, who met backstage at a Jonas Brothers concert in 2008 and have been best friends ever since.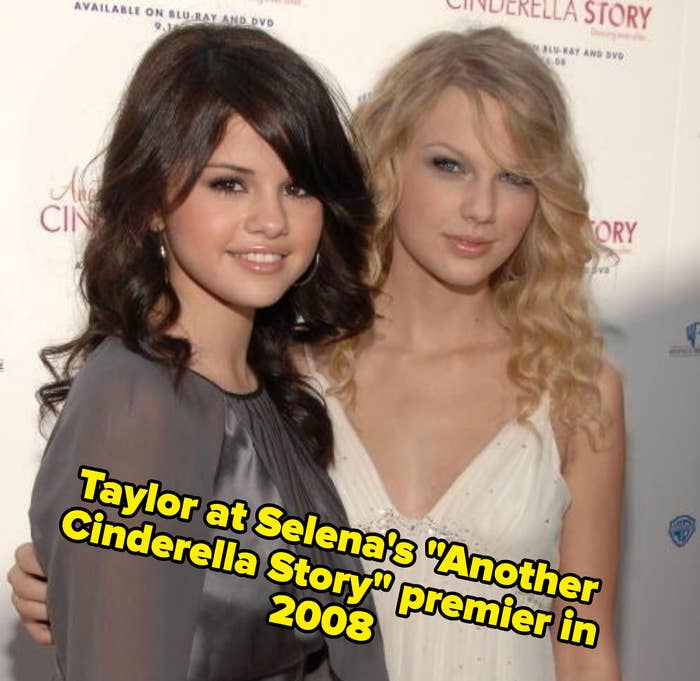 All these years later, their friendship is still going strong. So strong that Selena Gomez recently opened up to Rolling Stone, revealing that she's never really felt like she fit in or could make friends in the industry, except with Taylor.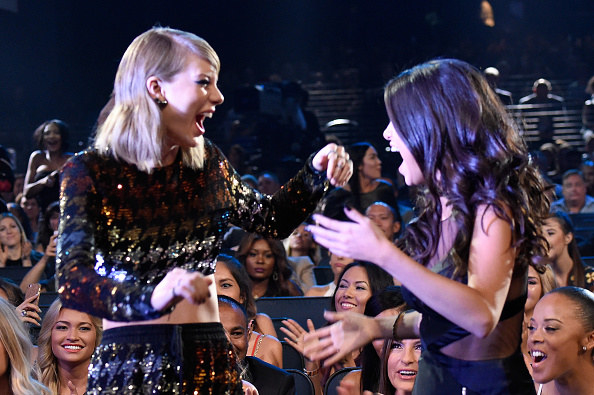 There's no doubt these two have one of the sweetest, most supportive friendships out there. While the two tend to keep their friendship pretty low-key in the public eye, sometimes we get a little sneak peek at their adorable behind-the-scenes bestie moments. Here are 23 of their most adorable, iconic friendship moments:
1.
When Selena told Sirius XM that the most influential artist for her was Taylor, because of her ability to switch between genres so effortlessly: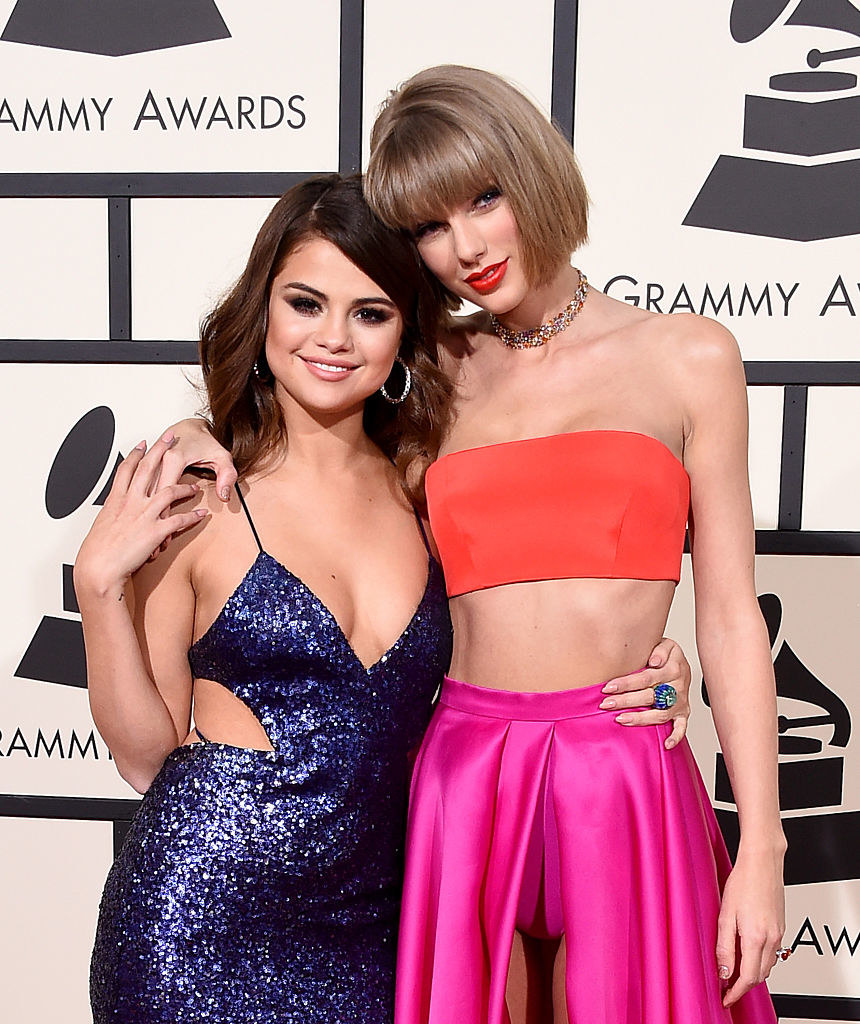 She explained, "Not because she's my friend, but [because] she has been an artist that can transition into so many genres and is able to do it seamlessly. I admire that so much. And that's so rare. I love her process and I just admire all the work that she's done. She's definitely inspired me."
2.
When Taylor made Selena a birthday cake even though they couldn't spend her birthday together: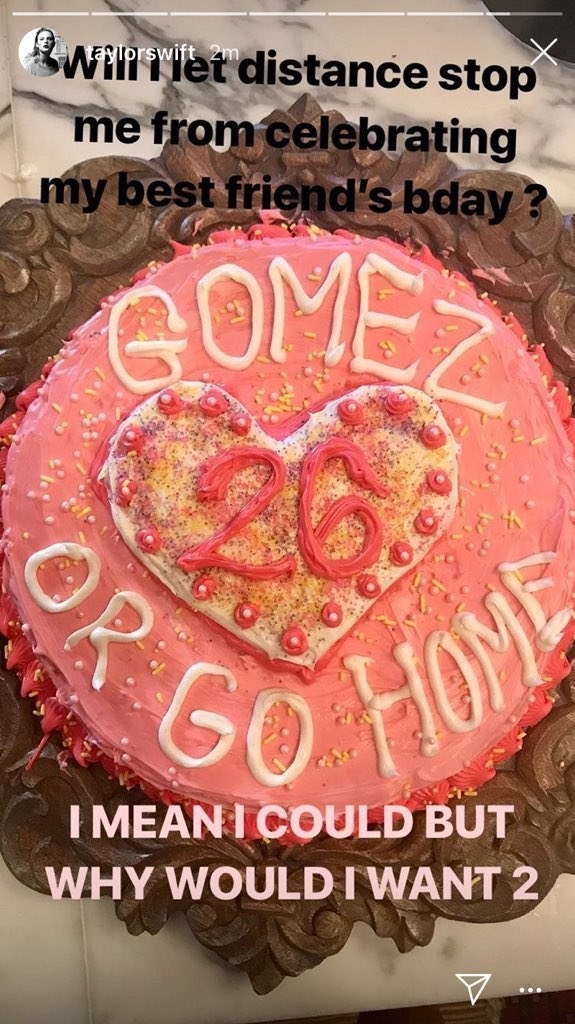 3.
When Selena explained "The Lonely Girls Club" parties to Ellen, and we alllllll wanted to be personally invited over to eat pizza and pet cats with Taylor and Selena: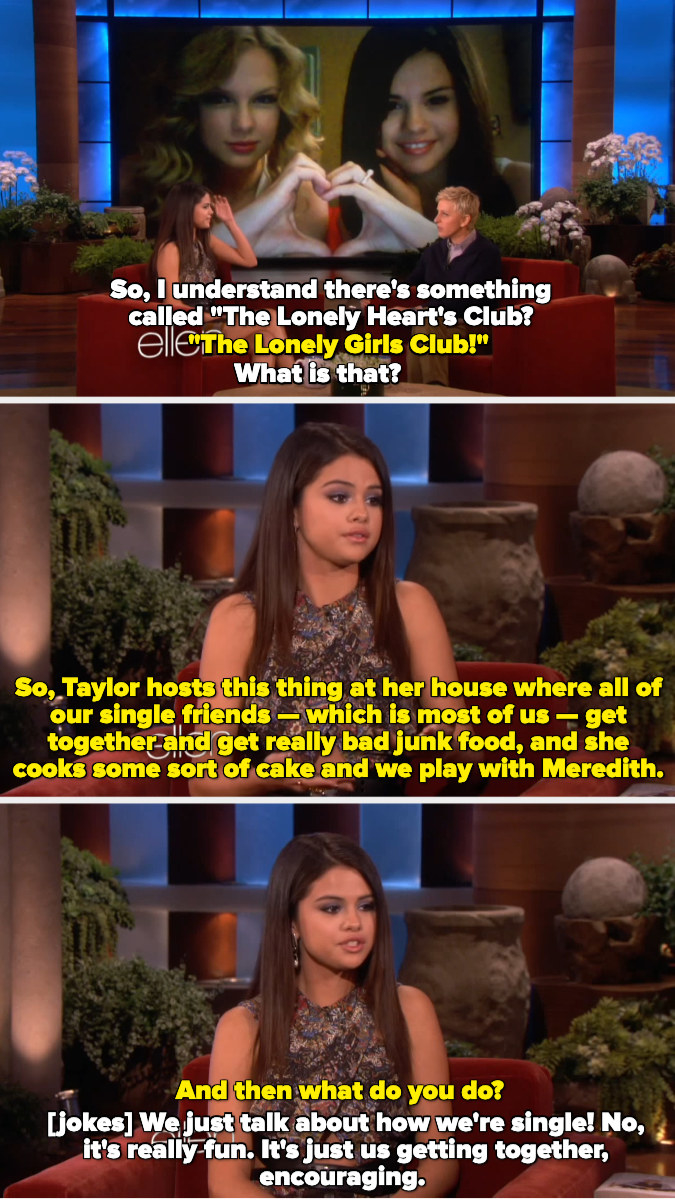 4.
When Ellen tried to throw some shade at Taylor's past relationships, and Selena shut that down reallllll quick: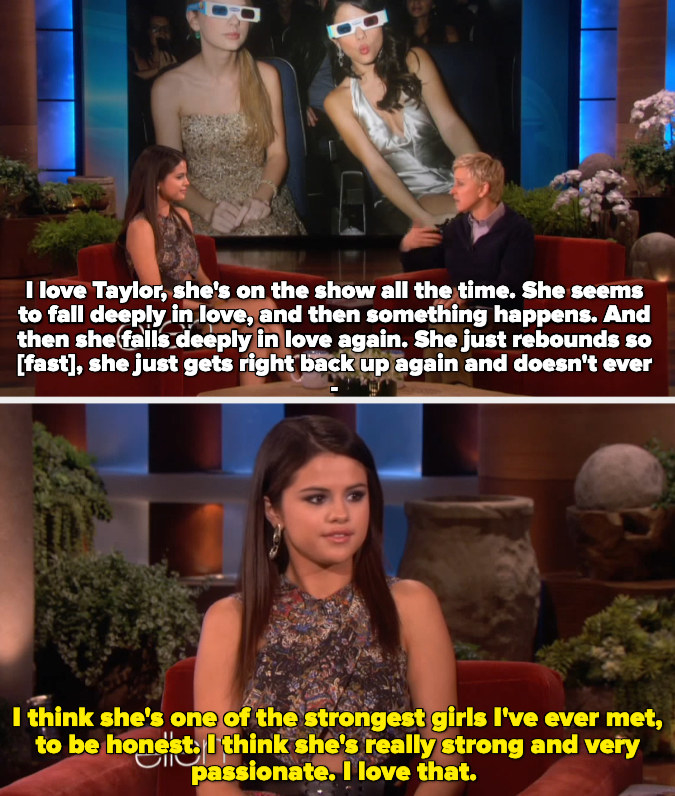 5.
When Selena was the ultimate bestie and got "S" and "T" written on her nails for Taylor's birthday weekend:
6.
When Taylor set the record straight on whether they were actual best friends or just celebrity best friends: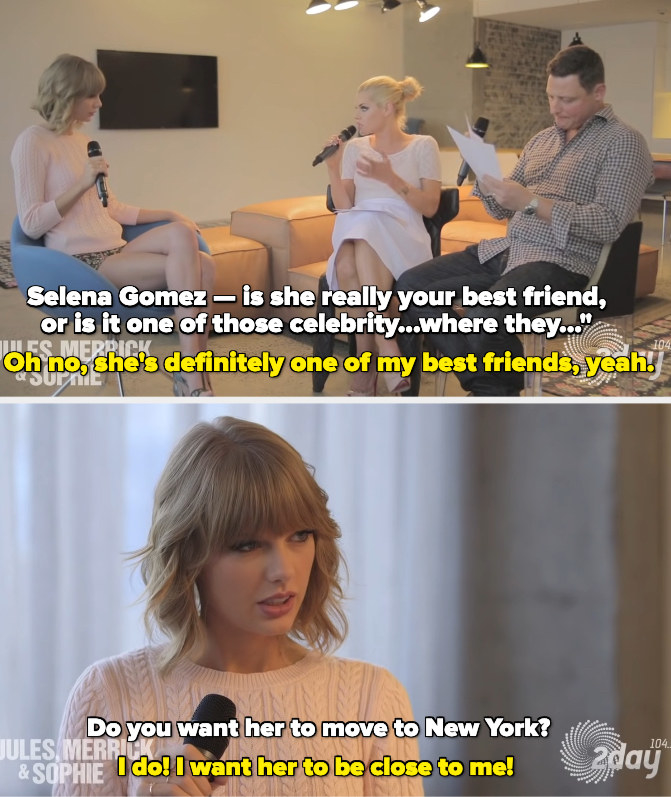 7.
When Taylor was asked if she feels protective of Selena in the industry, and she gave this sweet, supportive response: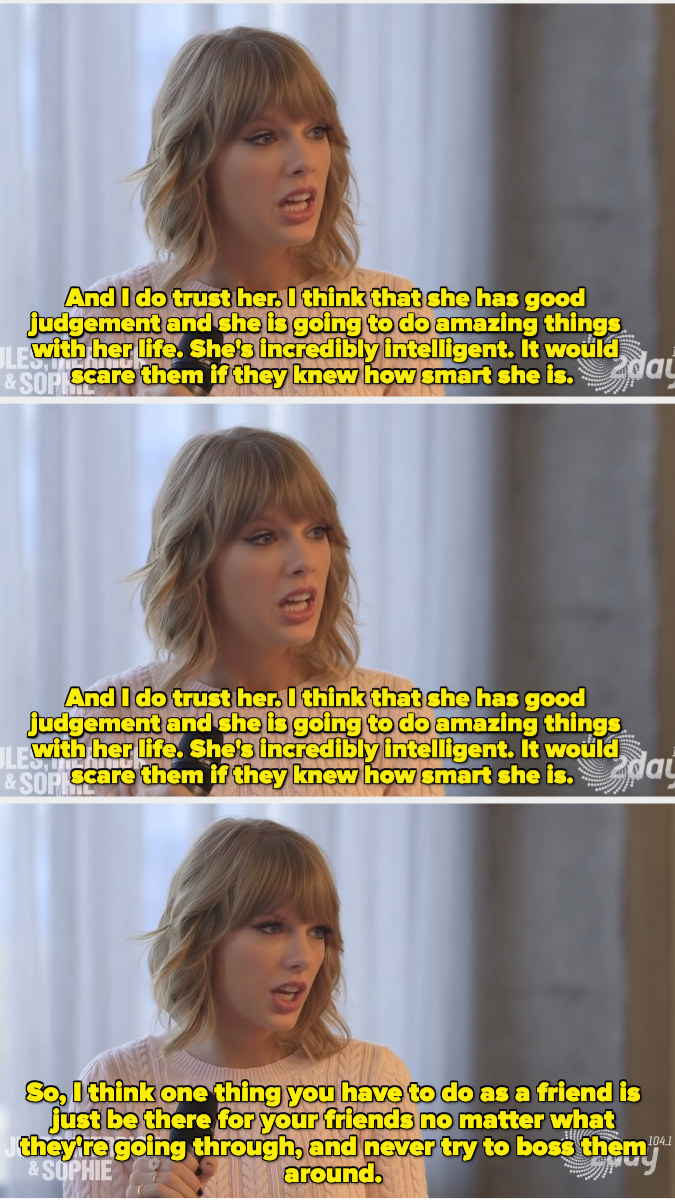 8.
When Taylor wished Selena a happy 24th birthday with this adorable throwback pic: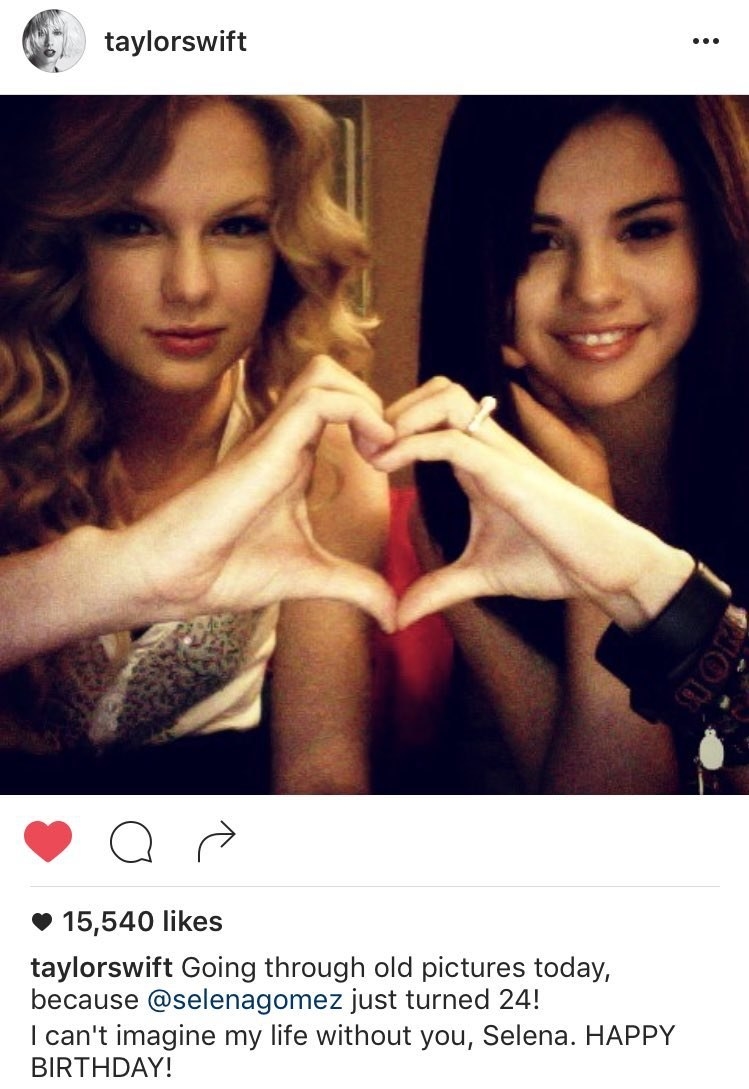 9.
When Selena was so excited about her cooking creation on an episode of Selena + Chef that she called Taylor, who was equally proud and excited to try them for herself one day: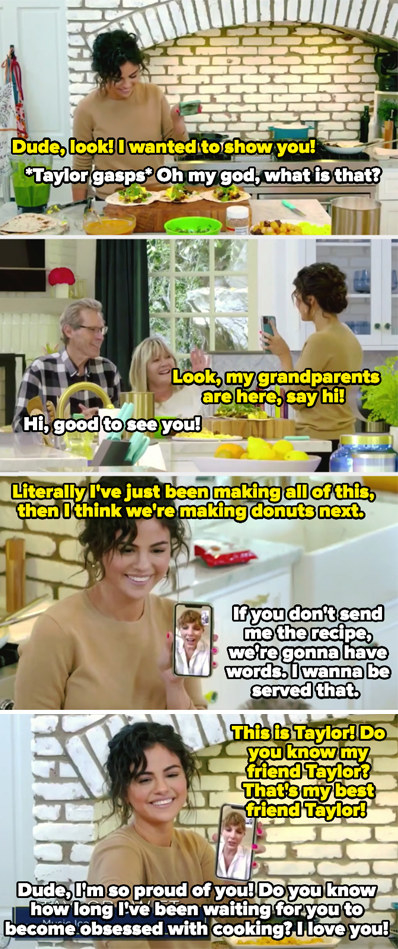 Bonus points for Taylor's name tag saying "music icon."

10.
When Taylor opened her Speak Now tour with the lyrics "you've got every right to a beautiful life" from Selena's song "Who Says" on her arm: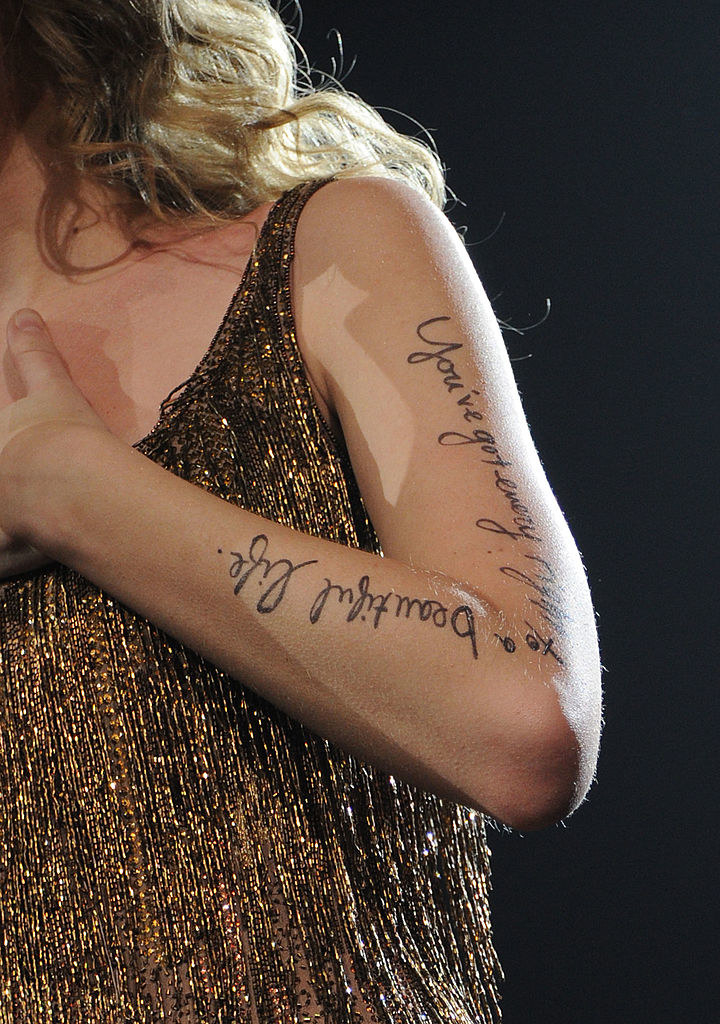 11.
When they shared these adorable selfies from their chill night at home:
12.
When Taylor brought Selena out as a special guest during every tour of their friendship, from Speak Now all the way to Reputation: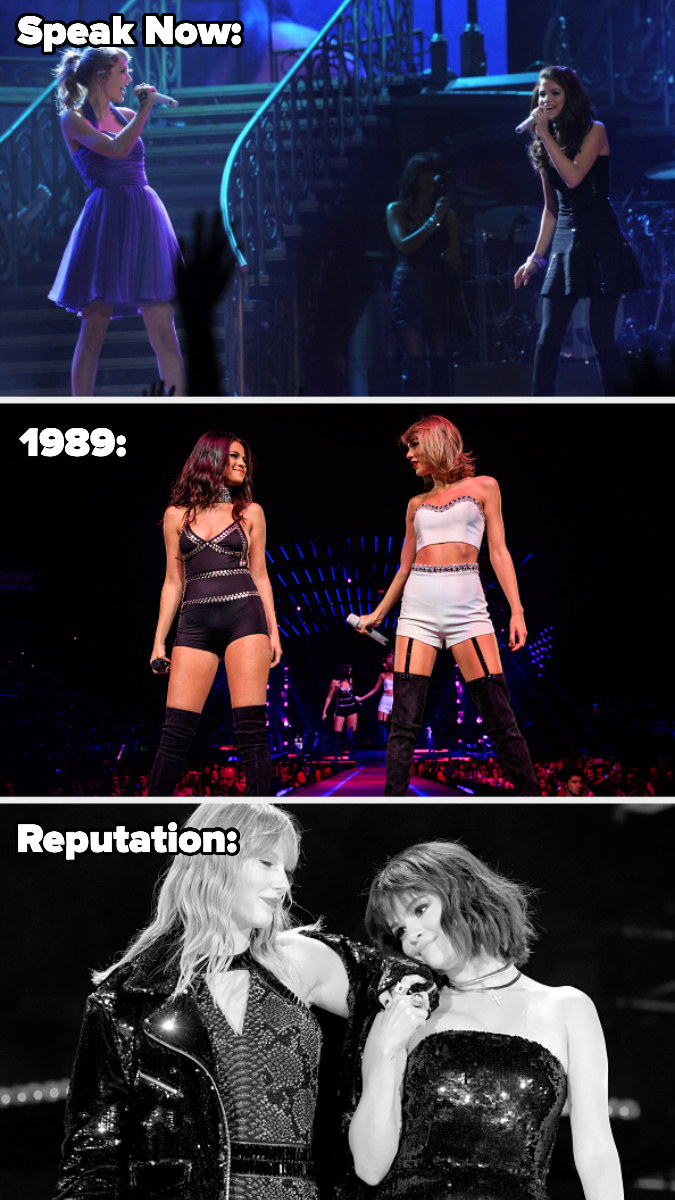 13.
When Selena shared this cute BTS photo from Taylor's Reputation tour, with a super sweet caption saying, "I'm grateful for those I surround myself with. And this woman right here happens to be one of my favorites. Love our tradition and I love you."
14.
When they celebrated their music videos for "Bad Blood" — which Selena was in — and "Good For You" being right next to each other at the top of the charts:
15.
When Selena wrote this letter in support of Taylor amidst her feud with Scooter Braun over ownership of her masters, despite many of Taylor's celebrity friends staying quiet on the matter in fear of retaliation: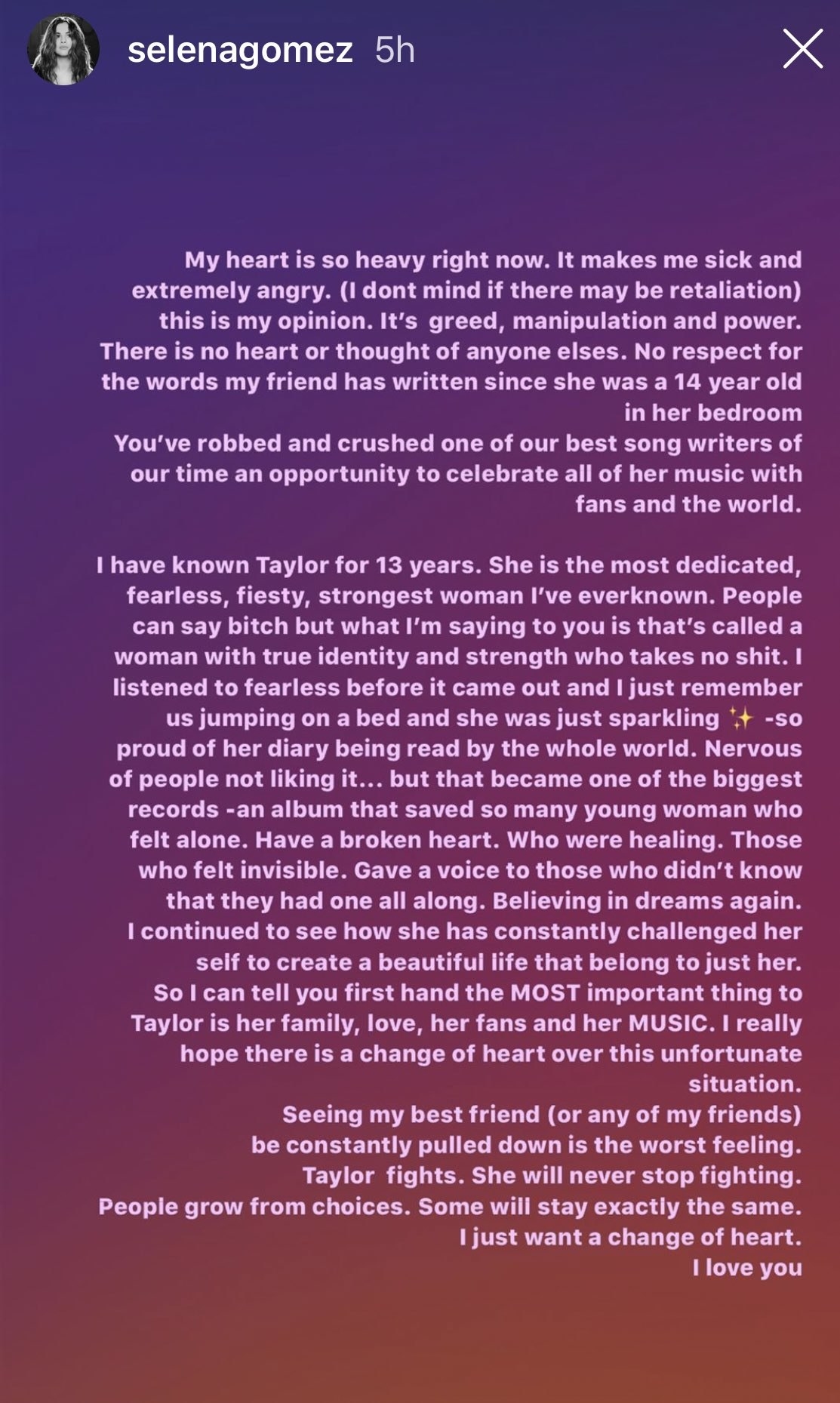 She went on to defend Taylor, saying, "I have known Taylor for 13 years. She is the most dedicated, fearless, feisty, [strong] woman I've ever known. People can say 'bitch,' but what I'm saying to you is [that] that's called a woman with true identity and strength who takes no shit."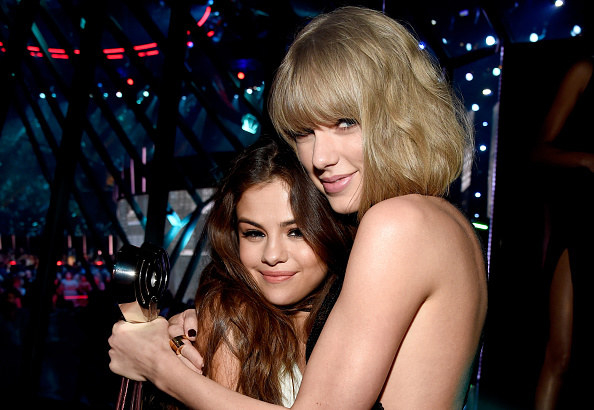 Here's the whole letter:
"My heart is so heavy right now. It makes me sick and extremely angry. (I don't mind if there may be retaliation.) This is my opinion. Its greed, manipulation, and power. There is no heart or thought of anyone else. No respect for the words my friend has written since she was a 14 year old in her bedroom. You've robbed and crushed one of [the] best songwriters of our time [and] an opportunity to celebrate all of her music with fans and the world. 

I have known Taylor for 13 years. She is the most dedicated, fearless, feisty, [strong] woman I've ever known. People can say 'bitch,' but what I'm saying to you is [that] that's called a woman with true identity and strength who takes no shit. I listened to 'Fearless' before it came out and I just remember us jumping on a bed and she was just sparkling, so proud of her diary being read by the whole world. Nervous of people not liking it. But that become one of the biggest records — an album that saved so many young [women] who felt alone. [Had] a broken heart. Who were healing. Those who felt invisible. [She] gave a voice to those who didn't know that they had one all along. Believing in dreams again. I continue to see how she has constantly challenged herself to create a beautiful life that belongs to just her. So I can tell you first hand [that] the MOST important thing to Taylor is her family, love, her fans, and her MUSIC. I really hope there is a change of heart over this unfortunate situation. 
Seeing my best friend (or any of my friends) be constantly pulled down is the worst feeling. Taylor fights. She will never stop fighting. People grow from choices. Some will stay exactly the same. I just want a change of heart. I love you."
16.
When Taylor took these cute pics of them celebrating Selena's 30th birthday: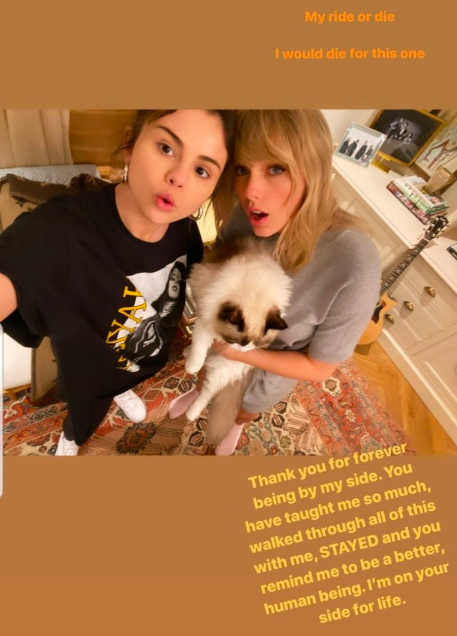 The text reads, "Thank you for forever being by my side. You have taught me so much, walked through all of this with me, STAYED, and you remind me to be a better human being. I'm on your side for life."
18.
When Andy Cohen tried to get Selena to drop some Taylor tea during a game of "Plead The Fifth," but she stood by her bestie like a pro: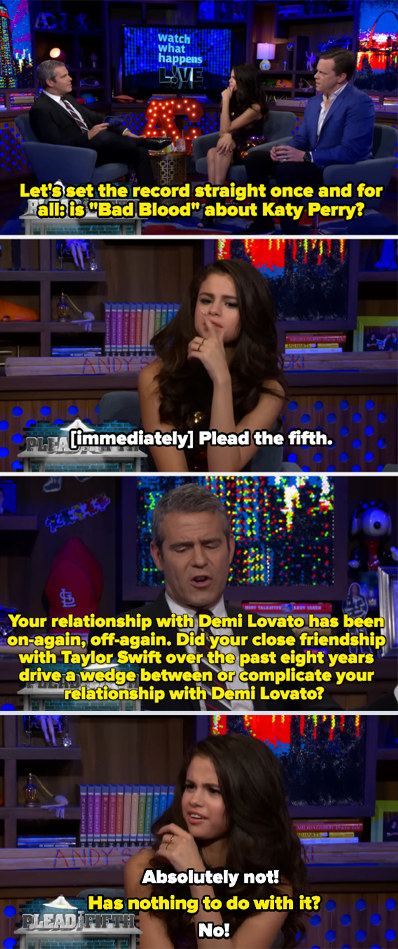 19.
When Selena showed love for Taylor's new album, Midnights, in the best possible way and confirmed that she is, in fact, a mastermind: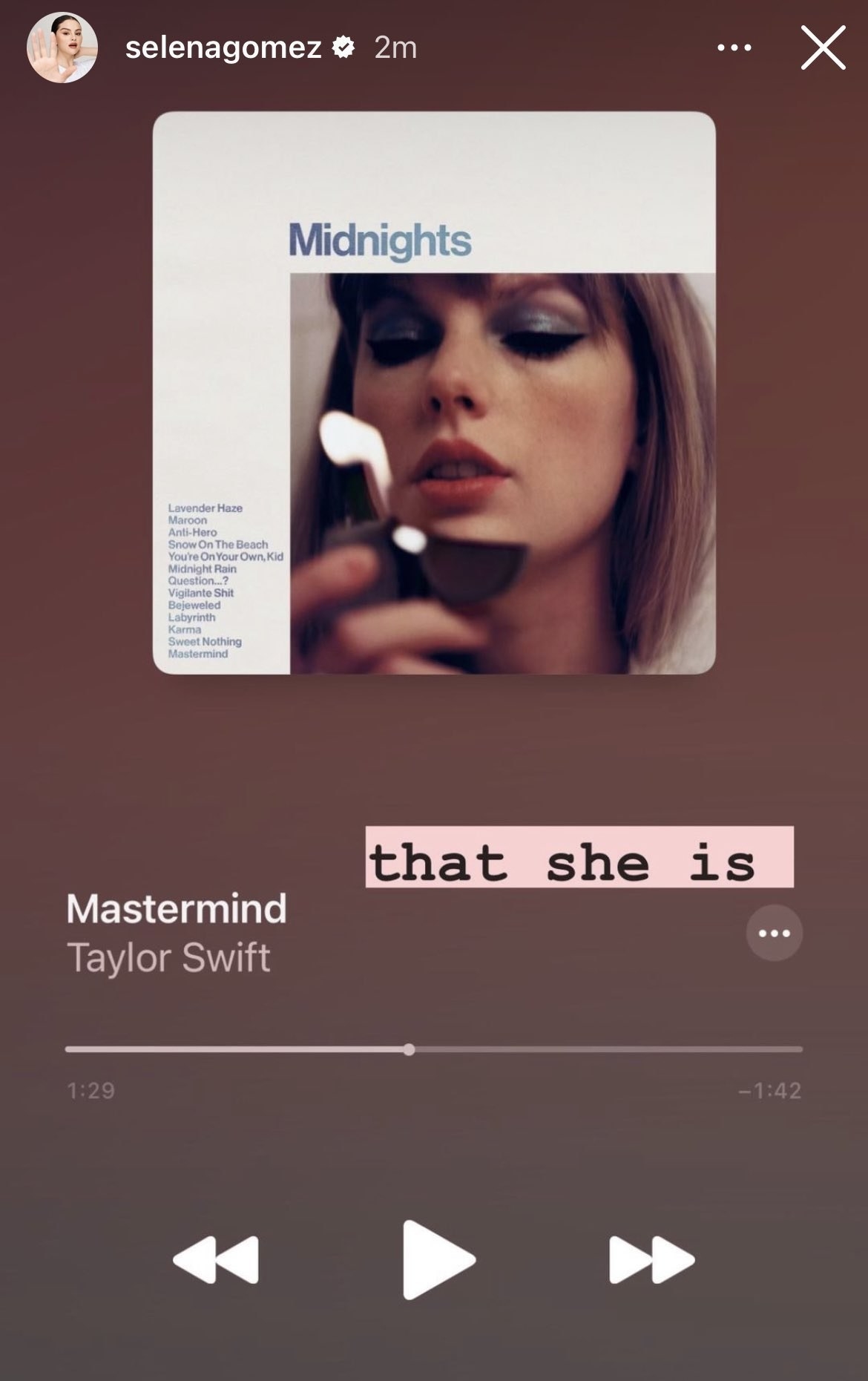 20.
And when Taylor was super supportive of Selena's new documentary, Selena Gomez: My Mind & Me, too: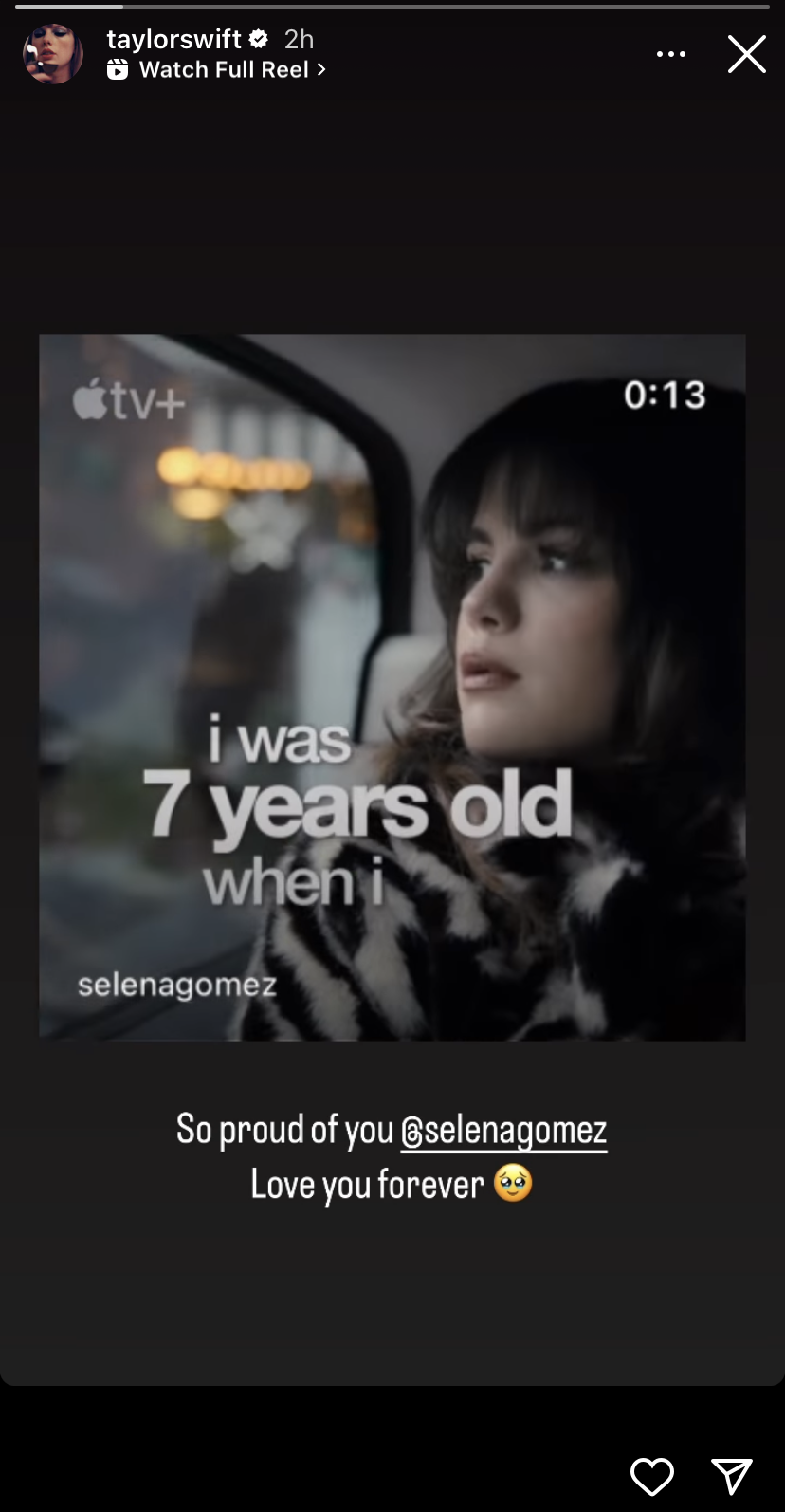 21.
When Selena shared the intimate moment when she first showed Taylor the "Lose You To Love Me" and "Look At Her Now" music videos, which literally moved Taylor to tears:

22.
When Zane Lowe played her audio from an interview with Taylor where she talked about watching Selena's music video from her perspective: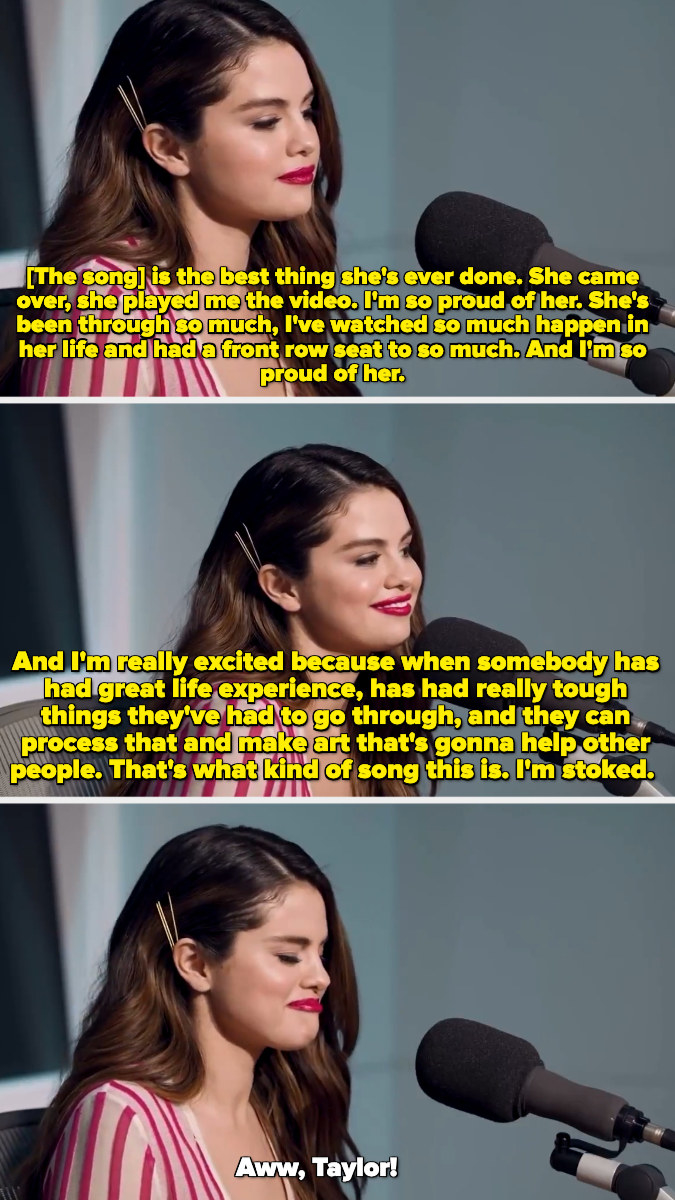 23.
And finally, Selena told Zane how loved and supported she felt by Taylor and couldn't help but cry, too: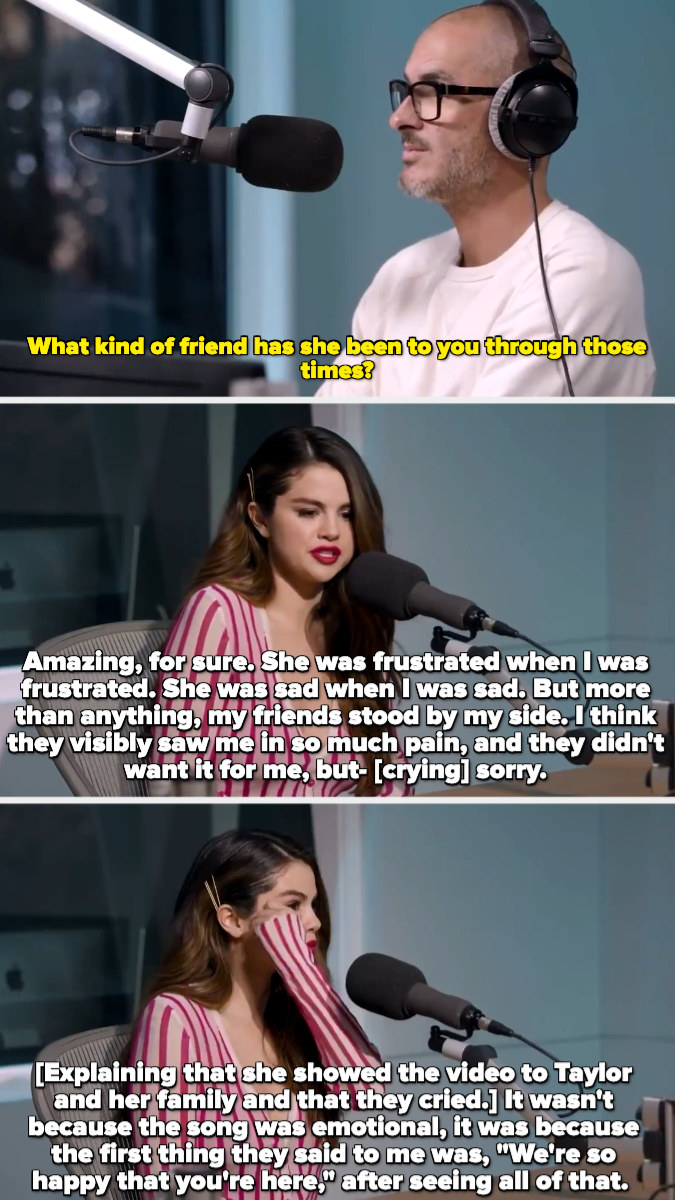 Here's to wishing these two besties nothing but love, success, and happiness!