The dance floor is, for many, what makes or breaks a wedding reception.
As such, music choices are KEY. Most couples will provide a "must-play" list and a "do not play" list of songs to their DJ in order to avoid catastrophe.
FiveThirtyEight decided, in the name of science I guess, to survey wedding DJs and find out which songs were banned the most in recent years.
The top 10 is pretty revealing. Almost one out of every four weddings refuses to allow the "Chicken Dance" to play.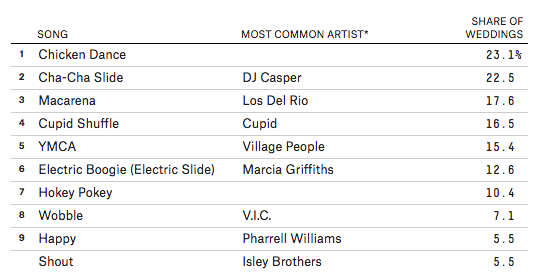 Other choices make sense, too. "Blurred Lines" was not only overplayed, but also had questionable lyrics. And memes aside, nobody really needs to hear "Cotton Eye Joe" at a wedding.
But I have some complaints. What's wrong with ABBA?
And I'm pretty sure "Hot in Herre" will still get a bunch of drunk Millennials/Gen X-ers excited.
Check out FiveThirtyEight for the full list. What was (or would go) on your wedding's "DO NOT PLAY" list? Let us know in the comments!