This is Kristin Cavallari and Jay Cutler. You might know them from Laguna Beach and/or The Hills, the NFL, and their brands.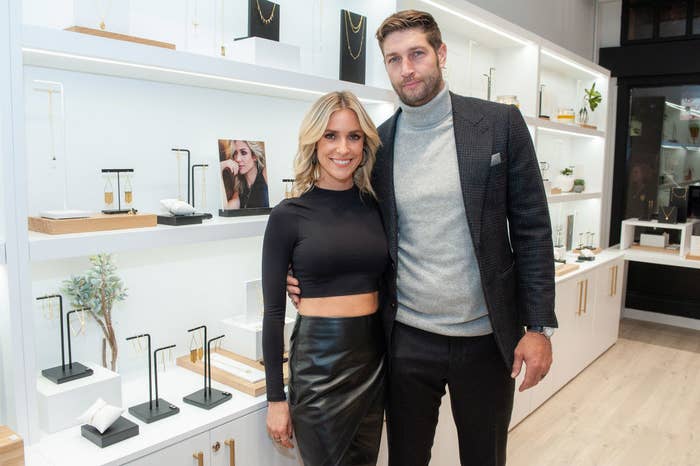 About three weeks ago — on March 15 to be exact — Kristin posted a photo on Instagram of herself and her hairstylist, Justin Anderson, hanging out in the Bahamas. It should be noted that this was two days after a national emergency was declared in the US, and that Kristin lives in Nashville, not the Bahamas.
Anderson posted the same photo that day with the caption, "You go to work — people judge. You social distance — people judge. Just wash your hands, keep your space, and use this time to be positive and take care of your loved ones."
Two days later, on March 17, Anderson posted another photo, this time with his fiancé Austin Rhodes, Kristin, and Jay. In the caption, he revealed that their group is "stuck on an empty island and forced to quarantine." He said he was "afraid of what we will go home to when they let us back into the States," indicating that they were being barred from returning home.
However, TV writer and researcher Claire Downs, who has a whole thread about this on Twitter, noted that the Bahamas had not restricted travel. The US, despite a travel ban for non-US citizens from Europe, would have allowed them back as well. Probably.
And it would appear that they're all still there, on whatever island they're on in the Bahamas, waiting out the pandemic. Just yesterday, Kristin posted a video of her and Justin working out on a pier.
There also seems to be a tennis court on their empty island.
Justin updated five days ago that they've been in "three weeks of isolation" and that they've hit their groove, alternating kid-watching duties so the adults can do workouts.
There's still time for butt pics!
Jay, meanwhile, has just been posting pics of himself at the beach with guesstimates about which day it was. Here's one he thinks was around "day 19 or so."
He also appears to have befriended a volleyball named Molten.
Anyway, you can see a full timeline of the Cavallari/Cutler/Anderson/Rhodes quarantine in this thread from Claire Downs.
Please pray for these poor souls.