1. OK, first, I just want everyone to see this: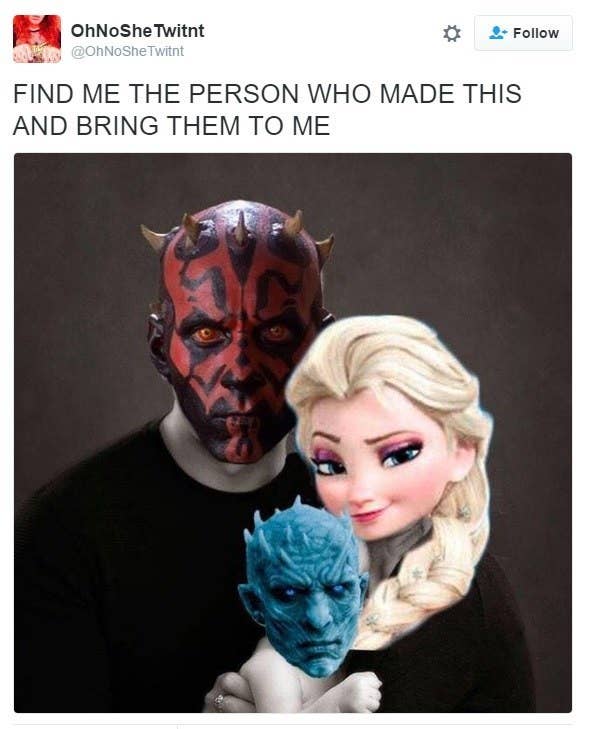 2. Now, on to the episode.
3. Seriously, how does Littlefinger travel so damn fast?
4. TELL HIM, SANSA.
5. TELL HIM, BRIENNE.
6. I'd pay to watch Brienne cut Littlefinger down, tbh.
7. Arya's got that kick-flip-to-standing thing perfected.
8. This training method seems ineffectual.
9. Pretty accurate representation of Season 1:
10. HOW DARE THEY. NED STARK WAS A SAINT. A naive saint, but a saint nonetheless.
11. Props to that actor, though, for nailing the northern accent.
12. First dick shot of Season 6 in the books.
13. Equal opportunity nudity!
14. Oh shiiiiit, are we watching the Night's King be created?
15. The Children created them to battle against the First Men. Damn.
16. Time to do right, Theon.
17. Yay! That felt all warm and fuzzy.
18. Ah, fuck, I forgot about Euron.
19. Of course we can't have anything nice.
20. Theon be like:
21. Pretty brutal coronation ceremony they have over there on Pyke.
22. "All I've ever wanted was to serve you." Are we being 100% honest there, Jorah?
23. Aww, they made up.
24. Jorah's totally going to die, isn't he? That was too warm and fuzzy for this show.
25. Tyrion's going at a pace of one dig at Dany's titles per episode. Can he keep it up?
26. NEW RED WOMAN.
27. Do you think she's also, like, 200 years old?
28. Varys has an excellent bullshit-o-meter.
29. OK, seeing Varys look uncomfortable is seriously jarring.
30. Honestly, Bran, unaccompanied time-warging seems like a really bad idea.
31. WALK AWAY FROM THE ZOMBIES, NOT TOWARD THEM.
32. Bran, you done fucked up now, son.
33. Brienne's description of Jon is everything:
34. "And that Wildling with the beard..." Yeeeeessss, Brienne? What do you think of him? DO YOU LOVE HIM?
35. FAVE:
36. Aww, somebody give Hodor some bacon.
37. OH SWEET BABY JESUS. The Night's King is already here.
38. OK, I know that's bad and I should be worried about Bran and Meera and Hodor and stuff, but... WHAT ABOUT THE TOWER OF JOY?
39. This insanely suspenseful action scene is happening and all I can think is how we didn't get to see Ned go in the damn tower.
40. We'd better at least see how Hodor got Hodor-ized.
41. Is this it???????
42. He can warg back through time?
43. Nice shot, Meera!
44. Noooooo, Bran's direwolf. RIP Summer. :(
45. Noooooo, Leaf. :(
46. OH HELL NO.
47. YOU ARE NOT KILLING HODOR.
48. NO YOU SONS OF BITCHES.
49. OH MY GOD.
50. Oh my god.
51. Hold the door.
52. Hodor.
53. Nothing is OK.