47 Thoughts I Had Watching This Week's "Game Of Thrones," Including "Yaaas Khaleesi"
When will people learn not to mess with Dany? SPOILERS!
1. Littlefinger sighting in the "previously on" segment!
2. Honestly, Edd doesn't get enough credit on this show.
3. Edd for Lord of the Seven Kingdoms 2016.
4. OMG SANSA.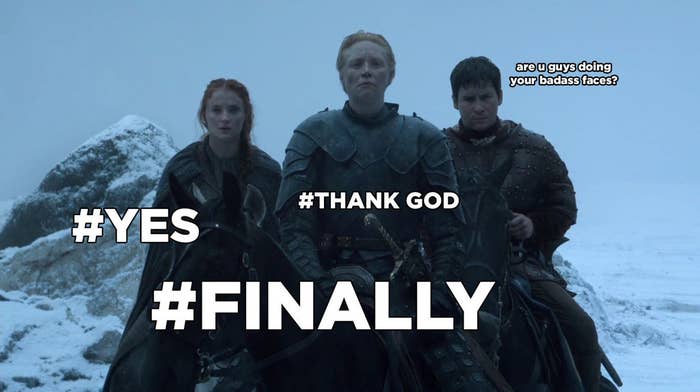 5. SANSA IS GOING TO SEE JON, HOLY SHIT!
6. Finally a goddamn Stark reunion, I'm going to cry.
7. This is SO BEAUTIFUL.
8. OK, I'm turning it off now. Let's just pretend everything's all right.
9. Girl deserves some damn peace.
10. Aww, she's apologizing for being mean to Jon.
11. This is literally the cutest thing. I feel all...warm and fuzzy? This isn't supposed to happen during this show.
12. I'm supposed to feel nothing but unending despair, what is happening?
13. "Where will we go." MY HEART.
14. "If I don't watch over you, father's ghost will come back and murder me." Watch what you say, Jon — your family has this habit of coming back from the dead.
15. Is it weird that I'm kinda shipping Davos and Melisandre now?
16. Damn, this Brienne scene is TENSE.
17. Literally every Robin Arryn scene is hilarious.
18. BAELISH TIME!
19. Robin Arryn hit his growth spurt, I see.
20. Lord Royce lost that argument REAL fast.
21. This might be a good time to bring this GIF back:
22. Missandei looks badass, but do you ever think she wants, like, an actual shirt?
23. Tyrion's deal does not seem like a great idea.
24. Very much enjoying Tyrion playing off of Dany's long list of titles.
25. Also, very much looking forward to a new set of Jorah memes.
26. Daario just 100% referred to sex with Daenerys as "riding the dragon."
27. Ooooh, Daario knows about the Greyscale now.
28. So the Dothraki like long braids, tattoos, and having sex in public... It's basically Coachella.
29. "If they find a body with a stab wound, the whole city will be looking for us." PLEASE DO A WEEKEND AT BERNIE'S GAG NOW.
30. Or just bash his head in with a rock. That works too.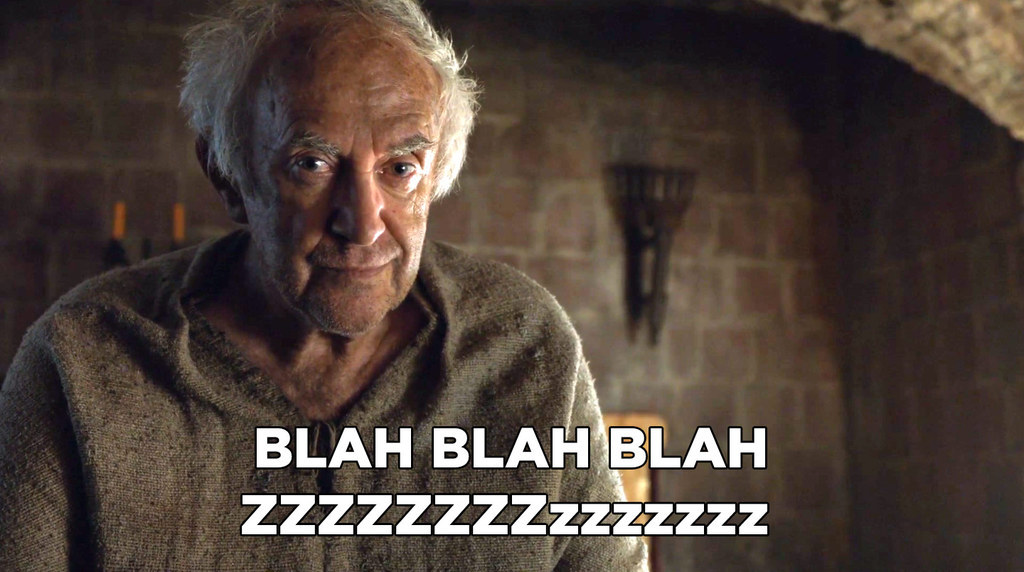 31. Oh, sorry, was there a High Sparrow scene there? I fell asleep.
32. Poor Loras. Margaery's all "fight" and he's just "NO."
33. Pycelle with the shaaade.
34. And the two-minute exit. We know the limp is fake, Pycelle.
35. OK, Cersei and Olenna are scheming together and that is exciting and terrifying.
36. Theon endorses Yara for ruler of the Iron Islands. SAME.
37. Swear to god, if Ramsay does anything to Osha...
38. GET THE KNIFE.
39. GET THE KNIFE FASTER.
40. GODDAMN IT.
41. I knew I should've stopped watching after Sansa and Jon.
42. OK I also ship this: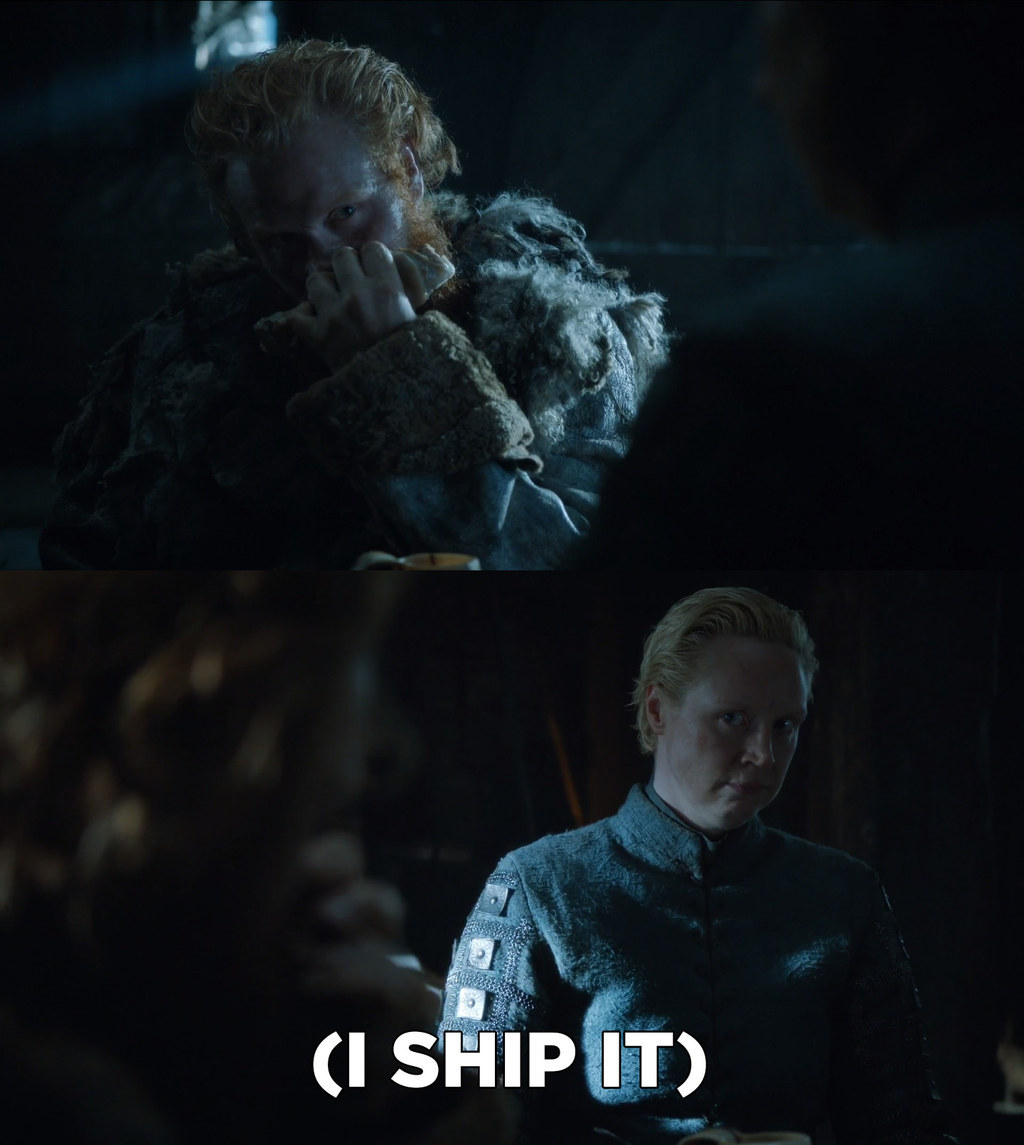 43. I know Ramsay's note is supposed to be very threatening, but the thought of him actually sitting down and writing it out is kind of hilarious to me.
44. And he signed his name after it, all politely.
45. ALL YOU NEED IS A DOZEN GOOD MEN THOUGH.
46. Dany only needs herself.
47. Y'ALL FORGOT DAENERYS STORMBORN CAN'T BURN.