So you're probably wondering what gives me the right to claim what the easiest Jeopardy! questions are.
WELL, perhaps you've heard of Kids Week, a special five-episode run during which 10- to 12-year-olds get the opportunity to compete against one another on Jeopardy!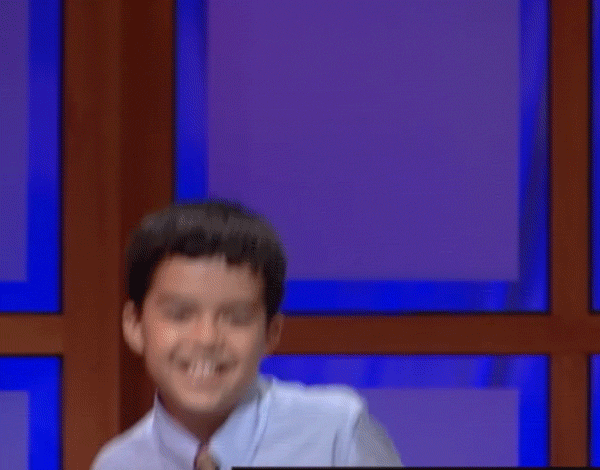 So, not only are all 20 of the following questions from Kids Week, but they're all $200 questions as well. Each was essentially designed to be a gimme question for tweens!
So whatever you do, DO NOT get one of these questions wrong. It would be pretty humiliating...ready?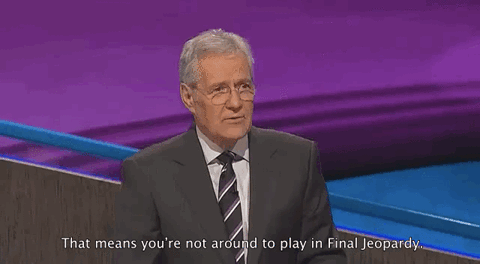 Category: HUMAN BODY NUMBERS

Category: PRO SPORTS

Category: LITERARY MONSTERS

Category: E BEFORE I

Category: SYNONYMS

Category: WALK WITH ME

Category: THE US CONSTITUTION

Category: TOYS & GAMES

Category: AM I BLUE?

Category: GEOGRAPHY "E"

Category: BE FRUITFUL & MULTIPLY

Category: US STATES

Category: HOLIDAYS & OBSERVANCES

Category: HI, TECH!

Category: THE WHITE HOUSE

Category: GETTING ATTACHED

Category: ANCIENT HISTORY

Category: CALIFORNIA

Category: THE ORCHESTRA

Category: 1999
CORRECTION
John Adams was the first president to occupy the White House. This was misstated in a previous version of this post.