Reportedly, Raj Thackeray-led Maharashtra Navnirman Sena (MNS) has also issued a threat, to Johar, Kapoor, and Singh, stating that they will not release any of their films in Maharashtra unless they tender an "unconditional apology". They have also asked AIB to provide an apology.
On February 3, All India Bakchod took down all three parts of the roast from YouTube.
According to latest reports, Devendra Fadnavis, the chief minister of Maharashtra, has declared that if, when investigated, the AIB roast is found vulgar and legally unsound, action will be taken.
Once uploaded to YouTube, the roast swiftly went viral, amassing about 9 million hits across all three parts.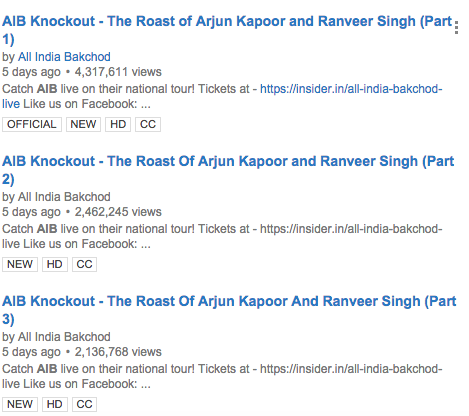 Reports state that a written complaint was filed by Akhilesh Tiwari, president of Brahman Ekta Seva Sanstha in Mumbai, at the Sakinaka police station. It was issued because of the "filthy and obscene language" used at the AIB Knockout.
Tiwari reportedly said:
I have handed over a letter to Sakinaka police demanding a criminal complaint be lodged against these so-called youth icons Karan Johar, Arjun Kapoor and Ranveer Singh. The show, which can be seen on YouTube and other websites, was extremely abusive and it is not only ruining the clean image of the Indian culture & women, but is also misleading today's youth.
Since the filing of this report, other organisations have also begun filing police complaints against the comedy show. A Catholic group called Maharashtra Christian Youth Forum"has filed a complaint, claiming that the show was "against Christ."
All India Bakchod confirmed the probe in a tweet:
News of the probe has divided India's online community, with many tweeting solidarity for the comedy collective, and three separate AIB-related national Twitter trends in the top 10.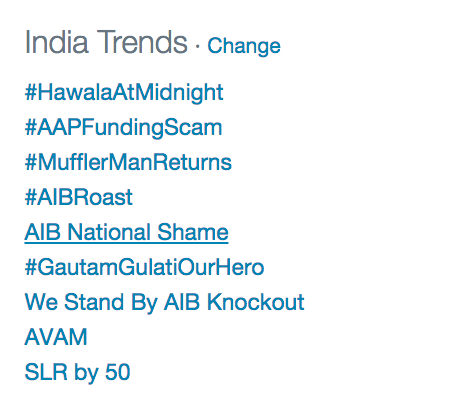 Cultural influencers also weighed in:
Vinod Tawde, the cultural affairs minister of Maharashtra, clarified that the inquiry is only to check if AIB had the necessary permissions to put on their show, and not because of its content:
And Ashoke Pandit, a member of the censor board, tweeted this:
All India Bakchod was unavailable for comment.
The name of the Maharashtra chief minister is Devendra Fadnavis. A previous version of this story misstated his name — we're sorry for pulling an Alia.