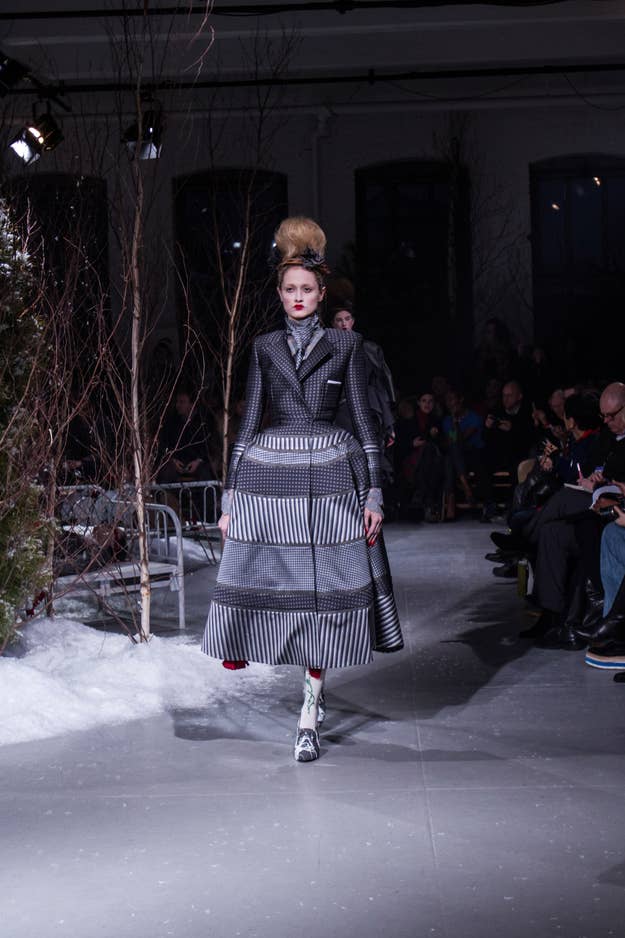 Three weeks ago Thom Browne became one of America's most famous designers when Michelle Obama went to her husband's inauguration wearing in a checked, A-line coat he custom-made for the occasion. Once that coat dropped, the press swarmed to Browne, who was in Paris working on his fall 2013 men's show and normally doesn't get that level of mainstream attention. Monday night in New York, the enthusiasm for Brown's fall 2013 women's show had reached a peak. I have never seen any Access Hollywood-type press at a Browne show before — or anyone wearing something close to an Herve Leger dress in attendance — but a reporter from E! wearing a tight turquoise dress and platform heels who looked like she just got in from South Beach was there. That E! look is basically the opposite of Browne's signature conservative gray suiting and avant garde runway creations, she perched on the runway after the show telling her audience how hot Browne is right now. His show certainly deserved the praise.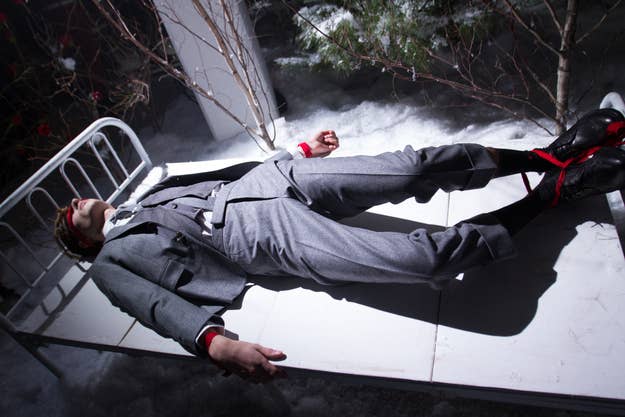 Guests arrived to the show space in west Chelsea to find blindfolded male models in Browne's shrunken gray suits tethered by red canvas straps to hard white beds, and placed throughout the set, which consisted of fake snow, thickets of bare branches, and red rose bushes. Naturally, this gave everyone something to tweet.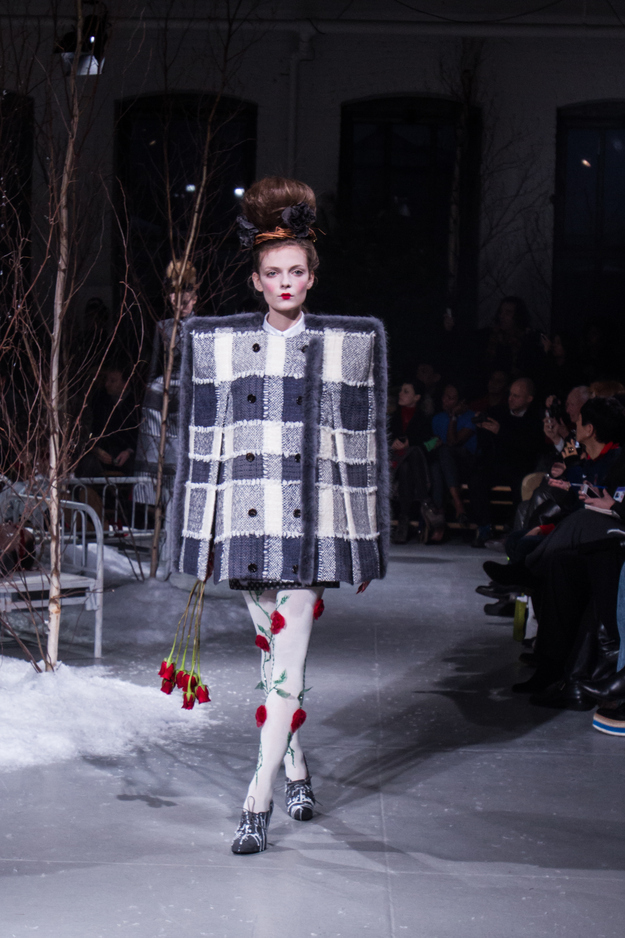 When the spooky remixed choral music started, out came Browne's models, in gray and red suiting with exaggerated shoulders and hips, their faces powdered a ghostly white, their lips stained a deep red. They walked slowly, as though stunned, and held clusters of red roses, which they dragged over the "dead" male models. This was not wearable clothing, but it was hauntingly beautiful. And after five days of shows in which it seems like everyone showed some combination of gray, black, white, and red, Browne's use of the same palette felt entirely his own.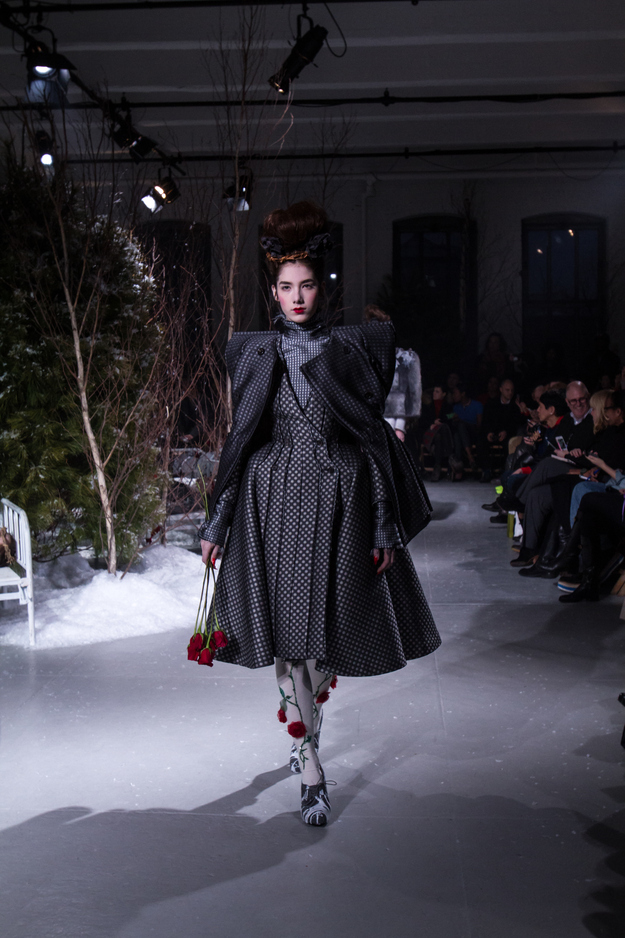 Did I mention every model in the show wore a crown of thorns?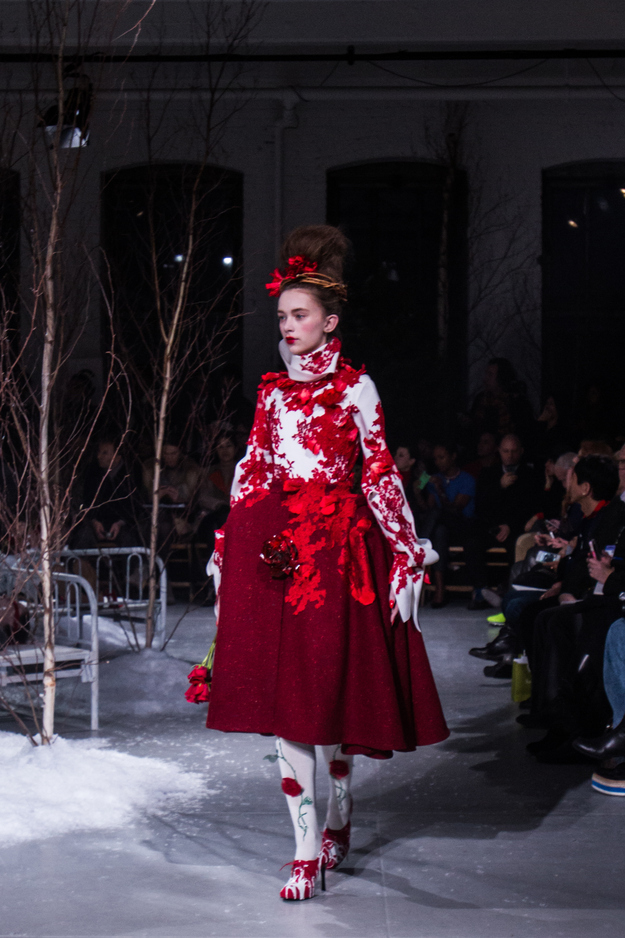 Other sartorial highlights included beautiful lace detailing. The models all wore the same booties Browne said he splattered with rubber paint so that they looked a little messed up (to go with everything else going on, you see).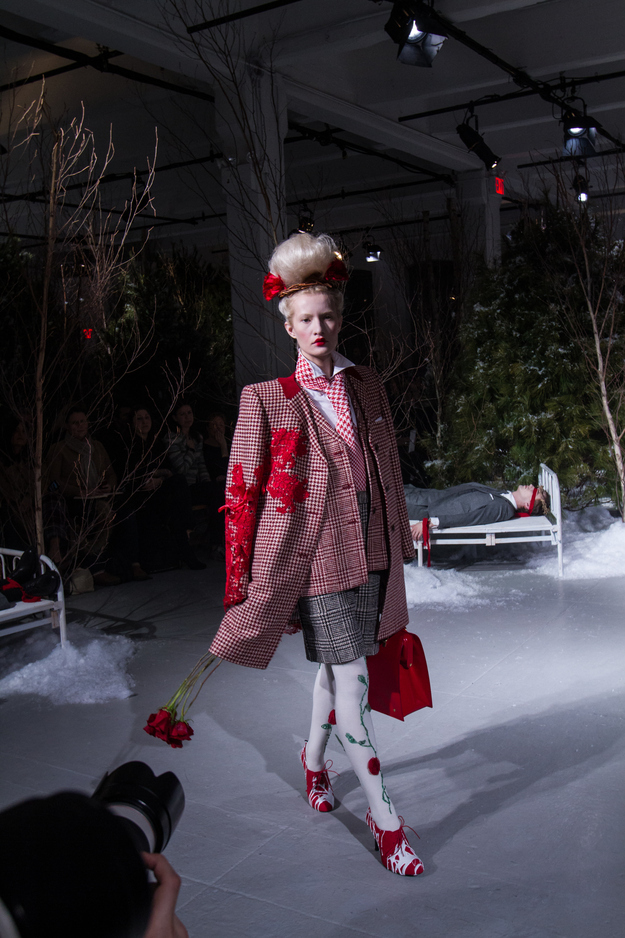 Often shows that are disturbing are just disturbing, but a few designers — Alexander McQueen among them — make the disturbing beautiful. Browne showed the part of the world that is just getting to know him on E! that he knows how to do that. His fans in the industry knew it all along.