1.
A very thorough travel checklist so that you don't repeat last year's mistake of forgetting to pack underwear because you were out late gift shopping the night before. From extra pairs of socks to prescription meds, this list makes sure all your bases (and then some) are covered.

2.
A travel wallet to help you quickly locate your documents so you don't hold up the loooong holiday check-in line. With pockets for your passport, cash, ID cards, and boarding passes, you'll never have to worry about losing or misplacing anything again.
And if that's not enough, it even comes with a handy wrist strap so you can keep it close to you at all times
Promising review: "This wallet is durable, chic, and spacious. The lining is very soft and feels expensive. From the design to the material to the zippers and snaps, it's well made. I ordered it in rose gold, and it's a beautiful color. I travel frequently and love the boarding pass pocket. I recommended it to my sister and mom, who also love theirs! They ordered in yellow and bronze and were also happy with the color." —Brianna Graham
Get it from Amazon for $12.99+ (available in 37 colors).
3.
An Apple AirTag because there's no worse way to start a holiday than finding out your bag is 3,000 miles away. This little device can attach to your belongings and help you keep track of them using the "Find My" app on your phone.
You can put the AirTag on Lost Mode to receive a notification when it's been detected by the Find My app. And even reviewers who didn't lose their luggage said having one of these gave them peace of mind, as they could always tell their bags were close by!

Promising review: "We travel a lot and saw this featured on GMA! We immediately bought two for each of our suitcases! It is an awesome product! It's very easy to connect to the Find My Phone app and it really does keep track of your luggage! It even gives you messages if you are away from your luggage. We really highly recommend this product!! It is well worth the price!!" —Ken Anstead
Get it from Amazon for $28.99.
4.
A super comfortable Trtl pillow because even though you're packed on a plane like a can of sardines, that doesn't mean you should have to compromise your sleep. This neck pillow helps keep your head upright so you don't arrive at your destination exhausted and with an achy neck. This will also prevent you from nodding off on your neighbor, ensuring everyone can enjoy their flight in peace!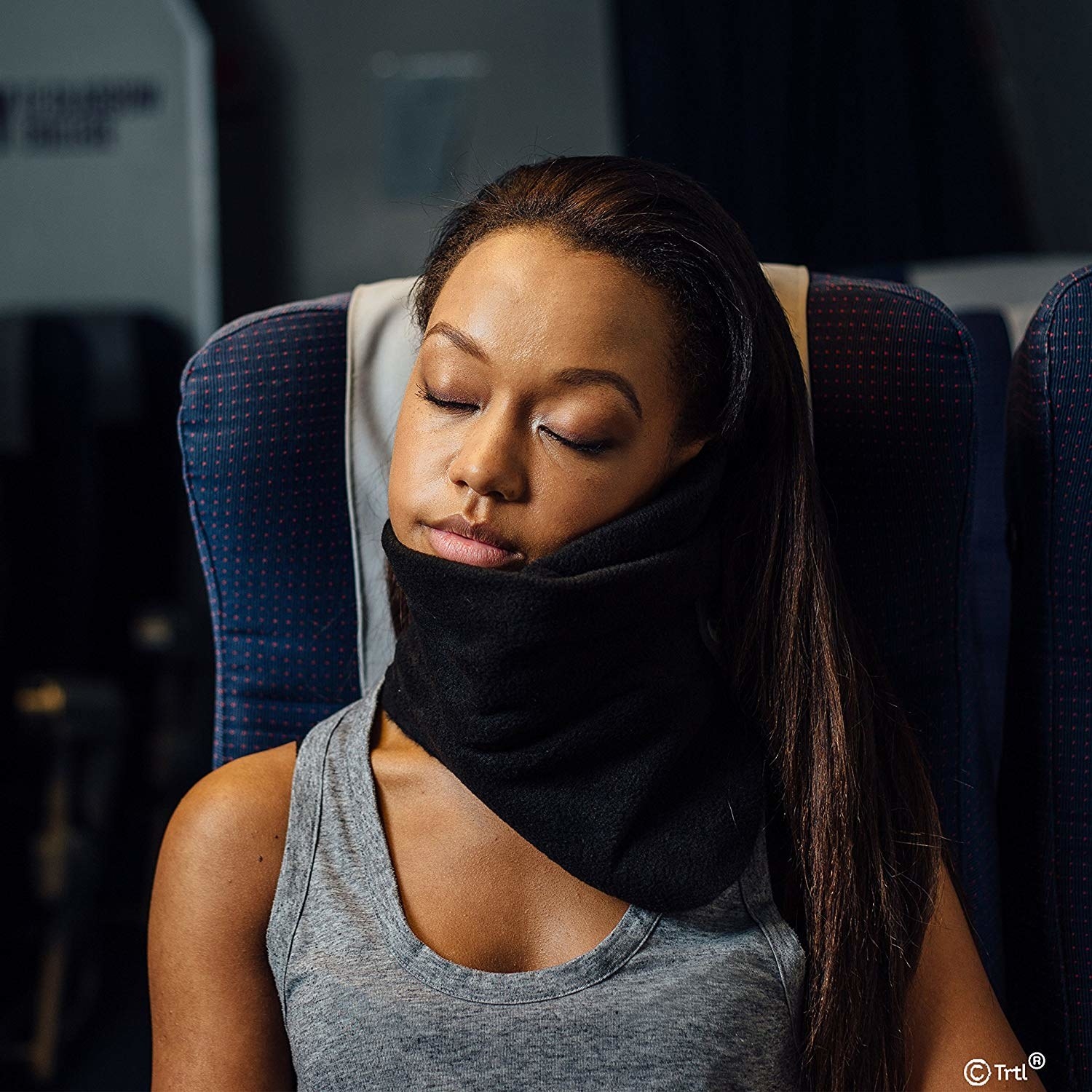 Promising review: "I love this travel pillow! As someone who travels frequently for work and leisure, I try to get sleep on planes whenever I can so I am ready to go when I land. However, when bulging discs in my neck developed a few years ago, I tested six or seven different types of travel pillows and couldn't find a pillow that gave proper support and didn't aggravate my injury. Then I found this cozy little gem!!! I have now had my Trtl for about six months, and it's been a game changer. I am able to get some of the best sleep I've gotten on planes without further aggravation to my neck. It's easy to pack around once you get to your destination, so you don't have to have a travel pillow hanging off your bag. I also appreciate how easy it is to take apart to wash — with so many germs on planes, I like that I can wash it without worrying about ruining it." —Henninsa
Get it from Amazon for $59.99+ (available in five colors).
5.
Plus, a set of wireless Bluetooth earbuds over 233,000 reviewers gave 5 stars. These earbuds offer over 10 hours of playtime to block out all the unwanted noise around you — including loud, chatty people on the plane and your relatives asking "How's school going?" for the millionth time.
These come with a wireless charging case that provides up to 14 hours of charge (with the earbuds able to play for 4+ hours with each full charge). The earbuds are also sweatproof and waterproof so you can use them during workouts or runs, and have a built-in mic so you can chat on the phone. 
Promising review: "I love these SO much. I'm a budget traveler so I usually have long days of driving, layovers and plane rides. My previous headphones would ALWAYS die and usually during the first hour of my flight. These ALWAYS last me through a day of traveling. I hardly ever hear the low battery warning because they just go back into the charging case. The case keeps battery pretty well too and I usually charge it about once a month (I typically use them about 4 hours a week when I'm not traveling). I really like that these have a red light that shows when the earbuds are actually charging. I've had some in the past that I thought were charging and weren't." —Eden
Get it from Amazon for $23.99+ (available in five colors).
6.
A lightweight collapsible stroller, aka a game changer for jetsetting parents. It folds up compactly so you can store it in the overhead compartment or under your seat, and it's even equipped with a handle for easy carrying when your hands are already full with the kids. Imagine walking straight out of the airport without having to wait at baggage claim — that's the dream, right?
It's designed to hold kids who weigh up to 55 pounds. 
Promising review: "Best stroller ever! WE LOVE THIS STROLLER! My husband originally purchased it because I was afraid to take our big stroller on the plane to gate check. I was traveling alone, so ease of use and portability was really important. I was amazed at how convenient it was to collapse and slide under my seat on the plane and it maneuvered well through the airport and throughout our trip. I received many compliments and a few moms even asked me where to buy one. Since then, we have been on a few more flights and many excursions and are still in love with this purchase!" —Amazon Customer
Get it from Amazon for $178.99 (available in black or blue, as well as in two other styles). 
7.
And for your fur baby, a pet backpack with WHEELS so you can effortlessly roll Daisy around the airport, making it much easier to navigate crowds and long security lines. It's also designed to fit comfortably under the seat of most airlines, so your little bundle of sunshine can be right by your side through the flight.

The medium size fits pets weighing up to 10 pounds, and the large fits pets weighing up to 18 pounds — that said, some reviewers mentioned that the large size works perfectly well for their 20-plus-pound dogs. It can be wheeled using the telescoping handle, held using the strap, or worn as a backpack.

Promising reviews: "First time flying with my dog. I bought a large. He is a 21-pound Cavalier King Charles spaniel. He was able to sit and lie comfortably in the carrier. When on the plane, remove the hard-back bottom to fit beneath the seat. It is easily removable and reattached. I got a window seat, which allowed me to wedge the bottom at the edge of my seat/arm rail when detached." —Karen
"This is the best cat carrier I have ever found. I needed something for when I was flying. It fits under the seat in front of me, and it's easy to pull because of the wheels. My cats can sit up and watch or they can lie down. I highly recommend." —Jane
Get it from Amazon for $59.95+ (available in two sizes and three colors). 

8.
An AirFly audio transmitter allowing you to use your own high-quality Bluetooth earbuds or headphones to tune in to in-flight entertainment. With the ability to connect up to two pairs at once, you can even watch A Christmas Story with your travel buddy. And don't worry about running out of juice on those long-haul flights — this device has a battery life of 25+ hours.

It also comes with a USB-C charging cable, travel pouch, keychain holder, quick-start guide, and a manual.
Twelve South is a husband-and-wife-owned biz based in Charleston, South Carolina, and has just 20 team members! They've been designing accessories inspired by and made for Apple products since 2009.
Promising review: "I love this gadget. I fly a lot and this works on the majority of wide-body planes I've taken over the past six months. Just plugs into one of the three-prong outlets (or single outlet in economy) and you can connect any Bluetooth device. Doesn't always connect on the first try as I have several devices that my headphones are searching for, but if you turn off all other devices it seems to connect right away. Once connected, it works for many hours. A few planes I've taken recently (Qatar Airways) have USB charge points so close to the headphone jack that you can even plug it in while it's working and never lose the charge. Highly recommend for travelers." —Joseph Britto
Get it from Amazon for $34.99+ (available in three styles and two colors).

9.
A luggage-mounted cup caddy to ensure your beloved sugar cookie latte (with two pumps of toffee nut syrup) and cranberry muffin remain securely in place as you dash to your boarding gate.
Reviewers say it's ideal for a suitcase that can roll on four wheels! If you have a suitcase that has to tilt while it rolls, just be careful if the drinks are open at the top.
Promising review: "We travel by air a lot, and this is great for your carry-on luggage when you have no hands. We always get a drink in the airport. So this helps a lot." —Rhonda Bolash
Get it from Amazon for $9.99+ (available in 23 colors and patterns). 
10.
A set of Sea Bands if you're someone who experiences motion sickness and knows how much it can ruin your travel experience — these work great for long car trips! These little bands apply acupressure to a specific point on your wrist, naturally relieving nausea without the need to carry around bottles of medication.
Read more about acupressure and nausea at Memorial Sloan Kettering Cancer Center.

Promising review: "My fiancé and I frequently make a two-hour trip that involves all curvy roads. She would constantly get nauseous and finally started taking Dramamine which helped, but also made her tired for the rest of the day. I didn't have much faith that a band would work, but it actually does. She no longer gets nauseous (or tired) when we take these curvy trips. She does not travel without them!" —Ash Cherry
Get a pair from Amazon for $8.53.
11.
And a roll-on migraine stick formulated with oils like peppermint and spearmint to help ease and relax muscles. It can help soothe your throbbing migraine when your teenage daughter tells you that she thinks she left her bag at the terminal on the other side of the airport while getting a bagel.
Read more about aromatherapy and stress and tension at Johns Hopkins.

Promising review: "This stuff is my go-to fix when I feel a migraine coming on. I suffer from sinus headaches and migraines usually once or twice a week. This product I put on each temple, under my nose and on my wrists when I feel the pressure starting and it cuts the pain to a minimum. It seems to stop the worst pain before it has a chance to start. Thank you for a great product! I will buy again and again!" —Brenton1985
Read BuzzFeed's Migrastil Migraine Stick review for more deets!
Get it from Amazon for $11.99.
12.
A five-compartment snack spinner designed to keep the kids for asking to stop at McDonalds every 10 miles when they see a sign during the road trip. Reviewers love that only one compartment can be open at a time, so when one of the kiddos accidentally drops it (and you know they will) most of the snacks stay in the container.
Promising review: "A friend told us about this and it saved us on our first flight with our 1-year-old. Not only is it great for holding a variety of snacks, but it serves as great entertainment also. He loved watching it spin and pressing the button, and opening and closing the door. It entertained him for a lot longer than any other toy we had. A must-have for traveling with a toddler, we won't go on another trip without it." —Nicole Alvarez
Get it from Amazon for $29.95+ (available in six colors and two sizes).