This "Willy Wonka" Theory Basically Proves That Those Kids Got A Golden Ticket Straight To Death
The candy man can 'cause he mixes it with death and makes the world taste bad.
Gather 'round, boys and girls. I've got your golden ticket into the MURDEROUS life of Willy Wonka.
Willy Wonka is allegedly a wonderful chocolate-making man...who has a factory that no one has been to for years.
ALL OF A SUDDEN...OUT OF NOWHERE, he releases five golden tickets into the world summoning children to his factory...which no one has been to in years...to meet a man who no one has seen...in years...
...WHAT I'M TRYING TO GET TO IS: FIVE KIDS WENT IN AND ONLY ONE KINDA CAME OUT (VIA WEIRD AF FLYING MACHINE) AND NO ONE WANTS TO TALK ABOUT THAT.
WILLY WONKA OBVIOUSLY PLOTTED THIS AND PLANNED TO MURDER THOSE KIDS ALL ALONG!
Victim #1: Augustus Gloop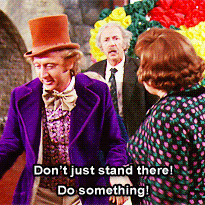 Could he have survived? No.
* He is sucked up via a huge pipe that goes straight up in the air and allegedly leads to the fudge room...
* He tells the Oompa Loompa to look out for the boy, who is on his way to the fudge room, because he might accidentally go into the boiler...
* The pipe is never seen again, and there is NO way they got to him in time to help...
Victim #2: Violet Beauregarde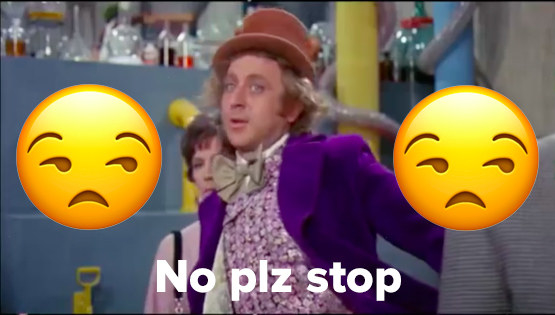 When it comes to Charlie (aka the only survivor) (aka Willy Wonka's killing protégé)...
There it is, folks. My work here is done. The facts are here.
If all of the evidence I've laid before you doesn't convince you...I'll leave you with this: HOW COULD THE OOMPA LOOMPAS HAVE THE SONGS READY FOR EACH SPECIFIC CHILD?
Oops. Something went wrong. Please try again later
Looks like we are having a problem on the server.
What do you think?
IT IS AS CLEAR AS DAY: WONKA MURDERED THOSE TERRIBLE CHILDREN.

Eh. I need EVEN more proof than what was handed to me.

He didn't do it and I will forever support Willy Wonka's evil chocolate...even if that means I become an accomplice to MURDER.

There goes BuzzFeed, ruining another movie from my childhood.