1.
Maybelline Cheek Heat Gel-Cream Blush gives you soft, buildable color with a dewy finish. It's oil-free (yay!) and lightweight so you'll have no problem wearing it all day long.
Promising review: "I really like this blush. It doesn't dry so fast that you can't work it into the skin. I put a few dots on my cheek and then blend it in with a duo fiber brush and it works really well. It isn't oily at all, and it lasts really well on my cheeks without fading or needing to be topped with a powder blush for longevity. It looks natural and I love that I can wear it with a full face of makeup or without any makeup and both ways it looks very natural. I'll buy more when I run out." —urstandingonmytoes
Get it from Amazon for $5.98 (available in six shades).
2.
Glossier's Boy Brow is the top-rated, cult-favorite, brow-changing product you've gotta try for yourself! Boy Brow gives you fuller and bolder brows without the crusty residue like with some other products.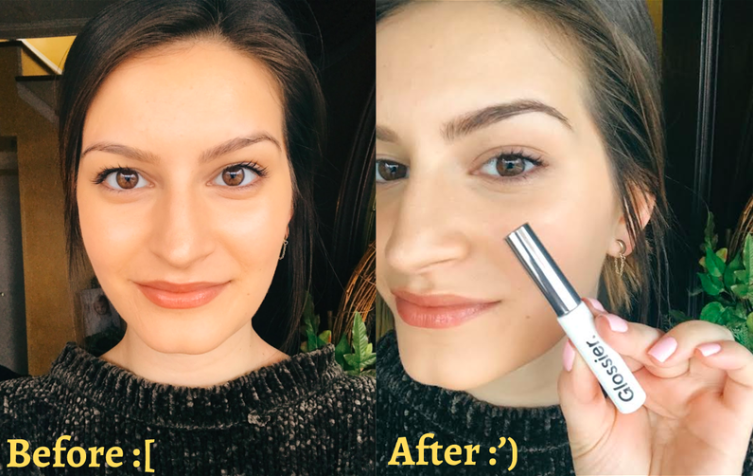 Anamaria Glavan / BuzzFeed
Glossier is a woman-owned business that was founded in 2012. They took the world by storm by making the barely-there "no makeup, makeup look" trendy again with their beauty products meant to enhance, not cover up. 
Promising review: "I've been eager to get my hands on this product for months now! Honestly the easiest brow product I've ever used and it's seriously magic. My brows looked instantly fuller! They weren't crusty or stiff and the applicator is amazing! My favorite thing about Boy Brow is the texture, no crusty brows here. This product has changed my entire makeup routine!" —Jordanne
Check out BuzzFeed's full review of Glossier's Boy Brow for more deets!
Get it from Glossier for $16 (available in five shades).
3.
Bed Head Wave Artist Deep Waver gives you those beachy vacation waves you crave year-round, but this hair tool also reduces frizz and adds shine, too.
Reviewers with various hair types says this tool is golden — thin straight hair, thick 4c hair, etc. A few people noted that it's even wig- and weave-safe!
Promising reviews: "Where has this been all my life? I'm in love! I have long, fine hair that doesn't hold curl very well. It tends to be very straight and I always have it back in a pony or up in a messy bun because it has no volume. This wave iron gives it tons of body and volume. It's like magic!" —Tonya Fleming
"I'm always skeptical on new hair tools, as I've been burned many times (pun intended). However, I kept seeing posts about how great this tool is, so I bought it. I love it! My hair is to my waist and very thick and naturally curly, and it worked very well. it took me about 15 minutes to waive all my hair. The tool is light and has a comfortable grip. I use the highest heat setting and hold it on my hair for five seconds on each portion of the section of hair I'm working on. The waves can hold for days...I highly recommend." —Ana V.
Get it from Amazon for $29.99.
4.
Freck Beauty Lashrocket Liner has lash-enhancing peptides that'll actually help your lashes grow over time. So not only will you have a killer cat-eye, but you're stimulating lash growth at the same time!
This liner has easily become an essential for me (seriously, I've never switched a makeup product so fast). I wear eyeliner pretty often, so having one that gives me an awesome benefit like LENGTHENING MY LASHES? I'm sold. I've even noticed my lashes become a little fuller after using it for about a month. The formula is pigmented and very long lasting. Now I'm just waiting for more colors at this point 🤷🏾‍♀️
Freck Beauty is a woman-owned business based in Los Angeles. The company started off with Freck OG and has since grown to facial masks, eye creams, serums, and more.
Promising review: "I have been loving this eyeliner! It's jet black and highly pigmented. I also really like the precise brush tip because it makes it easier to create the wing. It is really comfortable on the eyes. Overall, this eyeliner is great!" —Jen
Get it straight from Freck Beauty for $24 or from Sephora for $24.
5.
Laneige's Lip Sleeping Mask is a number one bestseller for very good, well-earned reasons! After a night with this on, you'll wake up to moisturized, hydrated lips that are softer than ever.
BTW, some people use it as a daily lip balm or lip protectant over their lipstick too!
Laneige is an Asian-owned brand that has been in the beauty game for years (seriously, since the 90s!). The luxury brand prides itself on being affordable too, and has many fan favorite products because of it.
Promising reviews: "Holy freakin grail!! I pick at my lips so they're constantly chapped and raw. I used this once and by the second day all the dry/dead skin had come off and my lips were softer than I've ever felt. Totally worth the money and smells amazing!!" —Anissamarie01
"I swear by this!! I have dry skin and lips in the winter and this is literally the only thing that keeps them hydrated while making my lips look glossy! I even layer some lip color underneath when I go out. I know it's meant for when you sleep, but I use it as my normal every day lip moisturizer. Awesome product!" —SammieAnd
"Lives up to ALL the hype. Holy grail amazing product. I have been chapstick obsessed since birth, and this product goes above and beyond. I carry it around in my purse and use it every day and my lips look super glowy and hydrated, and it lasts a long time after application. I'm slowly collecting every shade." —honeycbxdger
Get it from Sephora for $22 (available in four scents) or from Amazon for $22 (available in four scents).

6.
The Mighty Patch helps those pesky zits disappear overnight. Bonus points! They also prevent picking and acne scarring. Simply apply the patch right on top of your pimple in the evening and the rest is history.
Hero Cosmetics is home of The Mighty Patch. The brand is woman-owned and Asian-owned, founded by current CEO Ju Rhyu. Since their Might Patch launch in 2017, they have evolved with products such as cleansers, toners, nose strip Mighty Patches, and more! 
Promising review: "These are a game changer...I bought them because I had a painful zit on my shoulder that was huge and wouldn't fully drain (sorry for the gross details) no matter how hard I/my friend tried. So I bought these and left it on overnight. I was worried because the skin had gotten torn up when I tried to pop it myself, so I was scared it would do something gross. I woke up and it was GONE. There was a huge white dot in the sticker and it even managed to get the core. Since then, I've tried it on smaller problem spots and it works wonders. It even draws stuff out of surrounding pores that I didn't even know were issues." —Ashtyn
Get it from Amazon for $12.99.
7.
Dashing Diva gel nail strips are so long-lasting, you'll get tired of the color. These glossy strips come in tons of cute patterns, solid colors, and mix match packs — perfect for when you want cute nails but can't make it to the salon every couple of weeks.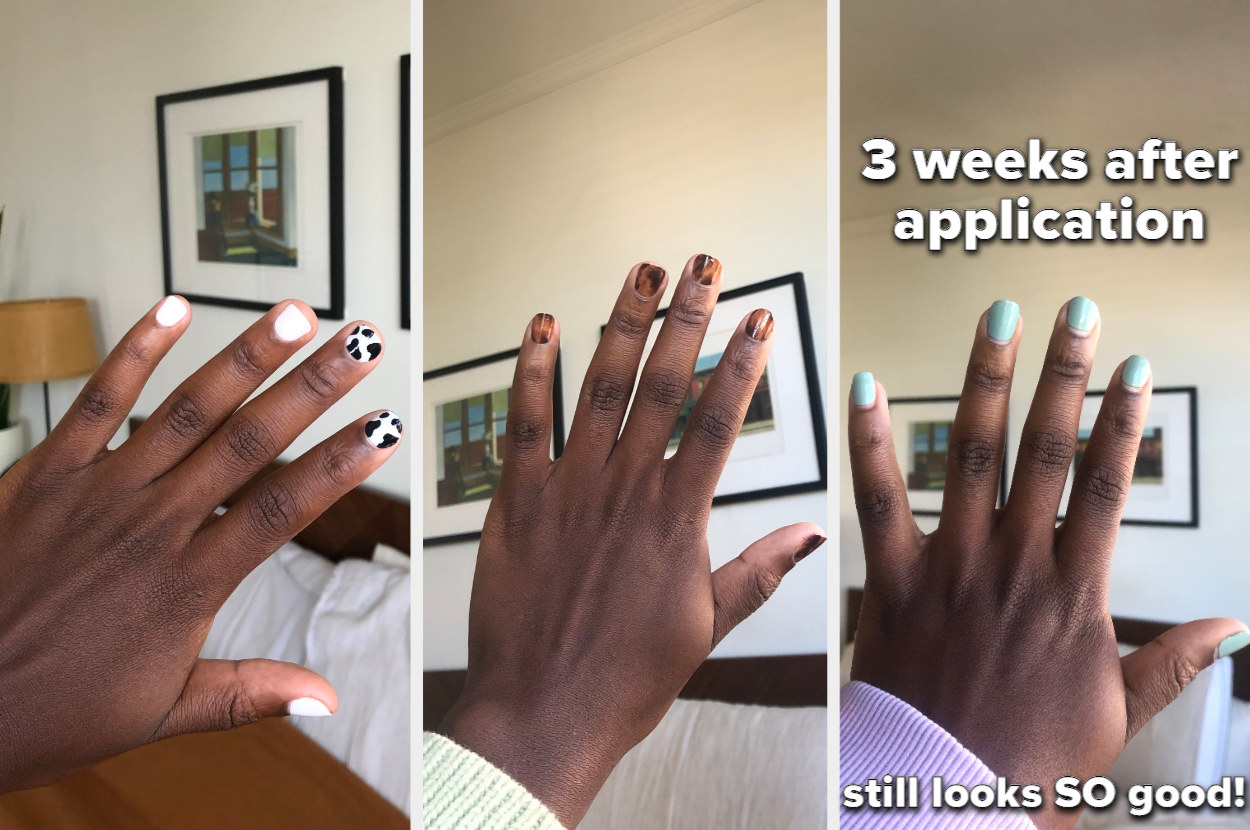 I discovered these Dashing Diva gel strips during 2020, when everything was closed. When I would go to nail salons, I'd always get gel nails (because they last) and in solid colors. To my ultimate surprise, these strips lasted just as long and had tons of designs that my local salon couldn't do. No joke, these babies can last you the whole month if you need them to. While my nails eventually grew to a point of needing to change by early week three, I'd say that's a solid trade. (I mean, do you see that cow print? LOVE). And the fact that each pack comes with enough for at least two sets for only $6.99 is kind of amazing. 
Get it from Ulta for $6.99 (available in 52 colors and styles).
8.
Nyx Professional Jumbo Eyeshadow Stick makes adding a little flair to your everyday makeup very very easy. Just glide, blend, and go! It can be used as eyeshadow, eyeliner for a bold cat-eye, or a primer for powder shadow. In less than 10 seconds and with little effort at all, you've got yourself a chic, vibrant shimmer.
Promising reviews: "I see the hype. When I applied this I was honestly shocked at how easy the product went on. It's like an 11/10 for how smooth it is. I love this product so much already. Probably gonna buy more." —London Johnson
"I have heard about the Nyx jumbo eye pencils forever, and particularly about the Milk shade. I've been intending to purchase it for awhile, but I never could find it in store and all of the similar products I purchased from other similarly priced brands were huge fails (chalky, glittery, clumpy, too hard, too soft, etc). The consistency is best described as a lipstick, or something of that nature. It is creamy and blendable. It seems to stay put wherever you apply it... This lives up to the hype and could easily become a staple in everyday wear. I will definitely be purchasing in more colors." —Kendall
Get it from Amazon for $4.47+ (available in 24 shades).
9.
Revlon Volcanic Face Roller absorbs shine in seconds *without* messing up your makeup — how genius is that? Simply roll it over any oily or greasy areas of your face and watch it work its magic.
The face roller is reusable! Just twist the ring to pop out the stone, then wash it with a mild soap/cleanser and let it air dry after every use.
Promising reviews: "This rolling device is like pure magic. You simply roll it around your oily areas and BOOM the oil magically vanishes into the ball never to be seen again! This is an item that #tiktokmademebuyit for sure! I saw a video on TikTok and immediately went on the hunt only to be disappointed that this item was sold out everywhere! I eventually got added to a waiting list here on Amazon and once they had it in stock again, they charged my card and sent it my way! If you have the chance to purchase this and you have oily skin, get yourself on the waiting list if you need to and just kick it until it shows up. You will be pleased. Thank me later." —Veronica Cooper
"What an absolutely amazing investment. This is one of those items you will be glad to have on hand—for a very long time. The fact that it is reusable? Absolutely brilliant. The fact that it also happens to work better than any other product I've ever tried in my entire life? Double brilliant!! The hype is right on this little miracle. If you're curious and considering giving it a try—do it! It is easy to use and very simple to clean/refresh when needed in order to keep on using!!" —MidwestCraftyLasso
Get it from Amazon for $9.99.
10.
LaBeautyologist Cleansing Cuffs stop the annoying drenched sleeves from being apart of your skincare routine. The cuffs are comfortable, super absorbent, and essentially make your arm a drip-free zone when you wash your face.
"My sweatshirt sleeves ALWAYS get wet when I wash my face. It's really tricky to keep them dry because I use creamy cleansers that require a little more rinsing than other products. I decided to try these cozy cuffs and they make such a difference in my skincare routine. They protect my sleeves from getting drenched and make self-care time a little more fun. They're also machine washable!" —Genevieve Scarano, BuzzFeed writer
LaBeautyologist is a Black-owned small biz founded by beauty guru Nayamka Roberts-Smith. She's known for creating the 60-second-rule: cleansing with fingers for a minute to allow your cleanser's ingredients to get to work on your complexion.
Get them from LABeautyologist for $23 (available in five colors).
11.
Dr. Teal's Foaming Bath with Pure Epsom Salt nourishes your skin and calms your mind. In case you didn't know, a relaxing lavender bubble bath is always a good call.
This lavender bubble bath from Dr. Teal's is a clear fan favorite with over 40,000 5-star ratings on Amazon! It's great for adults, kids, those with sensitive skin, and more.
Promising reviews: "Just wow. I wanted to take my first bubble bath. Glad I went with Dr. Teal's. The bubbles were long-lasting and the smell was great. My body smelled amazing and super smooth. Can't wait for another bath. You won't be disappointed. Promise." —Fabian
"I will never not use this again! I'd like to point out that my kids are allergic to almost everything you can imagine with the most sensitive skin I've ever seen, and they have zero issues with this." —Erica_Vera_Books
Get it from Amazon for $4.87.
12.
Son & Park Beauty Water is a cult-classic cleansing water and toner that will give you a real-life smooth filter effect on your skin. This gem refreshes, brightens, and balances the natural pH level of skin with ingredients like papaya, willow bark, rose, and orange. Among the many 5-star ratings, reviewers rave about how awesome it is for sensitive skin, too!
Fun fact: Son & Park is actually named directly after the brand's founders: K-Pop celebrity make-up artists Son Dae-Sik and Park Tae-Yun! 
Promising reviews: "I absolutely love this! It's not harsh on the skin and my skin feels so nice and refreshed after using it. It's big so it lasts a good amount of time too!" —Dallas, Soko Glam customer
"This is probably my third bottle and it never disappoints me! It gives me a very subtle exfoliating feeling after I double cleanse, and it leaves my skin hydrated and ready for my next step. I absolutely love it!" —Monica P., Soko Glam customer
"I love this incredible toner/elixir/magic water! My skin always feels refreshed and clean, and even smoother, after using this. It's a multitasker and I have yet to find anything like it. I also love all the natural botanical ingredients — gives me peace of mind about putting this on my skin." —Jenny C., Soko Glam customer
13.
Kaja Heart Melter Lip Gloss Stick nourishes your lips with argan and plum seed oils and provides a gorgeous high-shine finish! The adorable heart-shaped applicator fits right in your Cupid's bow for even better precision, too.
This is vegan and cruelty-free!
Promising reviews: "I never met the perfect lip gloss like this before... The gloss is so smooth, moist, long-lasting and smell so sweet. The lip gloss on my lips look so natural. I'm deeply in love with the brand and would buy more to wear.
Extra bonus Kaja lipstick is cruelty-free and vegan friendly." —Princetta
"Love this lipstick and will order more. Glides on like a balm and lipstick in one and color is beautiful." —Amy Devonshire
Get it from Amazon $17 (available in seven shades) or from Sephora for $17 (available in eight shades).