1.
A velvet couch reviewers are absolutely loving for its beauty, comfort, and convenience — it checks all the boxes, kind of like finding your soulmate but in couch form.

Shipping: Available to ship in 1–2 days, and delivery within 10 days.
Promising review: "I wish I had the words to describe the perfection of this piece. I'm a huge fan of Mr. Kate so I knew it would be good but holy mackerel I'm so blown away. This couch is everything. They could easily charge 2–3x more but I'm endlessly thankful that they kept the everyday person in mind with the price point. It's gorgeous, comfy, solid, well built, easy to put together, and GORGEOUS!" —Steph F :)

Get it from Amazon for $443.99+ (available in four colors).
2.
A convertible futon sleeper sofa that's super convenient in case you have people over and want to prolong the party; your guests will have zero complaints about the velvet feel.

Shipping: Ships within 2–3 days.
Promising review: "Buying a futon online can be somewhat nerve racking; buying one on Amazon can be downright terrifying. With that said, we did lots of comparing all over and now feel extremely silly for waiting on making this purchase for so long. To start with the color is gorgeous and exactly as shown, which is excellent as it will fit in perfectly with our decor. Assembly took all of 20 minutes maybe, and by minute 21 my animals were enthusiastically exploring the comfort, which is also surprisingly pleasant. It's firm but not too much so, and the fabric just feels expensive you know? Size wise it's perfect — our place isn't the largest apartment and this doesn't overwhelm the space yet can easily seat three people no problem. It also easily collapses for sleeping and we're looking forward to having extra guests over now that they have somewhere to crash. All in all, super pleased and will certainly be entertaining further purchases from the brand. You just cannot beat the quality and price." —Bridget
Get it from Amazon for $368.99+ (available in nine colors).
Check out more sleeper sofas to justify your nap breaks!
3.
A mid-century-style wide reversible velvet sectional sofa with ample room to spread out with a bowl of popcorn (or five) and "watch TV"... and by that, I mean go to sleep of course.

Shipping: Arrives within 10–14 days.
Promising review: "People! This is a must-buy! This sofa is firm and so comfortable, the color is so beautiful, I'm in love! Better than I expected!" –Melissa

Get it from Wayfair for $799.99+ (originally $869.99; available in four colors). 
Psst... this is also on our list of best sectional sofas under $1,000!
4.
A square arm sofa for making the small space you just moved into feel supremely homey, since it'll fill the room with a calming, alluring energy you won't be able to resist.
Shipping: This comes with 2-day delivery.
Promising review: "I just moved with little to no furniture. I needed something stylish and cute and affordable and logged into Wayfair. I went to gray couches and bam just what I wanted, the perfect size for my one bedroom apartment. It was very simple to put together, I just dragged it into my home, cut inside the box, and found everything I needed to get the job done. It's actually quite comfortable as well. My aunt came to visit me and she's now looking to purchase her own." —suad
Get it from Wayfair for $399.99 (available in two colors).
5.
A Novogratz sectional sofa destined to become your meditation hub, relaxation center, zen den, decompression station... I could go on, but this couch just looks so darn comfy.
Shipping: Arrives within 8–12 days.
Promising review: "LOVE LOVE LOVE. Added a great accent to my living room. It was actually the perfect size as well. Had so many compliments on this and it's comfortable too! Easily cleans, which is a plus with having two large dogs." —Adrianna
Get it from Wayfair for $899.99+ (originally $1,257; available in three colors).
6.
A velvet pillow-top convertible sofa bed with storage (!!!) that, I'm gonna be honest, looks like the softest thing you could possibly lay your head on. AND with the TRIPLE functionality too? I wish I could go back in time and buy this couch for my apartment.

Shipping: Arrives within 9–15 days.
Promising review: "This sofa is awesome you guys. You really have to purchase this sofa if you have an overnight guest with limited sleeping space. The color is beautiful and the texture is so inviting to the touch... it really is a velvet material... but not a cheap material. The sofa tilts down flat to make the perfect sleeping space for your guest. It sleeps three really easily. I purchased this for my tiny space and it's perfect! My grandkids also enjoy the storage space underneath. All the toys are right at hand and it provides an easy cleanup afterwards." —Judith

Get it from Wayfair for $949.99 (originally $1099.99; available in six colors).
7.
A velvet sofa available in eight gorg jewel tones that simply add to the already luxurious feel of the fabric... hold on, is that Architectural Digest knocking at the door? 
Shipping: Arrives within 1–3 days.
Promising review: "Absolutely fantastic couch! The fabric is sooo incredibly soft! A tiny bit firm at first, but the best kind of firm. We've had the couch for about two weeks and you can already feel it starting to give a little more. But the firmness is necessary to keep the structure of the cushions last longer. We purchased the emerald couch and the color is absolutely stunning!!! A perfect jewel green and very true to the photos. Delivery was on time (earlier in the day even) and the men that delivered the couch were extremely helpful!"  —Morgan

Get it from Wayfair for $1,180 (available in eight colors).
8.
A velvet loveseat couch akin to owning your own personal cloud from which you can simply float away from all of your earthly worries (without even leaving your living room).

Shipping: Delivery within five days.
Promising review: "For around $800 this couch is amazing. Our previous couch was almost too big, and this one was a little smaller than I thought it would be — but still a great size. The couch is a bit firm yet still so soft at the same time, very comfortable and sturdy feeling. The true color is a bit hard to capture, depending on the light — farther away or late afternoon/ evening it looks more of a beautiful hunter green and then up close or early morning it looks more of a blue emerald green. The couch really is very beautiful. I also got the deluxe delivery and unpacking and the associates were phenomenal. Right on time, friendly and courteous. They opened the box, put the legs on, placed the couch where I asked, and then took the huge box when they left. I highly recommend this couch and that service." —Taylor
Get it from Amazon for $845+ (available in two velvet colors, and in a loveseat, sofa, or sectional). 
9.
A velvet couch equipped with a fancy tufted texture and a nice, high back that will feel like heaven to sprawl out on at the end of a very long day (or at the very beginning of the day, which inevitably turns into the end).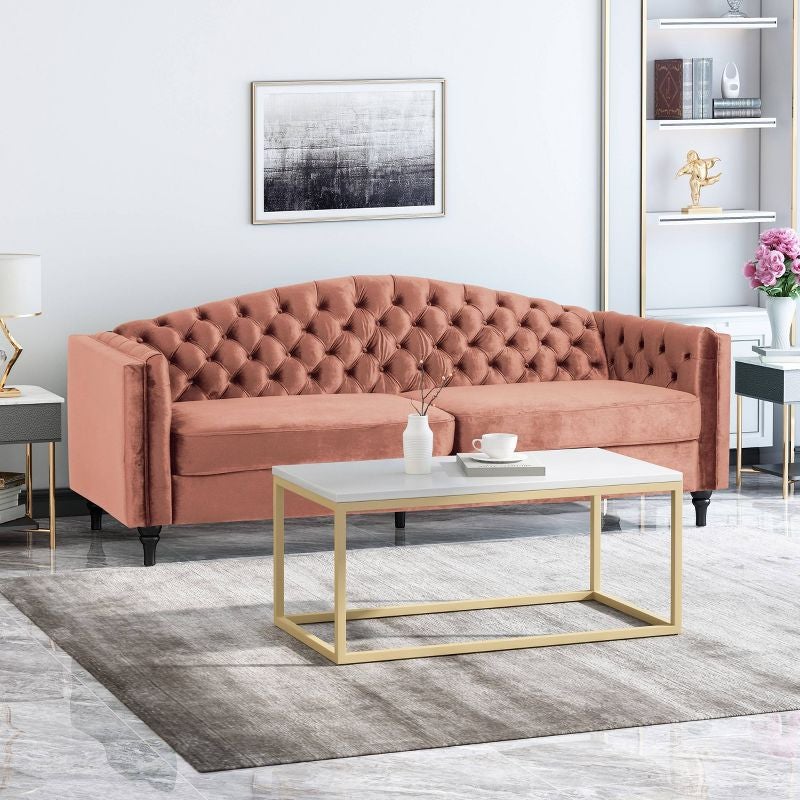 Shipping: Arrives within 8 days.
Promising review: "Lovvvve this couch. It's not too big, not too small. Putting it together was fairly easy and quick — I was able to put it together myself in about one hour. I've had it for a month or two now and haven't found any problems with it. For the price, I would absolutely say it's worth it." —Monica

Get it from Target for $799.99 (originally $999.99; available in three colors).
10.
An affordable velvet couch you won't believe you waited this long to buy, because life is waaay too short to not have the baby-soft couch of your dreams.

Shipping: Arrives within 8–19 days, with $99.99 shipping fee.
Promising review: "Why should you get this couch? I have never written an Amazon review, and yet upon reviewing my order, not only has it exceeded every expectation, my living room is now my favorite part of my apartment. The color is gorgeous, the fabric is so soft. It is firm however I was surprised at how comfortable I am when relaxing and working on my laptop. You can also add some blankets and it's perfect. I'm 5'6" and can lay down completely. It's also ideal for a small space." —Kirsten Castaneda

Get it from Amazon for $388.99 (available in four colors).
11.
A curved velvet couch with an extremely aesthetically pleasing rounded silhouette that will scratch that minimalist itch in your brain.

Shipping: Arrives within 1–6 days.
Promising review: "My sofa just got here today and I absolutely love it. It's sturdy and also heavy. Once you sit on it you'll know that it's a quality piece of furniture. I'm so pleased with my purchase!" —Marie Tia

"Just as pictured, love the material, the color and overall elegant style. Definitely a statement piece and subtle enough to blend into a minimalistic aesthetic. Love it!" —Dilan
Get it from AllModern for $1,090 (available in five colors).
12.
A retro mod tufted velvet sofa fit for the most stylish person in your life, which, of course, will be you, after getting this couch that looks like it would be right at home in Gatsby's mansion.
13.
A scalloped velvet sofa giving off very put-together mermaid vibes, which, even if you're not going for that specific theme, never hurts when it comes to interior design. Trust me!

Shipping: Arrives within 5–7 days.
Promising review: "Beautiful and vibrant, all of my guests love my yellow couch. It's so comfortable I've fallen asleep on it several times. Also great if you have cats because you can smooth away the nail marks and the material doesn't fray." —Taylor

Get it from Wayfair for $639.99 (originally $819.99; available in six colors).
14.
A gray velvet chaise couch for lounging wistfully on, staring out the window and, of course, pondering when your spouse will return from war. Bonus: it lift-top storage space for blankets, pillows, and any other very important pondering gear.