1.
A low-profile platform twin bed frame you'll think is the steal of the century once you put it together — reviewers absolutely love it for the ease of assembly, and the surprising sturdiness given the affordable price. 

Shipping: Free 2-day delivery, with 1-day delivery on select options.
Promising review: "Best bed ever! The metal frame is great quality and engineered for easy install but commercial quality. No squeaky bed frame here. I put it all together by myself. The frame slots together and you can hand screw each screw before tightening. Really a breeze and I just cannot get over this quality." —Fletcher

Get it from Wayfair for $158.99+ (originally $385.99; available in two colors).
2.
A metal twin bed frame giving off impeccable Nutcracker vibes, so if you're looking to decorate a children's room or eternally elicit the feeling of Christmas morning, this sturdy but classic frame is the way to go.

Note: a box spring is required for this bed!
Shipping: Local in-home delivery is usually delivered within 7–14 business days, and can take up to 2–4 weeks for long distance delivery. 

Promising review: "We bought the Mason bed sight unseen in person because our store didn't carry it. The bed is absolutely beautiful. The color, as others have commented on, is more black than brown, which we love. This finish is very smooth. The bed is very sturdy and doesn't shake or shimmy as other metal beds can sometimes do. I would recommend. Also, the delivery persons were wonderful. On time, did a great job of setting the bed up, courteous." —yoginimom
Get it from Crate & Barrel for $499 (available in two colors).
If you're in the market for a toddler bed, we've got this list.
3.
A super affordable platform metal twin bed frame with over a foot of clearance underneath, in addition to being super easy to set up. An absolute lifesaver if you have last-minute guests coming over and have things you need to quite literally kick under the bed.

Shipping: 2-day delivery with Amazon Prime; otherwise, delivers in six days.
Promising review: "I give Zinus an A++ for this platform bed frame! The instructions that came with this were easy to follow. They had every metal piece labeled along with pictures to make sure it's done correctly. They also give you ALL the tools and extra screws, which by the way were also labeled. This is definitely the best made platform bed frame and instructions that I've ever seen! I bought the Zinus metal platform bed frame because the wooden frame that came with my bed didn't last at all, my weight was too much for it. My mattress doesn't sink anymore and I'm just so happy I bought this Zinus! I also love the height of this bed because now I can vacuum easily underneath it and I can store my containers." —M G
Get it from Amazon for $76.56+ (available in three heights).
4.
A twin bed frame with an upholstered headboard so comfy you'll fall asleep the instant you feel its weight underneath your bod, patiently supporting you as you do all your best work (re: sleeping).

Shipping: Ships within 2–4 business days.
Promising review: "This headboard and frame is a winner. The design is striking but sufficiently neutral that it fits with the rest of my bedroom furniture and the frame is immovable, even for a big dude like me. Also, fairly easy to assemble and, if you're so inclined, you can hide secret stuff in the back of the headboard." —Warren H.
Get it from DreamCloud for $400 (available in two colors).
5.
A versatile twin bed frame that comes with tool-free assembly and two USB power kits on either side so you don't have to streeeeetch to plug your phone in when it inevitably dies mid TikTok-binge.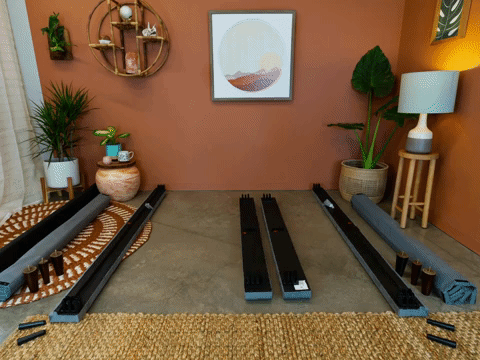 Shipping: It takes 2–3 weeks to build the frame, and 3–8 business days to ship.
Promising review: "So easy to put together and amazing quality. The legs are very solid and well made. The gray material is soft and a nice color. The perfect minimal foundation with super convenient plugs to charge while you sleep. My phone will never be dead again!" —Lora S.
Get it from Nest Bedding for $341.10 (originally $379; available in three colors and low-profile or high-profile versions).
6.
A solid wood platform twin bed frame sturdy enough to support you through all of life's trials and tribulations, because sleeping alone is scary enough without worrying about whether that creak was your bed, a ghost, or an intruder.

Shipping: Free 1-day delivery.
Promising review: "This bed frame is beautiful. Well built quality wood pieces. I ordered a twin size and I put it together myself in less than 12 hours. Looks amazing and I would order this again. I would recommend this to anyone looking for a minimalist platform bed frame." —Lisa

Get it from Wayfair for $163.64+ (available in three colors).
7.
A platform twin bed frame famous for how easy it is to put together — if this escape from injury isn't enough, it's got rounded corners (no bruised shins), a supportive foam pillowboard, and nine inches of clearance for a low-profile frame.

Shipping: It ships in 1-5 business days, and generally arrives 1-5 business days after shipment.
Promising review: "I have been eyeing this bed frame for over a year now and finally pulled the trigger... this frame was much nicer in person then I expected. It looks like a showpiece. It went together in minutes! One of the first things I did was walk around the frame just like I saw in the pictures and boy this thing is rock solid. There are no squeaks and noises with the frame and my mattress almost feels more comfortable on it. Not sure if thats a mental thing or it's just better. Anyways if you are still trying to decide if you want this frame let me make it simple for you. BUY IT!!!" —Verified Buyer

Get it from Thuma for $795 (available in three wood colors and three pillowboard colors).
8.
A no-frills twin bed frame that doesn't require a single tool to assemble, making it ideal if you're moving on a budget, and a furniture handicap. Plus, it also comes in a Narrow Twin size if you're looking to save even more space.

Shipping: 2-day delivery with Amazon Prime; otherwise, delivers in six days.
Promising review: "The Zinus bed frame is awesome. No rails or slats or headboards to wrestle with or find a screwdriver and try to line it all up. NO —literally unfold it, twirl some wing nuts, and go to sleep. My teen put it together and had it complete and the mattress on it in 12 minutes. When they move their rooms around, they fold the frame up, vacuum the floor, and set the beds up again. There is 14" clearance underneath and they store a TON of crap under there. The frame itself holds 750 pounds so they are standing up to a lot of teen boy roughhousing. I could not be happier with these frames and highly recommend them and the entire Zinus product line." —Kindle Customer

Get it from Amazon for $74.70+ (available in three heights and two colors; also available in Narrow Twin for $65+, and also Heavy Duty versions).
9.
A Floyd adaptable twin bed frame that you can customize to your liking, meaning you can add a headboard or under-bed storage at any time, and even buy an expansion kit to turn your twin into a queen if you're craving an upgrade.

Shipping: Estimated delivery time is 2–9 days.
Promising review: "I just received my Floyd Platform Bed the other day and I'm absolutely loving it. Let's just run down through all the amazing attributes: (1) Amazing build quality, (2) Super easy to set up, (3) Fantastic design and looks great in my room. You really can't get much better than this. Seriously. Aside from the bed itself, I can't speak any higher about Floyd's customer service team. They were always super quick to respond to my questions. On top of that, they were extremely friendly and kind. It definitely helped make the buying decision that much easier for me. I would 100% recommend this to anyone potentially looking to purchase this bed. It's truly awesome." —Ryan L.
Get it from Floyd for $700+ (originally $875; available with or without a headboard, three different woods, two hardware colors, and with or without underbed storage on one or both sides).
10.
A wooden twin bed frame made for inquisitive young kiddos to clamber into with ease, complete with a timeless design, knobs for little hands to grab onto, and adjustable side rails so you can customize the height as they grow.

11.
A wooden platform twin bed frame with a mid-century modern theme that looks way more expensive than it actually is, so get ready to impress your guests when you tell them you got it on Amazon.

Shipping: Delivers within 8 days.
Promising review: "This bed frame was such a great purchase. I bought a wall-mounted headboard and so I needed a bed frame to go with it. I was looking at West Elm, Pottery Barn, etc. and didn't feel that I really needed to spend 600ish on a simple bed frame. I decided to try this one and am so happy I did. It was easy to assemble (I did it by myself and it didn't take very long) and it seems very sturdy. I highly recommend this bed frame!" —the blonde party
Get it from Amazon for $110+ (available in two heights and four colors).
12.
A basic twin bed frame with head adjustability if you're looking to alleviate back pain, relax in optimal movie-watching position, and, of course, eat as many snacks in bed as you please.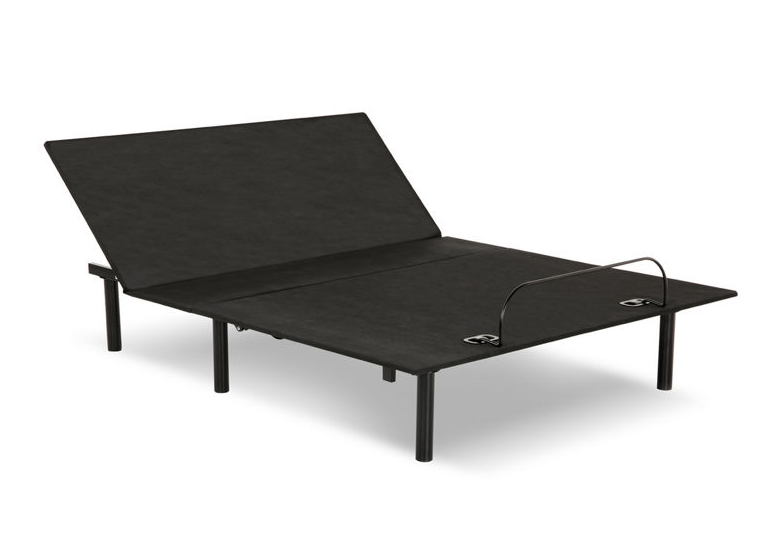 Shipping: This delivers within two days, with in-home setup and mattress removal available for extra fees.
Promising review: "I am definitely happy with this purchase. The base works like it's supposed to and I can use it anyway I want! Great for nights in watching movies or just relaxing after work but not wanting to fall asleep for the night. The titled angles adjust in a variety of ways so I can choose how high or low I want it. The remote control makes it easy to use and wonderful to put back for sleeping. Delivery workers even assembled it for me on arrival and the finished product is quality! It even raises the bed enough to have storage room underneath. I love this base!! Thank you Mattress Firm for a great deal and product." —NatDubz

Get it from Mattress Firm for $299.99.
For more adjustable bed frames, check out this list.