We hope you love the products we recommend! All of them were independently selected by our editors. Some may have been sent as samples, but all opinions and reviews are our own. Just so you know, BuzzFeed may collect a share of sales or other compensation from the links on this page if you decide to shop from them. Oh, and FYI — prices are accurate and items in stock as of time of publication.
1.
A remote-control adjustable bed frame with features you'd think would come from the future, like four different massage modes (!!!), programmable positions, USB ports, and even an under-bed night-light to prevent any late-night stubbed toes.
Shipping: This delivers for free within 6–7 days.
Promising review: "This bed is giving me life! Having so many chronic health issues, I really needed this bed. Before with my regular bed, I was using 10 to 12 large size pillows to try to prop myself up every night... because due to my health issues I cannot sleep flat. I would toss and turn all night, wouldn't get any rest... but with my new adjustable bed I only use two, I push in the position with my remote, turn on the massage, and I'm out in a matter of seconds! This bed is like anesthesia, lol, best purchase ever! I wake up feeling well rested, I sleep through the night, I don't toss and turn. I'm so grateful for companies like these that offer these beds at a more affordable price. I highly recommend this bed for anyone, but especially to those who suffer with health issues, and need to sleep propped up, or need to have their legs elevated." —Lady Bushnell
Get it from Amazon for $695+ (available in Twin XL, Full, Queen, Split Queen, King, Split King, California King, and Split California King).
2.
A Nectar adjustable bed frame complete with three massage zones (which is the best on the list) and a 50-night sleep trial with full refund in case you don't love everything about your beautiful bed BFF.

Shipping: This ships for free within 7–10 days.
Promising review: "After too many years on the same bed, we stepped up this year and invested in us with new adjustable frame with new mattress. Still amazed at the difference. Able to lift legs (no more body pillows needed) and raise head and shoulders for comfort or TV viewing. A lot quieter than we thought and we love that we set the angles... or not. Fairly easy to install, set up, and program (bit heavy, but solidly made). Absolutely love the settings available and ease of remote pairing and setting. The massage is amazing, thought this would not be our favorite but I dare anyone to turn on the legs and not fall asleep before the timer runs out. Zero Gravity is a good place to start, then fine tune for your own memory setting. And then the USB ports for charging your electronics. Nectar thought of everything. Such a difference sleeping all night without soreness and stiffness... WORTH EVERY PENNY." —Loree L.

Get it from Nectar for $649+ (available in Twin XL, Full, and Split King).
3.
A Bluetooth-compatible adjustable bed with all the massage, nightlight, and programmable bells and whistles, with the added perk of being able to control it all FROM YOUR PHONE. If that's not the definition of luxury, I don't know what is.

Shipping: This delivers for free within 6 days, and 2-day shipping is available with Prime.
Promising review: "We were so excited to get this adjustable base and let me tell you, it did not disappoint! I thought adjustable bases were just for the older population, but my daughter LOVES it. She has used every function so far and loves them all. She was most excited to find out that the Lucid Base App for her iPhone works so well! And with the USB ports she can charge her devices! While learning all the functions, she realized she could set an alarm that would raise her bed to the lounge position to wake her up in the morning (she has a hard time waking up). At first, we laughed about this setting being something she would use, but she has tried it and it's awesome! She watches TV, reads, and does homework in this bed, and it is so nice to NOT have tons of pillows propping up her back and legs to feel comfortable. This base can adjust to many different positions to make it comfortable. The massage settings are soothing and work better than we expected, considering the massage has to go through the mattress. We love everything about it! Highly recommended!" —Kathy
Get it from Amazon for $603+ (available in Twin XL, Queen, Full, King, and Split King).
4.
A Helix adjustable bed frame you need to be careful of — with your back pain gone and the ability to silence your snoring partner with the push of button, it's possible you may never emerge from your bed again.
Shipping: This ships for free in 3–10 business days.
Promising review: "It's heavy and super sturdy. It turns my bed into a comfy recliner! Great for reading or watching TV in bed. All we had to do was unpack it, screw in the legs, flip it over, and plug it in. Helpful hint: before you flip it over, insert two 9-volt batteries for a one time use if the power goes out. This allows the bed to be flattened without electricity. The massage feature is just vibrations, nothing special but a nice added feature. There is also a light underneath that you turn on and off with the wireless remote. I am very pleased!" —Donna S.

"We love the adjustable base, my back pain is gone, the head lifts just enough so my husband doesn't snore, and the vibration feature is pretty cool, too! Also very affordable. Thanks!!" —Anna J.
Get it from Helix Sleep for $750+ (available in Twin XL, Full, Queen, King Half, and California King Half).
5.
An Amerisleep adjustable bed frame compatible with the remote control, your mobile app, Amazon Alexa, OR Google Home. Which means, theoretically, you could raise your bed with a simple voice command. Not to mention the adjustable legs. And massage settings. And under-bed lighting. Need I go on?

Shipping: This comes with free in-home setup, and free next-day shipping.

Promising review: "This is an awesome adjustable bed frame! I love how it slides back as the head raises, literally hugging the wall. That was a main selling point for me because then the nightstands stay within reach. The bed moves soooo quietly and smoothly — also a huge selling point — and doesn't move once I stop moving it. The remote is so cool! I love the 'lock' feature!! The frame's solid and heavy and well made. There's no way this frame will budge or bend or move on the flooring. My cats love the cool under-bed lighting... they love the massage too, surprisingly. The massage helps my aching lower back/hip region very well too. Definitely is a bed I'll have forever." —Samantha

Get it from Amerisleep for $1,260+ (available in Twin XL, Full, Queen, King Half, and California King Half).

Psst... if you're looking for the best bed frames on Amazon, check out this list.
6.
An adjustable bed frame reviewers say is more affordable than others on the market, and knocks the basics out of the park. It's got adjustable legs, up to 65 degrees of head incline, and up to 35 degrees of foot incline!

Shipping: This delivers for free within 11 days.
Promising review: "I am absolutely amazed to find such a wonderful adjustable frame at 1/3 the price of its competitors! Sure, there is no nightlight under the bed, or built-in USB ports, or a massage option like the more expensive brands, but I didn't need all of that. I just wanted an adjustable frame that operated quietly, and this frame does just that. It is so quiet, so if you have the split king and don't want to wake your partner, you won't. I should also add that it was easy to assemble between myself and my husband once we got it out of the box. No tools required, and instructions are simple to follow. Overall, I'm very happy with my purchase! If you're in need of an adjustable bed without all the bells and whistles attached then this frame is for you!" —Sally

Get it from Amazon for $499+ (available in Twin XL, Full, Queen, King, Split King, and Split California King).
7.
A Saatva adjustable base if you've been thinking of splurging on your sleep for a while now, but haven't had the courage to take the leap. Plus, this comes with an 180-night free trial (the best on this list), so you've got nothing to lose. 

Shipping: This comes with free in-home white glove setup, and delivers for free within 9–21 days.
Promising review: "Saatva has been great to deal with. From my initial 500 questions to customer service through to delivery has been a fantastic experience. Delivery was 10 days after ordering and the delivery guys were amazing. They were polite, great contact advising exactly when they'd be here, set up and removal of my old mattress was all flawless, and that's certainly not been my experience with other online companies. As for the actual adjustable base my only question is why didn't I get one before. Yes it's a fair investment but I absolutely love it. I've had a spinal fusion and more knee surgeries than I care to count and the base has really changed things. I can immediately get comfortable and adjust it easily to find the perfect sleeping position. I tend to flip around during the night but I've found the 'zero gravity' setting has kept me put, leading to a better night's sleep. It's also ideal for when my husband banishes me to the bedroom to watch my awful reality TV shows. The base seems really well made and paired with the 11.5" Saatva classic mattress I purchased I think I've finally found my sleep nirvana." —Siobhan E.
Get it from Saatva for $1,249+ (available in Twin, Twin XL, Full, Queen, King, California King, Split King, and Split California King.
8.
A remote-control adjustable bed frame with added head tilt destined to become your new happy place. Want to read? Bed. Watch Netflix? Bed. Nap the day away? Work a full eight-hour workday? Bed. 

Shipping: This comes with free inside entryway delivery in as soon as two days.

Promising review: "Was nervous at first to take a chance on this bed frame, but I am so beyond happy that I did! Have had this frame for about a month now and it exceeds every expectation I had. I was able to assemble it easily, quickly, and by myself. It seems to be of decent quality and functions great! I have been sleeping better than I have in a long time and I really like the USB plug as well as the flashlight on the remote. I would highly recommend this to anyone!" —Kimberly

Get it from Amazon for $480.37+ (available in Twin XL, Queen, and Split King).
If this sounds like you, here are 50 Products For Anyone Whose Favorite WFH Spot Is Their Bed.
9.
An Amazon basic adjustable bed frame that won't break the bank, or your back (ha!). If you're looking for a way to treat yourself, and potentially change the way you sleep forever, I'd look no further than this bed frame.

Shipping: Free delivery within 6 days, and 2-day shipping is available with Prime.
Promising review: "I debated on an adjustable bed, but I suffer from allergies at night and wake up coughing quite a bit, so I thought maybe this would help. IT DOES!! I put this bed together by myself and while it was heavy and a little cumbersome, I was able to do it. I have more fun raising and lowering the head and foot to just the correct levels. The remote has a flashlight built in, so at night I can find my way to the bathroom if needed and I don't stub my toes. Recommend and would purchase again. I hope this lasts for a long time!!!!" —Toofaboo

"Wow... this thing is cool. I was tired of acid reflux and of course, snoring... only a couple of nights sleeping on it, what a difference. Don't be scared of ordering it, it's very easy to assemble and great quality. It's pretty heavy, so you need help getting it in, but that's the only concern. Other than that, it's perfect!" —D! Schrader
Get it from Amazon for $347.98+ (available in Twin XL, Full, and Queen).
10.
A Tempur-Pedic smart adjustable bed frame that the big daddy of all high-tech adjustable beds; this frame comes with AI sensors that automatically detects snoring and adjusts accordingly, so you can literally improve your health while staying blissfully asleep. 

Shipping: This comes with free white-glove delivery and setup, as well as removal of your old mattress. Delivers within 7–10 days.
Promising review: "The best base ever, superb quality, I knew I couldn't go wrong with Tempur-Pedic. Within a week delivery, I'm really enjoying the smart capabilities of my base, voice controllable via Alexa. I even set a routine to watch TV, so it's automatically set to my preferred position at a certain hour, everything works wonders. The build quality on this thing is the top of the line. Thank you Tempur Pedic for another great product." —God Morpheus

"My sleep apnea has improved with the base. When I snore the head of the bed raises to a non snoring position. I no longer wake up numerous times during the night. The USB ports on both sides of the bed means no more pulling short cords or dead phones in the morning. The sleep tracker is amazing. It records accurate and detailed data on my sleep quality which AI can share. Everything it says it would do, does it. I'm in love with this base and can't stop thanking myself for getting it and Tempur-Pedic for making it." —Nat
Get it from Tempur-Pedic for $1799+ (available in Twin Long, Full, Queen, King, Split King, California King, and Split California King).
11.
A Puffy adjustable base that's a great sleep trial policy, so you can sleep on it for 101 nights before deciding if it's ~the one~. But I have a feeling you'll think soulmates do exist after trying this baby out.

Shipping: Free shipping within 1–3 business days.
Promising review: "I have been totally pleased with our new adjustable base. I have been getting such a good night's rest. It has certainly helped my acid reflux also. Our Puffy mattress and pillows are absolutely amazing! They are so comfortable I don't want to get up in the morning! One feature I really love is if me or my husband get up in the night, there is so little movement, that it doesn't wake us up! Thank you for making such excellent products!" —Cathy Conner

"We have been mulling getting an adjustable bed for years. My sister loves her Sleep Number adjustable but my goodness, what a steep price! While discussing this with friends, we were told how much they love their new Puffy mattress. I had never heard of Puffy before but I told her we needed independent adjustability. She said that you could get that in a Puffy frame. What impressed me right away was the guarantee… I could try it for 101 days and they would pick it up for free…nothing to lose! Plus it was half the price of a Sleep Number! So happy with this purchase! It is so comfortable and there's more to it than the adjustability! It has a massage feature, USB ports, and even a nightlight! We got the two twin XL mattresses with the split adjustable king base. It comes with a headboard attachment but to our surprise it fit into our existing bed frame as shown in the pictures. We did have to remove the support slats. The free sheets, mattress pads, and pillows didn't come right away so I used our regular king bedding and it worked but I am in the process now of setting up the twin XL bedding. So happy that we went with the Puffy! You have nothing to lose!" —L.L.
Get it from Puffy for $899+ (available in Twin XL, Full, Queen, and Split King).
12.
An entry-level adjustable bed frame with head-only adjustability that's basic but effective, especially if you're looking to alleviate back pain and experience life's simplest but most wonderful pleasures — like eating snacks in bed without having to prop yourself up.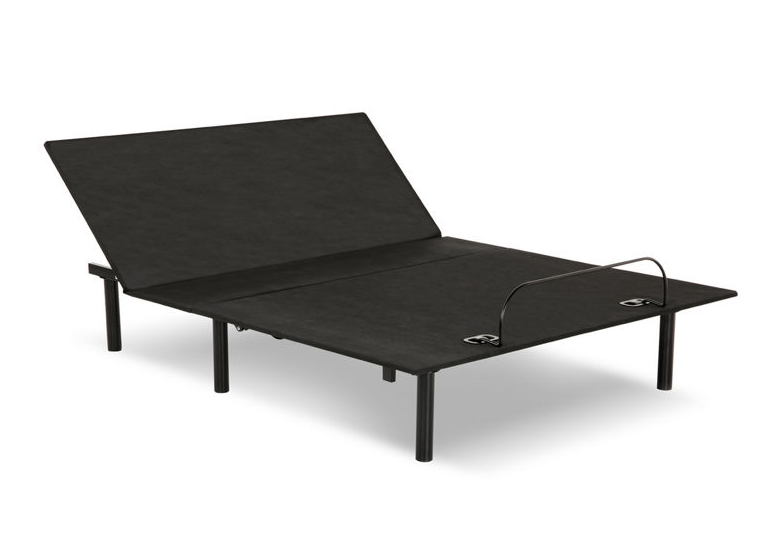 Shipping: This delivers for free within two days, with in-home setup and mattress removal available for extra fees.
Promising review: "I am definitely happy with this purchase. The base works like it's supposed to and I can use it anyway I want! Great for nights in watching movies or just relaxing after work but not wanting to fall asleep for the night. The titled angles adjust in a variety of ways so I can choose how high or low I want it. The remote control makes it easy to use and wonderful to put back for sleeping. Delivery workers even assembled it for me on arrival and the finished product is quality! It even raises the bed enough to have storage room underneath. I love this base!! Thank you Mattress Firm for a great deal and product." —NatDubz

Get it from Mattress Firm for $299.99+ (available in Twin, Twin XL, Full, Queen, King, California King, and Split California King).
13.
An adjustable bed frame if you're tired of tossing and turning at night and feeling like your bed is just missing something... enter this Prince Charming of a to sweep you off your feet and show you the life you deserve together.

Shipping: Delivers for free within 6 days, and two-day shipping is available with Prime.
Promising review: "This is the best purchase we've made in 30 years. My wife and I have had difficulty staying comfortable while sleeping (aging difficulties), We decided to try the Linenspa product after doing some research. We weren't willing to spend thousands of dollars on equipment with all the extras that we wouldn't use anyway. The beds came on a Saturday morning and we tried them out that evening. We are both in our 70s and not as able as we used to be, but the beds went together without problems and we can't say enough good about how it has changed the way we sleep. We both can stay asleep for many hours without pain or discomfort, and we wake in the morning feeling wonderful. I would recommend this product to anyone who has trouble sleeping because of back problems, arthritis et.al." —Charles Hiertz
Get it from Amazon for $231.88+ (available in Twin XL, Full, Queen, King, and Split King).
14.
An upholstered adjustable bed base that will make bedtime your favorite time of the day, since you know you'll be getting that luxurious, full night of sleep. Head empty, no thoughts. Just sleep.

Shipping: Delivers for free within 6 days, and two-day shipping is available with Prime.
Promising review: "While some other frames have a few more bells and whistles (like wall hugging and a zero gravity preset) that I would love, this one still has a great range of movement and doesn't strain at all under my 300 pounds. Way better than the wired controller one I previously had. Definitely worth the money so far. I suffer with multiple back problems that have been worse in this past year and contributed to my weight gain, which contributes in turn to more pain. Since using this frame and with the mattress I bought for it, I have more sleep position options and need to change positions less throughout the night. I wake up more rested and with grater range of motion in my body. I'm so grateful that this is available and affordable." —Just a Mom

Get it from Amazon for $293.07+ (available in Twin XL, Queen, and Full).
15.
An adjustable base with three-piece customizable legs, so you can change the height to your preference, along with an anti-snore setting, independent head and foot massage modes, and more.

Shipping: Ships free within 24 hours.
Promising review: "After back issues and much tossing and turning, we have reached a utopian sleep experience. Back issues are resolved and we sleep through the entire night. So grateful for our new bed." —Shawn

Get it from GhostBed for $1,124 (available in Twin XL, Queen, and Split King).
You, when asked if you'll ever get out of your new adjustable bed:
Reviews have been edited for length and/or clarity.