1.
A wooden aromatherapy diffuser with 14 different light combinations, four timer settings, an auto shutoff feature, PLUS, 10 essential oil scents. And the best part for gram is that it's super simple to set up. 
Shipping: Next-day delivery available with Prime. Otherwise, arrives in 6 days.
According to my friend and colleague Brittany Gibson, this is a certified grandma-approved gift:
"My boyfriend and I got this for his grandmother and the first thing she said was, 'You know, it's hard shopping for a grandmother, but this is something I'll actually use!' Fast-forward a few weeks later and she's STILL talking about how great it is. She uses it every day and has made filling it up and adding essential oils to it part of her daily routine. She was raving about how great her house smells because of it. It lives in her kitchen now for everyone to see when they walk in. It's super pretty and so easy to use. Definitely a 10/10 from us!" —Brittany Gibson
Get it from Amazon for $39.95.
2.
A custom paint-by-numbers kit of any photo (i.e. her dog in a sweater or the landscape photos from her last cruise) that artistic nanas will delight in making come to life.
Winnie's Picks is a small business that makes custom adult paint-by-numbers kits.
To order, just upload the photo you want on the order page. You can get a 16x16 canvas, up to a 20x40, and it's available with a standard, premium, or detailed color palette.
Shipping: Shipping is free for all US orders. It will take about 3–5 weeks for your custom kit to be delivered. 
Promising review: "I was very fortunate to receive two paint by numbers from Winnie's from my daughter for Mother's Day last year. I expected I would enjoy doing them but I didn't expect to become as hooked on it as I have! I have multiple medical conditions making many crafts and sports that I used to enjoy impossible. Despite having very arthritic fingers, I can hold a brush with a light touch and find it wonderfully relaxing and satisfying. I have started painting number three and will order number four early to ensure I have one ready for when this one is complete! I highly recommend it for anyone looking for a new hobby and plan to order a few as gifts for family members who I'm sure will love it as much as I do. Thanks Winnie's Picks!" —Karen Richard
Get it from Winnie's Picks for $42.95 (originally $49.95).
3.
A Meyer lemon tree to brighten up your grandma's home. Whether she's an experienced gardener or has no green thumb at all, this is the citrusy gift that keeps on giving, especially since they grow both indoors and outdoors!
Shipping: Ships in 1–2 days.
Promising review: "We received this tree (4 feet tall) last May. It has bloomed four times for us and has produced four lemons. We live in Michigan, so the tree spends the summer outside and spends the winter inside with a few grow lights on a timer. Excited for the tree to keep producing more and more fruit. Couldn't be happier!" —Randi B.
Get it from FastGrowingTrees.com for $69.95+ (originally $79.95).
4.
A sickeningly adorable pair of heated slippers you'll be tempted to steal every time you visit your g-ma, since they're so doggone soft. Plus she was totally right — cold feet will make you catch a cold!
Shipping: Delivers in 5–8 business days; express and overnight options available.
Promising review: "I have wanted the dumpling slippers for a long time and just this year, my friend gifted them to me for Christmas. They're so cute and they keep my feet warm and cozy. I could wear them all day!!" —Stephany4172
Get it from Urban Outfitters for $48 (also available in a potato version).
Check this out for more gifts for people who loathe the cold.
5.
A Golden Girls cross-stitch book for your golden girl (whether she's a Sophia or a Rose) that includes 10 patterns and enough stitching materials to make two crafty creations. 
Shipping: Next-day delivery available with Prime. Otherwise arrives in five days.
Promising review: "I love the Golden Girls (discovering them in their streaming revival) and these 'granny-chic' cross stitch patterns are fabulous! I love the detail of Rose's 'St. Olaf speak' border on one of the patterns! The included hoop and jewel tone thread are fantastic, get you started making projects ASAP! I know what I'm getting everyone for Xmas! :)" —Meredith
Get it from Amazon for $16.26.
6.
A handmade wooden nightstand book holder to help your bookworm of a gran remember where she put her book down, AND what page she was on, too.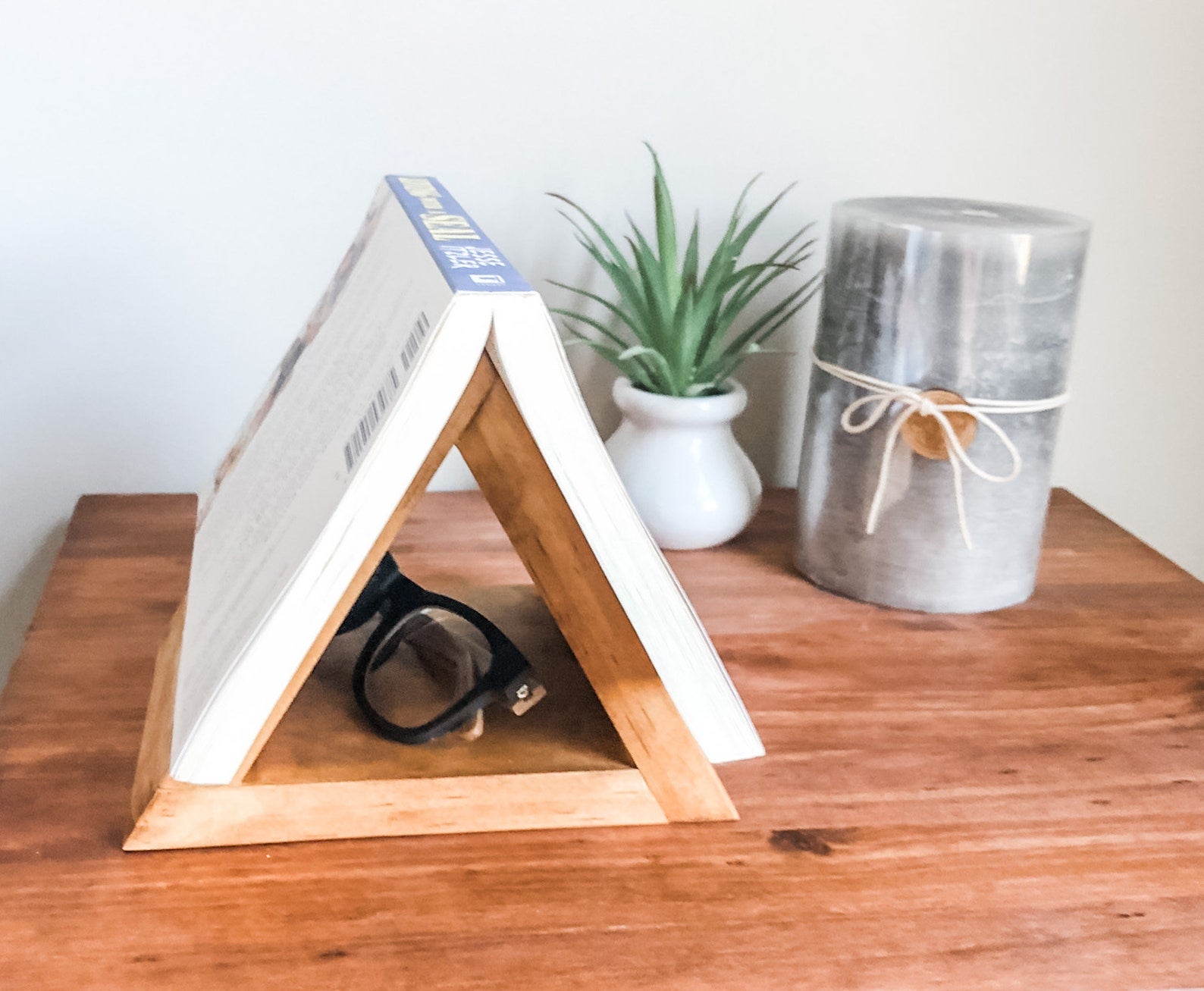 Colwood Craft is a Columbus, Ohio-based small biz that makes handcrafted home decor.
Shipping: Arrives in 9–16 days.
Promising review: "I bought two of these for my parents to put on their nightstands. My mom LOVES hers and will carry it around the house with her to wherever she has settled. My dad loves his too and is glad he finally has something to make his stack of books look a bit more presentable. For the price, I think everyone should have one of these. The stain is beautiful as well! The only problem, which isn't really a problem, is that a couple of the wood staples are slightly visible, but it's easy to hide them by placing that edge down against the table/whatever surface you're resting this on." —Olsen Hanner
Get it from Colwood Craft on Etsy for $27 (available in six wood stains).
We've got a collection of gift guides for book lovers, check it out here!
7.
A recipe box so your grandma can store her secret yummy knowledge in one place, and organize it by category too! Also handy for greedy ones like yourself to get your hands on Grandma's recipes without having to beg her for them over text.
It includes 50 recipe cards and 14 index divider tabs to organize them!
Shipping: Next-day delivery available with Prime. Otherwise, arrives in five days.
Promising review: "The women in our family decided to exchange hand-written recipes as a sentimental way to celebrate the holidays this year. There are eight of us, so every recipe I pick has to be written eight times! 🤦🏻‍♀️ After losing mothers and grandmothers, we value having their handwritten recipe cards and why we decided to do it...There was plenty of room to list all of the ingredients, spices used, and still room for details that the younger generation cooking might not know and we take for granted. VERY PLEASED!!" —LT
Get it from Amazon for $27.99 (available in six designs).
8.
A gorgeous rolling pin engraved with dandelions for elevating grandma's baked goods from amazing to absolutely legendary, Instagram food influencer level status (even if your gram isn't on the 'Grams).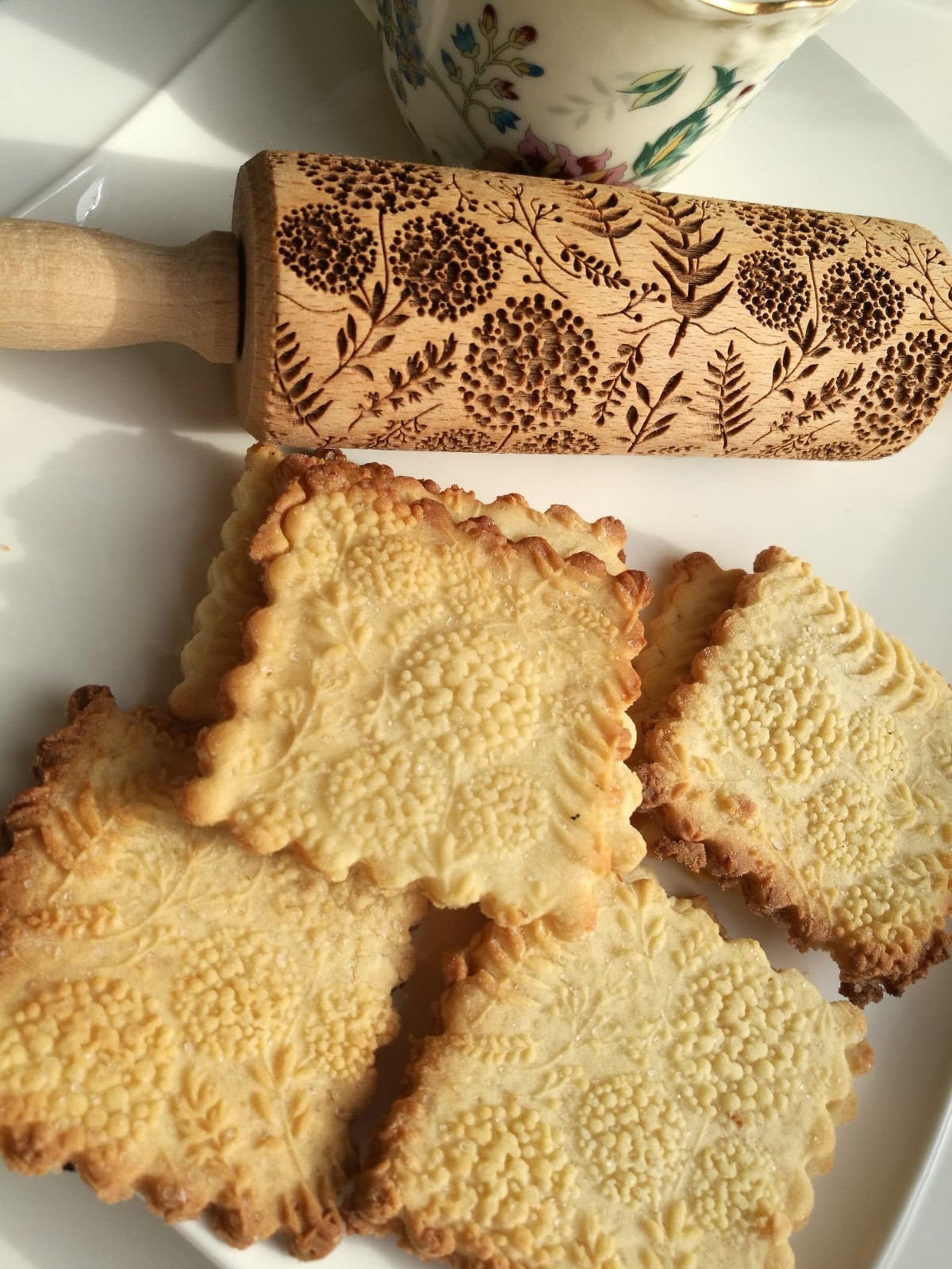 Oma Marta is a small biz based in Latvia that makes laser-engraved wooden goodies.
Shipping: Minimum of 17 days to arrive.
Promising review: "Can't get over how beautiful the engraving is, and the flowers are raised so nicely. Will definitely be ordering from this shop again." —Monique DuTill Platt
9.
A birthstone family tree necklace to honor your fam's head honcho slash badass matriarch and allow her to have her loved ones close by throughout the day. 
Shipping: Ships for free; delivers in 2–5 days. Priority, 2-day, and overnight shipping also available.
Promising review: "Absolutely beautiful! We requested that the production and shipping be rushed, and Eve's Addiction did not disappoint. Very pleased with the service and product." —jennifer g
Get it from Eve's Addiction for $86.80 (originally $124).
10.
A harvest basket for your family's resident gardening goddess. I personally can attest that gardeners go crazy for this gift, as I got it for my mom last year and she still loves to use it!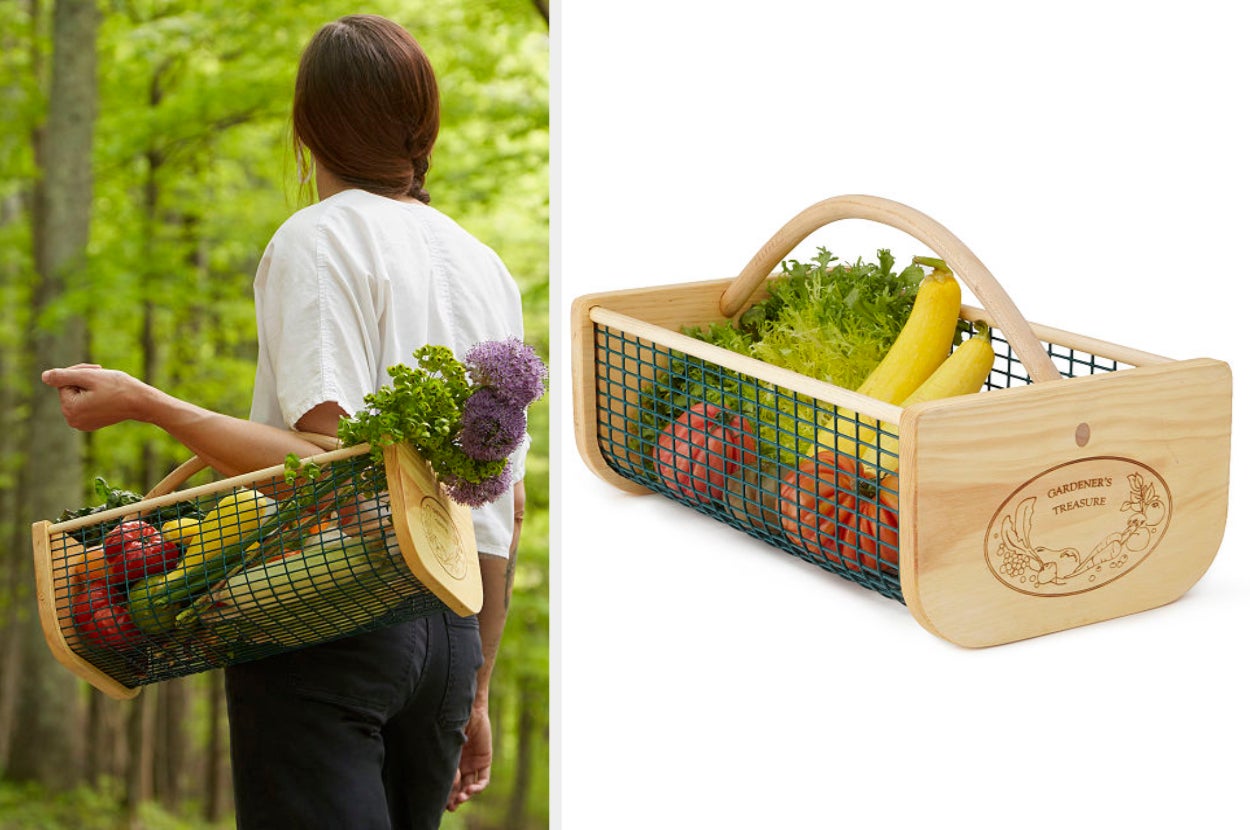 Shipping: Delivered in 7–9 days, with expedited and express shipping options available.
Promising review: "Product is perfect for holding a good amount of items harvested from the garden. The material is sturdy, good quality, and allows water and dirt to easily seep through instead of gathering at the bottom of the basket. It looks great too!" —Andy
Get it from Uncommon Goods for $50.
11.
A four-drawer puzzle tray so your competitive puzzler of a grandma can roll up her sleeves, put the kettle on, and rip a thousand-piece scene of a Japanese garden a new one.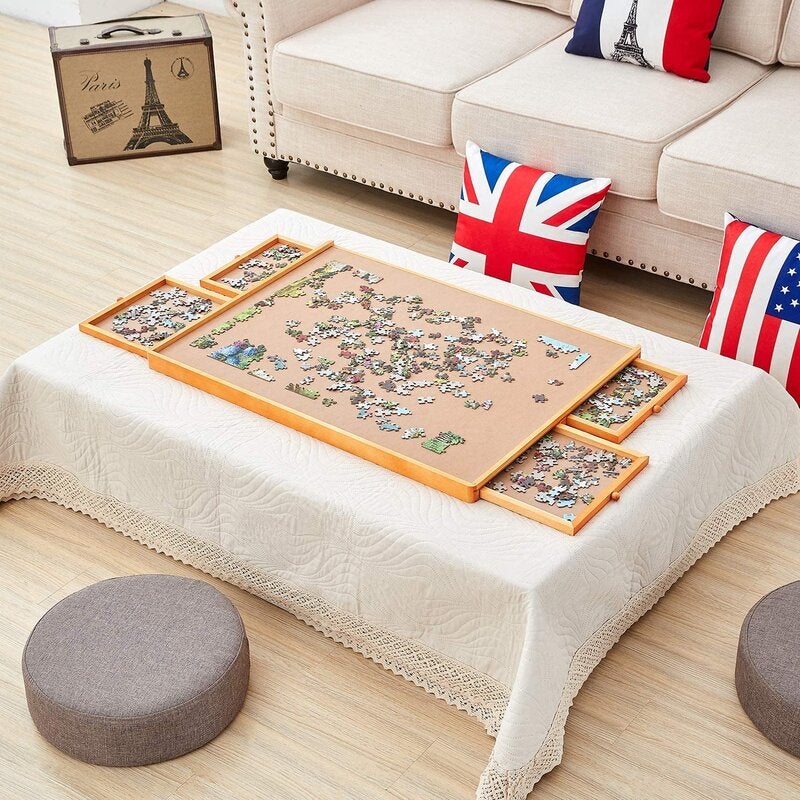 Shipping: Ships for free, and arrives within 2–7 days.
Promising review: "Absolutely perfect for my 'I'm the only one who enjoys puzzles' household... makes my projects portable and also hide-able (it lives under the couch and no one has any idea). Only problem? After buying this for myself, my family started buying me the really GOOD puzzles and now I might need a bigger one :-) " —Carrie
Get it from Wayfair for $68.99.
12.
A bakery-style bamboo bread box destined to make grandma's kitchen even more home-y and comforting than it already is, a once-impossible task she will thank you for accomplishing.
Shipping: Next-day delivery available with Prime. Otherwise, arrives in six days.
Promising review: "I am so very happy with my purchase! It was super easy to assemble, it took less than 10 minutes! It's a good quality heavy wood, not that cheap thin stuff which makes it extra sturdy! It fits perfectly under our upper cabinets with some room to spare! Best part is THE SPACE! This thing fits: a bag of round bakery rolls, a bag of hamburger rolls, an entire loaf of bread, an entire bag of bagels, a few medium hoagie rolls, a few hotdog rolls, and my sundried tomato wraps! Our countertop was SO cluttered before this and I couldn't be happier!!!" —Stephanie
Get it from Amazon for $49.99 (available in four colors).
13.
An organic cotton print pajama set like no other she's ever been gifted before that provides super-soft cottony comfort and doesn't scratch, ride up, or look like a circus tent.
Printfresh is a woman-owned small business that makes 100% cotton sleepwear inspired by digital illustrations.
Shipping: Most orders ship within one business day. Express and overnight options also available.
Promising review: "After ordering a pair of capris for a friend and loving what arrived, I purchased the cami cropped pants set for myself. I am in love with the vibrant colors and print and am pleased with the fit. I particularly like that the cami straps cross in the back keeping them from slipping off my shoulders. These are comfortable for sleeping and enjoying morning coffee on my patio. I would buy again or send as a gift without hesitation." —Janet B
"I am usually not a PJ person but the cute patterns wooed me in. The fabric is that perfect soft crisp cotton I remember from sheets of my youth and the fit is perfect — the pants don't ride up when I sleep! However did you manage that? I'm in love and sold on these!" —Mary U.
Get it from Printfresh for $126 (available in sizes XS–6X and eight prints).
14.
A personalized tea subscription service so you and gram can spill the tea, literally and figuratively, every time you get together, and bond over trying all the new flavors that come in each box.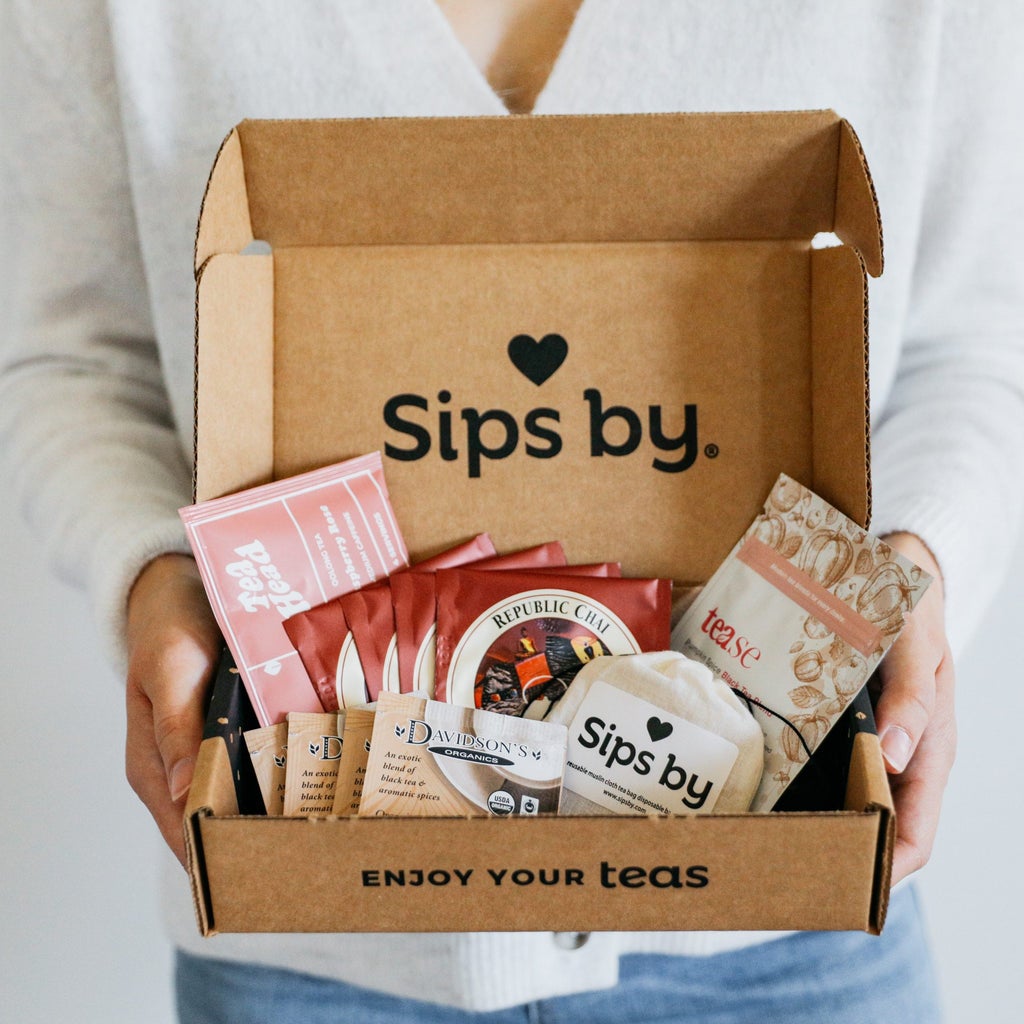 Shipping: The boxes ship free every month.
You can take a tea profile quiz so your boxes are personalized to your giftee. Each box includes four premium teas chosen from 150+ different brands around the world, reusable and biodegradable tea filters, and steeping guidelines and tasting notes.

Get it from Sipsby for $48/three months, $96/six months, and $192/12 months.