1.
A velvet L-shaped couch available in gorgeous, bright jewel tones that will make your living room a palace worthy of your very own magazine spread.
Shipping: Arrives within 1–3 days.

Promising review: "Absolutely fantastic couch!! The fabric is sooo incredibly soft!! A tiny bit firm at first, but the best kind of firm. We've had the couch for about two weeks and you can already feel it starting to give a little more. But the firmness is necessary to keep the structure of the cushions last longer. We purchased the emerald couch and the color is absolutely stunning!!! A perfect jewel green and very true to the photos. Delivery was on time (earlier in the day even) and the men that delivered the couch were extremely helpful! I will absolutely be purchasing more from Wayfair after my experience!" —Morgan
Get it from Wayfair for $1,160+ (originally $2,100 available in 10 colors, two leg colors, and velvet and polyester materials).
Check out Wayfair (along with more of the stores mentioned here) in our roundup of the best places to buy a sofa or couch online.

2.
A reversible sleeper L-shaped couch with absolutely adorable stud detailing, as well as a plethora of review photos of the ultra-wide sleeper mode, which, TBH, looks big enough to house my entire family.
Shipping: Arrives within 8–14 days.
Promising review: "I am so happy I made this purchase! It is exactly what I was looking for as far as how I wanted my living room to look. I was happy that I came fully assembled besides the bottoms, I was able to put together by myself. As far as comfort, I slept on it four nights in a row when my sister came to stay with me and I slept like a baby. My pup enjoyed it too! 😊 Very satisfied with this purchase, well worth the price!" —caitlin lozano

Get it from Amazon for $899 (available in five colors).
Check out some more sleeper sofas that will totally justify taking more nap breaks.
3.
A reversible L-shaped couch enabling you to position the "L" on whichever side suits your fancy. Prepare to let out the world's longest "Ahhhhhhhhhhhh......" when you throw your feet up on this little number.
Shipping: Arrives within 3–7 days.
Promising review: "I have looked online for months for a couch to buy that was affordable, comfortable, large enough for two people, easy to assemble, and perfect for a small apartment. This couch is fantastic! I ordered in green because it was more affordable but it is beautiful. It took me 45 minutes on my lunch break to break down my old couch and set this up. So easy, and no hammering or drilling. It doesn't get easier than this guys, and I built a shelf completely backwards a few months ago so trust me (as the internet stranger I am). Note: part of couch on bottom is hanging off in picture which is my fault because I didn't push it on right and just need to take five minutes to fix it. The couch is so comfy. I went out the other day, came back, and passed out the entire night on here. And! I woke up feeling great/not sore haha. Can't recommend enough. Don't wait, just go for it. You'll love the pop of color. The feel. The comfort. And the easy assembly." —Jacqueline M Hallauer

Get it from Amazon for $609.56+ (available in two colors).
4.
A wide reversible velvet L-shaped sofa so you can partake in your favorite activity as soon as your roommate leaves: stretching out as long as physically possible, closing your eyes, and zoning the heck out.

Shipping: Arrives within 10–14 days.
Promising review: "Beautiful color for a couch! It's very functional for what we need. It has good back support. I am so impressed with the style and attractiveness of this furniture." —Dawn

Get it from Wayfair for $770+ (originally $869.99; available in four colors). 
Psst... this is also on our list of best sectional sofas under $1,000!
5.
A Novogratz sectional sofa seemingly made for unwinding after work, digging into a pint of ice cream, and binge-watching until you drop. Even if that work was from home.
Shipping: Arrives within 4–6 days.
Promising review: "LOVE LOVE LOVE. Added a great accent to my living room. It was actually the perfect size as well. Had so many compliments on this and it's comfortable too! Easily cleans, which is a plus with having two large dogs." —Adrianna
Get it from Wayfair for $799.99+ (originally $1,287; available in three colors).
6.
A reversible sleeper sectional that not only pulls out into the comfiest-looking futon bed slash best place to host a movie night I've ever seen, but ALSO has the storage space for all your blankets and pillows.
Shipping: Arrives within 10–14 days.
Promising review: "It is gorgeous! And looks just like the picture. Moved to new apartment before bed arrived, so the pull out couch was perfect! It is a stiff (STIFF) bed but over time it should soften up or I'll simply add sleep foam when using. The storage under the chaise is spacious enough for a full bed in a bag. Love love. But only if you can handle a harder seat. (Back cushions are very comfortable.) Buy some throw pillows and it's a complete look!" —Carnise
Get it from Wayfair for $719.99+ (originally $879.99; available in four colors).
7.
A reclining faux leather or chenille L-shaped couch you can simply lower the back of and bam! Instant sleepover vibes. Not to mention you can store an endless supply of snacks in the chaise as well.
Shipping: Arrives within 1–3 days.

Promising review: "Excellent sleeper sofa for my den. Nice light gray fabric, neat modern look. Came in two boxes and was very easy to assemble. Packed with precision. Everyone that comes over gives compliments on my sofa." –Corey
Get it from Wayfair for $940+ (originally $1,417; available five colors, and in chenille or faux leather).

8.
A sectional L-shaped couch that supposedly only takes 15 minutes to put together 👀  As an added bonus, this beautiful piece comes with an attractive storage console. Extra stuff = automatic home decor win.

Albany Park is a Black-owned, family-operated small business designing well-made, unique sofas at affordable prices.
Shipping: Arrives within 14–26 days.
Promising review: "I did so much research on couches and this was the best furniture decision I had made! The olive green color is such a luxe/rich color and the velvet material is so soft and has a luxe feeling to it. I have kids and it's been easy to clean. Picture doesn't do it justice. It's so gorgeous. It's very budget friendly compared to other couches, I feel like this is so worth the price. I get compliments all the time from our guests. I took a chance and trusted the reviews and photos. It was the best decision. The color is just amazing. We use the console as a coffee table. Storage inside the console is a decent size as well." —Enna
Get it from Albany Park for $2,825 (available in seven colors).
9.
An L-shaped sectional featuring a soft, suede-like feel and a matching ottoman to afford you the luxury of putting your feetsies up after a long day of carrying your workplace Slack on your shoulders.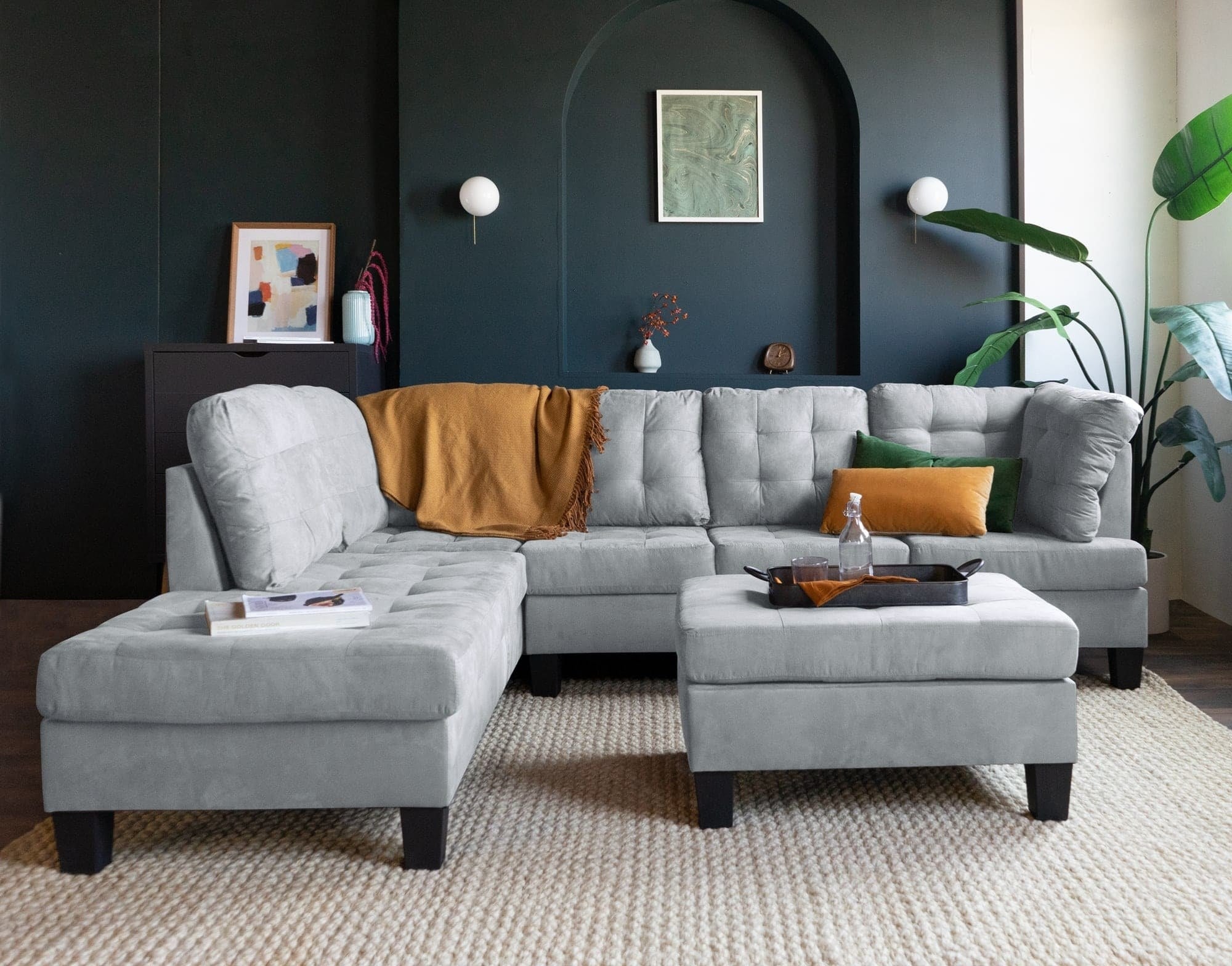 Shipping: Ships in 2–4 business days.
Promising review: "The sectional is great! It has a little bounce and it was very easy to put together. I put it together alone and it took me about an hour and a half. I seriously love this sectional; the material is very soft and it's the perfect shape for our living room! My shipment came in four boxes, which made it easier to bring up stairs." —Verlynda
Get it from Sofamania for $849.99 (originally $1,159.99; available in four colors).
10.
A retro velvet L-shaped couch reviewers say is their saving grace for small spaces, as it's reversible, compact, easy to assemble, and of course, comfy as all heck. 
Shipping: Available to ship in 1–2 days.
Promising review: "At first, I was apprehensive about buying a sofa at a new store with no reviews on Amazon but boy am I glad I did. I love my sofa, it looks amazing! It's honestly beautiful, my place looks so much better now. The blue velvet is stunning. Heck, it looks even better than it does in the photo. The velvet is smooth and does not irritate the skin at all. The cushions are comfortable, especially the back cushions. Please note that at first sit, the bottom cushions are not insanely soft. They are not hard but you won't sink into them when you take that first seat. Keep in mind the sofa is new so it needs to be broken in and the cushions were shipped vacuum sealed. The packaging states to give the cushions 72 hrs to get shape but honestly, mine had great shape and looked amazing as soon as I took them out of the wrapping. Also, know that the chaise is detachable. You can put it on the left or right. Lastly, this was the fastest shipping I've ever seen. Amazon said a week delivery but it arrived in three days!!!" —Arche Jean

Get it from Amazon for $638.58+ (available in four colors).
Check out more sectional sofas on Amazon reviewers love!
11.
A true L-shaped couch made with linen and, very importantly, a high backing, because there's nothing worse than a couch that doesn't literally have your back after a taxing day.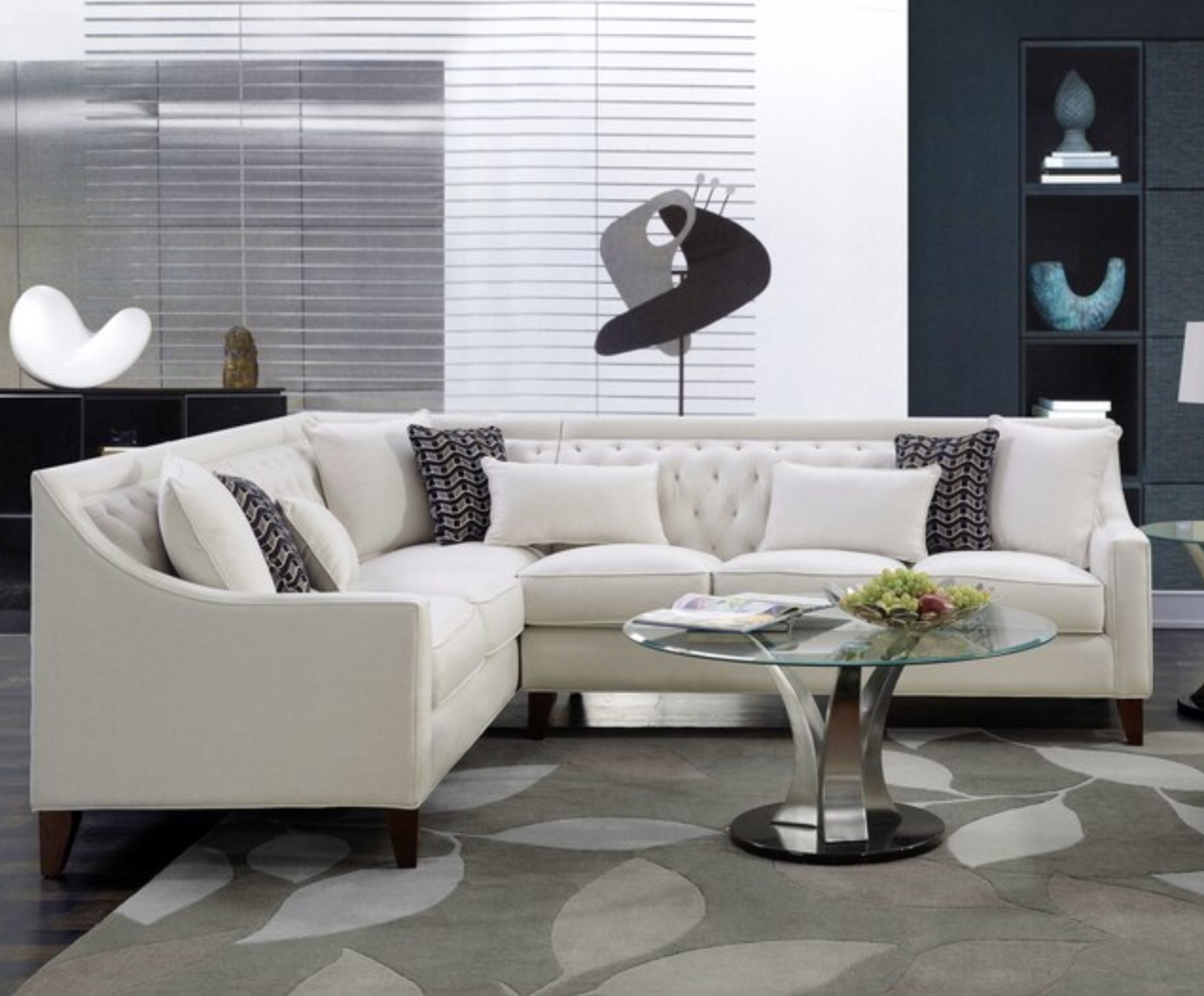 The couch also comes with accent pillows!
Shipping: Arrives within 7–10 business days.
Promising review: "This sofa is perfect for my home as I have limited space. It comes with throw pillows, a few of which I used but then added my own. It is firm, which I like. The quality is sturdy. It is very comfortable. The longer section is 104 inches, not 106. The cushions have removable covers, so they can be washed. The delivery was smooth and the delivery guys set it up for me. Overall I am very happy with this purchase!" —KaLynda

Get it from Lowe's for $2,079.
12.
A modular itty-bitty L-shaped couch and lounger great for a corner, or to add onto a larger piece, that you can arrange any which way you want to fit your space — the relaxation combinations are endless.

Shipping: Arrives within 5–10 business days.
Promising review: "I live in a studio with two small lap/couch dogs and one fat cat. I was tired of feeling squished and uncomfortable on my small hard futon. I love this lounger. I use it as my main and only couch. It's small and yet, because of the flexibility, it can be made longer or kept in chaise position. It definitely takes two people to assemble. It was a bit like a big puzzle, but the instructions are very clear and easy to understand. Just don't discard the clearly labeled boxes for identification. I'd also suggest only opening one box at a time. It's firm but very comfortable. The fabric is very nice, not at all cheap looking. I'm very pleased with this purchase and highly recommend Burrow." —Veronica C.
Get it from Burrow for $1,235 (available in four fabric colors and three leg colors).