We hope you love the products we recommend! All of them were independently selected by our editors. Some may have been sent as samples, but all opinions and reviews are our own. Just so you know, BuzzFeed may collect a share of sales or other compensation from the links on this page if you decide to shop from them. Oh, and FYI — prices are accurate and items in stock as of time of publication.
1.
A pair of fleece-lined leggings able to withstand temperatures best described as "I'm not leaving the house" cold — so if you do have to venture out, at least your legs will thank you.
These only come in one size, but according to reviewers, they fit up to a size 18.
Promising review: "The reviewer who says 'it's like wearing kittens on your legs' is spot on. Kittens, small teddy bears, whatever you want to call it. But you don't look like you gained 20 lbs. when you wear them. I went out to a concert on a miserably cold and windy February evening, with these leggings under a skirt. I'm terribly cold-blooded, and even I felt like, 'COME ON, WIND, BRING IT ON.' There's one potential negative: the seams around the crotch and butt are obvious. " —Amazon Customer
Get them from Amazon for $15.99+ (available in eight colors, as well as footed versions and packs of two).
Check out more pairs of warm winter leggings that aren't necessarily fleece-lined, but will keep you toasty the whole season.
2.
A pair of water-resistant fleece-lined leggings so you can explore the cold, wet outdoors without a single hitch. It also comes in several different inseam lengths, which reviewers have said is a true lifesaver.

Promising reviews: "AMAZING! I finally found workout pants long enough! I'm 5'10" with a 30-inch inseam. Yogipace 34-inch inseam is the best I have ever had! I can pull them all the way up, and still, they are long enough, they don't bunch up in the crouch and give you that big sag, they fit perfectly. They keep my legs warm when I'm walking early in the morning at 28 degrees and sometimes raining! The most amazing thing is they warm my legs up when I walk in the sun, my legs actually get warmer between sun and clouds. I feel my legs getting warmer when the sun hits my legs! I thought I was imagining it and walked in and out of the sun to test the pants and the pants started getting warmer and when I moved out of the sun they got cooler! I don't know how they do it but they are amazing!" —RED
"Love love love! Pleased beyond my expectations! These fit perfect and feel great. Really like that they offer some waterproofing, the thin layer of fleece on the inside, and the zippered key/card pocket at the top of the band in the back. First pair I've ever had with a zip pocket for extra security. And it's not noticeable or bulky. These fit my skinny ankles with no loose material, that makes me so happy! Don't ride down my butt either. Wore to work today and were very comfortable and form-fitted. Did I mention great fit?? Best leggings I've ever purchased on Amazon and definitely a contender against the real pricey bands. Love even more than some of my pricier brands! Will absolutely be buying more, more colors pleeeaase!!" —Meredith

Get it from Amazon for $37.99+ (available in sizes XS–XL, with inseam sizes 25"–36" and two colors).
3.
A Uniqlo HeatTech pile-lined legging designed to keep you extra warm on a blustery day, but still sleek enough so that no one will suspect that your legs are actually snug as a bug in a rug.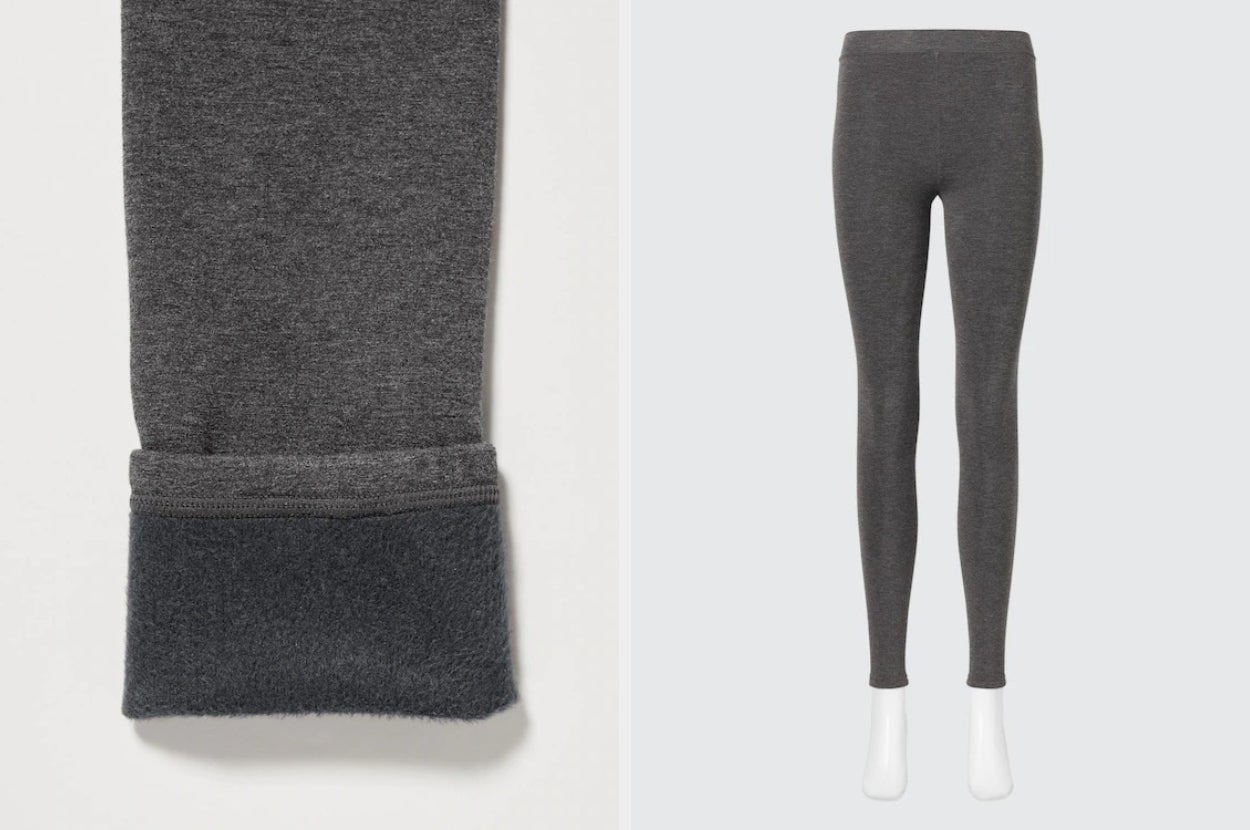 Get it from Uniqlo for $19.90 (available in sizes S–L and two colors).

4.
A Torrid fleece-lined legging in a basic black that will go with every outfit imaginable, so you never have to sacrifice style for warmth. 
This also comes in a ruched pocket version and a print version also!
Promising review: "These leggings are great. They are just heavy enough for winter here in Indiana. There are light enough that you don't overheat indoors, but heavy enough that I feel like I have jeans on outdoors. I wear them under jeans when I have to be out in extreme weather and they are perfect." —JodiO
Get it from Torrid for $33.57 (originally $39.50; available in sizes 10–30).
Check out our list for the best black leggings if you need more of these versatile basics.
5.
A pair of Old Navy fleece-lined leggings with a flared fit everyone around you will get a kick out of — but only you will be feeling the warm, fluffy feeling of being mercifully protected from the cold.

They also make these in a regular high-waisted version, a stirrup version, a thicker UltraCoze version, and a maternity version.
Promising review: "I recommend these to everyone. Softest thing you'll ever wear, super comfortable, and absolutely cute. I had to get a second pair in a different color." —anonymous
Get it from Old Navy for $26.99 (available in sizes XS–4X, as well as Tall and Petite sizing, and four colors).
6.
A pair of fleece lined leggings with pockets (can I get a hallelujah??) that gently compresses while staying super lightweight, so you can wear this baby on a freezing hike or a lukewarm walk to the grocery store.
Promising review: "First of all let me say I have about 40 different pairs of leggings, most not living up to their description. I ordered two pairs and prayed they weren't see through! OMG these are worth every freaking penny. They are silky soft, brushed fleece inside (not thick thermal) but enough to ward off the cold. You absolutely can't see through them 🙌🏻 And they compress in all the right places. They feel like a second skin. Perfect fit description and hits right at the ankle. Two pockets are either side but not large enough for an iPhone 12 and one zipper pocket at the lower back. Easy wash and dry too. Would absolutely recommend to anyone and will be purchasing more in the future." —Gina Kepner
Get it from Amazon for $33.99 (available in sizes XS–3XL and in 10 colors).
7.
A pair of fleece-lined jeggings that look and feel like denim, because if you have to put on "real clothes" for the day, you might as well feel like you're still buried under a soft fleece blanket.
Promising review: "The inner fleece is warm and cozy — but not too warm for indoor wear. The stretch feels amazing and doesn't inhibit movement in any way. Could take a yoga class in these if I had to. They have back pockets and look as polished as any other nice pair of dark wash jeans." —Suzanne Saturday
Get it from Amazon for $34+ (available in sizes XS–XL and four colors).
This is also on our list of fleece-lined jeans if you love wearing jeans in the winter, but hate feeling cold.
8.
An Athleta legging made for cold-weather workouts with its warm brushed lining, three pockets (including a back drop-in pocket for your phone), and reflective details.
Promising review: "These leggings are amazing for chilly weather! Use them for walking/running in the chilly fall. Keeps me warm and I am thrilled they don't roll or fall down for me! Already have in two colors and will be ordering more!" —SarahW
"I have at least eight pairs of these leggings! Once I found them, it's hard to find something else that compares. They are perfect for cooler mornings and my go-to for high impact workouts because I know I'm not going to be having to adjust the waistband." —Kim Z
Get it from Athleta for $38.97+ (originally $109; available in sizes XXS–3X, as well as Tall and Petite sizing, and seven colors).
9.
A high-waisted fleece lined legging reviewers say is deliciously soft and stretchy, leaving you free to frolick and jump for joy at your newfound warmth.
Promising review: "These are so super comfortable! The fleece on the inside is soft and the smoother material on the outside is so soft as well! The color is a gorgeous teal! They are nice and thick so I'm not worried about them being see-through at all, and the fit is great! They come up high waisted, nice and stretchy and if anything might run slightly bigger, so they are crazy comfortable! Love them!" —Alyssa Kulik
Get it from Amazon for $19.95+ (available in sizes S–XL and 22 colors and in two-packs).
10.
A high-waisted brushed fleece legging that beats out Lululemon (according to some) and gives you a very subtle layer of heat insulation, but is lightweight enough to wear absolutely everywhere.
Promising review: "These leggings are THE BEST for active days in cold weather. They flatter my figure with the fitted waist, and are long enough (I'm 5'9"). The fleece lining is subtle, but enough to make a huge difference in cold weather. Paired with winter socks, boots, and a heavy jacket I'm ready to go. The pockets are an added bonus. It's large enough to fit my iPhone snugly... it never falls out. I have tried to order other fleece-lined leggings in packs of three or five and the quality doesn't compare. I will only order these from now on. 100% worth paying a tad extra." —Janie Pope

Get it from Amazon for $24.99 (available in sizes XS–3X and 42 colors, with or without pockets).
11.
A pair of knit fleece lined tights featuring built-in briefs for a little extra protection, as well as coverage all the way down to your toes for maximum toastiness.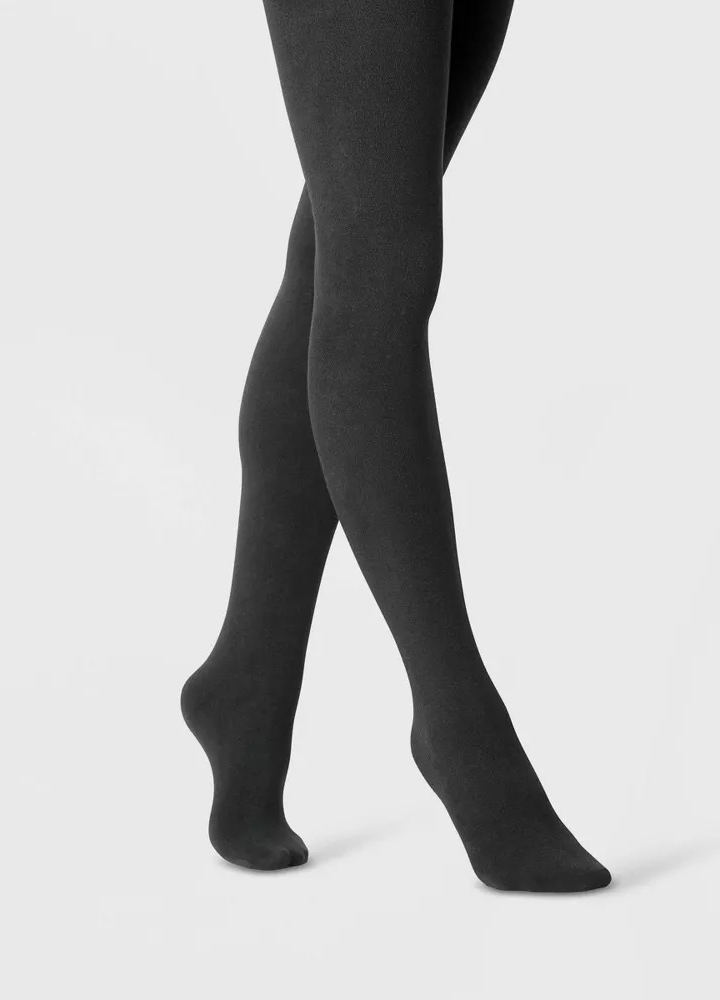 12.
A fleece-lined pocket legging with a slightly thicker fit, but all the flexibility, snugness, and functionality you could ever ask for from a pair of winter pants.

Promising review: "I walk my dog three times per day — and it is cold in them thar hills, windy etc. I was wearing regular yoga pants and the wind went right through them. These fixed all that! They are just supportive enough too — I wear a size 14, I bought the XL (but truth be told I could have gotten the L). They are not bulky AT ALL — just great, in fact I think I'm gonna buy another pair. You won't be sorry, get them." —Cynthia H.

Get it from Amazon for $32.99 (available in sizes XS–3XL and 10 colors).
13.
A pair of sherpa fleece lined leggings that's about as thick and fluffy as you're liable to get, so if you're someone who's perpetually swaddled in a blanket and likes warmth up the wazoo ... prepare to meet your match. 

Promising review: "These are going to save me this winter! I'm in an area where the average ambient temp in winter is in the 50s but the place I'm staying has no heat, so it doesn't get any warmer than 60 in the house and that's only when it's sunny. And I'ma freezing baby! I read a review on here that recommended sizing up — not necessarily because they run small (I think they're pretty true to size), but because the sherpa is so thick and heavy that if the leggings are as fitted as your normal leggings are, they'd be uncomfortably restrictive. So I ordered a large and they are perfect and soooo comfortable. They're super warm and high-waisted but I still have full range of motion. The crotch is *slightly* more roomy than desired, but not overly so. I've been wearing them day in and day out for the last week and it's going to stay that way until spring!" —Rachelle
Get it from Amazon for $35.99 (available in sizes XS–XL and five colors).
Check out more winter-approved products for anyone who is always cold.
14.
A fleece lined legging to pull on if you're craving the feeling of a soft, warm hug at all times, and regular old leggings just aren't cutting it as the temperature are starting to drop.

These also come in faux transparent, "nude" tones for a pantyhose look— but unfortunately, they're currently only available in lighter skin tones.
Promising review: "These are freaking great! I love how comfortable they are! At first when I opened them, I was like…'How in the h*ll are these going to fit me??' But they stretch really well. I've tried them out in Texas 'cold' (60 degree weather) and I swear, I couldn't even feel the 'cold' breeze hitting my legs. I could feel the piercing 'cold' breeze through my Columbia fleece jacket. We are having to purchase actual winter gear because we are going to Minnesota/Fargo/Canada for our family vacation in December. But, I truly think these are the bees knees leggings. I can't stress how comfortable these leggings are. I could live in them, no lie. It's got some great stretch to it!" —Jennie Spray

Get it from Amazon for $13.56+ (available in sizes XS–XL and six colors).
15.
A super soft L.L.Bean fleece-lined legging featuring moisture-wicking design, an interior drawstring for adjustability, a zippered pocket, and a delightfully stretchy material that'll move with you for years to come.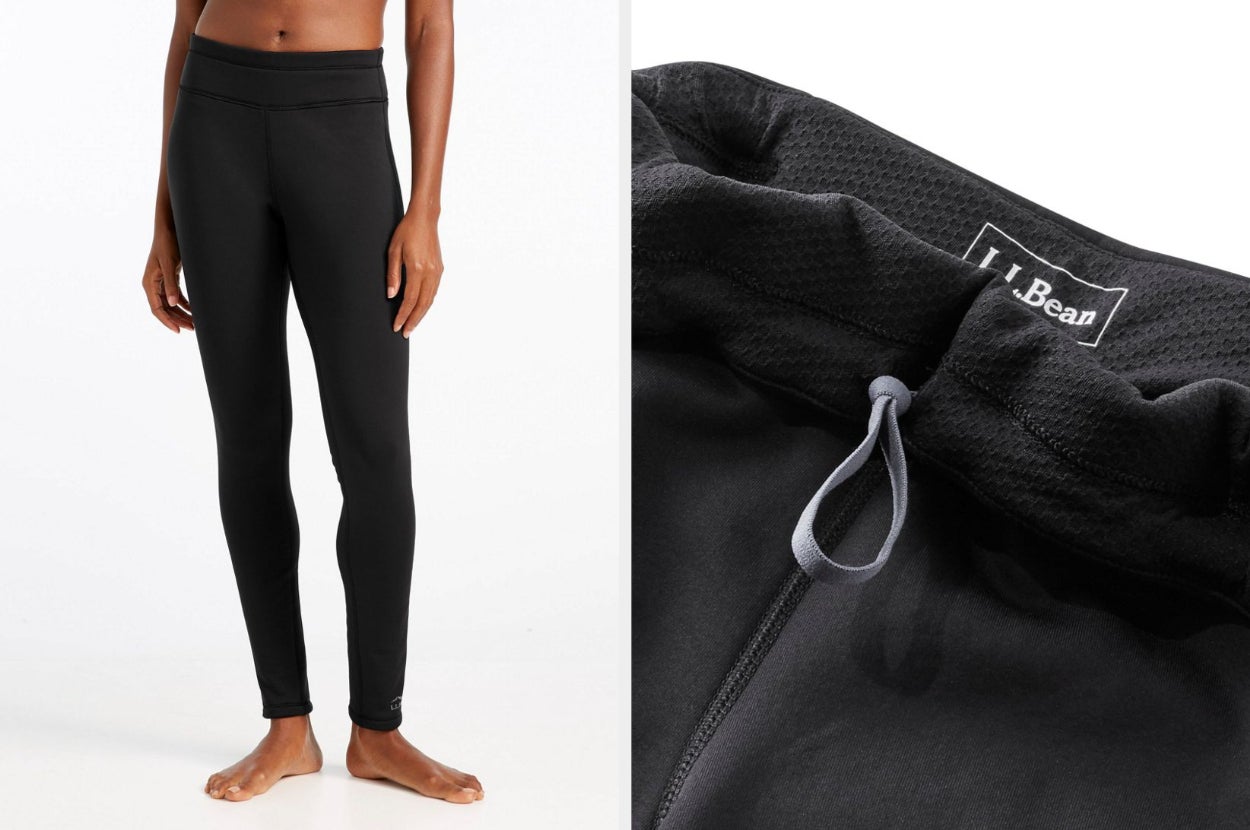 Promising review: "This is the second pair of these leggings that I have ordered. I still have the first pair, but wear them often, so they are often in the wash. So — a second pair was in order and they have not disappointed. They are perfect on a chilly day when we go out birdwatching. And, I have a tough time buying leggings because I am short and these come in petite sizes." —Birdwatcher

"I bought a pair of these tights 10 years ago and they are my go-to cold weather walking pants. I live in Salt Lake City and they keep me warm and are super comfortable. They have worn well so I purchased another pair. I love them!" —Kathy Newton
Get it from L.L.Bean for $84.99+ (available sizes XS–3X, as well as Petite sizing, two different inseam lengths, and in five colors).
You, celebrating being roasty-toasty in winter temps while everyone around you freezes:
Reviews have been edited for length and/or clarity.