1.
A large square claw clip whose colorful stripes, '90s nostalgia, and sturdy gripping power make for an unbeatable combination.
Chunks is an Asian woman–owned small business based in Seattle that makes recycled acetate hair clips and sunglasses in a ton of delightful colors and prints!
"My coworker Melanie Aman wrote a review of some clips from Chunks and I instantly knew I needed to have one (the brand's excellent name did also contribute to this decision, I can't lie). I'm growing my hair out from a bob and have finally been able to return to putting it up in a claw, the only '90s trend I'm really putting my weight behind. My sad, weak, boring go-to claw I got from a drugstore recently snapped in half when I smushed all of my hair into it — traumatic! But this large claw from Chunks is SO strong, I have no fear of breaking it. It's the perfect size for my shoulder-length medium-thick hair, but I know I'll be able to keep wearing it as my hair grows. I also simply want everything I put on my body to be in a loud print, so this fits the bill!" —Rachel Dunkel
Get it from Chunks for $16.50 (available in two designs).
2.
A set of metal claw clips with a minimalist wire look that will actually hold all your hair for once.
Promising review: "I cannot say enough about these clips. They are a nice sturdy metal and seriously hold my long, thin hair up and back without issue. I've really struggled to find a hair clip that doesn't leave strands of hair falling out of it within a half hour but these hold for hours, even when I'm laying down! I love them. LOVE." —piagg
Get a set of four from Amazon for $8.99.
3.
A pack of sectioning clips for the amateur hairstylist who's always trying out a new bang look — these babies have a rubber grip that'll make sure no strands get in the way while you work.
Promising review: "These clips are fantastic!!! I'm in beauty school and these are definitely the best sectioning clips I've used so far. They really lock onto the hair like no other! I also love that they sent extra rubber pieces in case they snap or wear down. Highly highly HIGHLY recommend." —Julie Rosado
Get a pack of six from Amazon for $6.99.
4.
A blinged-out, personalized name hair clip so you can wear your appellation (or whatever else you want) loud and proud.
Queens Reign is a Black woman–owned Etsy shop based in the UK that sells hair clips and jewelry.
Promising review: "Had a customized clip made in the name 'Carter' for my baby shower. The clip was high quality and durable. Quick shipping! The clip was very beautiful and impressive. Was exactly what I wanted and I received so many compliments on it. Highly recommend purchasing!" —Erica Racquel
Get it from Queens Reign on Etsy for $4.37+ (choose from left or right side and up to nine letters).
6.
A minimalist claw clip that'll have you planning out what color clip you'll wear to go with your outfit (because there's 23 to choose from).
Alex K Boutique is an Etsy shop that sells cute face masks, hair accessories, jewelry, and more.
Promising review: "Loveeee it! I have such thick hair, it's shoulder length and I can still never get claw clips to hold in my hair without snapping, until this one! Works wonders and it's so cute on." —holly olivia
Get it from Alex K Boutique on Etsy for $5.99+ (available in 23 colors and a milky, glossy, or matte finish).
7.
A ribbon hair clip exuding elegance and sophistication, that'll also cinch all your strands in place.
Gleeful Land is an Etsy shop that sells cute cases, tech accessories, and office accessories.
Promising review: "Bought both silver and gold and I must say they are great. I have very thick, long, curly hair and it holds terrific without pulling, very comfortable in fact. Would recommend. It's a far cry to what's being sold at any local store. The quality is outstanding." —Sandra
Get it from Gleeful Land on Etsy for $9.98+ (available in gold or silver and in two sizes).
8.
A pack of colorful tiny hair clips so you can hop on the trend and transport your style back to the early 2000s (and for under $3)!
Promising review: "These were smaller than I expected, which is actually what I like about them. They hold my six-year-old's straight, long, fine hair perfectly and stay in place much better than clips! No slipping! They are also super cute because they are tiny. Even though they are tiny they seem durable. Great purchase especially for the price!" —FitDaddy
Get a pack of 24 from Amazon for $2.77.
Pattern Beauty is a haircare small business founded by actress Tracee Ellis Ross to celebrate and empower people with curly, coily, and tight hair textures. Check out all their products here!
Promising review: "So my hair is thick and down to my knees, and this clip can ACTUALLY hold it all in place without having to readjust or even think about the fact I have a clip in. Whattttttt! Amazing! I can't even count how many other basic clips I've purchased and snapped in half trying to get them to clip in better to actually hold my hair in place. Don't have to worry about hair ties damaging my hair either, which was happening often as I didn't have anything to tie it back with that worked. I will say at first glance, this clip doesn't necessarily look like I can hold that much but, yes, yes it can, don't even underestimate it haha. And the clip is extremely lightweight too, which is perfect because no one wants to add even more weight to their hair! Bravo PATTERN!" —Lindsay F.
Get it from Pattern for $10.
10.
A circle hair clip so dainty and cute you'll barely notice it's there — except when you feel the cool breeze on your face from your hair being clipped out of the way.
11.
A set of geometric hair clips that comes with four adorable designs, so you can be both fashion-forward and functional.
Promising review: "These barrettes are wonderful! They hold hair tightly because of the metal teeth that help to keep the barrette secure, even in my very soft and silky hair. They also are big enough to hold a lot of hair. I've gotten a lot of compliments with these. Love the different designs and that each one comes in silver and gold! Great quality and really pretty!" —PattyCakes
Get a pack of eight from Amazon for $6.99.
12.
A set of salon-quality Drybar hair clips for those days when your blowout just can't afford to be creased or tugged at. These use an alligator jaw design so you can deftly clip, hold, or section as you need.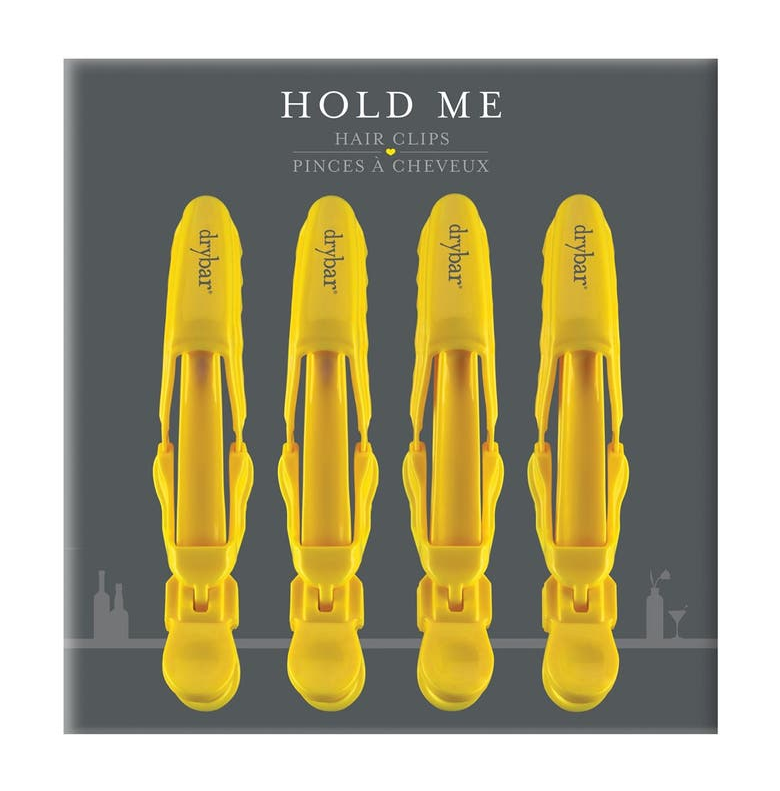 Promising review: "These are the best clips I've ever used for putting up my hair (I don't use them for blow drying). The great thing about them is that they securely hold a lot of hair, as well as small sections (e.g., bangs, when washing the face). In addition, these clips never snag or pull your hair — whether you're putting them in or taking them out. They're ideal for keeping hair off the neck when doing chores around the house and in hot weather." —Bronto
Get a pack of four from Nordstrom for $16.
13.
A super-aesthetic teddy jumbo hair clip if you want something that holds up your hair and that's also fuzzier and softer than a corgi's butt.
Pretty At Sam is an Asian woman–owned Etsy shop based in California that sells Korean-style hair accessories and jewelry. Check out these fuzzy pom-pom hair clips, or these gorgeous cherry and pearl ones! 

Promising review: "I absolutely adored the feel of these fuzzy hair clips, and they were also aesthetically pleasing to the eye. In addition, they were made well too. Out of the three ordered, there was not one that I liked over the other. All of them were winners in my book. 🥰" —Skyelark
Get it from Pretty At Sam on Etsy for $10.50 (available in seven colors).
14.
A Puffcuff designed to clamp thick, textured hair and create an effortless puff without pulling or damage.

Puffcuff was founded by Ceata E. Lash in 2013 after she realized most hair accessories were made for people with straight hair. They also have mini and micro clips available!
Promising review: "I love my Puffcuff and I use it practically every day. I don't know why I hadn't heard of it sooner because it is a lifesaver and it provides no tension or pulling on my hair, which is so important. I get an effortless puff without any stress!" —A. Belaire
Get it from Puffcuff for $17.99 (available in 2.5-, 3-, and 5-inch sizes).