Listen, if you're going to surprise your most supportive fans with new footage from a beloved franchise, it's universally agreed upon that the best place to do so is at San Diego Comic-Con.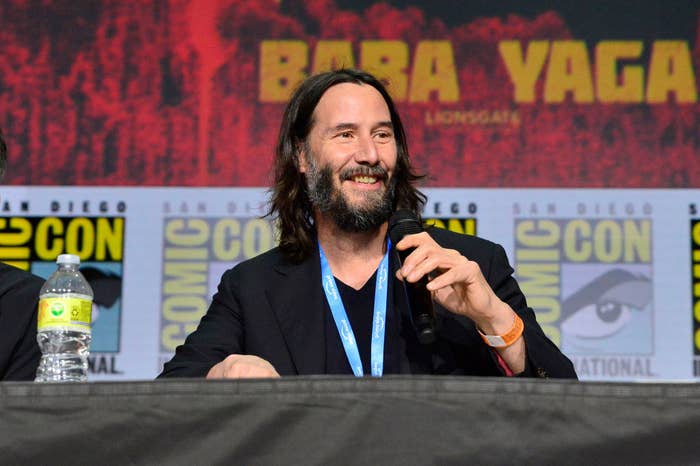 Well, Keanu Reeves and director Chad Stahelski took that concept to heart, surprising fans during a panel today with the first official look at John Wick: Chapter 4 and, y'all...people* lost their minds. Check out the new footage for yourself here:
While the teaser may have been just that — a one-minute tease — it still gave us a whole lot of action to latch onto from Mr. Baba Yaga himself!
Last we saw, our beloved Jonathan (read here in Ian McShane's voice, obviously) was believed to be shot dead while the High Table was in the midst of, quite literally, hunting him down for breaking their rules.
Tired, overwhelmed, and left ring-fingerless, John now has to decide where he'll go as his choices are dwindling down and his welcome among the other assassins is very much wearing thin.
Plus, we got a look at some other familiar faces who'll be returning in this installment, including the likes of Laurence Fishburne, Lance Reddick, and the aforementioned Ian McShane.
In case it's not obvious by my tone throughout this post...I love these movies. I love everything about them. I love the set design. I love the fight choreography. I love the Keanu. I love the music. I love the...yeah, no, it's mostly the Keanu. I hope they make a million of these movies, and I will continue to pay my hard-earned BuzzFeed dot com dollars to go to the theater and see every single one.
So, what did you think of the teaser?! Share your thoughts in the comments below! Oh, and be sure to check out John Wick: Chapter 4 (also stylized as JW4) when it finally hits theaters March 24, 2023!