The Rock Surprised His Stunt Double With A New Truck, And It's The Sweetest Thing Ever
Dwanta Claus, back at it again.
We all love Dwayne "The Rock" Johnson.
On top of being one of the most fun, genuine celebrities out there, Johnson also has a long history of doing intensely kind deeds for his family and fans, even referring to himself a "Dwanta Claus" from time to time.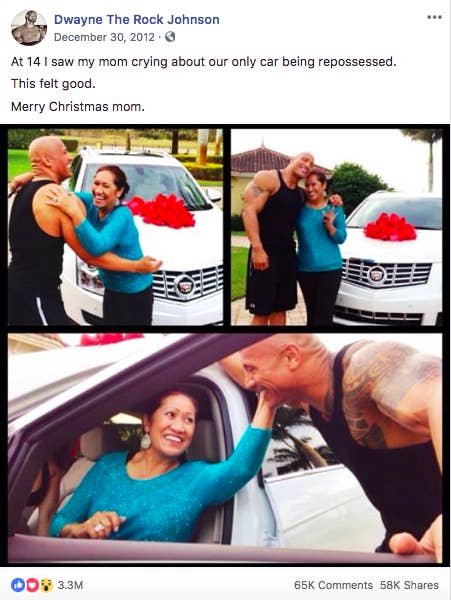 And this week, the newest recipient of his generosity was his stunt double of 17 years (who also happens to be his cousin), Tanoai Reed. Watch the heartwarming exchange, but also have tissues nearby:
Johnson tricks Reed into thinking the clip they're shooting is an interview for an upcoming DVD extra, and he TOTALLY buys it.
Mid-question, you see a car pull away in the background to reveal a gorgeous new custom truck with a pretty red bow mere FEET away from the two, and Reed doesn't even notice!
When the true purpose of the video is revealed, you can tell immediately that the surprise is totally honest.
"Over the course of my career, my stunt double (and cousin) Tanoai Reed has broken multiple bones, severed tendons, torn ligaments, and just been an overall dominating, bad ass achieving several "Stuntman of the Year" honors," said Johnson.
"Not only does Tanoai represent our family and my career with relentless commitment and passion, he also represents an entire Hollywood stunt community that is truly the backbone of our business."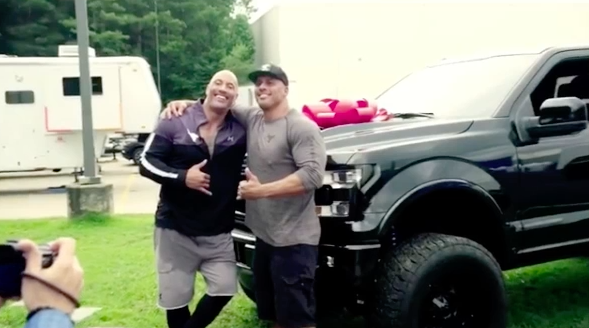 So yeah, it's 2018 and we STILL don't deserve Dwayne "The Rock" Johnson. Anyway, I'm going to go back and watch that video for the millionth time like: