Look, it's been months and we're all still emotionally REELING from the heartbreaking ending of Avengers: Infinity War.
The now infamous cliffhanger ending has spawned endless theories about the fate of our beloved characters, most of which revolve around Chris Evans' Captain America and Robert Downey Jr.'s Iron Man.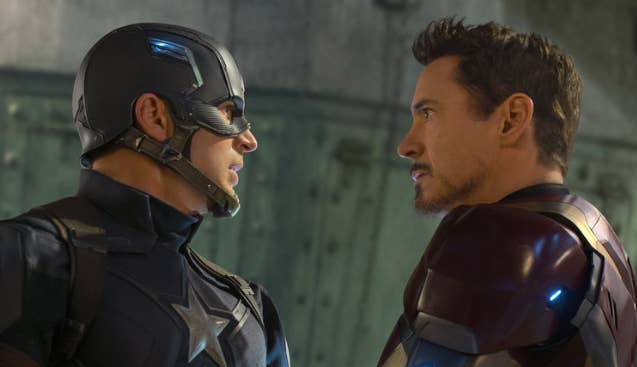 Namely, these theories state that one of the two aforementioned heroes WILL DIE in an effort to stop Thanos.
Well, today Evans tweeted out that he just wrapped filming on the film, and...the tweet cryptic as all heck, ya'll:
"It was an emotional day to say the least," Evans tweeted. "Playing this role over the last 8 years has been an honor."
Um...excuse me? I didn't plan on SOBBING at work today.
Naturally, fans were quick to FREAK THE HECK OUT at the insinuation.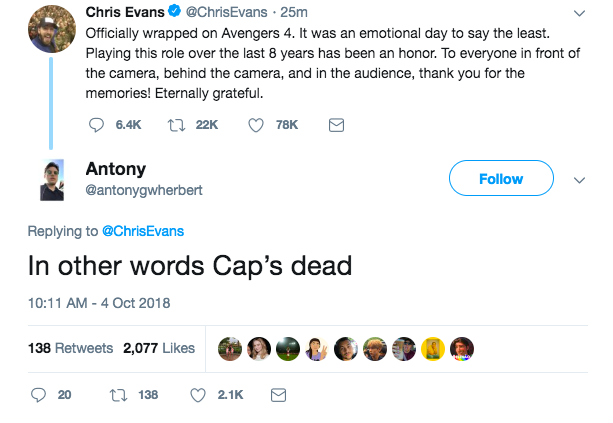 Which is fair, because it DOES sound a bit like he's writing a eulogy to his character.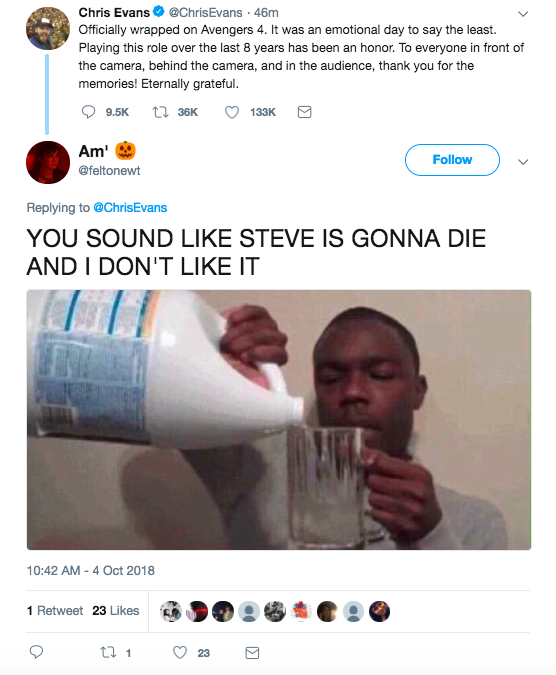 And many fans refused to even accept the tweet as a reality.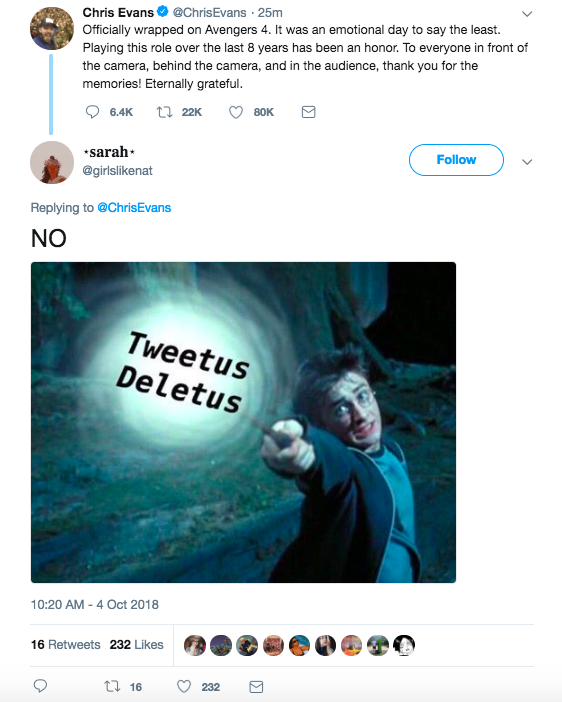 However, it IS important to note that Evans has discussed exiting the role after Avengers 4 for a while now:
Ah yes, the infamous Marvel contract. After the release of Age of Ultron, Evans is set to return to the Marvel fold three more times, in 2016's Captain America: Civil War, and in the two-part Avengers: Infinity War in 2018 and 2019. And then that's it. "So halfway through!" he says, throwing up his arms in his trailer with an enormous grin. "I mean, I'm going to miss these when they're done. I really will. This has been a lot of fun, and they're only getting more fun. Especially because there's a trust in Marvel that you're going to make something good. It would really be lousy to be stuck in a contract knowing that you're making shit. And I just don't feel that way. It's really a blessing that this kind of fell in my lap. Sometimes you don't really feel deserving of it. But I'll take it."
I guess we'll just have to wait until the summer of 2019 to find out the truth. Until then, catch me subtweeting Evans' like: