The Florida Project takes place a few miles and a whole universe away from Disney World, in a lavender-painted motel called The Magic Castle. Like the other businesses along its commercial strip in Kissimmee, Florida, it's a clear attempt to catch tourist runoff from the nearby theme park. And travelers, like the dismayed honeymooners who arrive to see the lodgings they booked online aren't remotely what they expected, do occasionally wash up in its lobby.
But most of the guests of The Magic Castle aren't visitors, they're residents, crowding into rooms they rent by the week because getting together the chunk of change needed to even begin thinking about an apartment isn't tenable. The inhabitants of the motel are one wobbly rung above homelessness, many of them families whose children hang out together, a transient playgroup made up of members that come and go with little warning.
It's a precarious situation that, you'd think, would make a name like "The Magic Castle" read as bitter irony. And that's certainly a part of The Florida Project, which juxtaposes the rough realities of its characters with an awareness of the massive monument to corporate cheer and consumption lurking just down the road — the Happiest Place on Earth, ready and waiting, providing you can afford to get in.
But what's so great about the film, so astonishing and so devastating, is that there's some sincerity to that name as well, at least in the case of the day-to-day adventures of 6-year-old Moonee (Brooklynn Prince), its kid protagonist. The motel and the line of buildings around it are the beautiful-seedy dominion she reigns over with a combination of impish curiosity and slowly fading innocence. Childhood can be its own kind of magic kingdom, though the instability of the life she and her young ex-con mom Halley (Bria Vinaite) share keeps threatening to burst that bright, unconcerned bubble.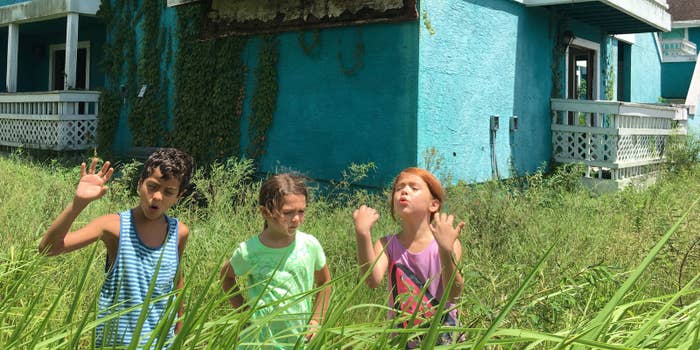 The Florida Project is written and directed by Sean Baker, who's made an increasingly prominent career out of chronicling existences eked out in economic gray zones, first in New York, then in Los Angeles, and now the Sunshine State. His 2004 movie Take Out centers on an undocumented Chinese immigrant scraping by as a deliveryman, while 2008's Prince of Broadway goes further uptown to track an African man whose counterfeit bag hustle gets complicated when he has to care for a toddler. Starlet (2012) focuses on the friendship between an adult film actor and her elderly neighbor in the San Fernando Valley, and 2015's Tangerine, Baker's biggest breakout so far, follows two trans sex workers through a long day of dealing with johns and personal dramas on a block of Santa Monica Boulevard.
These are stories about marginalized lives that don't get put on screen very often, but Baker's greatest worth as a filmmaker comes not just from his interest in representation, but also from his understanding that he's making movies about people, not poverty. That's certainly the case with The Florida Project, which doesn't pretty up its characters' frequently miserable straits in any way, but is never miserablist, either. Moonee and Halley have good days and bad ones — mostly good for Moonee (it's summer vacation) and starting to tend toward the bad for Halley, who's come off a recent stint in prison, lost her job at a strip club for refusing to do extras in the back room, and is struggling to find another gig.
Since she's not working, Halley watches over both Moonee and Scooty (Christopher Rivera), another Magic Castle kid whose mom Ashley (Mela Murder) is, for a while, a friend who works in a nearby diner and sneaks out food for free. But Halley generally opts to lounge, unconcerned, in front of the TV while the kids roam free. Baker cast Vinaite off of Instagram, and in her first role, with her tats and her brightly dyed hair, she's as magnetic a figure as she is an alarming one, her character as prone to acts of reckless destruction and wild outrage as she is to ones of boisterous joy.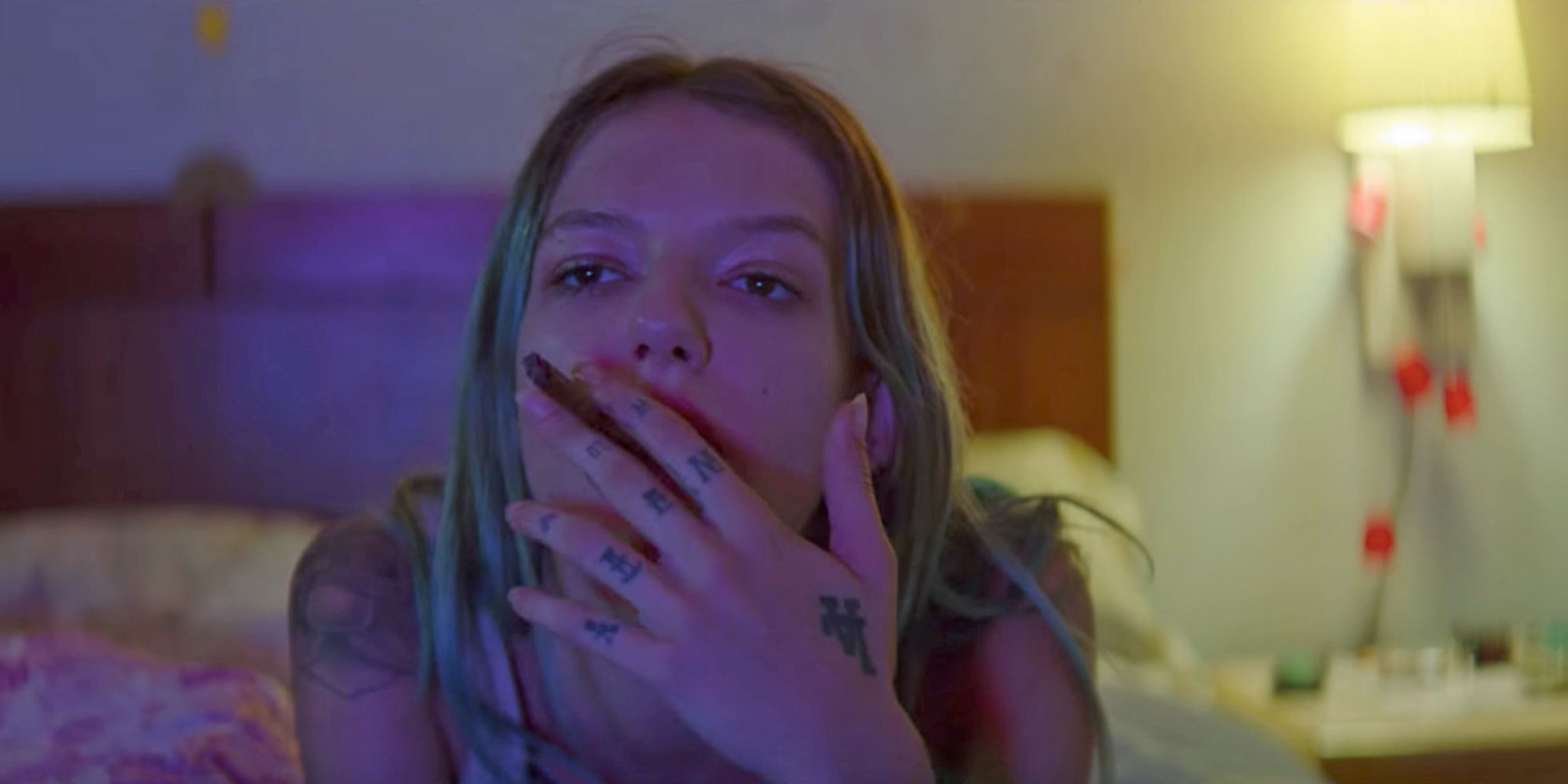 The film is startlingly good at showing echoes of Halley's impulsive behavior in Moonee — or maybe it's vice versa. While Halley has to reckon with some depressingly grown-up developments, she's still half a kid herself, screaming "You're not my father" like a rebellious teen when warned about her behavior.
When The Florida Project follows Halley, it shows her attempts to get by, hawking knock-off perfume or purloined MagicBands to tourists, and making a consequence-heavy, desperation-driven decision that's hinted at long before it's actually revealed. But when the film follows Moonee, it revels in play as she wanders, at first in the company of Scooty and then, when Ashley and Halley have a falling-out, with a nearby motel girl named Jancey (Valeria Cotto). Jancey's a sweet sidekick who befriends Moonee after an initial confrontation involving shrieking and spitting, a development that speaks as much to their quickly shifting community as it does the unique capacity kids have to exist in the present.
The children beg for change for soft serve (Scooty's pitch is that "the doctor said we have asthma and we gotta eat ice cream right away"), explore abandoned homes in a pastel-colored development, and pay visits to the motel's long-suffering staff. Baker clearly turns extended sequences over to his child actors, ones that don't appear to be scripted at all — letting them just be mischievous kids and occasional little shits who make their way through worlds of their own creation, closed worlds that are much more inviting than the one the adults in their lives have to deal with.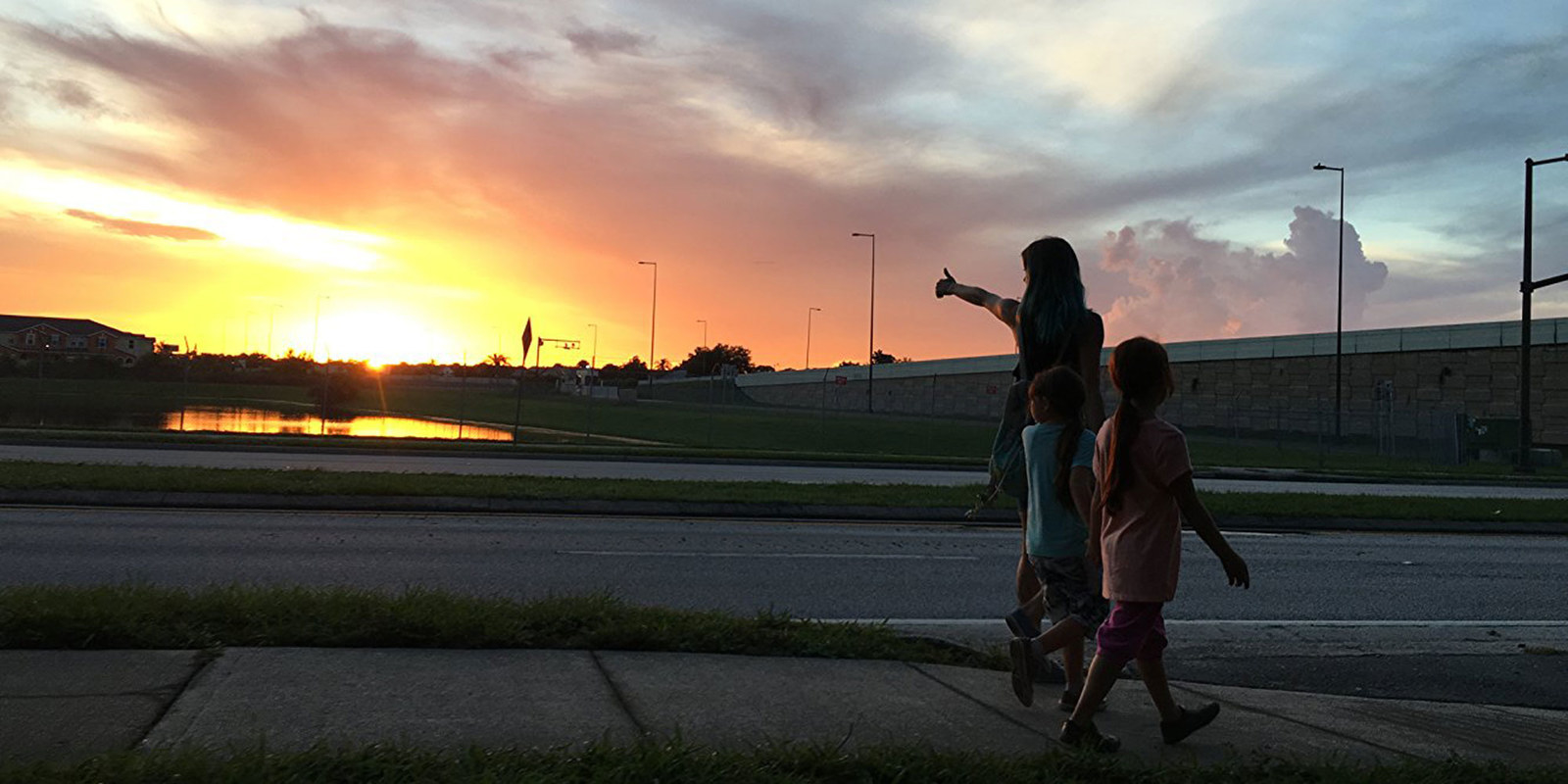 Prince is, like Vinaite, a newcomer to acting, and her performance in the movie is enough to convince you that she has to be one of the planet's most charismatic children. But some more seasoned faces make their way into The Florida Project as well, chief among them Willem Dafoe as The Magic Castle's manager Bobby, a man who's been around the block but remains invested in the well-being of the residents, despite it being a source of constant heartbreak.
Bobby starts out as a straight-man foil for Moonee and her gang, but becomes a grander, sadder figure as the film goes along, engaged in the impossible task of trying to ward off harm from people too vulnerable to be able to do much to evade it themselves. Dafoe is worry embodied, constantly harried, and a shorter appearance from (a surprisingly normal) Caleb Landry Jones hints that the motel is something that's consumed whatever life Bobby once had.
But it's Moonee and Halley to whom The Florida Project belongs, two troublemakers trying to keep all consequences at bay by denying they exist, stocking a shopping cart full of throwaway treats in a dollar store, laughing and whirling around like it's a mystical playland. Which, in that moment, you can believe that it is. But while the power of imagination may be a savior in a Disney movie, it isn't in the sun-washed reality of The Florida Project, which concludes with a touch of poetry that might break you in two. It's not a happy ending, but it is, like the rest of the film, pretty much perfect.

CORRECTION:
The motel is called The Magic Castle. An earlier version of this article misstated its name.