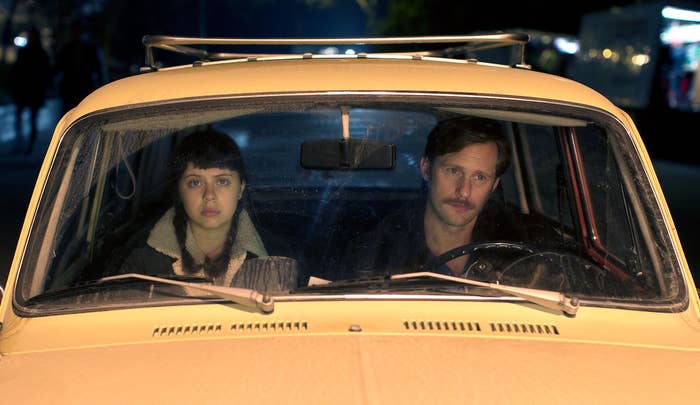 PARK CITY, Utah — The teens have taken over the Sundance Film Festival.
Thus far, the buzziest films at this year's indie movie fest have all been teenager-centric, based around breakout performances from impressive newcomers.
What sets The Diary of a Teenage Girl, Me & Earl & the Dying Girl, and Dope apart from studio YA fare is their willingness to be more frank, daring, and provocative, as well as visually exuberant and goofy. There's not a trace of dystopia to be found in the universes of The Diary of a Teenage Girl's Minnie Goetze, Me & Earl & the Dying Girl's Greg Gaines, or Dope's Malcolm Adekanbi, but there are battles with sexual awakenings, grief, and crime to be fought, in addition to the more typical coming-of-age struggles.
These movies have been big hits with Park City audiences, and distributors are betting on their potential: They've all been picked up for eyebrow-raising sums of money. It looks like 2015 holds promising things for fans of teen movies unafraid to venture off the beaten path.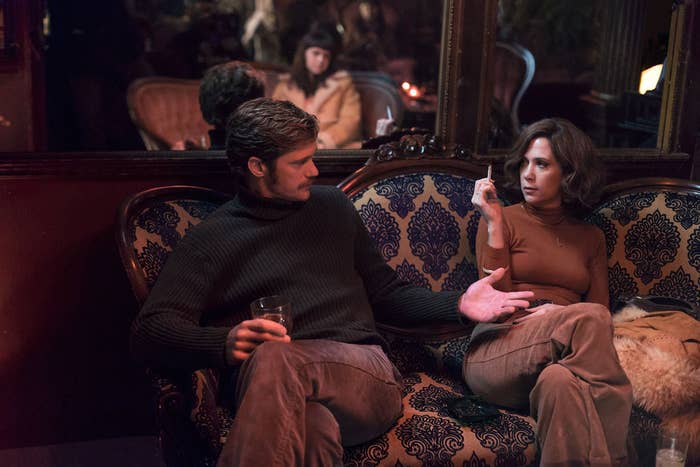 The Diary of a Teenage Girl
The ballsiest (apologies for that) of the bunch is The Diary of a Teenage Girl, based on Phoebe Gloeckner's semiautobiographical graphic novel of the same name about a 15-year-old growing up in 1976 San Francisco. Its heroine, Minnie (Bel Powley), saunters into the movie to the strains of the Dwight Twilley Band's "Looking for the Magic," drawling triumphantly, "I had sex today. Holy shit," in a voice-over that turns out to be part of her cassette tape audio diary. Her glee is delightful...until we learn who did the deflowering: Monroe (Alexander Skarsgård, playing a perfect mix of ridiculous/sleazy/attractive), the flaky boyfriend of her flighty, hard-partying mom, Charlotte (Kristen Wiig).
Even through the haze of the sexually liberated '70s, the relationship that develops between the underage Minnie and the much older Monroe is clearly illegal and flat-out wrong. Monroe's no straightforward predator, but he is a reluctant if dedicated participant in the illicit trysts that Minnie enthusiastically initiates. She blithely pretends what she's doing is not a big deal, reasoning to her tape recorder that she's not very attractive and needs to take what she can get. Powley, who's 22, is lovely in a wonderfully atypical (for the movies) way with her giant eyes, open face, and heavy bangs. And the harsh self-evaluation Minnie gives herself is just one of the many touches of adolescent turmoil that ring piercingly true.
The Diary of a Teenage Girl is the first film from director Marielle Heller, who also wrote the screenplay, and the empathy and honesty she brings to Minnie's experience and interior life is a powerful argument for why we need more female filmmakers. She brings a swooping fearlessness and frankness to the depiction of Minnie's first forays into sex, which, even when ill-advised, are all driven by her own desire. (She playfully draws an "X" in blood on Monroe's leg after losing her virginity to him.) Eventually, Minnie gets emotionally battered by her entanglement with a more experienced man trying to hold her at arm's length, but the physical side is never a problem. Her budding sexuality is a powerful, intimidating force, and the movie deserves all sorts of credit for not oversimplifying its unhealthy central relationship — Minnie has great sex with someone who only otherwise makes her feel like shit.
Heller also keeps The Diary of a Teenage Girl inside Minnie's experience, splashing the screen with animated versions of the comics she's started drawing. Cartoon flourishes appear around Monroe's face, a sketched penis pops out of a man's fly at the bookstore, and an animated version of Minnie's idol Aline Kominsky walks down the street with her to offer advice. The whimsical visuals are just extensions of Minnie's work. And they're a buoyant representation of the wild emotional highs and lows of being a teenager.
Me & Earl & the Dying Girl
Greg (Thomas Mann), the hero of Me & Earl & the Dying Girl, has gone through life avoiding those highs and lows The Diary of a Teenage Girl explores. He's cultivated a low-key affability that's allowed him to be friendly with every social tribe in his Pittsburg high school without really being friends with any of them. The only person he's actually close to is his best friend since kindergarten, Earl (RJ Cyler), who he prefer to call his "co-worker," since together, they make hilarious pun-based home movies inspired by cinema classics. When one of Greg's acquaintances, his classmate Rachel (Olivia Cooke), is diagnosed with leukemia, his mother (Connie Britton) insists he go hang out with her, and the forced friendship slowly becomes a real one even as Rachel gets sicker.
If Me & Earl & the Dying Girl sounds like a profoundly quirky Sundance film crossed with a certain teen cancer one, it is. But it's also improbably wonderful. Director Alfonso Gomez-Rejon (a regular at American Horror Story) injects large doses of visual verve to show Greg's subjective point of view, tracking through the cafeteria to show off the sociological chaos he dreads, and choreographing the very funny scene in which Greg's mom nags him into visiting Rachel in one long take that travels through the house.
As Greg, Mann (whose only other lead role to date was in Project X) deftly plays a self-deprecating character accustomed to deflecting any major emotional moments — we have to read between the lines to understand how much of an outsider he believes himself to be, and the depth and nuances of his social-boundary-crossing friendship with Earl. But that deflection, and his jokiness, turn out to be just what Rachel, who's sick of pity, is looking for. The way they warm to and open up to one another is portrayed with patience and tenderness.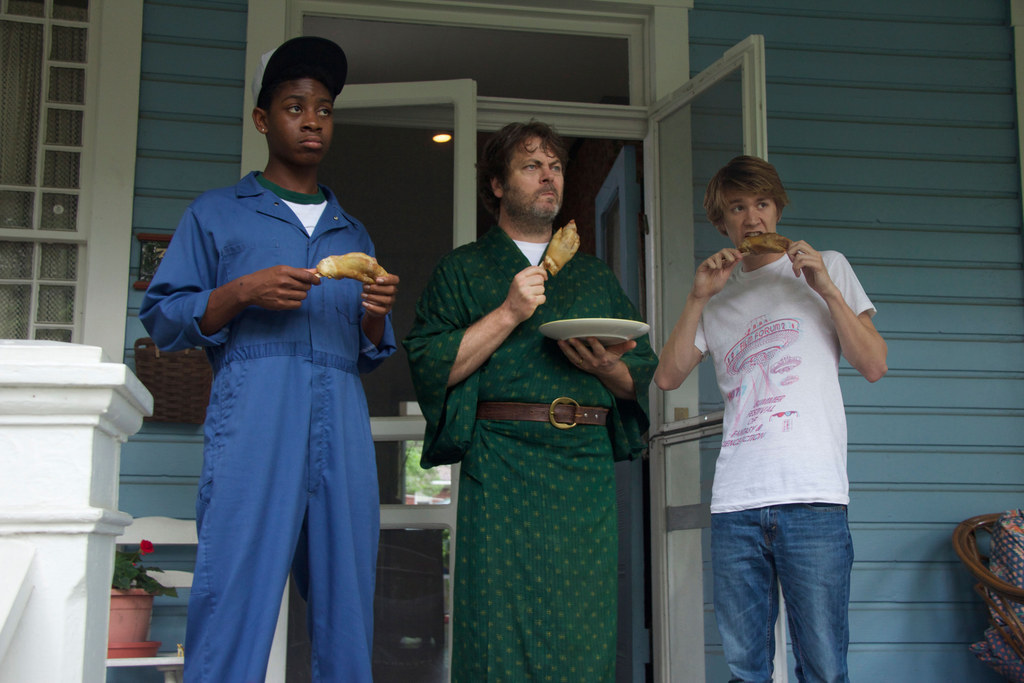 Greg's self-esteem-related inertia is never treated as anything but exasperating, especially to Rachel, whose future is rapidly narrowing. Yes, Me & Earl & the Dying Girl, written by Jesse Andrews, is a four-hankie movie, but it treads lightly with the tragedy that inevitably comes calling.
The movie also incorporates its various eccentricities into a larger whole — like Greg's dad, played by Nick Offerman, a professor who spends most of his time at home in muumuus and kimonos, foisting home-cooked international cuisine and screenings of movies like Fitzcarraldo upon everyone who visits.
There's no faster way to a critic's heart than having a teenage main character bust out a Werner Herzog impression, but Greg and Earl's fondness for the Criterion Collection doesn't read like pandering. Instead, it's an example of the talismanic qualities that art and culture you feel like you discovered can have when you're growing up. Greg and Earl's cinematic hobby and the story of the dying girl come together in a climax that's heart-wrenching, but also ecstatically beautiful — The Fault in Our Stars never had it so good.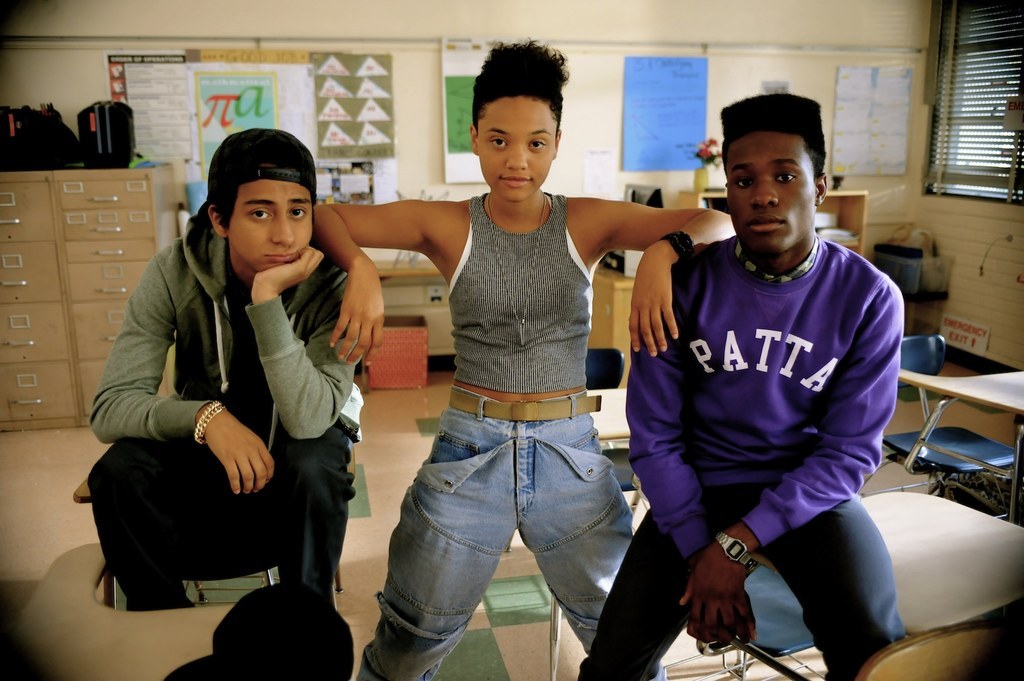 Dope
At a festival that still tends to be blindingly white despite its earnest efforts to diversify, Rick Famuyiwa's crowd-pleaser Dope already stands out for having characters of color take center stage, and not having those characters' stories be defined by suffering. Malcolm (Shameik Moore) is a '90-obsessed senior and self-proclaimed geek who's bullied and ridiculed at his Inglewood, California, high school for his interest in, as he puts it, "white stuff" (i.e., skateboards, going to college, and Donald Glover). Malcolm and his friends — the butch Diggy (Kiersey Clemons) and the multiracial Jib (Tony Revolori of The Grand Budapest Hotel) — play in a band called Oreo and take style cues from old VHS tapes of Yo! MTV Raps. They're focused on surviving school and getting out of their neighborhood ("the bottoms") as their classmates get pulled into gangs and drug-dealing all around them.
Dope could be a companion piece to Famuyiwa's nostalgic 1999 film The Wood, though its characters long for an era they haven't experienced. A local dealer named Dom (Rakim Mayers) even calls Malcolm out on grouping albums from 1988 and 2001 into his reminiscing about how the decade was the "golden age of hip-hop." The '90s are a fantasy era for the friends in Dope, an escape and an identity marker in the same way that classic films are to the characters in Me & Earl & the Dying Girl. Malcolm and his crew are through-and-through millennials underneath the vintage fashion and flattops, but they eventually get caught up in a very 2010s plot involving bags of Molly, a drugged out sex kitten who becomes a meme, and bitcoins.
Dope becomes, unfortunately, a considerably less interesting movie once it shifts away from being a portrait of black geekiness into being a madcap Risky Business update with drugs instead of hookers. The shenanigans take Malcolm from Inglewood into the plush house of a check-cashing mogul, where he realizes that getting out of the neighborhood is more complicated than he originally thought. The second half of the film is filled with cartoonish side characters like a stoner/hacker genius, a malevolent drug dealer posing as a legit businessman, and a paper-thin Lisa Bonet-ish love interest played by her daughter Zoë Kravitz. There's also a personal essay-as-monologue about perception, race, and identity toward the end that feels abrupt and unearned. You have to peek around the plot to find the best parts of Dope, but they're there, in the wit and virtuosity with which Famuyiwa sketches out a neighborhood and shows how it can feel like a home and a trap at the same time.
The Diary of a Teenage Girl and Dope have been picked up for theatrical release with no dates yet announced. Fox Searchlight will release Me & Earl & the Dying Girl sometime in 2015.