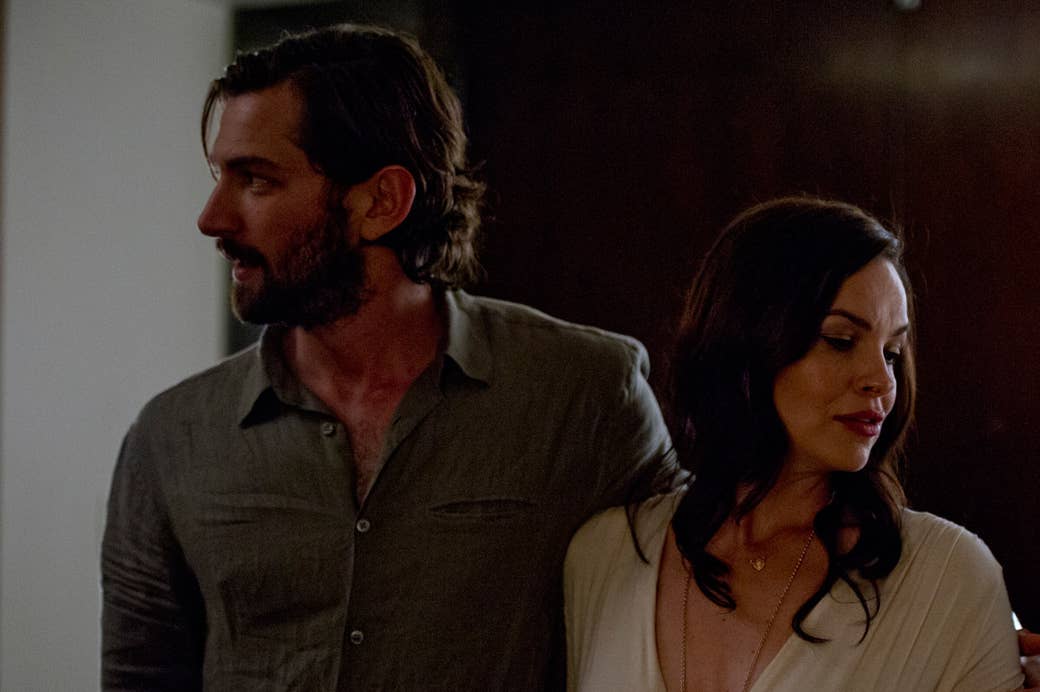 Two years before The Invitation begins, Will's (Logan Marshall-Green) life, as he knew it, ended.
His marriage imploded after the death of his son. He moved out of the Hollywood Hills house that he used to share with Eden (Tammy Blanchard), grew a dramatic beard, and fell out of touch with their friends. He's still picking up the pieces with the help of new girlfriend Kira (Emayatzy Corinealdi) when he's summoned back to his former home by his now ex-wife for a dinner party. Will is ragged and grieving, but Eden, who's since remarried a handsome record exec named David (Michiel Huisman), appears serene and resplendent in her long white dress, pouring expensive wine for her guests and talking about the visit she and David made to Mexico. She seems to have won a race toward recovery Will wasn't aware they were running.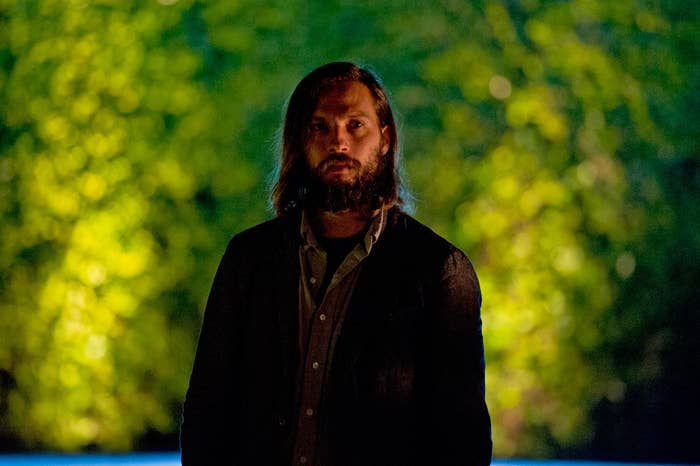 The mysteries of grief form the emotional core of director Karyn Kusama's unsettling thriller. The Invitation takes place almost entirely in the spacious mid-century modern house in which it eventually paints itself into a corner. While Will's staggering under the weight of his pain, Eden, who's been off the radar for over a year, seems miraculously and perhaps eerily tranquil, thanks in part to the new age movement she and David have joined ("We're not in a cult," David insists, worryingly). Will has growing suspicions that something strange is happening at this party, but everyone else at the party is so eager for things to be OK — doling out hugs and earnestly insisting that they're going to be better about staying in touch — that his concerns are brushed off as resentment over his ex's ability to put the past behind her.
Maybe it is resentment. While The Invitation unfolds from Will's perspective, tracking his gaze and letting conversations fade into the background when he stops focusing on them, it doesn't establish him as any more trustworthy a figure than his hosts. His attention drifts, he slips in and out of memories, and he seems overwhelmed by the sight of so many old friends, among them couple Miguel (Jordi Vilasuso) and Tommy (Mike Doyle), Will's former business partner Ben (Jay Larson), Claire (Marieh Delfino), and Gina (Michelle Krusiec). There's paranoia and presumption in the way he digs through Eden's personal spaces and questions the house's new security features, though it's hard to blame him for being suspicious of the two unpredictable strangers also present, Sadie (Lindsay Burdge) and Pruitt (John Carroll Lynch). They're members of the group David and Eden have joined, called The Invitation. When everyone's made to sit and watch an informational video about the collective, David and Eden show macabre footage of a woman on her deathbed to the group. So is it Will who's unstable, or are David and Eden?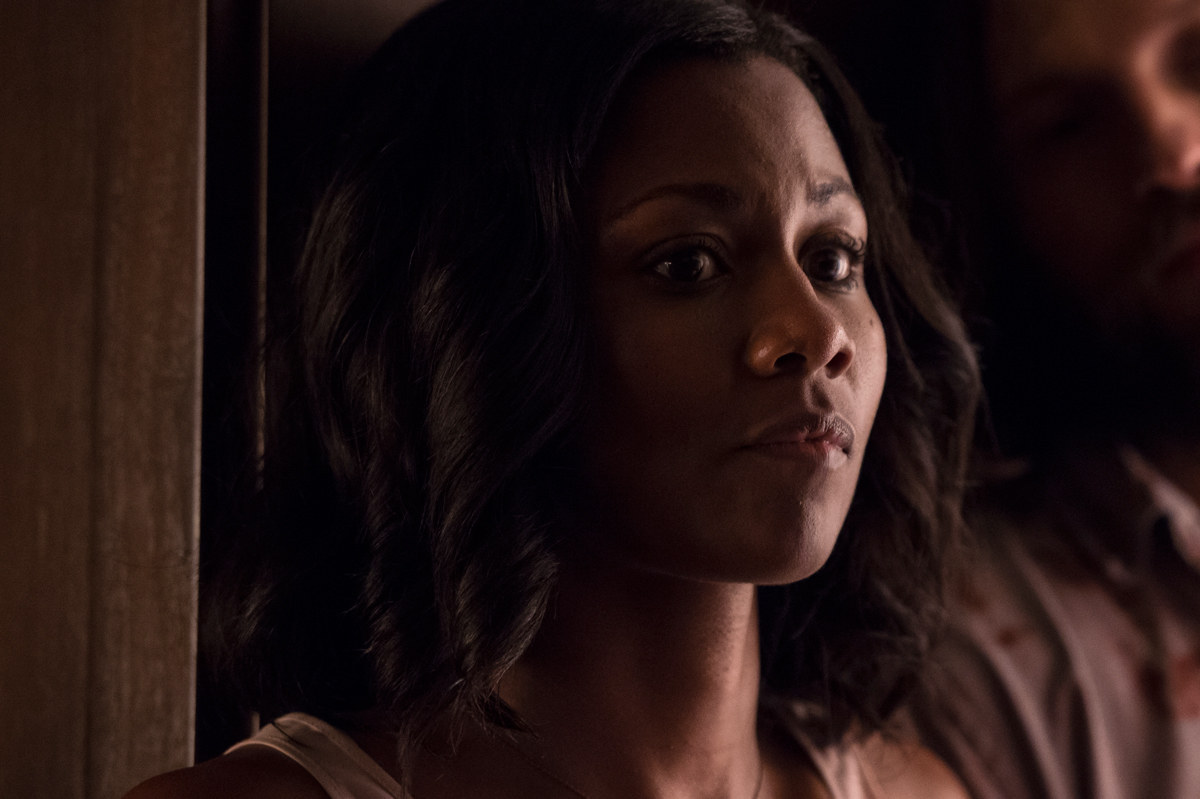 The Invitation, which was written by Phil Hay and Matt Manfredi, is the fourth feature from Kusama, who made her debut in 2000 with the exhilarating Girlfight, a film that introduced Michelle Rodriguez as a Brooklyn teenager who channels her rage into boxing and embarks on a spiky romance with a fellow fighter she eventually faces in the ring. Kusama's big-budget follow-up Aeon Flux tanked, and underrated horror comedy Jennifer's Body also managed to underperform. The Invitation is in the perfect position to be her indie comeback, the film that reboots her career, though it doesn't share the same sense of sonorant sincerity that made the raw Girlfight so electric. The closer The Invitation gets to its turning point, the more manipulated it feels, not because it commits to being a horror movie, but because its characters' choices seem flimsier and their motivations harder to swallow. The film's ultimate premise is the kind that sounds better on paper than it feels in practice, when there's a gap to be bridged between the drama of the first half and the dread of the final act.
Kusama uses the limited physical space to its fullest, bathing it in yellowy light that's sometimes welcoming and sometimes stifling, and making the layout of the house disorienting, with its nooks, sliding doors, and a dining room that's, for some reason, upstairs from the living room. At times, it's like we've gotten lost in Will's head, which is territory just as unknowable. Played by the impassive Marshall-Green, Will is someone who dares you to project more depth onto him, to make sense of the timeline and his relationship with Kira, who's so underwritten that Corinealdi, a strong actor, seems to have been hired only to occasionally suggest she and Will leave.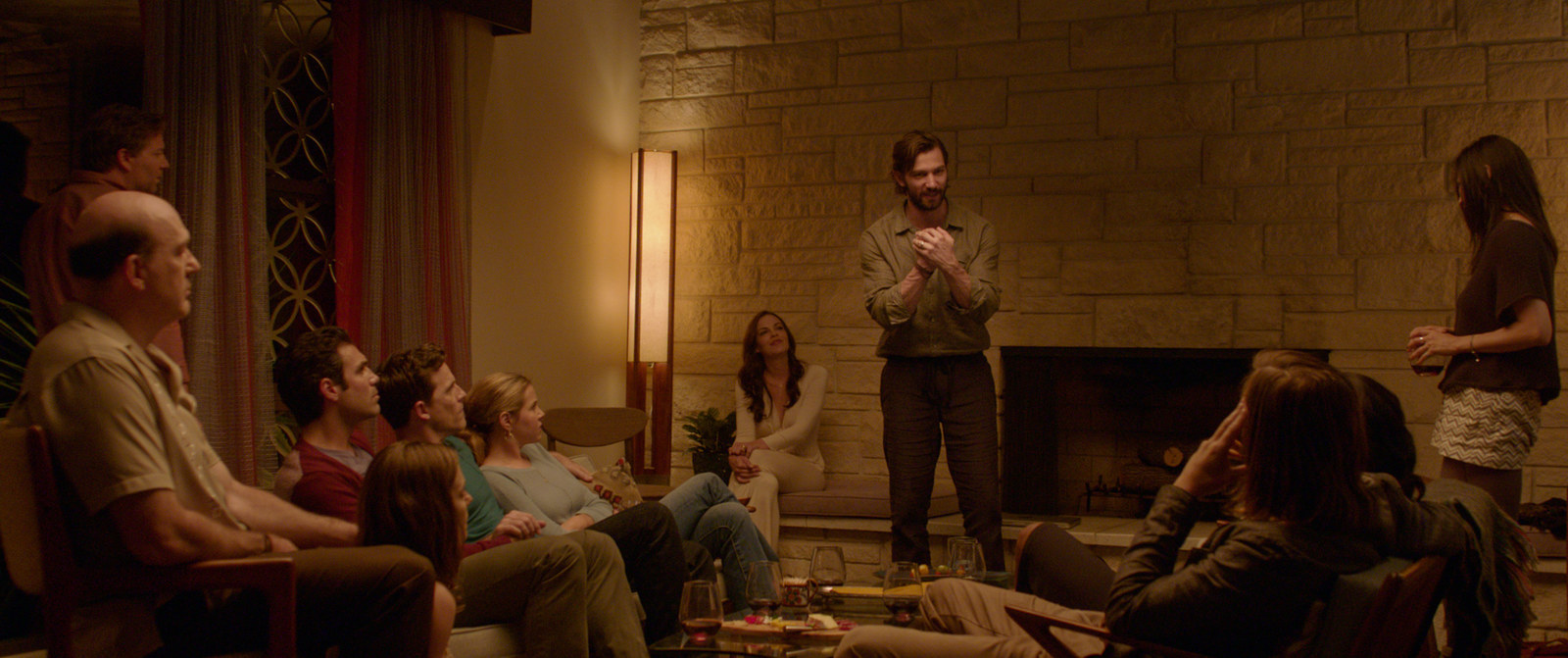 The Invitation doesn't pull off its balancing act, but in the storied subcategory of dinner-party-gone-wrong movies (Rope! The Celebration!) its buildup is particularly good, melding Los Angeles hippie-dippieism with therapy-readied sensitivity in a group of characters who think of themselves as too sophisticated and too accepting to blink at growing weirdness. The gathering slowly loses its calibration, going from the death video to a party game called "I Want," which is like a darker, wish-fulfilling "I Never," and on to a disturbing story Pruitt shares about his wife. And everyone keeps gamely playing along — because David and Eden have gone through so much trouble, and the house looks so good, and the wine is excellent. As one of them says, "We're all consenting adults," though he has no idea what he might be consenting to. The warm glow of that posh living room offers a hypnotic ease, but so do the good intentions and lingering guilt of a group of people who can't bring themselves to break through the convivial surface. What makes the movie scary is that they don't want to see the dark things underneath, and to admit that something is very wrong.