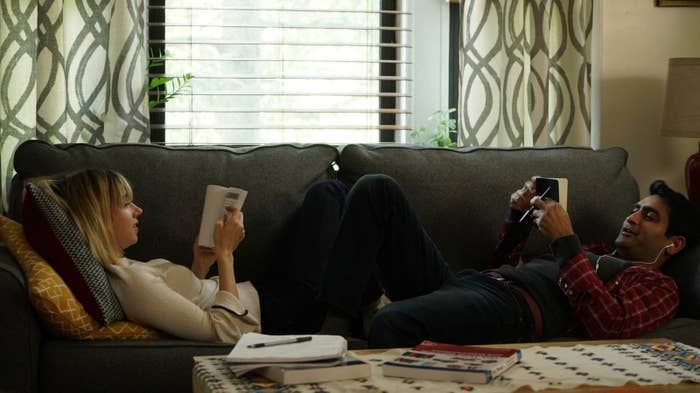 Kumail Nanjiani plays a character named Kumail Nanjiani in The Big Sick, to settle any doubts about just how personal the Silicon Valley star's new movie — which just had its Sundance premiere — is. Zoe Kazan plays Emily V. Gordon, Nanjiani's real-life wife, with whom he wrote the screenplay. The Big Sick is the pair's origin tale of how they met and got together, after Gordon suffered a devastating illness that almost costs her her life.
It's a love story, and it's funny, but it's not your conventional romantic comedy, as it spends as much time on its characters' relationships with their parents — and even their significant others' parents — as much as it does on their relationship with each other.
And, you might think after watching The Big Sick, why don't more rom-coms do this? The movie's so good (that's why Amazon is betting a $12 million on it out of Sundance, one of the bigger deals in the festival's history) in part because of the degree to which it considers marriage not just as a relationship between two people but between two families. The romance between struggling comedian/Uber driver Kumail and grad student Emily starts in a blissful twentysomething Chicago bubble of bars and shared apartments, but doesn't stay there.
There are Kumail's parents (Anupam Kher and Zenobia Shroff), who he's kept in the dark on Emily and who still expect him to wed one of the nice Muslim Pakistani women always "dropping by" for dinner. And there are Emily's parents (Holly Hunter and Ray Romano) who arrive, distraught, from North Carolina when their daughter falls ill, and who only know Kumail as the guy who broke their daughter's heart by leading her on. It's in their company that Kumail finds himself for long, uncertain stretches, lingering at the hospital and getting railroaded into taking them to one of his shows when they need a distraction.
The Big Sick was directed by Michael Showalter and produced by Judd Apatow, and there are ways in which it feels like another Apatowvian dramedy: affectionately amused by human imperfection, rawly honest, unafraid of getting uncomfortable, and in need of a tighter edit. It features entertaining if familiar-feeling scenes in which Kumail and his fellow comedians (played by Aidy Bryant, Bo Burnham, and Kurt Braunohler) shoot the shit and try out zingers on each other in the green room or at the bar afterward. And there's something reminiscent of Knocked Up, albeit with darker circumstances, in how its male lead finds himself skipping right into the deep end of a relationship courtesy of an unexpected event.
But Kumail's particular dilemma, caught between his own American aspirations (a stand-up career and dating) and his parents' Pakistani expectations (law school and an arranged marriage), isn't the standard stuff of the previously all-white Apatow oeuvre at all. He's not just another non-committal schlub waiting around for the right woman (or man, like in Trainwreck) to make an adult out of him. He's afraid, with good reason, that he'll have to choose between the person he's grown into and the family he loves — the older brother, Naveed (the excellent Adeel Akhtar), who's been the good son, and the parents who made huge sacrifices to net him better opportunities.
The Big Sick is an immigrant story as much as it is one about falling in love, and maybe that's why the sweet, spiky romance between Kumail and Emily shifts so easily into the background when health issues come into the forefront — because Kumail's family, Emily's family, and the tensions between them all are equally as compelling. Wrenching in particular is the movie's refusal to be broadly dismissive about the life Kumail's parents desire for him. Naveed's arranged marriage is a happy one, and a sharp scene with a woman (Crazy Ex-Girlfriend's Vella Lovell) who's been brought around as a potential bride underscores that plenty of others in the matchmaking process do so not begrudgingly as an outdated obligation, but sincerely as a way of meeting someone.
It may be right for some — it's just not right for Kumail, who comes to realize that in trying to have things both ways by lying, he's actually hurting everyone. The decision he ultimately makes in moving forward isn't a neat one, though there's hope to it as well: hope that love, romantic or familial, can be stronger than disappointment. At a moment in which the subgenre of the semi-personal movie or TV series about a comedian feels like it's approaching exhausted, The Big Sick offers assurance that there's more to be explored, and that there are plenty of funny people out there with fresh stories to tell.