1.
A Beis weekender bag that'll be your travel BFF. It's a great carry-on option that has tons of pockets, a special shoe compartment, and a trolley sleeve so it easily slides onto your luggage handle. This is your travel superhero.

I have this bag and let me tell you, it is THE BEST travel bag I own. It has so much storage and the shoe compartment at the bottom is honestly the best part. I can fit 2–3 pairs of shoes in it, or if I'm not packing shoes in it, I can utilize it for other storage. It has several pockets and is roomy enough to fit so many necessities. It fits easily into the overhead compartments on airplanes as well and I love that it slides on the rolling luggage handle so I don't have to carry it on my arm at the airport. You need this, period.

Get it from Beis for $98 (available in five colors). 
2.
A digital luggage scale so you don't have to endure any unexpected $$$ charges when you're trying to check your bag. "That'll be an extra $100 since you're over the weight limit." You: I don't think so. 
Just hook the scale to your luggage handle, lift up, and the LCD display will show the weight! You can also switch between pound and kilogram measurements. 

Promising review: "Took this for a 10-day trip overseas with lots of flights. Weighed the luggage as things were added to it/purchased, and when we weighed in at the airport it was perfectly accurate. Very important when the airline will charge $70 more dollars for a suitcase that is too heavy or make you open the whole thing up and take stuff out in order to fly with it. Saved so much hassle." —B. M. O'Connor
Get it from Amazon for $10.99 (available in six colors, as well as a two-pack). 
3.
An anti-theft backpack that opens from the back (aka the part that touches your back when you wear it) so you can worry less about a pickpocket stealing any of your valuables. It also has tons of interior and exterior pockets and a sleeve for a tablet or small laptop.
My coworker Brittany Ross has one:
"I went to Italy this summer, and as someone who prefers a small backpack over a purse most of the time, I thought this would be a great purchase, as it would give me some peace of mind as I spent hours wandering around different cities. I'm happy to report that after two weeks of daily use, I'm convinced I'll be bringing it on every trip I take from now on. It's small enough so that it doesn't feel bulky or uncomfortable throughout the day, but has plenty of space for everything you'd need on the go — I fit my wallet, sunscreen, glasses case, hand sanitizer, water bottle, snacks, and even a small umbrella, with room to spare! And the fact that it opens from the back means someone would literally have to pry it off of you to get to your valuables. I bought the medium size in black pebbled faux leather, and it's actually quite cute for the price!"
Promising review: "I bought this backpack to use as a purse while on vacation, and it worked perfectly. The main pouch is protected when you're walking around because the zipper is protected by your back. There are also two side zippered pockets, one of which kept my phone and the other perfect for sunglasses and a few other items that I wanted to access more easily. I loved that I could wear it as a purse to dinner but use it as a backpack during the day so that my shoulder didn't get tired. I highly recommend this item!" —Allison

Get it from Amazon for $25.99+ (available in two sizes and 17 colors/styles).
4.
A luggage-mounted cup caddy because no one should be traveling home to see family without a dose of caffeine beforehand to calm the nerves. This slides on your rolling luggage handle easily and can hold your coffee and smartphone so you can have your hands free. 
Reviewers say it's ideal for a suitcase that can roll on four wheels! If you have a suitcase that has to tilt while it rolls, just be careful if the drinks are open at the top.

Promising review: "This cup holder is perfect! It helps me a lot! Last time I took a plane with a suitcase and a cup of coffee, I dropped and spilled my drink everywhere when it was my turn to check my passport and ticket. It was a nightmare! This time, I bought this cup holder to do me a favor! I don't have to worry about where my cup and phone are! I can free my hands to do other things. I love it so much! Hope you love it too." —Philip
Get it from Amazon for $15.99+ (available in 31 colors/styles).
5.
An AirFly Pro wireless transmitter so no matter the length of your flight, you can enjoy all the inflight entertainment your heart desires with your Bluetooth headphones (because who has wired headphones anymore?). Time to put on Home Alone and enjoy a flight where you don't have to endure screaming kiddos headphone-less.
Just plug it into the headphone jack to hear Meg Ryan say, "That caviar is a garnish!" the way it was meant to be heard. You can also connect up to two pairs of earbuds at a time, and it has 16+ hours of battery life for suuuper long flights. 
Twelve South is a husband-and-wife-owned biz based in Charleston, South Carolina, and has just 20 team members! They've been designing accessories inspired by and made for Apple products since 2009.
Promising review: "Ever since I purchased my wireless Bose earbuds, I always hated having to use another set when I was on an airplane with the seat-back entertainment system. I tried many different models to connect the system to my Bluetooth headsets until I came across this one, and it is amazing! It seamlessly connects to my headset, very clear and reliable audio, and it takes the stress away from having to carry multiple headsets! Thank you!!!" —Ryan Malloy

Get it from Amazon for $54.99 (also available in two other styles).
6.
And a set of affordable, highly popular wireless Bluetooth earbuds if you don't currently own a decent pair for listening to music, movies, podcasts and audiobooks to keep you entertained.

These come with a wireless charging case that provides up to 14 hours of charge (with the earbuds able to play for 4+ hours with each full charge). The earbuds are also sweatproof and waterproof so you can use them during workouts or runs or even in the shower, and have a built-in mic so you can chat on the phone. 
Promising review: "So many things to rave about with these! Quality of the design and feel of these is amazing. I could literally wear these all night while on vacation with a roommate who snored, they were that comfortable and good at noise cancelling. I use these most often to listen to music and the sound quality is superb. I have a pair of AirPods that I was *thankfully* gifted and I hardly ever use them because they just aren't as good as my Tozos!"  —Alexis Arnold
Get it from Amazon $18.99+ (available in five colors).
7.
A cordless portable charger in case there's no outlets under your airplane seat (or you'll be in the back of a car with no access to the USB port) and need a handy way to charge your phone. 

Promising review: "The holy grail of portable chargers!!! I was traveling to Disney for vacation and knowing me, I would drain my battery with just taking pictures alone. I wanted a portable battery but didn't want a carry a cord either, so I was excited when I found this little baby! It does exactly as described, pretty pink color, and I get one full charge of battery for my iPhone 11. Get it, you will not be disappointed!" —Meghan Doble

Get it from Amazon for $29.99+ (available in six colors) — don't forget to apply the coupon to save up to 15%!
8.
Or a set of battery power banks that can charge multiple devices at once with their numerous ports. You AND your significant other's phones are about to die? No worries, you can charge them at the same time. 

Each power bank features four ports — two USB ports, a USBC port, and a Micro USB port. Each power bank allows for two to three full battery charges for your phone. 

Promising review: "They are the perfect chargers! They charge my phone to 100% and still have like a whole battery left. I was amazed that they actually worked." —AmazonKweenBee's👑🐝
Get a set of two from Amazon for $21.99+ (available in four color combinations).
9.
A 50-count set of laundry soap sheets if you'll be hopping from house to house this holiday season and need to ensure the clothes you packed can be worn more than once. These will come in clutch so you can hand-wash your garments and rewear them without fearing they smell.  
Promising review: "This came SO in handy during my vacation to Europe! I was making lots of different stops to places with different types of weather. With these laundry soap sheets I was able to wash my clothes in the sink — letting me pack just the right amount of clothes for all the different places I went." —Katie Fujarski
Get a pack of 50 from Amazon for $7.19.
10.
A collapsible water bottle to ensure you stay hydrated on your long journey home. It rolls up super small when not filled with fluid so it can take up the least amount of precious space in your bags. 
Plus, it's lead-, latex-, and BPA-free, dishwasher safe, and can be used for hot or cold drinks.
Nomader is a small business founded by Bryan Sarlitt who sought to create more quality hydration products that were of high quality and great for travelers. 
Promising review: "Well this is the coolest thing ever! I travel quite a bit, and I usually don't take a bottle with me because they are big and bulky and I usually lose them! This collapsible water bottle is a perfect traveling accessory. It stays collapsed until after security, and then I fill it up for the trip. It's a good size and fits in my side compartment in my travel backpack, and the cap screws in securely so I don't have to worry about it opening accidentally and spilling all over the place. I follow the instructions on how to clean it and it works just fine." —M. Lyons

Get it from Amazon for $34.95 (available in eight colors).
11.
An in-flight phone mount if you happen to be taking a train, plane, or automobile that has no TV screens in sight. Just pop this baby on the back of the seat in front of you for your viewing pleasure. Anyone down to watch Christmas Vacation? 
Promising review: "I bought this nifty gadget about six months ago for a multi-leg, ultra-long-haul trip and it more than held up the entire duration. I was able to finagle it to fit the tray tables on different planes, and like others, I find the height just nice when clamped onto a stowed tray table. It also works on my roller carry-on handle during layovers. However, I find myself using it a lot outside of travel too! Work-wise, I've clamped it onto my office desk shelving to hold my phone at eye level beside my computer. At home, I simply clamped it to a deck of cards and it turns into a versatile stand that I can place on any flat surface. Heck, I've been using it to hold my phone comfortably at eye level while watching videos in bed. It's extremely well-built, and I find myself fidgeting with it all the time. Thus far it still feels solid and I don't anticipate breaking it any time soon. Even if it does break, I'll be happy to buy another one or two of them." —Earendil
Get it from Amazon for $12.97 (available in three colors, as well as a pack of two). 
12.
A refined leather electronics organizer to ensure you have all of your cords for all of your tech devices. Ah — a spot for my watch, headphones, portable charger, phone, tablet, and e-reader cords.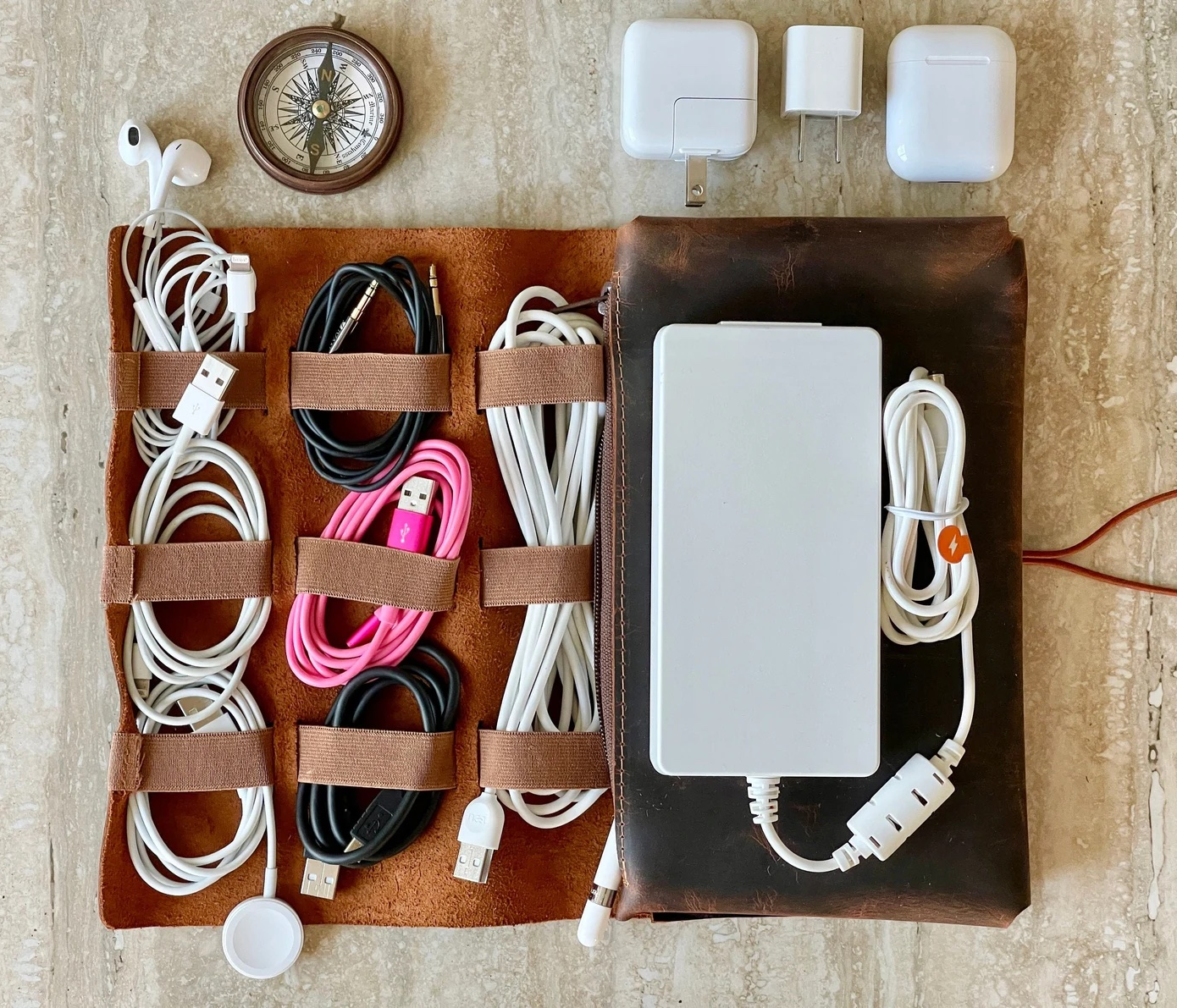 Plus, you can have it personalized with your initials!
Mister Crafter is a small biz that specializes in personalized leather travel and tech accessories. 

Promising review: "Absolutely beautiful! The custom lettering came out perfectly and it can easily hold two battery packs and all the cords we could ever need for traveling with cellphones, iPads and our Switch. So pleased with the craftsmanship! Wonderful purchase. <3" —Sarah Kavaljian
Get it from Mister Crafter on Etsy for $39.80+ (available in two sizes, in black or brown, and several engraving options). 
13.
A mini steam iron because that gorgeous holiday 'fit you were planning to wear for dinner is probs getting wrinkled in your luggage as we speak. This will give you peace of mind knowing you can de-wrinkle it in just a few minutes.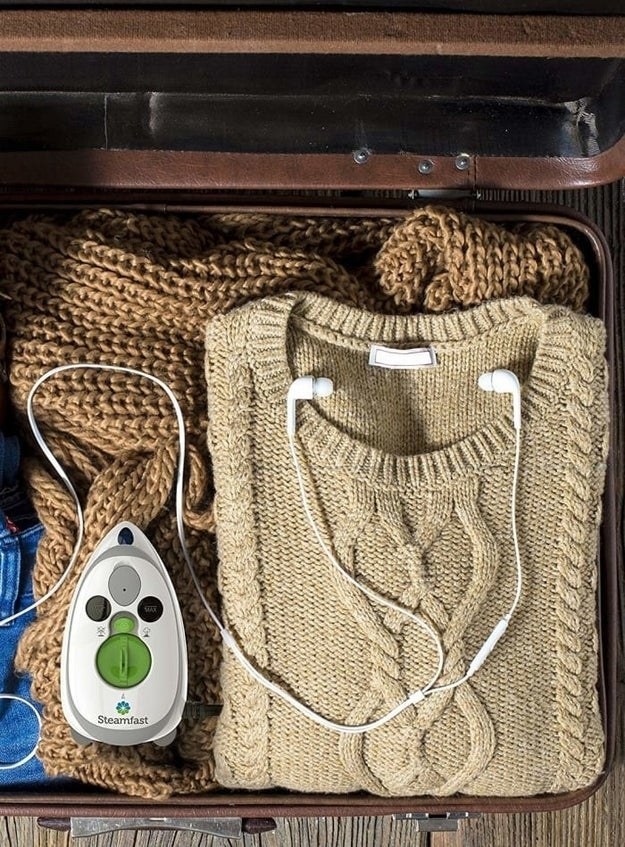 Promising review: "The best travel item I have purchased this year! It irons so well. I took it on a trip to Germany a few weeks ago. I just placed a towel on the counter or on the bed, and it took minimal effort to iron out the creases. The steam works very well. I hardly had to use the max heat option because it's pretty powerful. I would definitely recommend this to anyone who does business travel and are going to areas that don't have irons available in the hotel rooms or for leisure travel as well. It doesn't take up much room. It fits in the palm of my hand. I also had no problem getting through security in Germany, London, or the US." —Erica Kowsari

Get it from Amazon for $19.99.