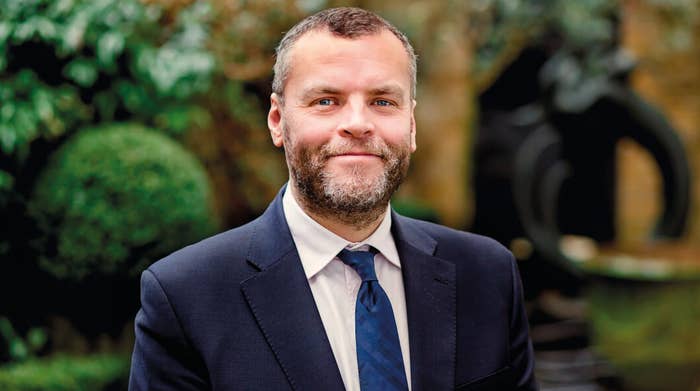 A senior Boris Johnson aide has said the UK will forge a "special relationship" with Viktor Orbán's authoritarian government in Hungary after Brexit, praising the country's "interesting early thinking" on the "limits of liberalism".

Tim Montgomerie, a former journalist who was hired by Downing Street as the prime minister's social justice adviser in September, made the highly controversial comments at a meeting hosted by the Danube Institute, a right-wing think tank, in Budapest on Dec. 17.
In remarks that were not signed off by Downing Street or Johnson, Montgomerie said: "I think there will be very significant investment by Boris Johnson in relationships, particularly bilaterally, with key European states. I think the French relationship will be significant, and I think this relationship with Budapest will be significant as well.

"Budapest and Hungary have been home, I think, for an awful lot of interesting early thinking on the limits of liberalism, and I think we are seeing that in the UK as well. So I hope there will be a special relationship with Hungary amongst other states."
After BuzzFeed News uncovered the remarks in a video of the event posted on YouTube by the Danube Institute, a source said Montgomerie had not yet returned to Number 10 following the general election, and it was still to be decided whether he would continue his job advising the prime minister.
Orbán's hard-right government was censured by the European Union in 2018 after it was accused of a series of attacks on the media, minorities, and the rule of law. The Hungarian prime minister has been strongly criticised for his record on anti-Semitism, his rhetoric about "Muslim invaders", and for calling migrants "poison". He is a proponent of what he calls "illiberal democracy".
Montgomerie came under fire on Twitter over the Christmas period when he wrote that "Hungarian family policy is worthy of close study" on December 30. But he went much further at a panel event at the Hungarian Academy of Sciences two weeks earlier.
Repeatedly comparing Johnson to Orbán and his Fidesz party, Montgomerie said: "I think it's true of Fidesz. I think it's true of Donald Trump. I think it's true of Scott Morrison. I certainly think it's true of Boris Johnson: I think we are seeing the Conservative party move into the sphere of cultural and economic solidarity, as I would call them.
"I think it's still consistent with traditional conservatism, I think we're still the party that believes in the individual, but it's a greater idea of individualism. It's an idea of the individual where the individual prospers with good public services, strong family, strong community, a nation that sees them as the priority rather than perhaps an immigrant from abroad."
Praising Orbán's promotion of the Hungarian nation, Montgomerie said: "That brings me back to Budapest and some of the things that prime minister Orbán has emphasised. And I don't agree with everything that Fidesz stands for, but I think the recognition that Fidesz and your prime minister here have stated that the nation matters and that globalisation is often a threat to that is an incredibly important one."
Addressing the concept of populism, Montgomerie again compared Johnson and Orbán: "Why are people voting for Boris and Viktor and Nigel [Farage] and Donald? Those questions aren't asked enough. And so whatever populism is, it isn't really about any of the people on the stage, it is about long-term trends in economics and culture that are changing how people align themselves."

Separately, Montgomerie revealed that he believes the UK–EU trade talks over the next 12 months will leave Britain closely aligned to Brussels rules and regulations, in defiance of the wishes of hardline Brexiteer Conservative MPs.
Conceding it was above his pay grade but nonetheless providing a rare on-the-record analysis from a Number 10 aide of the upcoming trade negotiations, he said: "I think there will be a large degree of alignment in economic sectors, and I think some Eurosceptics will be disappointed by that in the treaty that emerges from the next few months of negotiations."
He added: "I think there will be quite limited regulatory separation from existing European regulations in how Britain is currently regulated and how Europe is currently regulated. I think the differences will grow over time, particularly in terms of the regulation of new sectors of emerging economic markets."
The Danube Institute, which hosted the event where Montgomerie was speaking, says it "exists to provide an independent center of intellectual debate for conservatives and classical liberals and their democratic opponents in Central Europe".
Its president John O'Sullivan, who sat alongside Montgomerie on the panel, is a former adviser to Margaret Thatcher, authored a book about Orbán, and was awarded the Hungarian Order of Merit last year. At the time Orbán's office praised O'Sullivan for helping to promote a "more positive country image".
According to its website, the Danube Institute's advisory council is chaired by Fidesz politician János Martonyi. Its board members include Ryszard Legutko, a Polish politician who Pink News reported had called anti-LGBT prejudice "fictitious", marriage for same-sex couples a "destructive experiment", and described LGBT rights as "a tyranny of the minority which has taken over the main institutions and main ideologies in the western world".
Montgomerie declined to comment.
A government spokesperson said: "All special advisers are expected to comply with the special adviser code. During the election all special advisers resigned their positions. Tim Montgomerie has not currently returned to his position following the election."