Around 40 Tory Rebels Told Theresa May: We'll Vote For Your Brexit Deal If You Quit
May was told in direct terms by several MPs in one-on-one phone calls on Sunday that she should make a pact to resign as prime minister to get her deal through.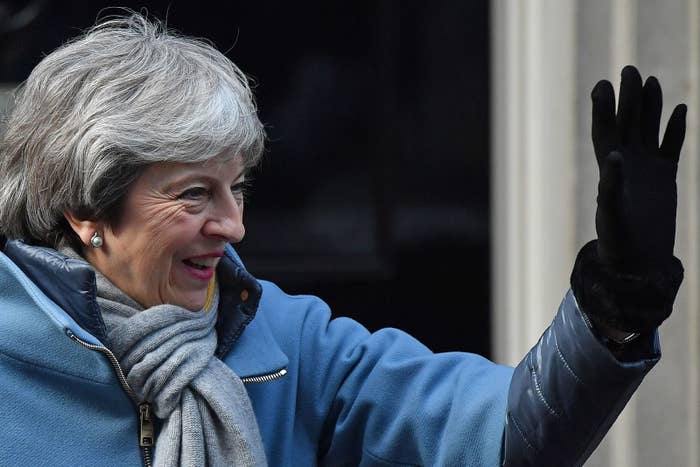 Conservative MPs have told Theresa May and her aides in phone calls and meetings over the weekend that she must publicly commit to standing down as prime minister to secure their votes for her Brexit deal.

As Downing Street struggles to persuade enough rebel MPs to back May's withdrawal agreement in time for the third meaningful vote scheduled for Tuesday, a group of 40 backbenchers have warned they will not vote for the deal unless she agrees to step aside so a new PM lead the next stage of Brexit negotiations.
In conversations with May, her senior advisers in Number 10 and chief whip Julian Smith on Saturday and Sunday, details of which have been shared with BuzzFeed News, MPs on both the Remain and Leave wings of the Tory party said the price for getting the deal through is her departure.
May was told in direct terms by several MPs in one-on-one phone calls on Sunday that she should make a pact promising to resign if her deal passes, a source familiar with the conversations said.
In one of the phone calls, a former cabinet minister who last week swapped sides to vote for the deal told May she would win round other rebels if she announced she is willing to go. A source familiar with the conversation said the PM reacted with "surprise" and "faux astonishment" at the idea of a resignation pact.
Several MPs have contacted Graham Brady, the chair of the backbench 1922 Committee, to urge him to tell May to make a public commitment that she will leave office after the deal passes.
On Friday, at a meeting between May and Tory "switchers" – the backbenchers who didn't vote for the deal at the first meaningful vote but backed it at the second vote last week – MPs also said the PM would have to set a departure date in order to win over the remaining rebels.
"She had us in to thrash out how she could get the rest of them to come over," one MP present told BuzzFeed News. "Several of us told her that this is about the leadership now," they said.
Following the meeting, a senior Downing Street aide assured an MP who had suggested the resignation idea: "She knows this".
Two Tory switchers who backed the deal last week told BuzzFeed News that May would have to make a commitment to go if she wanted to get the deal through.
Zac Goldsmith said: "Unhappiness with the deal hasn't gone away and the only way I see it getting through is if it's clear the next stage will be led by a new team and a new leader. For many MPs, support for it will therefore be conditional. I don't think anyone can say that they believe the negotiations have gone well. We need to know things will be different for the next stage."
Another switcher, Ben Bradley, said: "I've spoken to a lot of colleagues this weekend and the biggest concern, along with the DUP, is that the PM will see getting the deal through as a great victory and a mandate to carry on. They are clear that they don't want her to lead the second stage of negotiations."
A former cabinet minister predicted that around half of the 75 MPs who voted against the deal last week would climb down at the third meaningful vote. But they said there would still be around 40 rebels if May did not announce her departure.
"There are 40 of us who have said this. They will not vote for the deal if she stays. She would need to be gone by April and say that at the despatch box. It's not personal, we just cannot have more of this PM and her team carrying out the negotiation. The country can't afford it," the former minister said.
Esther McVey told the BBC on Sunday that May "needs a dignified departure" and that the PM should make way for a new negotiating team. "Now is a great chance and opportunity to do things differently," she said.
Former Brexit secretary David Davis wrote in the Sunday Times: "Nobody could reasonably describe the UK's current negotiating strategy as successful. It should change not only the negotiating team but also the whole negotiating strategy."
The Remain-voting former Tory party chairman Grant Shapps also said: "The next stage of the negotiations around Britain's future partnership with the EU will require a complete change of the negotiating team from bottom to top."
In phone calls with Tory MPs on Saturday, a senior Downing Street adviser pointed rebels to tweets by the former Leave campaigner Darren Grimes, who previously opposed the deal but has now called for MPs to support it.
Grimes said in response: "I think Theresa May needs to make her leaving in the summer a condition to get this deal through and reassure Brexiteers."