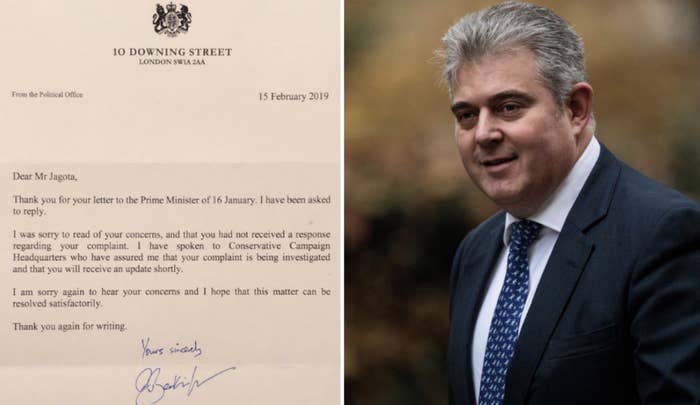 Downing Street intervened in the Conservative party's handling of allegations of anti-Muslim comments, issuing a private apology after two Tory officials resigned in protest at their complaints being ignored for several months, leaked emails obtained by BuzzFeed News reveal.
Two Conservative association chairs, Ajay Jagota and Gerard Leake, accused party chair Brandon Lewis and the CCHQ complaints department of failing to take action against a Tory councillor who is alleged to have made an anti-Muslim remark.
In revelations that cast fresh doubt on Lewis' claim to have a "zero tolerance" policy on anti-Muslim behaviour, the leaked emails show he was first made aware of the allegation in September 2018 but neither he nor the party's complaints unit responded despite repeated requests for answers.
When Theresa May was informed in January this year that the two association chairs had resigned saying their complaints had been ignored, she asked her senior adviser David Beckingham to respond. In his letter to Jagota, he apologised and said he had obtained assurances from CCHQ the complaint was being investigated, the leaked correspondence shows.
"I was sorry to read of your concerns, and that you had not received a response regarding your complaint," Beckingham wrote in the latter dated Feb. 15. "I have spoken to Conservative Campaign Headquarters who have assured me that your complaint is being investigated and that you will receive an update shortly."
"I am sorry again to hear your concerns and I hope that this matter can be resolved satisfactorily," he added.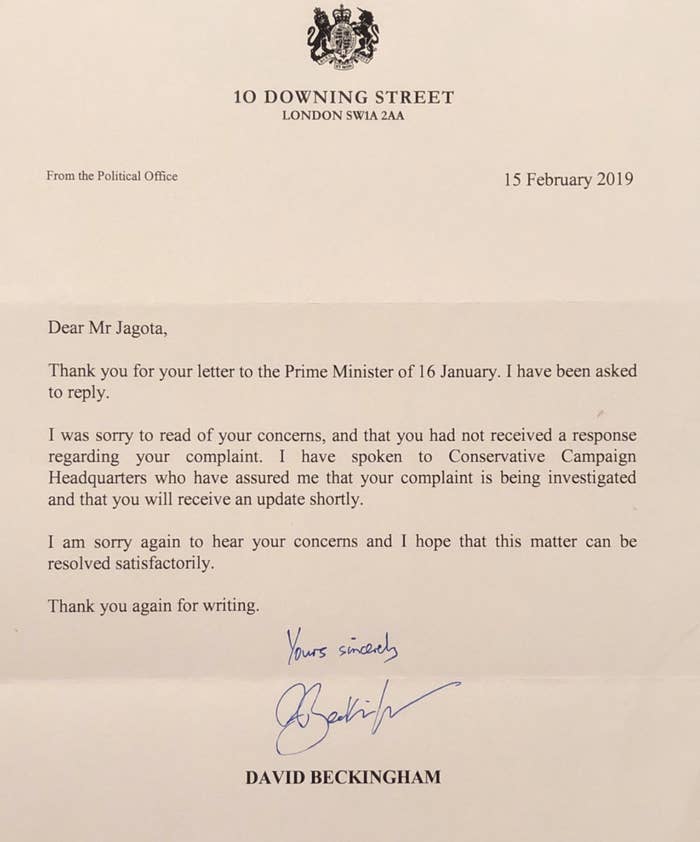 Yet despite Number 10's involvement, Jagota, the party's chair in South Shields, never received a reply from either Lewis or the CCHQ complaints department.

The councillor denied making the comment, but was later suspended in March when a separate allegation was made — six months after the complaint, and only after Downing Street's intervention.
The leaks will heap pressure on Lewis and CCHQ over their handling of the Tory party's ongoing scandal, and raise questions over the party chair's insistence that he has taken "swift action" to deal with complaints. They also show that Downing Street was aware months ago that CCHQ's response to complaints of anti-Muslim behaviour was unsatisfactory.
Last week, BuzzFeed News revealed a Conservative party official informed Lewis and the party's complaints department about anti-Muslim Facebook posts by Tory members last year, but no action was taken.
Lewis was first made aware of the allegation against the councillor in person at the chair's reception at the Conservative party conference on Sept. 30, 2018.
The following week, on Oct. 6, Jagota emailed Lewis to put his complaint in writing. According to the complaint, a Conservative councillor had allegedly said of Jagota: "I'm not working with that Muslim."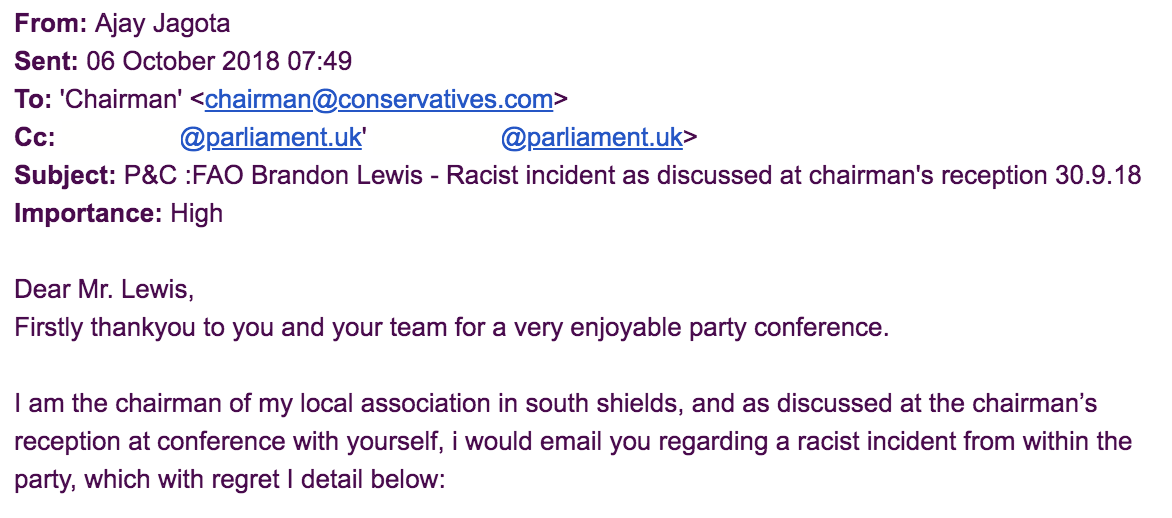 The next day, Oct. 7, Jagota emailed Lewis's office forwarding on his complaint and asking them to acknowledge receipt. He says he received no response.

On Oct. 11, Jagota emailed Lewis and his office again: "I haven't received an acknowledgement from yourself despite my email being sent to both yourself and Brandon as requested in our conversation held at chairman's reception. Can I ask for at the least an acknowledgment of the email??"
Lewis's deputy chief of staff Toby Willmer then responded, apologising that he had "somehow missed [his] initial email", and asking if Jagota wanted to make a formal complaint. Jagota immediately replied that he did.

A week later, on Oct. 18, Jagota emailed Lewis and his office again: "I am just following up my email as I haven't heard back from you confirming that my complaint has been formally noted and the due process that should ensue."
Willmer replied: "I can confirm that your complain [sic] has been passed on to the Complaints team who will be in touch with you in due course."

Jagota says the CCHQ complaints team never got in touch with him about his complaint. Despite this complaint not being resolved, on Nov. 7, Lewis tweeted that there were no outstanding complaints being dealt with by CCHQ.
The following day, on Nov. 8, Jagota wrote to Lewis's office yet again: "It's disappointing that as the plaintiff of this incident I am having to continue to chase this matter and as of yet nobody from complaints has contacted myself. I am sure you can appreciate my frustration on what I consider a very serious matter."

Jagota says he never received a reply. On Jan. 16, he wrote to Lewis resigning as chair of South Shields Conservative association in protest at CCHQ's failure to respond to him.
"As time went on I have kept a log of all of the conversations, meetings and communications I have had. On each occasion, it is I who have had to follow up individuals leaving me with a feeling as though they would wish this situation to go away," he wrote. "At no stage have I had one response or update from anyone which I find disdainful and wholly unacceptable from the Conservative party."
In his resignation letter copied to the PM, Jagota, who is of Indian descent, told Lewis he joined the Tory party believing "it matters not where you are from, or who your parents are, the colour of your skin, man or woman, but, how far you go depends solely on you and your hard work". He said this was "at complete odds with my experience which at best is a failure of process at worst a failure of its officers".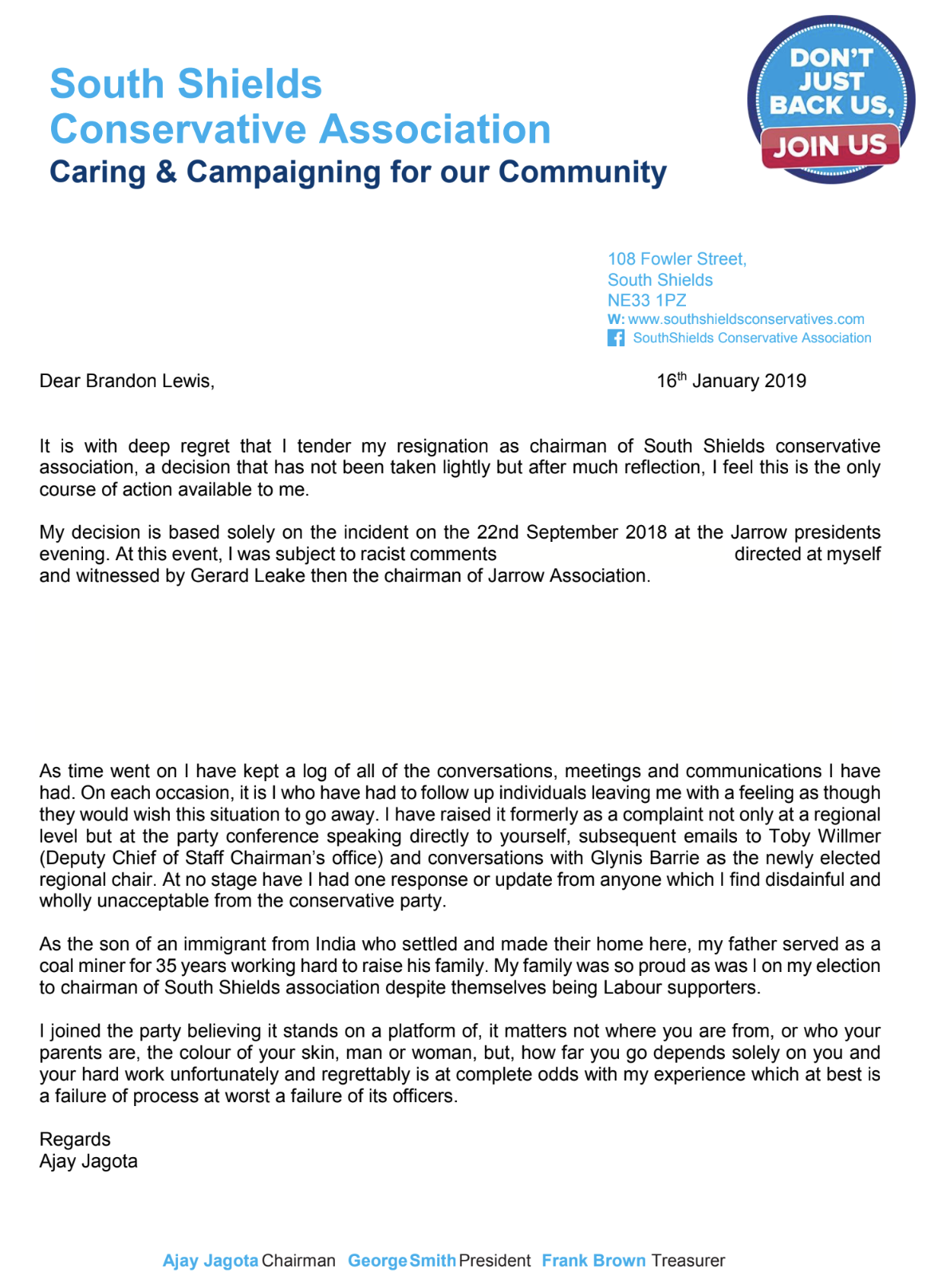 Jagota says Lewis never responded to his resignation letter. He did however receive a response from Number 10 revealing they had intervened in the case and told CCHQ to respond, and that Downing Street had received assurances from CCHQ that the matter was under investigation.
Despite the intervention from Number 10, Jagota says he still never received a response from Lewis or the CCHQ complaints team.

Jagota told BuzzFeed News: "Almost six months after the initial complaint being raised, it saddens and worries me that I have heard nothing from Brandon Lewis or the complaints team. I'm so disappointed that having supported and been a part of the Conservative party it's turned into this."
Leake told the Tory party in an email when he resigned as chair of Jarrow Conservatives: "The management of the party are not interested in sorting this problem out with a formal disciplinary process. I do not find this acceptable".
Responding to this story, former Tory party chair Baroness Warsi tweeted: "This is huge. Clearly shows Conservatives are ignoring complaints of Islamophobia. Also clearly contradicts Brandon Lewis. This is institutional racism."
In a one-line statement, a Conservative spokesperson described the suggestion that Downing Street intervened in the handling of the complaint as untrue, without offering detail as to why.
The spokesperson said: "This is completely untrue — the complaint was dealt with in line with our procedures. Action was taken locally and [the councillor] was suspended from the Party."