Leaked Emails Show The Tory Head Office Was Warned About Anti-Muslim Facebook Posts Last Year. No Action Was Taken.
Exclusive: A Conservative official repeatedly asked the party to take action over anti-Muslim comments made by members last year. Those responsible were only suspended when BuzzFeed News reported on the posts this week.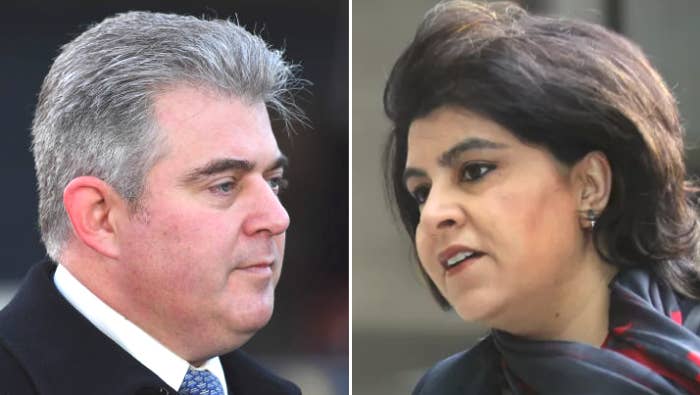 A Conservative party official informed chair Brandon Lewis and the party's complaints department about anti-Muslim Facebook posts by Tory members last year, but no action was taken until BuzzFeed News raised the posts with the party this week.

Leaked emails obtained by this website show the official first warned Lewis and the Conservative Campaign Headquarters complaints team about anti-Muslim posts by party members in the "Jacob Rees-Mogg Supporters Group" on Oct. 4, 2018.
"Good evening Brandon, A twitter page has come to my attention highlighting racist tweets from Jacob Rees-Mogg supporters," the official wrote, directing him to the @MatesJacob Twitter account, which had published screenshots of the anti-Muslim posts.
The official asked Lewis and the complaints team to make sure the posts "are reviewed and anyone who is a member of ours have their membership removed if they have expressed racist or anti-Islam rhetoric".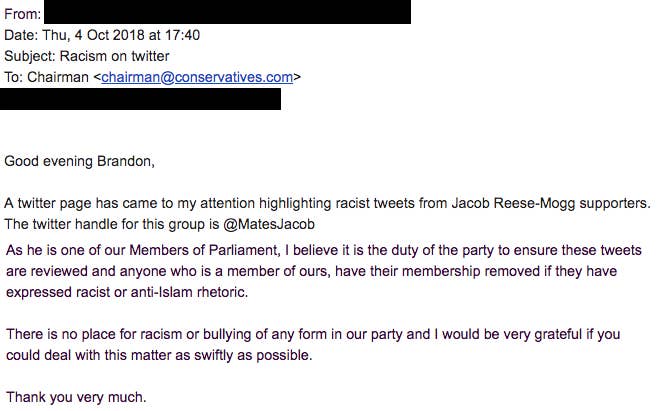 On Nov. 2, the official sent a follow-up email to the complaints team asking if the posts had been investigated and whether the party had identified those responsible as members.

"Morning, Has the Facebook page been looked at yet, would just like to know if any are members and if any action is being taken?" the official wrote.
No action was taken by the CCHQ against the Tory members who posted the anti-Muslim material until March 5 this year, when BuzzFeed News approached the party with screenshots of the posts. The party then suspended 14 members who it identified as having posted offensive content.

The revelations will raise further questions about Lewis and the CCHQ's handling of anti-Muslim allegations, and arouse suspicions that the party is ignoring internal evidence until confronted by media pressure.
On Wednesday, Lewis insisted he had a "zero tolerance approach to any form of discrimination and abuse within our party and have taken swift action to suspend members".
But responding to this story, former Tory party chair Sayeeda Warsi told BuzzFeed News: "The only time we get results is when the party is brought to the table kicking and screaming and when it is shamed into making suspensions.
"The party only acts when it is caught out rather than when these cases are first brought to their attention."
A Conservative party spokesperson said: "The party investigates all complaints in a timely and confidential manner in line with our complaints procedure". A party source said the emails were responded to with requests for further information in line with its complaints procedure, but it received no response.
Yesterday, the Conservative party resuspended Mick Murphy, a Tory councillor in Ashfield, after BuzzFeed News revealed he had been reinstated to the party despite sharing a series of anti-Muslim memes.
Tory members in the Rees-Mogg supporters' Facebook group — which is not affiliated with the party and has been condemned by the Brexiteer MP — had targeted home secretary Sajid Javid with abusive comments.
One man claiming to be a Tory member said he would not vote for Javid for party leader. "I am a member and will not be voting for Islam to lead this country." A woman member said Javid was a "trojan horse".
Another self-proclaimed member wrote: "A practicing Muslim should not be allowed to work in any of the emergency professions."
One person also claiming to be a party member described Muslims as "Mussies", another said she wanted to "get rid of all mosques", and another man, who posted a photo of his Conservative membership card, agreed with a comment saying "no Pakistani" should become prime minister.
Other comments made by people who said they were Tory party members included "Islam must be banned from Europe", "they are here to destroy us", and "No Muslim PM for me". Another member called for praying Muslims to be thrown off a bridge.
Following the publication of this story, Labour's shadow equalities minister Naz Shah called on the Tory party chair to give answers.
"Brandon Lewis needs to come out and explain why he ignored these complaints for over 5 months. The Conservative party chairman has ignored rampant Islamophobia among Tory members, only acting on these cases after BuzzFeed published their story last week. We need answers from Brandon Lewis," she said.
UPDATE
This post has been updated to include Naz Shah's comments.