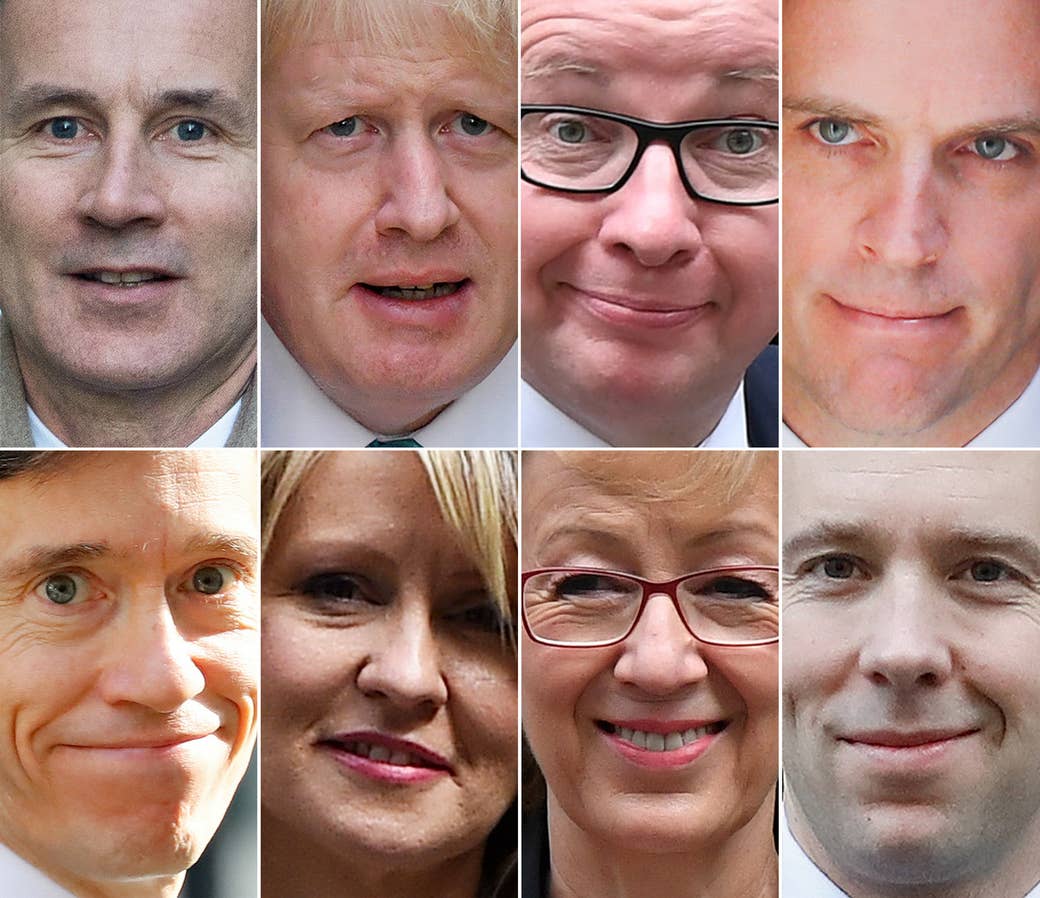 When Dominic Raab and Matt Hancock announced that they were signing a "clean campaign" pledge not to attack their fellow Conservatives during this summer's leadership contest, the unlikely outbreak of goodwill lasted about five minutes.

The idea was cooked up by Raab's campaign team, who invited Hancock to add his signature on Tuesday shortly before the pledge was announced. But in a textbook case of Westminster chicanery, none of the other candidates was asked if they wanted to take part, leaving them looking as if they had declined to do so.
It might have worked were it not for another candidate, Sajid Javid, whose aides got wind of the pledge late on Tuesday night and immediately signed their man up. The Javid campaign frantically WhatsApped advisers for Boris Johnson, Michael Gove, Jeremy Hunt, Andrea Leadsom, and others, tipping them off about what Raab was up to.
The "clean campaign" pledge had quickly been exposed as dirty tricks, setting the tone for a week of feisty opening skirmishes as the race to become the next prime minister burst into life.
In the first blue-on-blue clashes of the contest, Gove is under pressure to clarify his position on a no-deal Brexit after he failed to commit to taking the UK out of the EU on Oct. 31. The no-deal question has become a frontline in the battle for Number 10.
Gove is fighting Hunt for support from the Remain wing of Tory MPs, and BuzzFeed News can reveal the two men have been trading blows about each other's electability and performances at the despatch box.
Meanwhile, Matt Hancock, another runner, is facing calls from rival camps to pull out and endorse another candidate, but he vowed he would stay in the contest and hit back by accusing Hunt of stealing his ideas.
Despite the slick social media videos and appeals for fairness, Tory leadership contests are renowned for hostile briefings between the camps, and in a week of claim and counterclaim, it was Raab who emerged as the main punchbag after his clean campaign stunt backfired.
Raab's interview with ITV in which he declared that he wasn't a feminist provided an opportunity for his opponents to strike back, one which was immediately seized by the Javid camp.
First, Team Javid tweeted a picture of Morph, the animated plasticine character who bears an uncanny resemblance to the home secretary, declaring: "This is what a feminist looks like." Eight other candidates quickly made clear they considered themselves feminists too.
The gloves truly came off when, BuzzFeed News can reveal, Javid wrote to the Conservative Women's Organisation outlining his credentials as a champion of women.

"The female membership of our party must always be represented around the table so their voices and perspectives are heard and acted upon," he vowed. "For the avoidance of doubt, I am a feminist and proudly so."
The letter is a clear nod to Raab's feminist difficulty and a challenge to other candidates to speak up for women's rights. Following the former Brexit secretary's awkward interview round, Tory MPs labelled him the "Raabot" — a nickname that will hurt if it sticks half as much as Theresa May's infamous "Maybot" moniker.
There was some better news for Raab when his campaign was boosted by support from Nikki da Costa, the respected former May aide who is an expert on parliamentary procedure and is advising him.
On the other side of the party, a fierce battle is underway between Hunt and Gove to be the candidate in the final two backed by the Remain wing in Parliament.
An irresistible narrative of Johnson versus Gove on the ballot paper has taken hold in Westminster, though campaign insiders insist it is premature.
Two weeks ago, Hunt was viewed as the frontrunner in terms of MP support, with dozens said to be privately signed up to back the foreign secretary.
His support is said to have taken a hit this week over his position on whether he could countenance a no-deal Brexit, with Hunt calling it "political suicide". In an article for the Telegraph on Monday that was seen to have cost him support, he warned that any PM who took the UK out of the EU without a deal risked a general election and the "extinction" of the Tory party.
Yet the extent to which Gove has actually benefitted is strongly disputed. Hunt is said to believe he is still ahead of Gove with MPs and has cuttingly warned undecided colleagues that the environment secretary would lose an election to Jeremy Corbyn. Gove has meanwhile told MPs that he is a better performer at the Commons despatch box than Hunt, citing his speech from January in which he memorably tore into Corbyn's record.
Gove's number two at Defra, Robert Goodwill, this week endorsed Hunt in a boost for his campaign. It has also been noted that the newspaper that splashed on claims that Hunt was losing support to Gove was the Times — the paper where Gove used to work that is owned by his close friend Rupert Murdoch.
Hunt is said to have bolstered his staff in recent days. His campaign does not deny that he is receiving advice from ex-Tory spin chief Giles Kenningham and former Barack Obama strategist Jim Messina's team (though this is denied by Messina).
If Gove has gained from Hunt's troubles with the no-deal question, he risks coming unstuck when answering it himself.
Whether or not to leave no-deal on the table is a Catch-22 for candidates seeking the votes of Remain MPs: Rule it out and you're toast with the membership; rule it in and your Remainer support in Parliament could desert you. On Saturday, Javid signalled he would be "fully prepared" to leave without a deal.
BuzzFeed News asked Gove's campaign if he would keep no-deal on the table and whether he would commit to leaving the EU on Oct. 31, with or without a deal. In a fudged answer that captures his problem, a Gove campaign source left open the possibility of another Brexit delay: "Michael will deliver Brexit. We must leave the EU before there is a general election or we risk Jeremy Corbyn in Downing Street."
Gove's support is currently derived from the government payroll vote and MPs who voted for May's Brexit deal the first and second times. As one MP commented: "He appeals to everyone between Rory [Stewart] and Penny [Mordaunt]," the implication being that he has limited support among Tory Brexiteers who opposed the deal.
A third divide is developing between Hancock and other candidates from the Remain side of the divide. MPs are lobbying Hancock to pull out of the race and endorse another contender, fearing that with 12 candidates already declared, the contest will turn into an unpredictable free-for-all.
He has been told that while he is well liked across the party, this is "no time for a novice," and that an experienced head is needed to deliver Brexit. Hancock has responded that the Tories need a PM who can not only handle Brexit but also lead the party and country for the next 10 years.
Hancock also believes he is setting the agenda for the other runners. He was first out of the blocks to say he thinks no-deal is impossible, warned that the Tories risked having Corbyn in Number 10 by Christmas, and challenged the other candidates to rule out a general election — three positions all subsequently taken up by the Hunt campaign.
"Matt's the one coming up with all the winning arguments — if he was to drop out, where would everyone else get their ideas from?" a Hancock campaign source hit back.
Hancock is not the only candidate under pressure to stand aside. Rival campaigns have been attempting to bounce Leadsom into dropping out and backing another Brexiteer. She has made clear she will not pull out and will unveil a detailed Brexit plan on The Andrew Marr Show on Sunday.
For all the frenetic activity of the last week, little has been heard so far from the candidate regarded as the hot favourite. Boris Johnson has adopted what his team call a "submarine strategy" — staying under the surface and lying in wait before kicking off his campaign.
But the plan to stay out of the headlines was hit by something of a depth charge on Wednesday when a judge ruled he would have to come to court to face accusations made in a private prosecution that he lied during the referendum campaign with the infamous £350 million–a–week claim, a story which led the news bulletins for the whole day.
There have been wild rumours that Johnson will launch his campaign on Monday and could unveil as many as 100 MPs as backers, though this appears to have been briefed by rival campaign teams trying to inflate numbers and heighten expectations in a bid to stop any perceived momentum.
The one candidate who has made headlines is Stewart, who is touring the country with an energetic walking campaign. This week, Stewart told BuzzFeed News that he was a genuine runner in the campaign and not, as some Tory MPs have claimed, a "suicide bomber" seeking to damage Brexiteer candidates before endorsing Gove. Those MPs believe Stewart's real desire is to be foreign secretary in a Gove government.
Mordaunt, who this week said she would consult with Tory members about key policy issues, is still considering whether to stand, although both Gove and Hancock are believed to be vying for her support to bolster their Brexit credentials.
As for the outsider candidates, Mark Harper is said to believe he already has 15 MPs on board and will do better than several more high-profile names, while Steve Baker, the Brexiteer "Spartan" who opposed May's deal all the way, inundates colleagues with WhatsApp messages about nonscientific Twitter polls showing himself as the candidate with the most support.
Next week brings US President Donald Trump's state visit; the Peterborough by-election on Thursday, in which the Brexit party could claim its first MP; and Theresa May's formal stepping down as Tory leader on Friday. And all this before the leadership contest even formally begins on June 10.