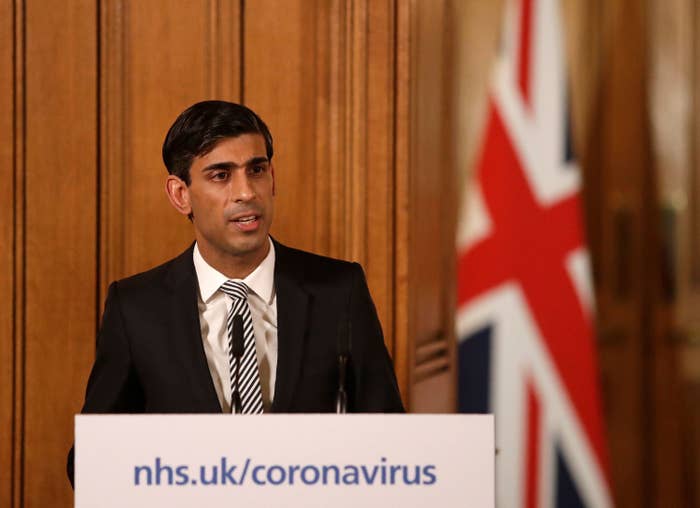 Britain's chancellor of the exchequer Rishi Sunak has unveiled an economic package worth more than £330 billion to support businesses through the coronavirus pandemic — a move he described as an unprecedented government intervention on a scale unimaginable a few weeks ago.

Any business that needs access to cash will be able to apply for government-backed and guaranteed loans worth £330 billion, and Sunak promised that he'd make more available if demand was greater in the weeks ahead.
In a statement interspersed with the refrain "We will do whatever it takes," Sunak told reporters: "I want to assure every British citizen this government will give you the tools you need to get through this."
The government will in addition provide business interruption loans of up to £5 million, with no interest due for the first six months.
The chancellor also announced a series of measures aimed at protecting the hospitality sector — with pubs, restaurants, and theatres under extreme pressure following the government's advice to avoid social contact.
All pubs and restaurants will be able to operate as takeaway and delivery services from Wednesday.

Businesses will be able to secure a cash grant from the government of £25,000 each. The business rates holiday will be extended to all firms.
There will be a three-month mortgage holiday for anyone struggling to pay their mortgage, Sunak also announced, but there was no mention of support for people paying rent.
The chancellor also signalled an imminent state intervention on helping firms pay their employees' wages, similar to those taken by other countries this week.
He said he was exploring a "partnership" between the government and businesses to ensure that they can pay salaries and do not have to lay people off. Sunak did not provide details of the approach the UK would take, but said it "can't invent something from scratch" and suggested he would look to "other countries" that have come up with proposals in the last few days.

He will also discuss a support package for airlines and airports in coming days.
Speaking alongside Sunak, Boris Johnson prepared the country for further stringent measures to be introduced to fight the virus in the next few days.
"We may well have to go further and faster in the coming days to protect lives and the NHS," the prime minister said, saying he had to "act like a wartime government and do whatever it takes to support our economy".
"We must support millions of businesses and tens of millions of families and individuals," he insisted.
Following a later, near-identical statement to the House of Commons, Sunak faced criticism of the measures from opposition MPs, who said the package he had introduced lacked urgency.
Shadow chancellor John McDonnell said: "Today, in some of our constituencies people were being laid off. They were losing their jobs, and losing their incomes, and their livelihoods and being threatened.
"People are worried, and I'm just disappointed that today, today's package of measures didn't really appreciate the urgency and the gravity of the situation for those individuals and those families."

He urged the chancellor to meet with trade unions within "days not weeks" and picked up on a number of issues, which he said Sunak had "failed to address."

McDonnell said statutory sick pay should be available for everyone, from day one, including part-time workers and those on zero hours contracts, and urged the chancellor to raise sick pay in line with the real living wage.
He also suggested that the government should requisition private hospital beds during the crisis, rather than pay to use them.

The shadow chancellor said that while Labour was keen to support and work with the government, he suggested Sunak should look at access to universal credit, legislate to allow for those who are struggle to freeze or suspend utility bill payments, and to do more to protect renters.
He said: "There is nothing in the statement to protect renters… it affects us all, all of constituents. Will the chancellor bring forward measures urgently now to protect renters, prevent evictions and enable rent holidays for people unable to meet their costs?"

In response Sunak said he had already made significant changes to universal credit, statutory sick pay, and employment and support allowance in last week's budget.
He told MPs that the housing secretary would be making a further statement detailing measures to protect renters, and said that public services issues the shadow chancellor had raised were under "active and urgent consideration."