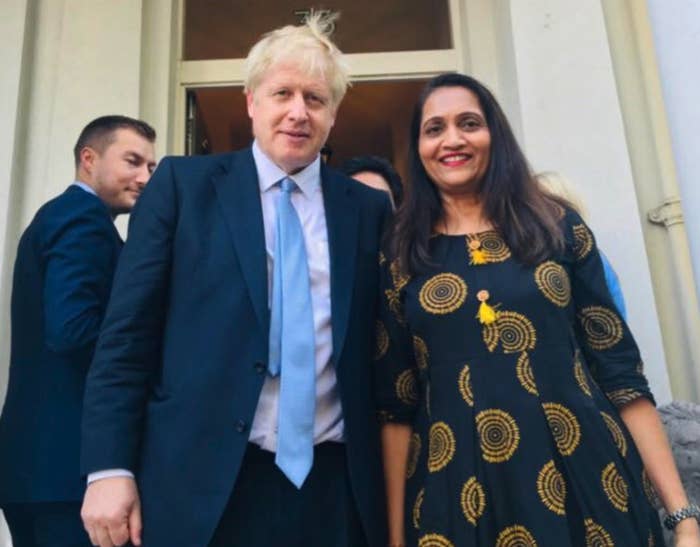 The Conservative Party knew one of its candidates at the upcoming election had been embroiled in its ongoing Islamophobia scandal, but decided to let her stand anyway after she quietly deleted her Twitter account.

Eight months ago, Anjana Patel sent an unprompted tweet to Malala Yousafzai demanding to know "how are you going to help?" after two Hindu girls were allegedly kidnapped, "molested and forcibly converted" to "your religion, Islam".
Patel's tweet appeared to suggest that Yousafzai, the 22-year-old Pakistani activist and Nobel Peace Prize winner, was somehow responsible for the actions of other Muslims. "The world should know about this barbaric act by Islamists. Don't block me," Patel wrote to Yousafzai on March 26, tagging the Indian prime minister Narendra Modi.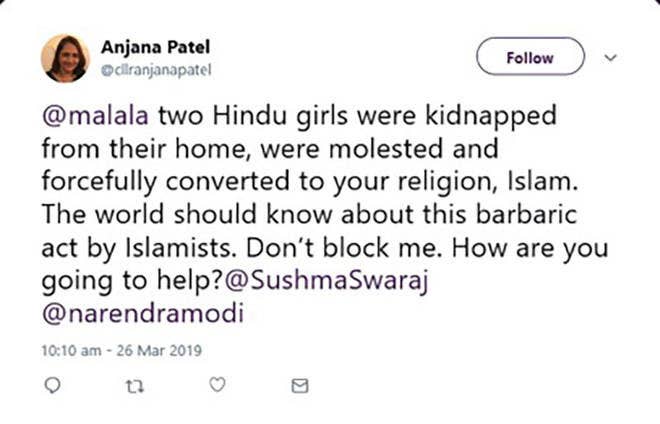 Patel's tweet was included in a dossier of alleged anti-Muslim social media conduct by Conservative councillors sent by LBC to the Tory party last week.
Conservative HQ said it had already investigated Patel's tweet — sent while she was a Tory councillor in Harrow — and "concluded" an investigation. Patel's Twitter account was quietly deleted.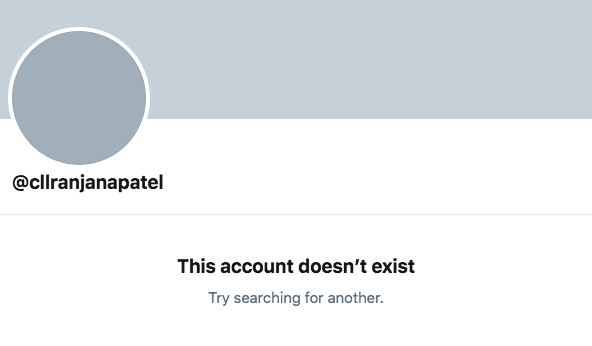 On Thursday last week, the party confirmed that Patel would be their parliamentary candidate to take on Labour's Barry Gardiner in Brent North. A new Twitter account, @Anjana4Brent, was set up and a photo of Patel with prime minister Boris Johnson was chosen as the profile picture.
When contacted by BuzzFeed News this afternoon, Patel said she was unable to answer our questions over the phone. She did not respond to an email or text message. The Conservative Party declined to comment.
The Tories have struggled to address allegations of Islamophobia by their candidates, councillors, and members over the last year. The party has claimed it has a "zero-tolerance" policy to anti-Muslim statements by its candidates.
But Johnson has been criticised after he rowed back on a commitment he made during the Tory leadership contest to hold an investigation into anti-Muslim sentiment in his party, instead broadening the inquiry out to consider "all types of prejudice".
A spokesperson for the Muslim Council of Britain said: "The Conservative Party, with its long-held issues of failing to address and tackle Islamophobia within its ranks, now appears to have resorted to outright hiding the racist views of one of its prospective parliamentary candidates.
"Anjana Patel's tweets to Malala Yousufzai were hideously Islamophobic, offensive and not acceptable under any circumstances. The fact that the Conservative Party still endorsed her, despite apparently being fully aware of her racism, is disappointing but not surprising."