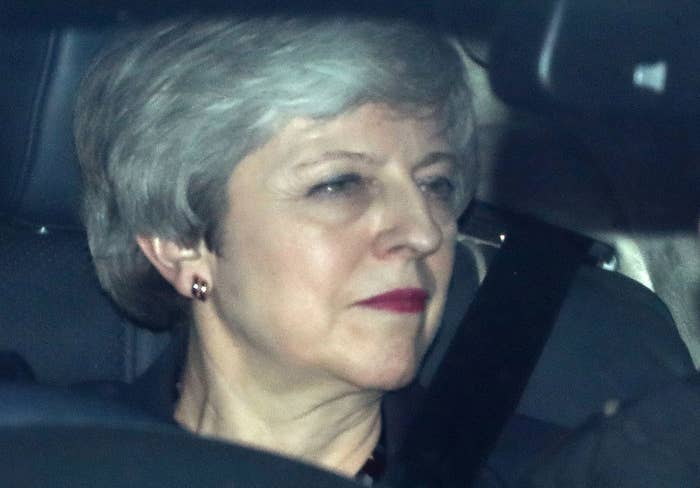 "She wins by staying on the pitch," a Downing Street aide once observed of Theresa May's approach to politics, and for nearly two years the prime minister's grinding resilience seemed to allow her to defy political gravity.

On Wednesday, however, May accepted that for her, the game is now almost over.
In an emotional closed-door meeting in the House of Commons, May told Conservative colleagues she will stand down if her Brexit deal passes, acknowledging a painful reality that had become increasingly clear in recent weeks: The ruling party will not allow the leader who negotiated a withdrawal agreement with the European Union that many of them regard as a national humiliation to be the one to shape Britain's post-Brexit future.
It's still far from certain when exactly May will leave. She did not give a date in her announcement to Tory MPs, and her departure appeared contingent on her controversial Brexit deal passing. It's unclear what she will do if that does not happen. But there's no doubt that the clock is fast ticking down on her premiership and it seems highly unlikely that she could now cling on if she tried.
May could still leave Downing Street with at least one substantial achievement, if her last-ditch admission persuades enough of her mutinous colleagues to change their minds about her deal. She would be the prime minister who guaranteed a phased withdrawal from the union and left a solid foundation for the next phase of the negotiations. But that is far less than the transformative legacy May envisaged when she took over from David Cameron three years ago.
When she entered Number 10 amid the chaotic fallout from the EU referendum in the summer of 2016, May portrayed herself as a steely, competent, pragmatic leader who would unite a bitterly divided country, put Brussels in its place, and steer the UK into a bright future as an independent trading nation. More than that, she promised a transformational programme of social and economic reforms that would address the grievances that led more than 17 million people to vote to leave. She would be the Tory leader who repositioned the party as that of the hard-working "just managing" masses who felt that modern life had left them behind.
Brexit means Brexit. No deal is better than a bad deal. Strong and stable leadership. The platitudes turned out to be hollow, and breezy promises about the UK's prospects were crushed by the grinding reality of the withdrawal process. Disentangling the UK from its biggest trading and security partner while reconciling the contradictory expectations of a profoundly divided nation was already a monumental task, and May made it worse through her own mistakes: triggering Article 50 before there was a plan, calling an early election when she didn't have to (throwing away her majority), and a secretive negotiating strategy that seemed designed to wear down her opponents rather than to build consensus. It crippled her government.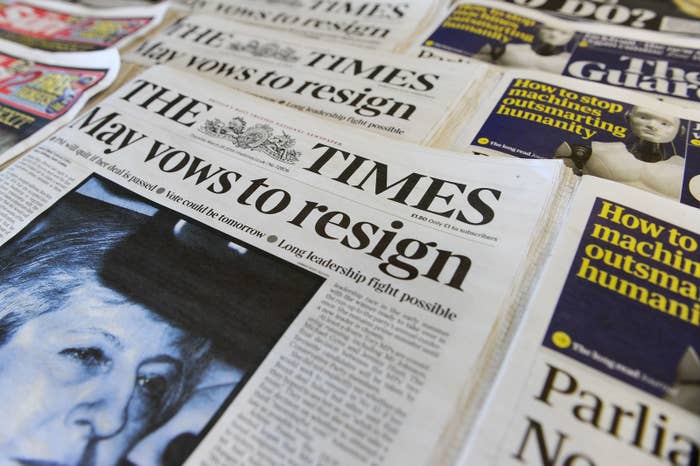 The final months of May's premiership will be remembered as some of the most turbulent a prime minister has endured in modern times. With no majority, Parliament gridlocked and her own back benches in open rebellion, she could barely squeeze legislation through the Commons. Domestic policy achievements were few and far between. Cabinet discipline broke down, there was a steady stream of ministerial resignations, and MPs voted down her Brexit policy by a historically large margin — twice. Hopes of national rebirth gave way to talk of betrayal and humiliation. The country was angrier, more divided than ever, and no closer to an agreement on what it wants its relationship to Europe to be after it leaves the union.

And May's personal authority was shredded. A leader who once appeared to be so commanding that the Tory-supporting Daily Mail proclaimed her a new Margaret Thatcher has instead been accused by her own MPs of selling out the millions who voted Leave. In one particularly low moment, a senior backbencher accused her in a Commons debate this week of presiding over "the most shameful surrender by a British leader since Singapore in 1942". To many disgruntled Tories, the prime minister herself had become an obstacle to resolving Brexit, and new leadership is now the price of their capitulation.
May's departure from Downing Street will end a Westminster career that began more than three decades ago. She was elected to Parliament in the safe seat of Maidenhead in 1997, the year that Tony Blair's reforming New Labour took power for the first time in a landslide. May held several shadow cabinet positions in opposition and served for a time as chair of the Tory party. Her speech to the Conservatives' annual conference in 2002 is remembered for her warning that they were perceived as "the nasty party".
It was as home secretary under David Cameron that May established herself as a formidable frontline politician. In a difficult role that had prematurely ended several ministerial careers, May survived for six years, earning a reputation as hard-working, well-prepared, and headstrong. A tightly knit team of advisers was led by Nick Timothy and Fiona Hill, who would later become her first chiefs of staff in Downing Street.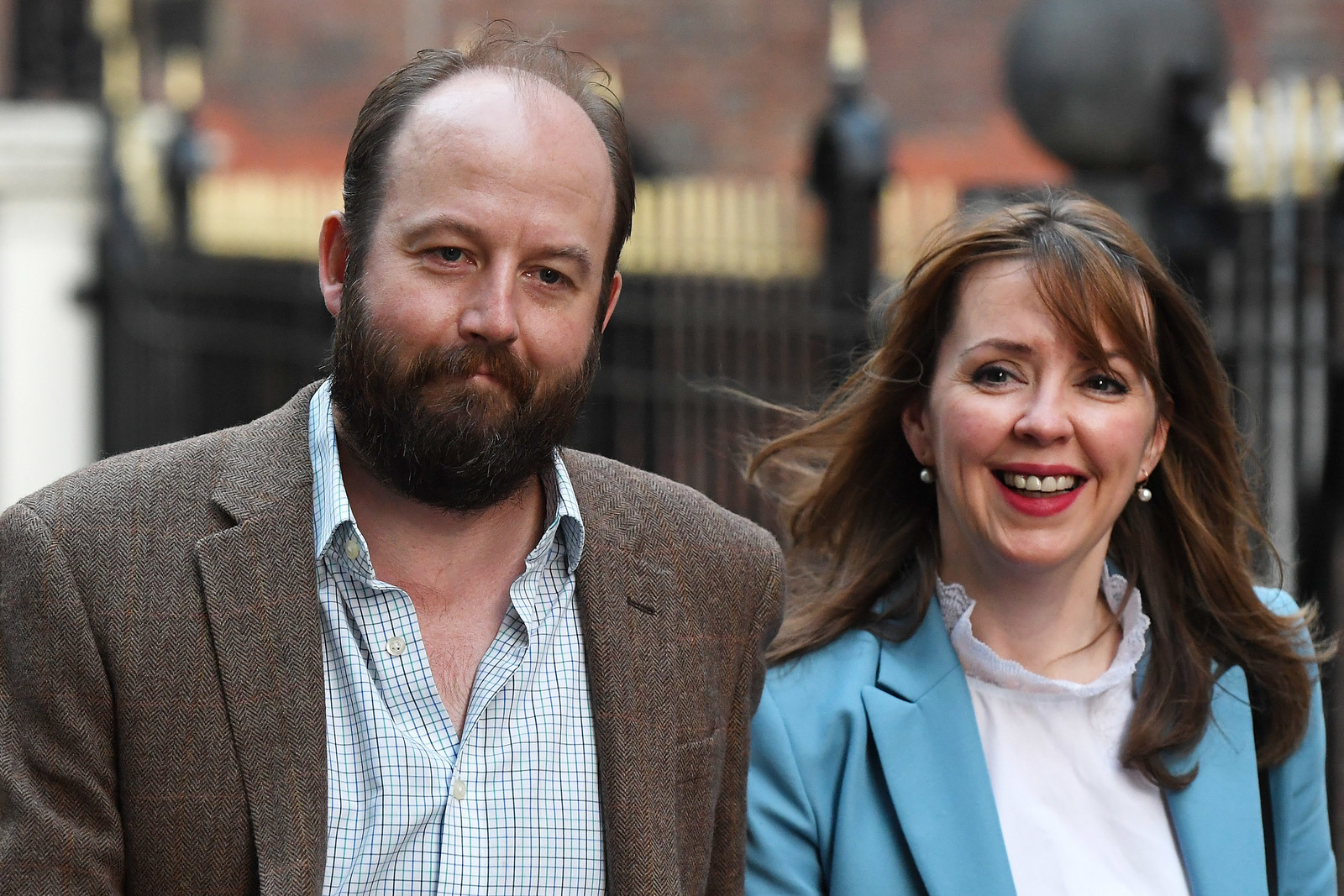 The duo were extremely close to the home secretary, acting as her gatekeepers, her eyes and ears, her filter to the outside world. They provided May with ideas and drive and positioned her as a future leader. But they also alienated many. Civil servants complained that May's team restricted access to her too tightly, that decisions were not widely discussed, and that they created an aggressive culture. They clashed with other departments and Cameron's aides in Downing Street.

On policy, May won some plaudits for progressive measures such as restricting police officers' use of stop and search, which critics claimed disproportionately targeted young black men, and pushing through new laws against modern slavery. But she was also accused of attacking civil liberties. She presided over a sweeping expansion of surveillance powers and a harsh immigration regime. And her reputation for competence and mastery of her brief was often exposed in exchanges with her Labour opposite number, Yvette Cooper.
It is immigration that will be remembered as May's her most enduring contribution to Britain's domestic policy. According to the former Tory chancellor George Osborne, May remained stubbornly wedded to the Tories' controversial promise to reduce net migration to the tens of thousands long after every other member of cabinet had given it up as unrealistic. And it was May who coined the term "hostile environment" to describe her hardline strategy to deter illegal migrants entering or staying in Britain, which was widely criticised as unnecessarily severe.
At one point, May's Home Office ran an advertising campaign in which vans drove around emblazoned with slogans urging illegal migrants to "go home"; it was ended after a public outcry. The hostile environment was blamed for one of the biggest policy scandals of May's time as prime minister, when it was revealed that dozens of members of the Windrush generation of migrants from the Caribbean had been wrongly deported. But it was not May but her successor as home secretary, Amber Rudd, who was forced to resign over the policy — with May's old nemesis Cooper playing a key role in bringing her down.
May was elevated to Number 10 when Cameron suddenly resigned after losing the EU referendum in June 2016. She had supported remaining in the EU but played little role in the campaign, to the irritation of Cameron's inner circle. In the eyes of May's Tory rivals, this was indicative of her tendency to disappear from the public at key moments and a naked calculation that staying out of the referendum campaign would ultimately help her chances of becoming prime minister when Cameron stepped aside. As it happened, May was appointed Tory leader without a full contest when Andrea Leadsom pulled out prematurely because of an embarrassing newspaper interview.
In her first address outside Downing Street as prime minister, May promised to improve the lives of "ordinary working families" who were struggling to make ends meet and felt that their concerns had for too long been ignored by the political classes. She pledged to address "burning injustices" including racism against black men in the criminal justice system and the unequal treatment of the mentally ill in the health system. She would be a Tory leader who governed not for wealthy elites but for those who had been left behind.
It was a pitch that enthused many of her Tory colleagues, but there were soon complaints about their new leader's approach. In one of her first moves, May ruthlessly sacked several prominent members of Cameron's cabinet, George Osborne, Michael Gove, and Nicky Morgan. She would later need their support to unite the squabbling party and pass her Brexit deal.
As they had in the Home Office, her team's controlling, closed style of management was provocative. Across Whitehall, senior officials complained that they were marginalised and that "bottlenecks" developed while departments waited for decisions to be filtered through her advisers. Staff complained of a toxic atmosphere in Downing Street. Senior figures in the Tory party, including in cabinet, said they were left in the dark about important decisions.
On Brexit, May didn't wait to build cross-party consensus but instead quickly charted a course for a hard departure, setting down firm red lines, including ending free movement of people and withdrawing from the EU's customs union and single market, long before the negotiations started. Some found her rhetoric alienating — not least her infamous swipe at "citizens of nowhere" in her speech to the Tories' annual conference in October 2016 — but there was little room at the time for dissenters. When she invoked Article 50 in March 2017, beginning the formal process of withdrawing from the EU, May received the overwhelming support of Parliament, even though there was still no specific plan for the negotiations.

At that point, May seemed to be in an unassailable position. There was little internal opposition. Labour under Jeremy Corbyn was weak and divided. She had the full-throated support of the Tory-leaning press and a double-digit lead in opinion polls. It appeared that she could stay in power for years.

Then came perhaps her most catastrophic strategic error. To capitalise on her apparent popularity, May, encouraged by her closest advisers, called an early election for June 2017, anticipating a historic landslide that would give her a clear mandate to push through her vision of Brexit with minimal resistance. But the campaign went disastrously wrong. The party machine was woefully underprepared, the policy manifesto quickly unravelled, partly because of a controversial reform to the funding of adult social care that was quickly labelled a "dementia tax".
May herself proved to be deeply unimpressive on the stump. Her robotic repetition of the campaign's "strong and stable" slogan in every public statement and in answer to almost every question led to her being described as "the Maybot". The majority that Cameron had won two years earlier was lost, a result that could have finished other party leaders, but once again May dug in and carried on. To form a government that could secure a parliamentary majority, she was forced to cut a deal with Northern Ireland's Democratic Unionist Party (DUP).
There was another humiliation for the Tory leader in October 2017 when her address to the party's annual conference descended into farce. She was interrupted by a comedian who had slipped past security, then fell into a coughing fit. Letters in the slogan on the wall behind her began falling down. At the moment the Brexit talks were entering a crucial phase, her premiership was in disarray. It was only because Tory MPs decided it was better to let her finish Brexit before moving against her that she remained in Downing Street.
As the talks progressed, May's position waxed and waned. There was a temporary victory in December 2017 when the EU agreed to move beyond the first phase of talks. She won plaudits for her handling of the poisoning by Russian spies in Salisbury. However, Brexit was inexorable, and gradually May was forced to quietly retreat from her red lines — though never to admit this publicly — as the reality of Britain's position sank in. As she softened her position, tensions in the Tory party rose. By the summer, it erupted into a full-blown political civil war, with foreign secretary Boris Johnson and Brexit secretary David Davis — both leading Leave supporters — quitting the cabinet.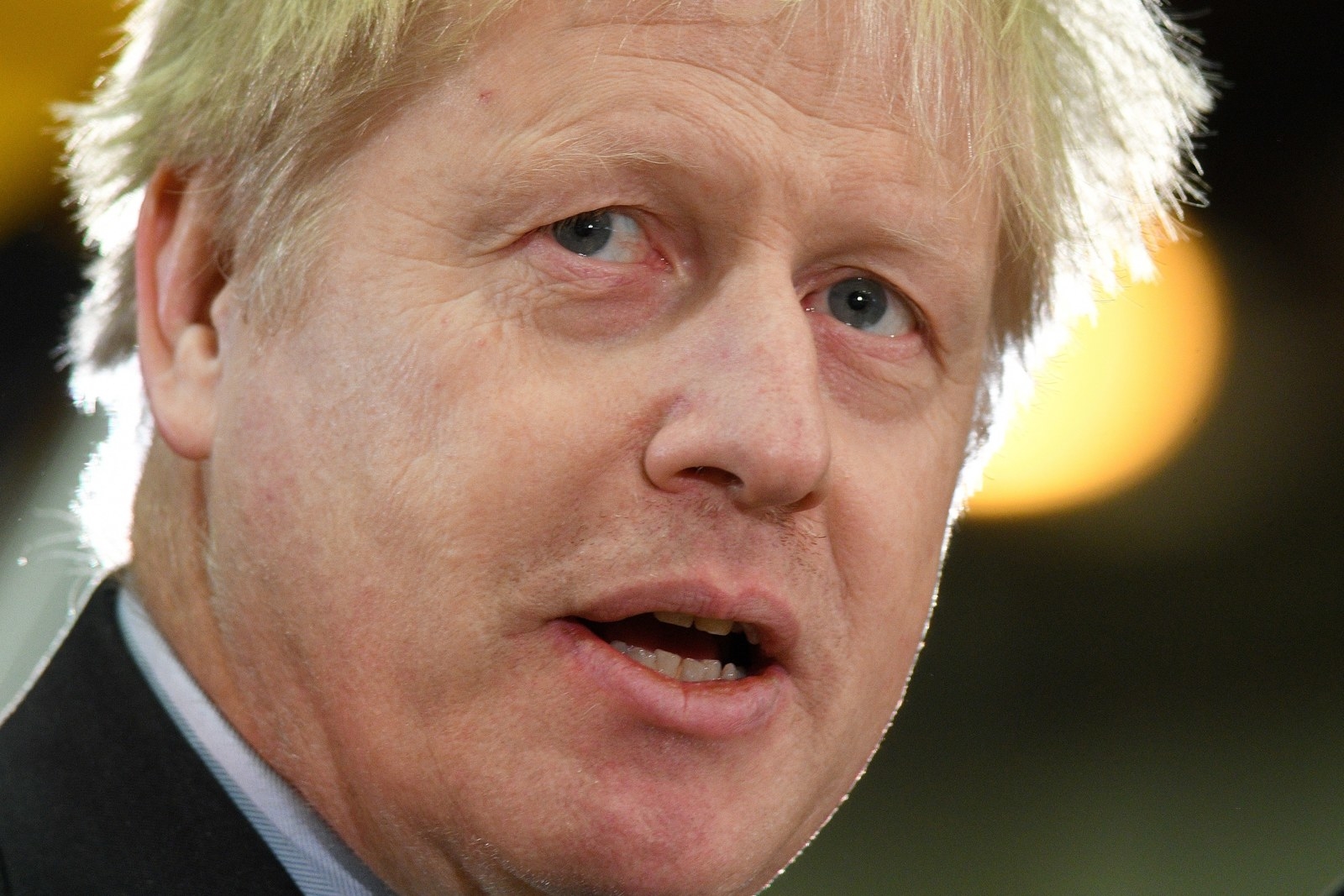 In November, May struck a deal with the EU that she claimed fulfils the mandate of the 2016 referendum. In her view, it honours promises of an orderly, phased withdrawal, an end to free movement, and the creation of an independent trading policy, while maintaining a close economic and security partnership. But many in her party were furious. To them, it gave away far too much and would mean the UK is beholden to the EU after leaving without having any say over its rules. More Brexiteers, including the new Brexit secretary, Dominic Raab, resigned from the government, and the European Research Group, the alliance of hardline Eurosceptics led by Jacob Rees-Mogg, plotted openly to defeat the deal. In grassroots Tory associations and on social media, party members vented their anger and demanded a new leader.

In December, the Brexiteers launched a formal leadership challenge. May survived, but with the support of less than two-thirds of her MPs and only after promising to step down before the general election due in 2021. At another time, such an unconvincing winning margin would have compelled a Tory prime minister to resign, but in these extraordinary circumstances May was determined to carry on. The pressure on her leadership didn't let up. Repeatedly she insisted that her deal was the only one available, and repeatedly MPs rejected her pleas to back it.
May will leave Downing Street a confounding figure. Her defenders will argue that the political meltdown in Westminster wasn't her fault. She took on a calamitous mess of her predecessor's making, and managed to negotiate a deal that gave all sides at least some of what they wanted, even if they didn't appreciate it. She persisted in the face of enormous odds, and at great personal sacrifice. They will argue that she achieved more on domestic policy than she is given credit for — £20 billion in new funding for the NHS, more houses being built, record high employment — and remained more popular with the voting public than Corbyn.
To her many detractors, though, May exits with few notable policy achievements and an almighty Brexit mess. In their eyes, the prime minister herself became an obstacle, her flaws all too evident. She was both stubborn and indecisive. She was a maddeningly inadequate communicator, in spite of her constant insistence that she has "been very clear". She was politically tin-eared, misreading the mood in Brussels at crucial moments and aggravating MPs when she most needed to bring people together. Many felt that she wasn't listening to their concerns and was just trying to wait them out, narrowing their options until they had no choice but to support her deal. Her televised address from inside Downing Street last week will be remembered as particularly ill-judged. In a scolding tone, May accused the very MPs she was trying to woo of sabotaging Brexit by "playing political games". It only added to the clamour for her to go.
"I know there is a desire for a new approach — and new leadership — in the second phase of the Brexit negotiations," May told Tory MPs on Wednesday evening. She accepted that she will have to stand down sooner than she wanted in order to get the deal through. In characteristic fashion, she wasn't entirely precise about her intentions, but it seems that this time her extraordinary staying power has finally reached its limit.