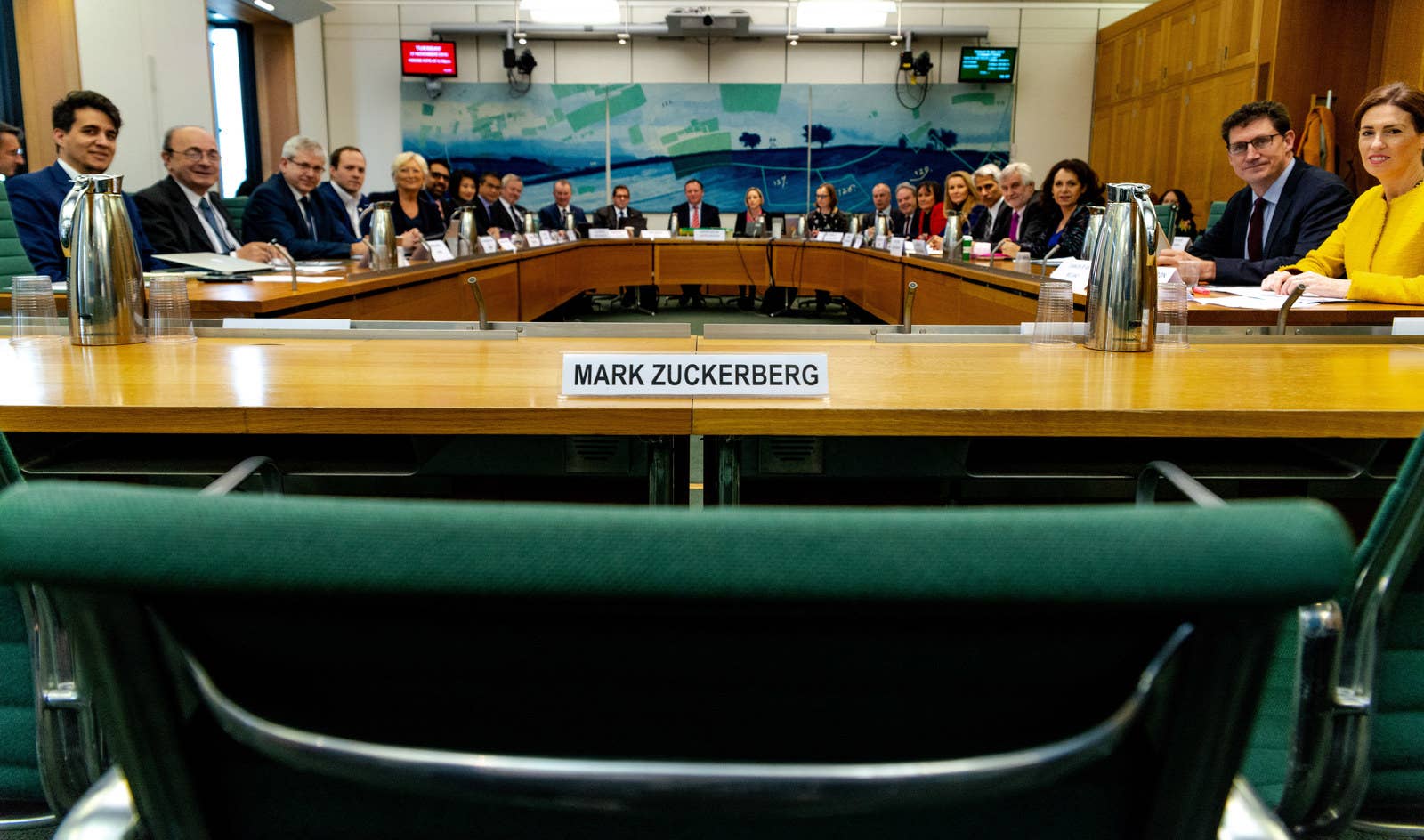 Facebook is facing new questions about the influence of "dark money" on its platform after BuzzFeed News established a link between Britain's Future, the shadowy pro-Brexit group that is now the biggest-spending political advertiser on the social network in the UK, and another obscure group that has also been using Facebook to promote a hard withdrawal from the European Union.

Earlier this month, BuzzFeed News reported that Facebook's transparency measures were under fresh scrutiny because of Britain's Future's sudden and mystifying emergence as a major force in political campaigning. In just a few months, the site has spent more than £410,000 lobbying MPs to oppose Theresa May's Brexit deal — overtaking the UK government, the three major political parties, and Remain-supporting campaigns backed by corporate heavyweights — while giving no information about its origins or sources of funding other than to say it is funded by donations.
Now a second hard-Brexit campaign is also attracting scrutiny from MPs and transparency campaigners. We Are The 52% has spent nearly £50,000 on ads promoting a clean break from the EU, placing it seventh on the list of top political advertisers on Facebook since the social media giant began publishing spending data in October, higher than the Labour Party. Digital experts estimate that its ads have been viewed up to 10 million times.

There are obvious similarities between the two pro-Brexit groups. They employ a similar campaign mechanism, using Facebook ads to encourage voters to click through to their websites where they're prompted to email politicians to register their opposition to May's Brexit deal. They both have Facebook pages that started on November 28, 2017. Both give almost no information about their origins and lack the structures typical of political campaign groups. Both name only one person in a position of responsibility — young Tory Brexiteers who appear to lack the financial resources to mount such big ad campaigns.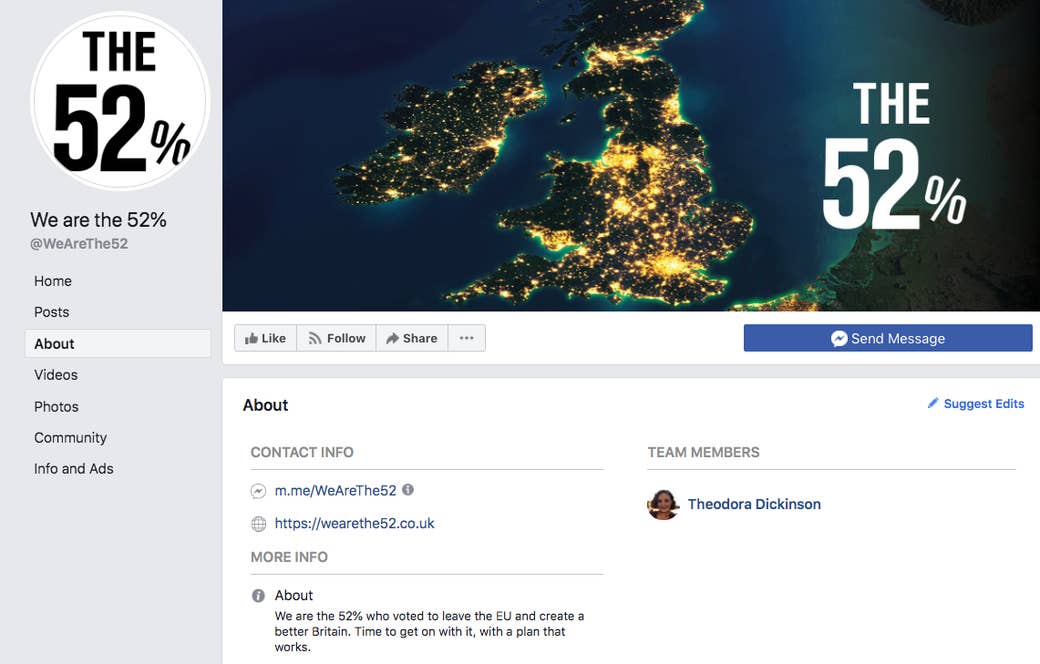 Britain's Future is run by a 30-year-old TV sitcom writer named Tim Dawson. We Are The 52%'s "editor" is a former Vote Leave campaigner named Theodora Dickinson. Both have more in common than a passionate belief in Brexit and affiliation to the Conservatives. BuzzFeed News has established that Dawson and Dickinson are part of a clique of diehard right-wing activists that styled itself as the "Tory resistance" and has played a significant role in the pushback against May and her Brexit strategy.
The fact that the two biggest-spending pro-Brexit ad campaigns on Facebook are run by activists from the same group raises questions about whether the campaigns are spontaneous and organic or whether they share common origins and donors. Campaign experts say they're doubtful that the groups could've raised so much money — more than £460,000 between them — in just a few months from small donors. It's possible that the campaigns are being funded by a few wealthy right-wing donors in an undisclosed effort to undermine the government's Brexit policy. Britain's Future and We are the 52% declined to provide information about their donors when asked by BuzzFeed news.
The groups are not breaking electoral laws or violating Facebook's conditions, which MPs said illustrates the huge gaps that still exist in Britain's digital campaigning regulations despite the concerns raised by the 2016 referendum. Speaking to BuzzFeed News, Damian Collins, the Conservative chair of the House of Commons' digital, culture, media and sport committee, said that voters have a right to know who is trying to influence the biggest political decision in a generation and called for Facebook and the government to urgently introduce new measures to ensure accountability and transparency in political campaigns.

Recent moves by Facebook to publish spending data and the ads run by specific groups have not gone far enough, Collins said. "What this demonstrates is that Facebook's new ad policy isn't effective." The social network now identifies an organisation behind each political ad but, Collins points out, that doesn't necessarily reveal anything about the donors or who is making decisions.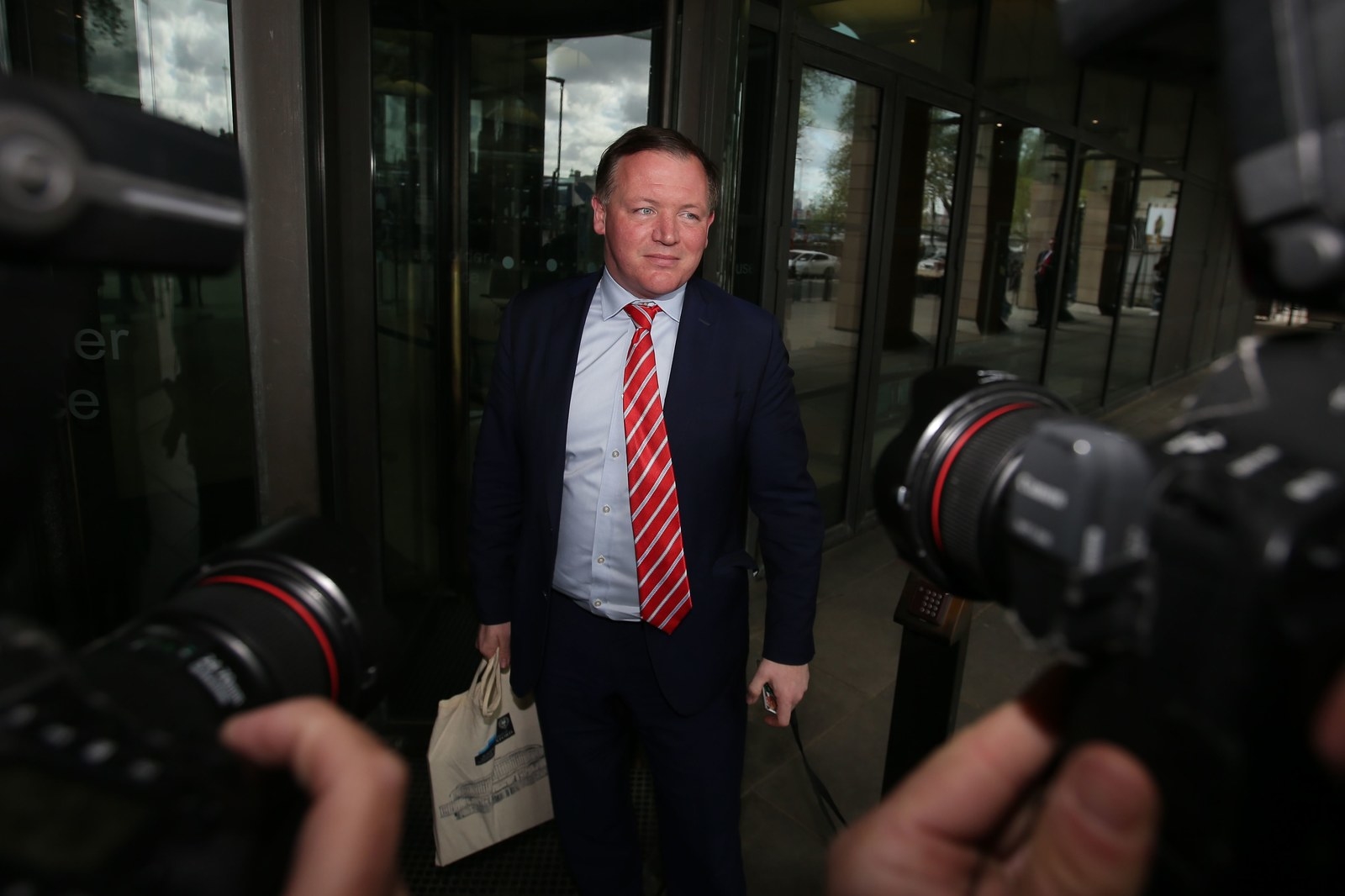 Stephen Doughty, a Labour MP who sits on parliament's home affairs committee, said he raised concerns about the opaque ad campaigns in a conversation with Facebook earlier this month, but was told that politicians should introduce new laws if they want more transparency about funding. "Facebook implied that as long as they had an identified contact it wasn't up to them where the money came from and that it was up to us to change the law for periods outside elections and referendums," Doughty told BuzzFeed News.
"It's clear they simply don't have any care for the consequences of standing by while our democracy is undermined," he added.
Facebook did not respond to specific questions about whether it had looked into We Are The 52% and potential connections between it and Britain's Future.
The group of activists that Dawson and Dickinson belong to was originally called the "Tory 1st Battalion", but more recently has described itself as the "Tory Resistance". Coordinating political activity through Twitter direct messages, this clique of fervent Thatcherites and Brexiteers includes at least half-a-dozen Tory parliamentary candidates, several former Conservative party staff, civil servants, local association executives, and businesspeople with links to the party. Its members include Rebecca Ryan, the founder of StandUp4Brexit, a social media campaign that has been publicly endorsed by 57 Tory MPs including former cabinet ministers Boris Johnson, David Davis and Esther McVey.
The group was initially loyal to the party leadership, and staff in Conservative headquarters embraced it as a way to amplify their official campaign messaging. The Tory press office Twitter account and the party's head of campaigning were members, until the group's existence was revealed by BuzzFeed News. When May changed her Brexit strategy last summer, many of the activists turned against her. Claiming they'd been betrayed, they began actively campaigning to scupper the prime minister's deal with the EU. Based on messages seen by BuzzFeed News, their loyalties now lie firmly with the European Research Group, the hardline Eurosceptic bloc led by Jacob Rees-Mogg.
With Dawson at Britain's Future, Dickinson at We Are The 52% and Ryan at StandUp4Brexit, members of this small band of partisans have run three big, sustained social media campaigns against May's deal, collectively reaching millions of people with their hard-Brexit messages and magnifying the public fury about the way the negotiations have been handled.
In an email to BuzzFeed News, Dickinson confirmed she is part of the same group as Dawson but did not answer specific questions about We Are The 52%'s origins, structure and donors. "WeAreThe52% is not connected with any other sites and we won't divulge those who have supported us," she said.
Dawson has not responded to repeated requests for comment about Britain's Future.
We Are The 52% began as a Facebook page in November 2017. The page now has 64,000 followers and posts video clips, memes and links to articles promoting a clean break from the EU. According to the standard transparency information now included on Facebook pages, there are four people in the UK with management privileges, although Dickinson is the only one named. There is also a website, which has little on it apart from a Paypal donations widget and a form to email the prime minister to urge her to leave the EU's customs union, and a Twitter account which began in September.

Dickinson is described on the website as the editor. It's not clear when she became associated with We Are The 52%. A cached version of the website dating to September 5, accessed through a search of the Wayback Machine, an internet archive, did not mention Dickinson or anyone else, suggesting that she became involved after that date.
Dickinson is an Oxford University history graduate who runs a small social media and political communications consultancy. She worked on the official Vote Leave campaign in the run-up to the 2016 EU referendum, and has been a campaign manager for the Conservative party. Her LinkedIn profile includes an endorsement from Alun Cairns, the secretary of state for Wales, who described Dickinson as "a very committed and hard working campaigner".
Last week, Dickinson came under fire on Twitter for posting a link to a video clip of a burning church, saying: "In response to New Zealand mosque attacks, Islamists have burned down a Christian church in Pakistan. Why is this not being shown on BBC News?" It was retweeted thousands of times. In fact, the footage showed an attack on a church in Egypt in 2013 and had nothing to do with the killings in Christchurch, according to an analysis by the fact-checking website Full Fact.

Dickinson was criticised for spreading false claims. Sayeeda Warsi, the former Conservative chairwoman and cabinet minister, complained about Dickinson's tweet to the party's current chairman Brandon Lewis. Dickinson has since deleted the tweet. "I took it down as soon as I realised it was an old video," she told BuzzFeed News.
In mid-December, We Are The 52% began paying for ads on Facebook promoting a hard Brexit. Its messages appear to chime closely with those of the ERG and Leave Means Leave, the cross-party campaign of which Nigel Farage is vice-chairman. As of last week, it had sent 265 ads, according to Facebook's data. Many of those ads direct users to We Are The 52%'s website where they're asked to fill in their email address to send a message to May urging her to keep her promise to withdraw from the customs union.
Similarities between We Are The 52% and Britain's Future extend beyond their firm desire for a no-deal Brexit.
The two entities appear to have followed a similar path: They began as Facebook pages on November 28, 2017, and later added websites. Both websites were registered through GoDaddy using a privacy service to shield the identity of the domain's owner.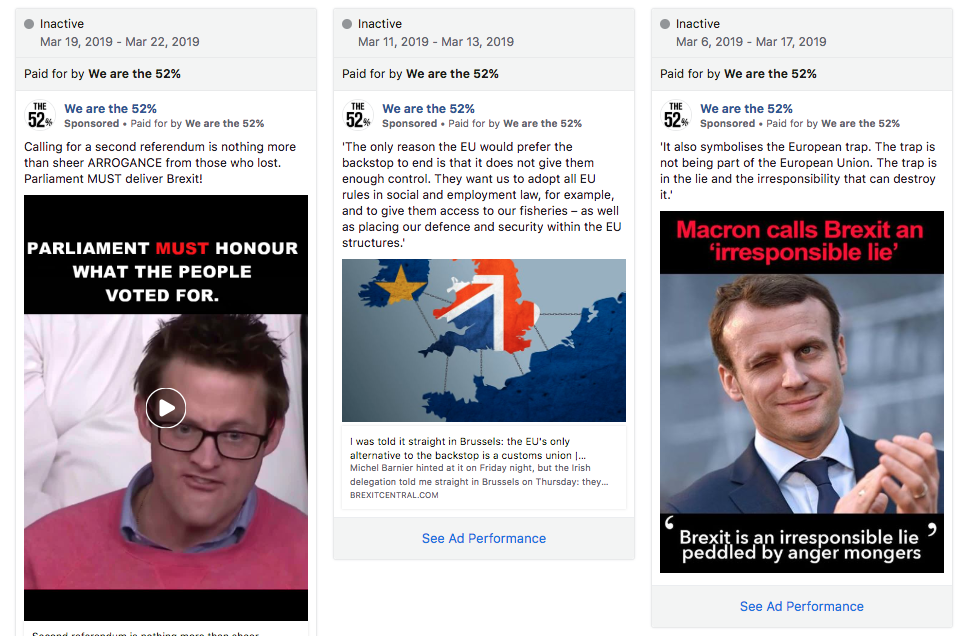 For the first several months of their existence, they had very little public profile and there was nobody named in connection with them. Then, in late autumn, after May's Brexit deal began tearing the Tory party apart, they each brought in a young Tory activist to act as editor and their campaigning ramped up. In the last few months of 2018, they began advertising on Facebook.
They apply a similar campaign strategy, reaching out to voters through Facebook ads and directing them back to their website to an email template which facilitates the lobbying of politicians about Brexit. They both use a generic structure based on the Wordpress content management system, using a plugin known as "Contact Form 7" to collect email addresses. And both are secretive about their operations, giving no information on their websites about their history and the people behind it.
Both seem to lack the structures that are typical of political campaigns, such as a company, a board of directors, an office, a mailing address, and staff. Neither is registered with the Electoral Commission, and until earlier this month neither was registered with the Information Commissioner's Office.
Britain's Future's editor, Dawson, registered with the ICO on March 11, two days after BuzzFeed News published an article about the site. As a result, it provided for the first time a mailing address: a post-office box in Manchester. We Are The 52% was still not registered as of Friday, according to the ICO.
There are differences, too, however. Britain's Future's spending has been far higher, and it has sent a lot more ads. Its campaign has been more specific and relentless, targeting voters in particular areas with ads featuring images of individual MPs. We Are The 52%'s Facebook spending has been much less consistent, with amounts varying from £4,500 one week to £1,500 the next. It targets a broader demographic, while Britain's Future is mainly aimed at voters over 35. The purpose of its campaign appears to be to boost its Facebook posts, rather than lobbying specific MPs, said Sam Jeffers of Who Targets Me, a nonpartisan transparency campaign group.
Britain's Future produces more of its own content than We Are The 52%, which seems to mainly repurpose media and links from other publications. We Are The 52% has a bigger and more active Facebook community than Britain's Future and its individual posts are much more widely shared.
"They're almost complementary," Jeffers said, "which may be by accident or by design."
In an email, Dickinson told BuzzFeed News that pro-Remain campaigners are "deploying similar tactics" to We Are The 52% but haven't been questioned about their motives or funding.

It is true that the People's Vote and Best For Britain — which between them have spent nearly £650,000 on Facebook ads since October — are less than fully transparent about their sources of funding. However, there is much more information about these groups in the public domain than there is about the biggest-spending hard-Brexit campaigns.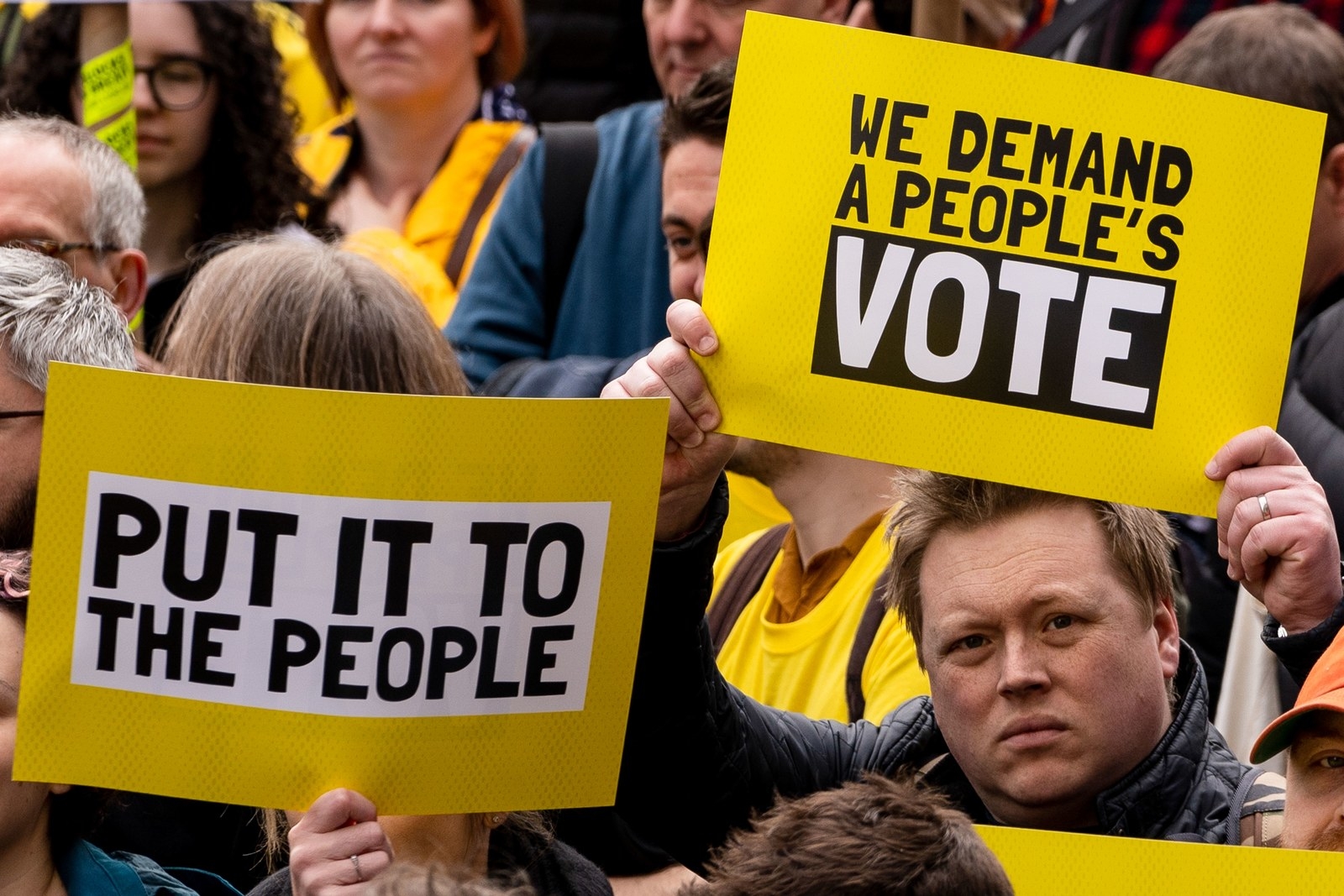 From a search of public records, through the Electoral Commission, Companies House, and the ICO, it's possible to view their audited accounts, determine the location of their offices, the number of people they employ, the amount of money they raise in donations, and the identities of their directors and senior staff. The records show, for example, that Best For Britain is controlled by and has received substantial donations from the insurance entrepreneur and philanthropist Sir Clive Cowdery and the former Goldman Sachs banker Stephen Peel. The billionaire George Soros has also confirmed that he's a major donor.

Other groups on the list of Facebook's top political advertisers provide more information about their activity. 38 Degrees, an activism platform which has facilitated Brexit-related campaigns, publishes an annual report breaking down its fundraising which reveals that its £5.6 million in donations in the last financial year came from around 140,000 mainly small donors. It publishes the names of anyone who donates more than £7,500.
Under British electoral law, third party campaigns are only required to be regulated by the Electoral Commission when there is an election or referendum campaign under way. During those periods, campaigners trying to influence the political process have to disclose their spending and major donors to the regulator, and they are published for voters and journalists to scrutinise. Outside those official periods, however, campaigners are free to operate without oversight.
MPs say the law is badly out of step with modern campaigning, when Facebook allows groups to have substantial influence and amass large amounts of data in ways that can be hard to monitor and that could easily be misused. Collins, the chair of the DCMS committee, said reform is particularly urgent now with an early election or second referendum on the cards.
"There's an urgent need to review electoral law," Collins said. He wants digital ads to carry "imprints" that make it clear to people who see them who is paying and their motivations. And he wants all political campaigns to be registered with the Electoral Commission and made to publish their major donors even outside election campaigns, so that the flow of money into politics is abundantly clear.
Ian Lucas, a Labour MP who also sits on the DCMS committee, said the Brexit-related social media campaigns have significantly added to the pressure on MPs as they grapple with the biggest policy decision in modern British history. "I cannot overstate to you the pressure that is on elected politicians at the present time from Facebook groups and Twitter accounts and all the rest of it," Lucas said.
"It's really bizarre when you're at the centre of the storm. It's very much like being bullied as a child by the scale of the pressure that comes from these groups, so it is a genuine problem. It is happening as we speak."