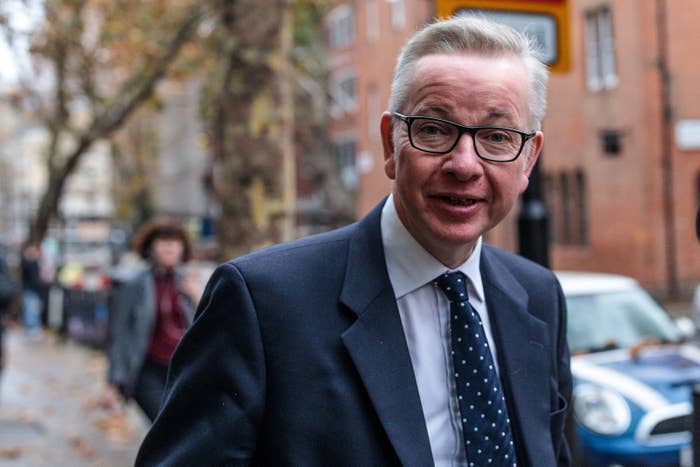 Britain's food industry has implored the government to suspend policy initiatives that aren't related to Brexit because they're too busy preparing for a no-deal to engage with them.

In an unusually strongly worded letter to the environment secretary Michael Gove, obtained by BuzzFeed News, representatives of 32 industry bodies urged the government to delay a range of policy consultations until the terms of Britain's withdrawal from the European Union have been resolved.
"At this moment of potential crisis in our industry, it cannot be 'business as usual' within government," said the letter, which was sent to Gove on Friday last week.
Trade bodies including the Food and Drink Federation and the National Farmers' Union warned that they may not participate in future policy consultations if the government ignores their concerns.
The trade bodies' pleas are an indication of the disruption and confusion the political gridlock in Westminster is causing for businesses across the country with less than two months to go until Britain is due to formally leave the EU.
The Department for Environment, Food and Rural Affairs is the Whitehall department most affected by Brexit, and last September the National Audit Office warned that it was well behind on preparations for a no-deal exit. Nevertheless, the department, officially at least, is pushing ahead with other initiatives that aren't related to Brexit, including Gove's plans to curb the use of plastics.
Food and farming businesses, worth an estimated £113 billion to the UK economy, believe that a no-deal Brexit will be catastrophic, not least because of the potential for bottlenecks at Dover that could severely disrupt imports and exports. Privately, some executives put the likelihood of a no-deal exit as high as 60%.
Putting in place contingency plans for a no-deal outcome has been the industry's top priority for several months, and some say they're worried that the government still hasn't grasped the urgency of the situation — despite ministers saying publicly that they're ramping up preparations for leaving without a deal.
"Businesses throughout the UK food chain … are now totally focused on working to mitigate the catastrophic impact of a no-deal Brexit," the letter to Gove said. "Large amounts of time, money, people and effort are being diverted to that end."
So overwhelming is this work, the representatives said, that the businesses and trade bodies in the sector haven't had time to concentrate on non-Brexit policy initiatives that the government is considering.
The letter cites more than a dozen policy initiatives on which the government is soliciting industry feedback that could have a significant impact on the food industry. One is a plan, announced by Chancellor Philip Hammond in last year's budget, to introduce a new tax on packaging that doesn't include at least 30% recycled content. Another plan concerns potential restrictions on the advertising of fatty and sugary foods.
Those consultations could result in policy changes that would profoundly affect businesses in the food industry, but the people who would ordinarily contribute to formal responses to those processes are overwhelmed by no-deal preparations.
The representatives — who cover a wide range of businesses including bakers, farmers, and coffee suppliers — urged Gove to impress their views upon his cabinet colleagues so that non-Brexit consultations are paused across government until the uncertainty is settled.
"If government seeks to press ahead with these consultations it will be seen by some as a sign of bad faith and many organisations may decline to respond," the letter warned.
A Defra spokesperson said: "Leaving the EU with a deal remains the government's top priority, and we are meeting weekly with representatives from our food and drink industry to help prepare for all scenarios.
"While we have intensified our no deal planning, we are continuing to tackle other priority issues that matter to people, including our plans to reduce plastic waste and deliver a Green Brexit."
This is the full text of the letter:
8 February 2019




Dear Secretary of State




As representatives of a very broad swathe of the UK's farming and food & drink supply-chain, we are writing to you today on a matter of great urgency and of deep concern to our members.




In fewer than 50 days, the UK will leave the European Union. The legal default is that we will do so irrespective of whether or not we have signed a withdrawal agreement and, at present, that no-deal Brexit looks ever more the likeliest outcome.




Businesses throughout the UK food chain – and their trade associations - are now totally focused on working to mitigate the catastrophic impact of a no-deal Brexit. Large amounts of time, money, people and effort are being diverted to that end.




At this moment of potential crisis for our industry, it cannot be 'business as usual' within government. Neither we nor our members have the physical resources nor organisational bandwidth to engage with and properly respond to non-Brexit related policy consultations or initiatives at this time. Government has recruited many extra staff; we cannot.




We very strongly urge you therefore to require of your Cabinet colleagues that a range of current and planned consultations that will impact food and drink, some of which are expected shortly, are firmly and clearly placed on "pause" until this uncertainty is over. A list of the relevant consultations of which we are aware is given in the appendix to this letter.




If government seeks to press ahead with these consultations it will be seen by some as a sign of bad faith and many organisations may decline to respond.




We are grateful for your assistance with this issue.




Ian Wright CBE, Chief Executive, Food and Drink Federation




Paul Rooke, Head of Policy, Agricultural Industries Confederation




Andrew Pollard, President, Association of Bakery Ingredient Manufacturers




Pete Robertson, President, Association of Cereal Food Manufacturers




David Camp, Chief Executive, Association of Labour Providers




Chris Stemman, Director, British Coffee Association




Walter Anzer, Director General, British Food Importers and Distributors Association




John Hyman, Chief Executive, British Frozen Food Federation




Jack Ward, Chief Executive, British Growers Association




Nick Allen, Chief Executive Officer, British Meat Processors Association




Richard Griffiths, Chief Executive, British Poultry Association




Declan O'Brien, Director General, British Specialist Nutrition Association




Nick Bennett, Chairman, Council for Responsible Nutrition UK




Judith Bryans, Chief Executive, Dairy UK




Gordon Polson, Director, Federation of Bakers




James Bielby, Chief Executive, Federation of Wholesale Distributors




Nigel Jenny, Chief Executive, Fresh Produce Consortium




David Thomson, Chief Executive Officer, Food and Drink Federation Scotland




Andy Richardson, Chairman, Food and Drink Wales Industry Board




Graham Keen, Executive Director, Health Food Manufacturers' Association




Liz Murphy, Chief Executive Officer, International Meat Trade Association




Bob Price, Director and Policy Advisor, National Association of Cider Manufacturers




Terry Jones, Director General, National Farmers' Union




Michael Bell, Executive Director, Northern Ireland Food and Drink Association




Dick Searle, Chief Executive, Packaging Federation




Andrew Curtis, Director General, Potato Processors' Association




Andrew Kuyk CBE, Director General, Provision Trade Federation




James Withers, Chief Executive, Scotland Food and Drink




Simon Cripps, Executive Chairman, Seasoning and Spice Association




James Smith, Chairman, UK Flavour Association




Kate Nicholls, Chief Executive Officer, UK Hospitality




Dr. Sharon Hall, Chief Executive, UK Tea & Infusions Association