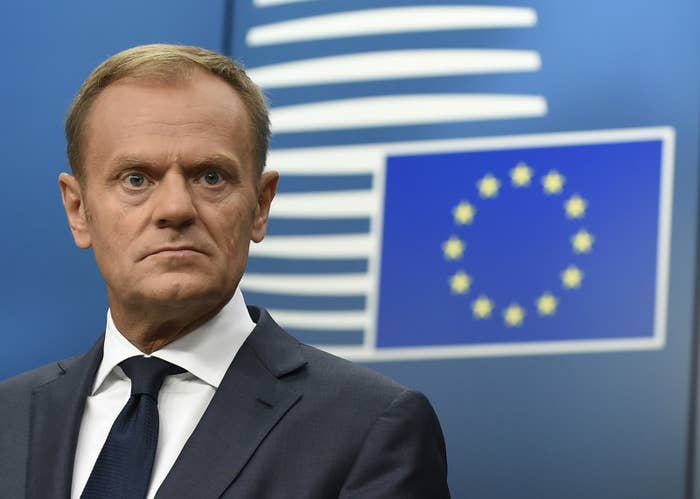 European leaders were unimpressed by Theresa May's assurances that European Union citizens can stay in the UK after Brexit, setting up a major clash over the first matter to be dealt with in the torturous 18-month negotiation.

"My first impression is that the UK's offer is below our expectations, and that it risks worsening the situation of citizens," Donald Tusk, president of the European Council, said, in an early sign of the difficult and protracted negotiations to come.
Determining the legal status of European expats currently living in the UK after Brexit — and that of British expats living on the continent — is the first priority in the talks, which began formally on Monday. But the summit of EU leaders in Brussels on Thursday and Friday made clear the enormous gulf between the two sides, even on an issue that both say they want to resolve quickly.
At a dinner on Thursday night, May proposed allowing EU citizens who have lived in Britain a long time to remain after Brexit under a "special status" — as long as Britons living on the continent are given reciprocal treatment. Full details of May's proposal will be outlined on Monday.
The response from European leaders to May's opening offer was unenthusiastic.
"That is a first step but this step is not sufficient," said European Commission president Jean-Claude Juncker.
"It's a good start, but it's no breakthrough, to put it very carefully," said German chancellor Angela Merkel.
Other EU leaders described May's proposal as "particularly vague", "incomplete" and a "first step".
Tusk said European negotiators would go through the UK's proposal "line-by-line, once we receive it on paper" next week. Without having seen the precise detail, Europeans are anxious that citizens won't have the full range of rights they do at present.
Speaking shortly after Tusk, May defended the policy and said she was serious about reaching an agreement.
"I want all those EU citizens who are in the UK, who've made their lives and homes in our country, to know that no-one will have to leave," the prime minister said. "We won't be seeing families spilt apart. People will be able to go on living their lives as before.
"This is a fair and serious offer. It gives those 3 million citizens living in the UK certainty about the future of their lives, and we want the same certainty for the more than 1 million UK citizens who are living in the European Union."
May said she wanted to strike an agreement as quickly as possible, but acknowledged that the two sides were some way apart on their opening stances on citizens' rights.
"There are some differences between [the UK's offer] and the proposal the European Commission put out, and the matter will now go into the negotiations," she said.
The debate over citizens' rights is an early test of May's ability to deliver the positive Brexit deal she assured voters her government would achieve after triggering Article 50 in March.
But while Brexit is all-consuming in British politics, leaders of the other EU member states said the UK's future was not the most important issue they had to deal with at the summit.
"As a matter of fact, Brexit took up very little time at this European Council," Tusk said. "We devoted most of our work to addressing people's concerns over security, illegal migration and uncontrolled globalisation."