Two Secretive Campaigns Using Facebook To Push A Hard Brexit Are Facing Scrutiny By MPs
Britain's Future and We Are the 52% have spent heavily on Facebook ads. Now senior MP Damian Collins has told BuzzFeed News that a new subcommittee investigating disinformation will look into their activity.
by
,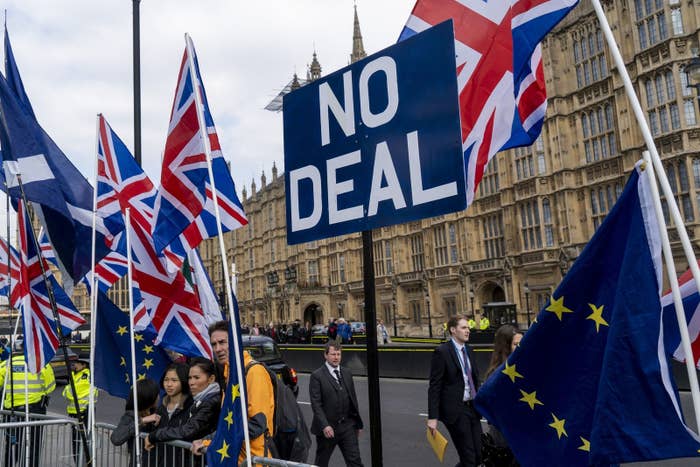 An influential parliamentary committee will examine the campaigning of two secretive pro-Brexit groups that, between them, have spent nearly £500,000 on Facebook advertisements lobbying for a hard break from the European Union.

Damian Collins, the Conservative chair of the House of Commons' Digital, Culture, Media and Sport Committee, told BuzzFeed News that his committee will look into the activity of Britain's Future and We Are the 52% as part of an extended inquiry into the impact of disinformation in British politics.
Speaking to the House of Commons on Tuesday, Collins suggested that the young Tory activists running the mysterious campaigns may be called to give evidence to the committee. "We may want to call in people like that in the future as part of investigations," Collins told MPs.
Britain's Future and We Are the 52% have emerged seemingly from nowhere in the last few months to become among the biggest spenders on political advertising on Facebook in the UK, reaching millions of people while providing very little information about their origins or sources of funding.
Britain's Future has been the biggest political advertiser on Facebook since November, spending more than £430,000. Its expenditures have eclipsed those of the well-resourced Remain-supporting campaigns, the UK government, and the major political parties. We Are the 52% has spent nearly £50,000.
The campaigns' digital reach has given them an outsized influence on the Brexit debate at a crucial moment in the nation's political history, but MPs and transparency campaigners have expressed concerns that so little is known about their origins, who is involved in making decisions, and the identities of their donors.
Campaign experts who have examined the groups say they're doubtful that they could've raised so much money so quickly through small donations, and that a few wealthy donors may be using the campaigns to lobby for a hard Brexit without revealing their identities.
As BuzzFeed News has reported, the campaigns are similar in their political objectives, campaign strategies, and technical structures. Both give almost no information about their origins and lack the structures typical of political campaigns. Both name only one person in a position of responsibility — young Tory Brexiteers.

Britain's Future is run by a 30-year-old TV sitcom writer named Tim Dawson. We Are the 52%'s "editor" is a former Vote Leave campaigner named Theodora Dickinson. BuzzFeed News revealed the pair belong to a clique of right-wing Conservative activists that has been instrumental in the resistance to Theresa May's Brexit deal and is sympathetic to the European Research Group, the alliance of hardline Tory Eurosceptics led by Jacob Rees-Mogg.
The activists have refused to answer specific questions about their campaigns put to them by BuzzFeed News. MPs and transparency campaigners say that voters have a right to know who is behind the groups, and that their lack of transparency highlights the massive gaps in the UK's electoral system and shortcomings in Facebook's transparency measures.
Last year, the DCMS committee commissioned an investigation into a similar group, Mainstream Network, which spent around £257,000 on Facebook ads urging voters to lobby their MPs for a hard Brexit while giving no information about who was running it or providing the money.
When its inquiry into disinformation and fake news was reported in February, the committee expressed concern that a digital campaign like Mainstream Network could be allowed to influence political debate anonymously.

The report was harshly critical of Facebook for refusing to reveal who was behind Mainstream Network. The MPs described the social media giant as "disingenuous" and acting in "bad faith".
In a letter in early March, Facebook said it had no lawful grounds for turning over private data about those involved with Mainstream Network to the committee, but would give details to the Information Commissioner's Office. The ICO is investigating whether Mainstream Network's campaign breached European data regulations.
Since October, Facebook has taken steps to make political ads more transparent. All political ads that run in the UK are now kept in a database that can be searched by members of the public and journalists, and the ads carry the name of the organisation that placed them. Spending data is published every week. However, critics say this doesn't allow voters to identify who is ultimately behind a campaign if the campaign chooses not to be transparent.
On Tuesday, the DCMS committee announced it is extending its disinformation inquiry indefinitely by setting up a new subcommittee dedicated to the subject. Collins told BuzzFeed News that the subcommittee's work will include examining evidence relating to new campaign groups, including Britain's Future and We Are the 52%.
In Parliament on Tuesday, Collins said: "We saw during the course of our inquiry … political campaigns like the shadowy Mainstream Network, which was advertising on Facebook seeking to get members of the public to lobby their MPs on what they should or shouldn't do on Brexit. There are other organisations, like We Are the 52% and Britain's Future, doing that right now. We may want to call in people like that in the future as part of investigations."
Last week, Dickinson told BuzzFeed News: "WeAreThe52% is not connected with any other sites and we won't divulge those who have supported us." She did not respond to specific questions about We Are the 52%'s origins and funding. Dawson has not responded to repeated requests for comment about Britain's Future.
Collins was speaking during a debate about the conduct of Dominic Cummings, the head of the official Vote Leave campaign during the 2016 EU referendum. Parliament's privileges committee last month found Cummings in contempt of Parliament for refusing to appear before Collins' DCMS committee to give evidence in its disinformation inquiry.