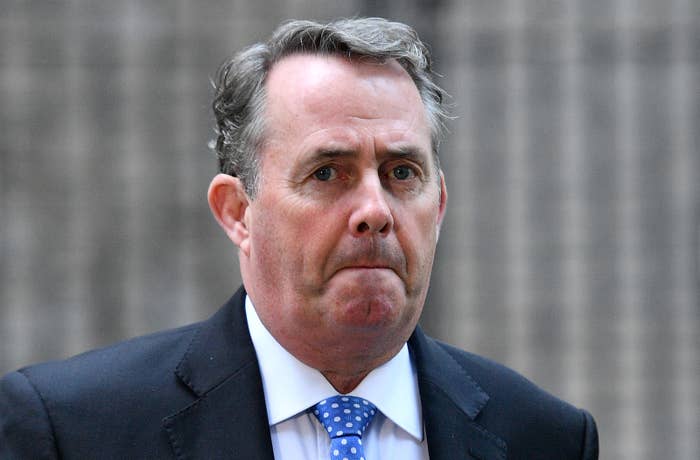 Canada is refusing to extend its trade deal with the European Union to the UK if there is no Brexit agreement, BuzzFeed News has learned.

The decision — in which Canada would not "roll over" the Comprehensive Economic and Trade Agreement if the UK abandons its withdrawal agreement with Brussels — is a huge blow to Britain's hopes of maintaining continuity in a no-deal Brexit, and it could severely impact businesses that sell goods to the Canadian market.
It goes against assurances from Conservative ministers who have insisted that replicating the UK's existing trade arrangements would be straightforward.
Liam Fox, the international trade secretary, promised in 2017 that up to 40 EU trade deals would be replicated by the time Britain left the union. CETA is one of the biggest it had hoped to have in place.
With Theresa May leaving office and her withdrawal agreement seemingly dead, both of the contenders to replace her as prime minister, Boris Johnson and Jeremy Hunt, have insisted they will seek new withdrawal terms from Brussels and said they are prepared to leave without a deal in October if they can't get them.
However, there is huge uncertainty about what either candidate's plans would mean in practice for the UK's exporters and importers.
For months, Britain has been pushing the Canadians to guarantee continuity by rolling over CETA even in a no-deal scenario. However, Canada has decided to wait and see what would happen before revisiting their trading relationship, a well-placed source at the Department for International Trade told BuzzFeed News.
Ministers have indicated that the UK could unilaterally remove tariffs on all imports in a no-deal Brexit to prevent a sudden spike in prices for British consumers. The Canadians believe this could provide better terms for Canadian producers selling into the British market than they would get under a bilateral trade deal without any of the trade-offs.
A spokesperson for Canada's global affairs department told BuzzFeed News: "In case of a no-deal Brexit, Canada and the UK had been discussing a transitional agreement based on CETA while recognising the UK's lack of jurisdiction to negotiate a free trade agreement as long as it remains an EU member state.
"In the event that the UK leaves the EU without an agreement, it has proposed to provide all WTO partners, including Canada, with duty-free access for 95% of tariff lines.
"Post-Brexit, any future trade arrangement between Canada and the UK would be influenced by the terms of the withdrawal agreed between the UK and the EU, as well as any unilateral UK approaches."
A spokesperson for the DIT said: "The UK and Canadian prime ministers agreed to ensure a seamless transition of CETA and we remain committed to doing so."
"We are continuing to work on securing continuity with other countries," the UK government spokesperson added. "Only three weeks ago, we agreed in principle to transition our agreement with Korea. Once it is signed, we will have agreements covering 63% of our trade with countries for which we are seeking continuity."
British trade officials are "furious" at the rebuff, having spent months trying to convince the Canadians to extend CETA, the DIT source told BuzzFeed News.

On Wednesday, Fox will face MPs on the House of Commons' international trade committee who are deeply concerned about the slow progress his department has made on replicating the 40 trade deals that apply to the UK through its membership of the EU.
As of last month, the trade department had rolled over only 11 deals, including those with Switzerland and Israel, the committee said. In a letter to its chair, Angus Brendan MacNeil, last month, Fox said talks with several other countries, including Canada, are "at an advanced stage" and "making progress".
Securing a continuity agreement with Canada would be a massive boost for the UK's hopes of building a prosperous independent trade policy after Brexit. Not only is Canada a major trading partner, accounting for 1.6% of UK exports, but it has taken on outsize symbolic importance in the Brexit debate.
Many Tory Eurosceptics, including Johnson, talk of a "Canada-style" free trade deal with the EU as their preferred foundation for the UK's future trade policy, while Hunt this week said he was lining up a former Canadian prime minister to lead his Brexit negotiating team if he becomes prime minister.
Back in March, before the original deadline for leaving the EU was extended to October, British trade officials were so confident that Canada would roll over CETA they reportedly told the Times a deal was just days away from being clinched.
In its statement to BuzzFeed News, the Canadian government said it would allow CETA to be rolled over during a transition period if Britain leaves the EU with a withdrawal agreement.

"Depending on an agreement being reached between the UK and the EU concerning a transition period, Canada would consent to the UK remaining party to [CETA] ... and all other Canada–EU agreements during that transition period," the spokesperson said.

"Canada is watching Brexit closely and encourages the UK and the EU to agree on their future relationship as soon as possible."