Sigh. When we left you, British politics was in disarray.
Wednesday dawned, and the familiar concerns over Europe began.
Not to mention more depressing outbursts of racism and hate speech.
If only there was a way to make it all go away.
But the day didn't really get going until Michael Gove's wife, Sarah Vine, had turned in her column about Brexit. It revealed some interesting insights about her husband. This wasn't going to be the last time she did this today, but we'll come back to that.
But first: Labour!
Remember how lots of people were resigning from the shadow cabinet? Well this one was especially amusing.
Because she'd only been in the post for two days.

All in all the perfect time for Prime Minister's Questions.
But still, Jezza wasn't moving.
And then he got asked about his leadership again, and things got really odd.
Will Labour split? Who knows?
In all the excitement, we'd forgotten about the Tory leadership contest. None of the contenders were particularly inspiring the public.
Although Michael Gove took the opportunity to present a compelling package today. Also, note Sarah Vine on the left there who we were coming back to? Well, wait one second.
Because we have to discuss this new word for England and Wales.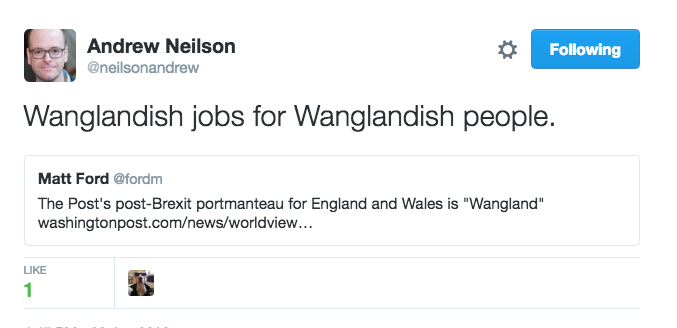 Anyway, yes, Sarah Vine. Word of advice: When your husband is plotting a leadership bid, don't email random members of the public about it.
In summary: