The Full Story Of Kids Company's Fall
After receiving £ 46 million of public money, the south London kids charity collapsed in August 2015 following a series of shocking reports. This is how it unfolded.
by
by
Alan White
BuzzFeed News Reporter, UK
,
by
Paul Curry
BuzzFeed Staff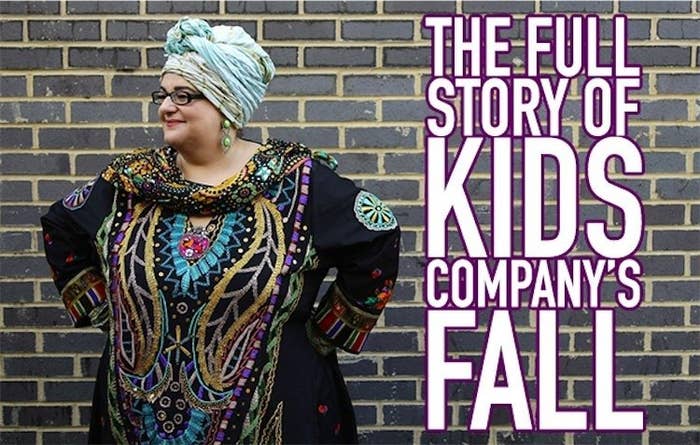 THE WARNING SIGNS
There are complaints from some local residents about Kids Company's first centre. The charity says it has only had two criminal complaints, which were both dealt with.
Show More
The Daily Mail reports that residents have lodged an array of objections after it emerged that planning permission for a centre in Southwark run by Kids Company, a charity aimed at helping disadvantaged youth in London, was not sought when it was opened five years earlier. One resident says: "I've been spat at, verbally abused and had stones thrown at me."
In response, Camila Batmanghelijh, the charity's founder and chief executive, says locals have come to her about only two crimes: the theft of a Walkman that she ensured was returned, and a broken window that she mended, and says: "We were given the land by Railtrack and we simply did not realise we needed planning permission to run Kids Company from the site."
Southwark council's decision not to grant retrospective planning permission is fought all the way to the court of appeal after a public inquiry and a high court hearing. In 2003 a council enforcement notice requiring it to cease using the premises is issued.
Is this the end for our own Mother Teresa?
Pages 54 and 55, Daily Mail, 9 August 2001. Not available for free online; text available through Lexis Nexis for subscribers.

Paul Bracchi for the Daily Mail (lexisnexis.co.uk)
Author and journalist Harriet Sergeant visits a Kids Company centre. A decade later in 2015, she will provide details of the events she witnessed during the visit in written evidence to the Commons public administration committee (PACAC).
Show More
According to Sergeant's written evidence to PACAC in 2015, she is invited in 2005 to visit a Kids Company centre by Camila Batmanghelidjh for research purposes. Sergeant had been told that about 500 kids visited the centre a week and 50 or 60 a day for its nutritious meals, education, and massage. Instead of kids "pouring in" though, she will tell PACAC, during her first visit there is just one sulky teenager, over whom 10 staff hover solicitously, while during a subsequent visit there are only 20 young people present. Sergeant will also give evidence to PACAC about witnessing envelopes of money being handed out by staff to the young people present at the centre.
Written evidence from Harriet Sergeant to PACAC
"I first met Camila Batmanghelidjh ten years ago..."

Harriet Sergeant (parliament.uk)
Two Kids Company adverts are banned by the Advertising Standards Authority, which describes them as "offensive" and "racist". The charity says the poster was designed to "confront superficial judgments and prejudices".
Show More
One of the adverts, a billboard poster says: "You are right – kids who can kill really are wrong in the head," beneath a picture of four black teenagers. The advert, according to the ASA, makes misleading claims about a supposed link between emotional development, brain size, and violent behaviour.
A second advert, showing two black teenagers harassing a white man reinforced negative stereotypes and was therefore "racist", the ASA ruled.
ASA raps 'racist' poster for kids' charity
Kids Company's advert showing black teenagers harassing a white man reinforced negative stereotypes, watchdog rules

Chris Tryhorn for The Guardian (theguardian.com)
A Freedom of Information request raises questions about Kids Company research.
Show More
The FOI request was made to Great Ormond Street Hospital for Children NHS Foundation Trust in relation to a 2008 study it conducted with Kids Company in which 10 children aged between 10 and 14 were given brain and MRI scans. The charity assessed whether these children's behaviour was "antisocial". As part of the FOI request the Hospital was asked whether consent had been obtained for MRI brain scans conducted on the children.
The FOI response says: "the parents/carers (sic) consent for the MRI brain scan was obtained as part of the overall consent for the child to participate in the study". However, it goes on: "Where it was not possible to contact the child's parent/carer, the child's keyworker from the Kids Company signed the consent form."

Brian [sic] scans in children and Kids Company
Freedom of Information request to Great Ormond Street Hospital for Children NHS Foundation Trust

FOI request by Ann McNeil (whatdotheyknow.com)
A former employee goes on record on the website of OSCA, a consultancy, to express concerns about Kids Company.
Show More
Genevieve Maitland Hudson, who joined the charity in 2008, writes that on Fridays, "little packages of cash were handed out to every young person through a small window in reception. It was always tense. There were tears. There was shouting. There were threats. There were fights."
She also raises questions about the number of clients the charity claims to help, pointing out that there is a discrepancy between the charity's annual report and a government contract, though she also describes it as a "minor quibble".
We need to talk about Kids Company
"There were tears. There was shouting. There were threats. There were fights."

Genevieve Maitland Hudson for OSCA (osca.co)
The Spectator publishes an article called "The Trouble With Kids Company" by the freelance journalist Miles Goslett, which reveals a complaint from a donor to the Charity Commission.
Show More
Goslett reports how an elderly benefactor, Joan Woolard, sold her house in order to donate to the charity, but ended up complaining to the Charity Commission in order to demand back the money.
Woolard expresses a similar concern about payments to that flagged days earlier by Hudson, saying: "I don't think private donors or the government give Kids Company money so that it can be handed out to young people in cash?"
In response to this allegation, Batmanghelidjh says: "Money is only spent on the most destitute of our clients," and expresses concerns about Woolard's mental health.
The Trouble With Kids Company
It's a favourite charity of David Cameron and many celebrities. But does it do what it claims to do?

Miles Goslett for The Spectator (spectator.co.uk)
Goslett reports in the Sunday Times that three directors of the charity have resigned.
Show More
The directors who have quit are Diane Hamilton, the charity's interim finance director; Adrian Stones, the charity's human resources chief; and Mandy Lloyd, the charity's director of development.
The charity issues a statement, saying: "It was with great regret that they felt unable to continue working within the organisation because of the uncertainty of funding, which led to high levels of stress in the workplace which was unsustainable."
But the Sunday Times quotes a source close to the directors who says: "These departures are a direct result of these employees' doubts about the future of Kids Company ... The trustees were told of their doubts but they don't seem to have reacted at all."
The story also quotes Dominic Cummings, a former Department for Education adviser, who says officials from the department had questioned the financial management of the charity saying they "did not think taxpayers' money should be given to it", but were overturned by David Cameron, the prime minister.
Kids Company directors quit over stress and funding concerns
Three directors of Kids Company have resigned amid claims of concerns about its funding and "high levels of stress within the workplace".

Miles Goslett for the Sunday Times (thesundaytimes.co.uk)
THE FALL
A joint investigation by BBC Newsnight and BuzzFeed News reveals that the government is withholding money from Kids Company unless chief executive Camila Batmanghelidjh steps aside.
Government Refusing Funding To Kids Company Charity Unless Boss Is Removed
A joint investigation by Newsnight and BuzzFeed News has revealed the Cabinet Office is withholding funding from the charity unless Camila Batmanghelidjh steps aside.

Alan White for BuzzFeed News (buzzfeed.com)
The next day, it is confirmed Batmanghelidjh will step aside in the near future. She blames the "ugly games" of politicians, and singles out David Cameron for blame.
Kids Company Boss Steps Down As Chief Executive And Attacks David Cameron
Camila Batmanghelidjh says she is being "silenced" over government cuts.

Alan White for BuzzFeed News (buzzfeed.com)
Batmanghelidjh says the government is "blackmailing her".
Show More
She tells BBC Newsnight that if the charity loses funding then she will "have to deal with the fact the government is blackmailing a charity for no reason".
Kids Company Boss Says Government Is "Blackmailing" Her
In an interview with Newsnight Camila Batmanghelidjh defended her record as head of the high-profile charity and dismissed accusations of financial mismanagement.

Alan White for BuzzFeed News (buzzfeed.com)
The Mail on Sunday alleges that Kids Company was forced to call in the official receiver after running out of funds with which to pay staff at some point in June. The charity did not respond to the newspaper at the time.
Mystery over claim that Kids Company couldn't pay staff
Britain's most high-profile charity chief refuses to respond to new allegations of financial chaos within her organisation.

Miles Goslett / Simon Walters for the Mail on Sunday (dailymail.co.uk)
The Mail on Sunday reveals that in 2003, £589,000 of unpaid tax arrears from Kids Company to HMRC were written off. A Kids Company spokesperson tells the paper: "The HMRC recognised that their actions made a significant contribution towards helping support some of society's most at-risk children."
Mystery of charity's unpaid £700,000 tax bill
Kids Company took money from staff but it was waived by the taxman

Miles Goslett and Glen Owen for the Mail on Sunday (dailymail.co.uk)
Government letters confirm that ministers overruled civil servants' concerns to give the charity a £3 million grant.
Show More
A letter published on the government's website shows that the Cabinet Office's permanent secretary, Richard Heaton, wrote to ministers Matt Hancock and Oliver Letwin to raise his concerns about the charity.
The charity had received a grant of £4.265 million in April from the government, which stipulated that it would be the last payment of the financial year and encouraged the charity "to move to a more financially sustainable model". Instead, Kids Company had asked for an extra £3 million. Heaton's letter was a request for ministerial direction – essentially a way of raising concerns about the charity. Hancock and Letwin overruled him.

"The proposed additional £3m grant does not represent value for money"

Letter from Richard Heaton (gov.uk)
BuzzFeed News reports that Camila Batmanghelidjh has set a timetable for her departure, and will step aside from her role as chief executive of the charity in October.
Show More
In a statement, Alan Yentob, the chair of the charity's trustees, says: "Over the last 19 years Kids Company has developed a highly effective model for the delivery of practical and emotional support for vulnerable children and young people."
Camila Batmanghelidjh To Step Down From Kids Company Role In October
The government told the charity it would receive an additional £3 million of funding only if its boss stepped aside.

Alan White for BuzzFeed News (buzzfeed.com)
BuzzFeed News and BBC Newsnight confirm that the Met police's complex case team of the sexual offences, exploitation and child abuse command is investigating Kids Company. In January the investigation will end and the police will say they found no evidence of criminality that would reach the threshold to be referred to the Crown Prosecution Service.
Show More
The investigation comes after whistleblowers alleged that potentially criminal offences – the details of which are not revealed until a week later – occurred in two of its centres and were not reported to the proper authorities.
BuzzFeed News and BBC Newsnight had been approached by a former staff member at the charity who said she had been involved in a failure to notify the authorities of allegations of rape and that she knew about complaints to staff from older clients.
We were also told about an incident in which a staff member was said to have been knocked unconscious by a client in an attack with snooker ball and was encouraged not to press charges.
After advice was sought from a child protection expert, both outlets passed on the information to the local authority with relevant child protection responsibilities. Following the authority's investigation, it was then escalated to New Scotland Yard, which opened a full inquiry.
Six months later, the Met would close the inquiry, saying it found "no evidence of criminality ... to justify a referral to the Crown Prosecution Service".
Police Investigating Alleged Unreported Criminal Activity At Kids Company Centres
The investigation was sparked by evidence handed to the authorities by BuzzFeed News and BBC Newsnight.

Alan White for BuzzFeed News (buzzfeed.com)
Kids Company signals that it is to shut down. Sources reveal to BuzzFeed News and BBC Newsnight that the charity is likely to close its doors the following day.
Show More
It is revealed that the government is attempting to claw back the contentious £3 million grant. Unverified leaked emails and information from sources suggest the charity may have used the contentious money it received from government to pay staff rather than to restructure as intended.
The Daily Mail also claims that Alan Yentob – both the chair of the Kids Company's trustees and a senior BBC executive – phoned Newsnight before it went to air with its first report on Kids Company. A BBC spokesperson says the fact the BBC broke the story "shows our journalism has been impartial".
The paper also claims that Yentob joined Batmanghelidjh at the Today programme's studios the following morning.
Officials Warned Kids Company Could Shut Down On Wednesday
The decision comes as the charity is being investigated for potentially criminal offences by the Metropolitan police.

Alan White for BuzzFeed News (buzzfeed.com)
Alan Yentob 'tried to halt' BBC probe into Kids Company
Corporation's £330,000-a-year creative director phoned Newsnight staff hours before it aired damning report

Katherine Rushton and Miles Goslett for the Daily Mail (dailymail.co.uk)
Camila Batmanghelidjh confirms that the charity has shut its doors. She says: "A bunch of rumour-mongering civil servants, ill-spirited ministers, and the media, on the back of a load of rumours, put the nail in this organisation."
Show More
Protests take place outside Kids Company centres, with clients and families mourning the charity's closure. "My keyworker is everything," a woman tells BuzzFeed News. "I speak to them every day. They're a huge part of my life."
Meanwhile, David Cameron is further implicated in charity's funding. Former Department for Education adviser Dominic Cummings tells
Channel 4 News
that the prime minister personally ordered payments to go to Kids Company despite officials at the department expressing their misgivings. Downing Street denies his account.
An anonymous figure involved in funding talks tells the BBC that Cameron was "mesmerised" by the Batmanghelidjh and overruled concerns raised.
Kids Company Shuts Down
"We've had to abandon a lot of children," the charity's CEO, Camila Batmanghelidjh, told the BBC.

Alan White for BuzzFeed News (buzzfeed.com)
Kids Company Supporters Say An Emotional Goodbye To Their Charity Branch in Camberwell
"My key worker is everything," a woman told BuzzFeed News. "I speak to them every day. They're a huge part of my life."

Laura Silver for BuzzFeed News (buzzfeed.com)

Cameron 'personally ordered' payments to Kids Company
Dominic Cummings says David Cameron personally intervened three years ago to ensure the government carry on funding the controversial charity Kids Company.

Michael Crick for Channel 4 News (channel4.com)

David Cameron 'mesmerised' by Kids Company boss
A senior figure involved in funding talks with the high-profile charity told the BBC's Norman Smith: "We were all over-ridden by Number 10."

BBC News (bbc.co.uk)
Abuse allegations come to light as details of the police investigation are revealed, while the fallout from the charity's closure continues.
Show More
Four former full-time employees tell BuzzFeed News and BBC Newsnight that sexual abuse, violent assaults, and drug offences allegedly occurred at some of its centres and were not reported to proper authorities. Their testimony had been passed on to the Met police in July, triggering the investigation.
The witnesses say all their allegations occurred in two of the charity's centres in London: the Urban Academy in Southwark and the Arches II in Lambeth.
The most serious of the alleged cases was said to involve a client in his twenties who a whistleblower says sexually exploited girls aged 16 to 18: "[He] forced them to commit sexual acts on him. … There'd be repercussions if they didn't. … He'd blackmail them."
A separate BBC report hears from a client who claims to have been sexually assaulted at the charity.
Meanwhile, a Radio 4 documentary claims the investment bank JP Morgan gave a £90,000 donation to Kids Company to fund a financial literacy worker for three years – but leaked emails suggest the job position it thought it was funding was left vacant for nearly two years.
When asked what they did with the cash handouts, a former client says: "Spend it on weed. It was weed heaven on Friday."
A former employee, David Van Eeghan, says that despite the millions of pounds in funding the charity received, "There were days when the lights would go off because the electricity bill hadn't been paid. We made sure there was hot food and that the doors were open, but we said, 'Look, the fact of the matter is today it's going to be a bit dark'."
In a passionate interview with Channel 4 News, Yentob defends his role at the charity.
He denies there is a conflict of interest regarding his role at the charity and at the BBC, and says Newsnight had not given the charity the right to reply over the allegations – which is swiftly denied by presenter Emily Maitlis. He admits calling Newsnight prior to its programme about the charity. He also says the sexual abuse allegations had led to the charity turning down funds from donors.
In a separate interview, Camila Batmanghelidjh says a donor withdrew a £3 million offer to Kids Company after learning Scotland Yard's child abuse unit was investigating the charity. (This is subsequently denied the next day by the alleged donor.)
Batmanghelidjh defends the charity, telling Newsnight it would "become clear we didn't withhold information".
She says: "If such a thing had taken place … it would have triggered all our safeguarding procedures and been immediately reported." She adds: "There is no awareness of this incident having taken place at Kids Company's premises or been brought to Kids Company's attention – we would have totally reported something like that."
She also asks why Newsnight hadn't brought the information to Kids Company's attention earlier. Host Kirsty Wark says the charity had been given a week to respond.
Witnesses Allege Sexual Abuse, Violence, And Drug Crimes At Kids Company Centres
The witnesses were referred to the Metropolitan police by BuzzFeed News and BBC Newsnight.

Alan White for BuzzFeed News (buzzfeed.com)
Clients And Workers Describe "Havoc" At Kids Company
Radio 4's The Report describes a charity that received money for a job that remained vacant for two years and whose handouts meant Fridays were "weed heaven".

Alan White for BuzzFeed News (buzzfeed.com)
Alan Yentob: 'Kids Company allegations are disgraceful'
The chairman of embattled charity Kids Company has spoken out for the first time.

Channel 4 News (youtube.com)

Presenter denies Kids Company not given right of reply
BBC executive Alan Yentob has admitted calling Newsnight shortly before it broadcast an investigation into the charity of which he is chairman.

William Turvill / Press Association for Press Gazette (pressgazette.co.uk)

Kids Company: '£3m donation withdrawn amid police probe'
A donor withdrew a £3m offer to Kids Company after learning Scotland Yard's child abuse unit was investigating the charity, its founder has said.

BBC News (bbc.co.uk)
David Cameron comes under pressure as Kids Company supporters march in central London.
Show More
Cameron tells the BBC the government was right to give the charity "one last chance" in an interview.
Around 150 people on Friday gather outside one of Kids Company's former centres in south London to march to parliament.
Alan Yentob is accused of rowing with a BBC reporter by the Daily Mail, which claims that the BBC executive and Kids Company chair launched a "verbal attack" on BBC correspondent Lucy Manning for reporting on the charity.
Channel 4 News reports that the donor Camila Batmanghelidjh was talking about when she described a withdrawn £3 million donation was Stuart Roden. Roden denies Batmanghelidjh's claim and Yentob releases a statement suggesting it was the charity who refused the money.
Prime Minister Defends His Role As Kids Company Anger Rises
Prime minister David Cameron told the BBC on Friday that the government was right to "give the charity one last chance".

Alan White for BuzzFeed News (buzzfeed.com)
Kids Company supporters take part in London march
The march from Camberwell, south London, to Downing Street was called to raise awareness of vulnerable people who used the service

BBC News (bbc.co.uk)
Fury as BBC fails to curb 'interfering' boss Alan Yentob
Backlash after he berates woman reporter over Kids Company film

Katherine Rushton for the Daily Mail (dailymail.co.uk)

Donor Stuart Roden claims he did not pull Kids Company funds
The donor accused of withdrawing £3m of funding to Kids Company is hedge fund chairman Stuart Roden, Channel 4 News can reveal.

Channel 4 News (channel4.com)
Pictures: Press Association / Getty Images / Reuters / Thinkstock