Race-hate charges against a man who tweeted that he'd asked a Muslim woman in a London street "to explain" the Brussels terror attacks, have been dropped, police confirmed.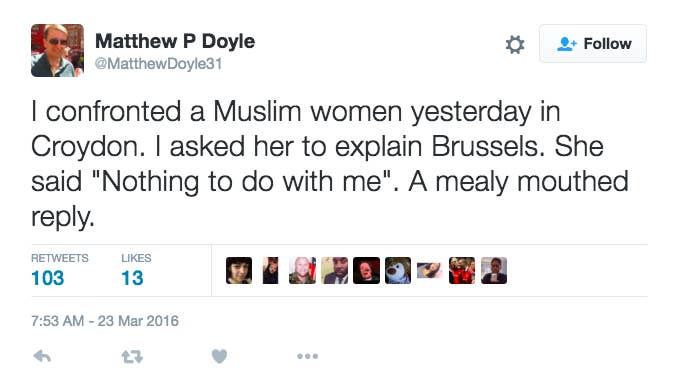 On Wednesday night, 46-year-old Matthew Doyle was arrested on suspicion of inciting racial hatred on Twitter.
"A 46-year-old man was arrested at his home address in Croydon tonight, 23 March, on suspicion of inciting racial hatred on social media, " a spokesperson said. "He is
being taken into custody at a south London police station."
In an updated statement, they added: "At around midday on Thursday, 24 March, the man expressed concerns for his health. He was taken to a south London hospital as a precaution."
On Friday, Doyle was charged with an offence under Section 19 of the Public Order Act 1986, but following discussions between the Metropolitan Police and the Crown Prosecution Service, the charges were subsequently dropped.
Matthew Doyle's tweet prompted a strong reaction yesterday from people angry with him for approaching the woman and expecting her to have an answer simply because of her faith.
Others believe the exchange didn't happen at all.
However, Doyle told BuzzFeed News he stuck by his account.
He said he'd gone to get a pint of milk when he came across a white Muslim woman who was walking in Croydon, south London, with her child. He said he was moved to approach her because he had watched the "unfolding tragedy and the death toll going up".
Doyle, who describes himself as feminist on his Twitter profile, described the exchange as friendly and said the pair would "say hello" if they ever saw each other again.
"She was really nice, a lovely woman, as English as you and I," he said. "She told me she'd heard about the attacks and that it had nothing to do with her."
Doyle insisted he didn't "confront" her as he originally tweeted, but simply said "excuse me" before asking her view of the attack in Brussels.
He added: "I'm not exactly a right-wing skinhead, I [was] a Labour party member."
When asked about the anger being shared on social media, Doyle expressed his fears over terrorism.
"All I'd say as a patriot is we all have to be alert, [to quote author Tom Clancy] this is a clear and present danger to everyone," he added.
Doyle said he left the Labour party shortly after Ken Livingstone's remarks on Question Time last year that he felt appeared to be supportive of the 7/7 bombers: "I was personally amazed."
Doyle said he found it funny that his tweet has become a meme in which people mock him for calling the woman's answer "a mealy mouthed reply".
"I didn't do this for PR," he said.
He said the fact he'd tweeted about the incident had "overamplified" the way it played out.
"It's hardly riot-inducing," he said.
"This wasn't about colour – people on Twitter are jumping to conclusions," he said.
Doyle later deleted the tweet, started retweeting replies, and appeared unrepentant.